Cuba is located in the Caribbean region at latitude 21.521757 and longitude -77.781167 and is part of the North American continent.
The DMS coordinates for the center of the country are:
21° 31' 18.33'' N
77° 46' 52.20'' W
You can see the location of Cuba on the world map below: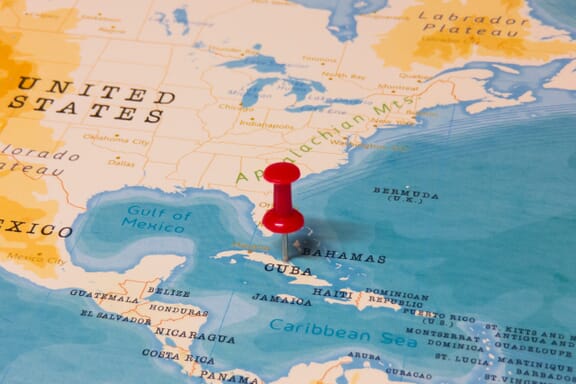 The country has no neighboring countries/land borders.
Maritime Borders
Cuba borders with the Caribbean Sea.
Cuba Related Content
Cuba Key Facts
Country
Cuba
Coordinates
Latitude: 21.521757
Longitude: -77.781167
Country Codes
Alpha 2: CU
Alpha 3: CUB
Country Flag Emoji
🇨🇺
Int. Phone Prefix
+53
Capital city
Havana
Continent
Subcontinent
North America
Caribbean
Country Area
110860 sq km
Population 2021
11,317,498
World Rank: 83
Median Age
41.2
Life expectancy
73.7
Major languages
Spanish (official)
UTC/GMT Time
Number of time zones: 1

Internet TLD
.cu
Biggest Airport
José Martí International Airport (HAV)
Average temperature
25.20 °C
77.36 °F
Administrative Divisions
15 provinces 1 special municipality
Political system
One-party socialist state
Cuba Economy Facts
World Bank Income Group
Upper middle income
World Bank Region
Latin America & Caribbean
Currency
Cuban Peso (CUP)
GDP in 2020
$94.5 (billions of USD)
World Rank: 64
GDP per capita in 2020
$9,478
World Rank: 68
Major Industries / Economic Sectors
Tourism, manufacturing, agriculture, energy
Top 5 Import Countries
China, Russia, Spain, Mexico, Brazil
Top 5 Export Countries
China, Russia, Canada, Spain, Vietnam
Biggest Cities in Cuba
Here are the largest cities in Cuba based on 2021 data:
City
Population
Havana
2,141,652
Santiago de Cuba
444,851
Holguin
350,191
Camaguey
321,992
Santa Clara
247,436
Bayamo
235,107
Guantanamo
228,436
Carlos Manuel de Cespedes
224,488
Arroyo Naranjo
210,053
Las Tunas
202,105
Map of Cuba with the Largest Cities
Other Countries in the Caribbean Region