Havana is the capital of Cuba. Havana is a beautiful city where the streets are decorated with colorful houses, classic cars, and artists.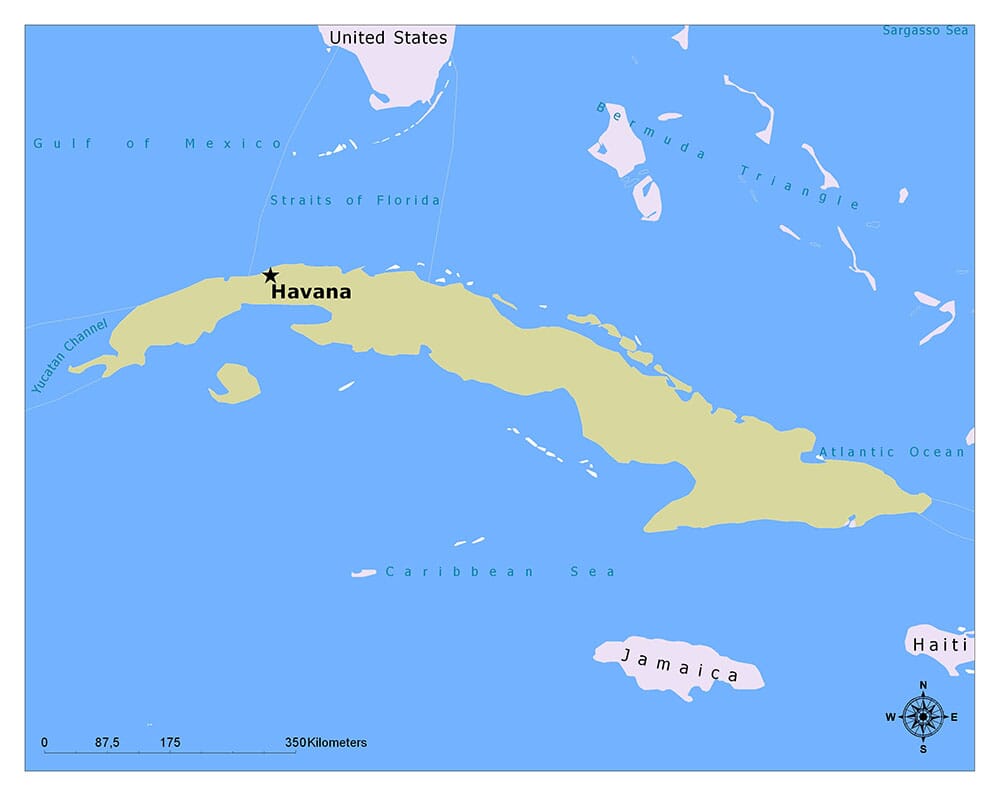 Throughout its history, Havana has endured many hardships. Yet, it stands as the capital of a nation whose residents have persistently championed freedom, highlighting the resilient spirit that embodies the city.
Where is Havana?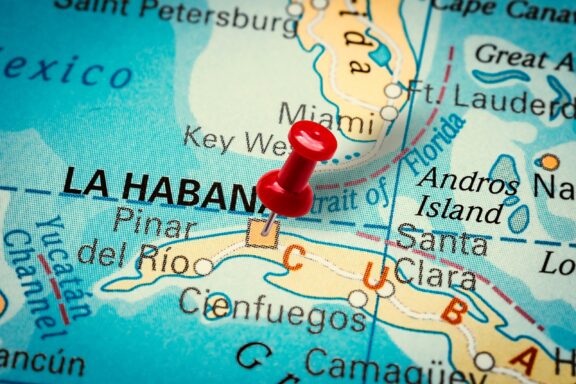 Havana is located in the Habana region on the northern coast of Cuba, the largest island in the Caribbean.
It lies south of the Florida Keys in the United States, with the Atlantic Ocean to its north and the Gulf of Mexico to its west. It is approximately due south of Miami, Florida.
History of Havana
Havana, or Habana in Spanish, has a rich and varied history. Its foundation dates back to 1519 by the Spanish. During the initial centuries, the city was a springboard for the Spanish conquest of the continent and a stopping point for treasure-laden Spanish galleons returning to Spain.
Havana was often the target of pirate attacks during the 16th and 17th centuries. This led to construction of multiple fortresses to protect the city and its port. The most notable are the Castillo de la Real Fuerza and the Castillo de los Tres Reyes del Morro, both significant landmarks today.
In the 18th century, the city grew rapidly and became one of the most beautiful cities in the Americas, full of bustling plazas, grand mansions, and stunning churches. During this period, Havana became the third-largest city in the Americas, behind Lima and Mexico City, both larger Spanish colonial cities.
Havana's prosperity led to it being captured by the British in 1762 during the Seven Years' War. It was returned to Spain under the Treaty of Paris in 1763 in exchange for Florida.
The 19th century was marked by struggles for independence from Spain, culminating in the Spanish-American War in 1898, which saw Spain lose control of Cuba. Following this, the United States governed Cuba until its independence in 1902.
During the 20th century, Havana became known for its vibrant culture, nightlife, and political upheavals. In 1959, Fidel Castro led a revolution that overthrew the government of Fulgencio Batista. This event led to a significant shift in Havana's cultural, political, and economic life, as Cuba became a socialist state with a centrally planned economy.
The city's architecture, preserved since the 1959 Revolution, is now a historical time capsule intermingling with the modern.
Havana became the capital of Cuba in 1553, during the Spanish colonial period. The governor moved his residence there due to its advantageous location with a superior port and its growth as a center of the island's wealth. Ever since, despite its ups and downs, Havana has remained the political, economic, and cultural heart of Cuba.
Features of Havana
Havana is characterized by its unique mix of history, culture, and diverse architectural landscape ranging from Spanish colonial buildings to 20th-century Art Deco constructions.
In essence, Havana is a city of contrasts where time seems to have stood still, yet the energy of its people and culture is palpable in its lively streets, music, dance, and vibrant daily life.
Geography and Climate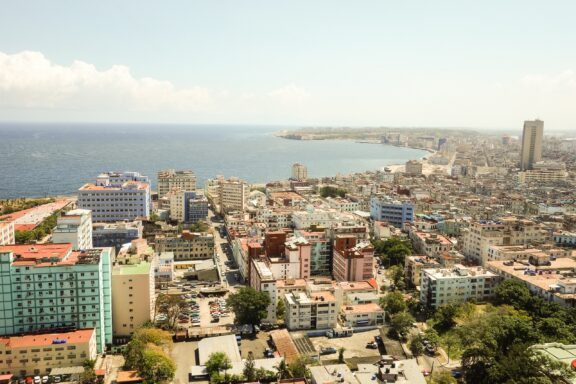 Havana is located along the Straits of Florida, providing easy Atlantic Ocean access. The city's geography is characterized by flat lands punctuated by three main rivers:
• Almendares
• Luyanó
• Martín Pérez
To the west, the Almendares River runs through the city, separating Havana into two main sections: Vedado and Old Havana.
The city experiences a tropical monsoon climate characterized by year-round warm temperatures.
Its weather can be broadly categorized into two seasons: the dry season (November to April), which has lower temperatures and less rainfall, and the wet season (May to October), which is hotter and sees most of the annual rainfall. Havana is also susceptible to hurricanes, most common between September and November.
Population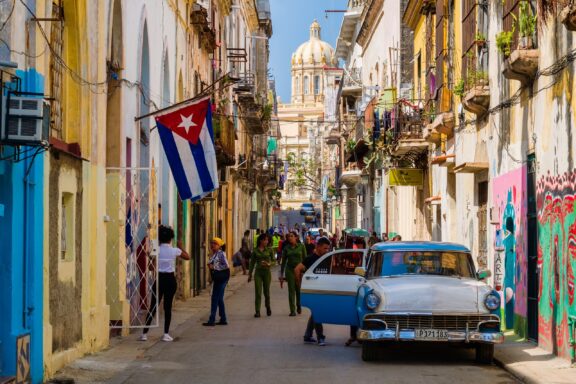 Havana has a population of around 2.1 million people, making it the most populous city in Cuba and one of the largest in the Caribbean. The populace is largely made up of Cubans, with Afro-Cubans making up a substantial proportion.
Havanans are known for their warm hospitality. Spanish is the official and most widely spoken language in the city. Despite economic struggles, the people of Havana have a reputation for their zest for life, often expressed through music, dance, and other cultural activities.
Economy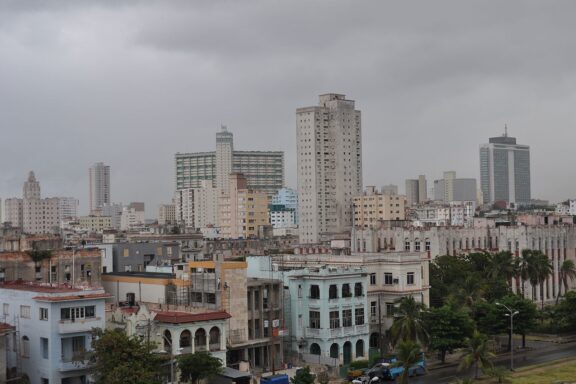 Havana plays a crucial role in Cuba's economy, serving as the country's economic and financial center. The city's economy is varied, with sectors including tourism, manufacturing, and services contributing significantly.
Tourism is a significant industry in Havana, with travelers drawn to the city's historic architecture, culture, beautiful beaches, and classic cars. Tourist infrastructure is well-developed, with numerous hotels, restaurants, nightclubs, and cultural attractions.
Manufacturing is also substantial, producing goods like tobacco products, alcoholic beverages, textiles, and chemicals. The city is home to all of Cuba's major rum distilleries and cigar factories, both products being world-renowned and crucial for export.
However, more broadly, the economic health of Havana and Cuba has faced challenges due to decades of U.S. economic sanctions, economic inefficiencies associated with the centrally planned economy, and dependence on international aid and remittances. These challenges have led to shortages of essential goods and financial deprivation for many of the city's residents.
Things to Do and Places to See in Havana
1. Explore Old Havana (Habana Vieja)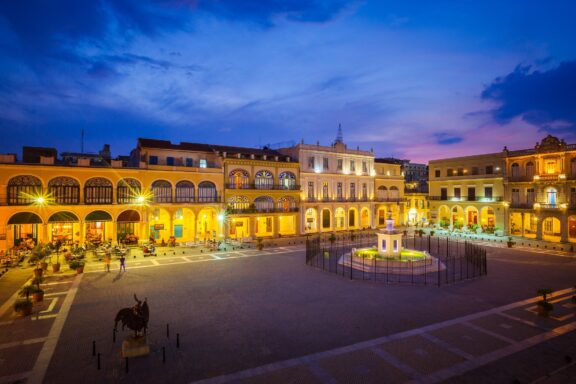 Old Havana, or Habana Vieja, is the heart of the city's history and culture. With its cobbled streets and colorfully preserved Spanish colonial architecture, it offers a trip back in time. This UNESCO World Heritage Site has historic plazas, quaint shops, local restaurants, and street performers.
Each corner and alleyway tells a story of the city's vibrant past. Whether guided or self-directed, walking tours are an excellent way to explore the area and appreciate its unique blend of architectural styles.
2. Visit National Capitol Building (El Capitolio)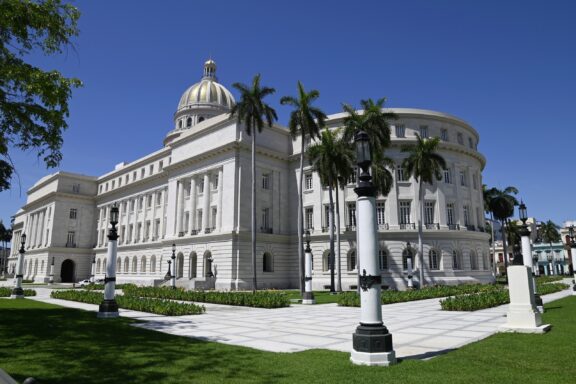 Modeled after the U.S. Capitol in Washington, D.C., El Capitolio served as the seat of the Cuban government until the revolution in 1959. Today, the building is home to the Cuban Academy of Sciences. Its grand neoclassical façade is a prominent landmark in Havana. Inside, the elaborately decorated "Hall of Lost Steps" and the enormous Statue of the Republic (one of the world's most giant indoor statues) are significant highlights.
3. Stroll Along the Malecón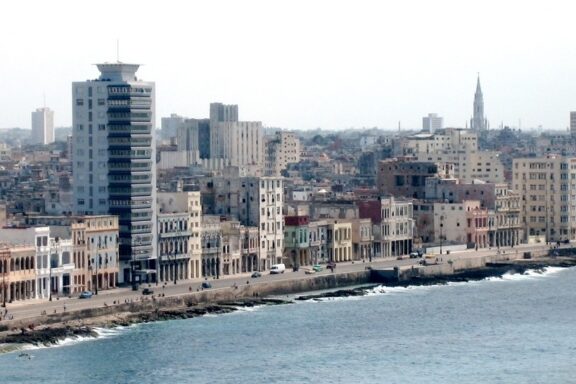 The Malecón is an iconic seafront promenade that stretches for 8 kilometers along the coast of Havana. It's a social hub where locals and tourists gather to socialize, fish, or enjoy the breathtaking view, especially during sunset. The Malecón is lined with colorful buildings and offers stunning sea views, making it a picturesque spot for a stroll.
4. Visit Plaza de la Catedral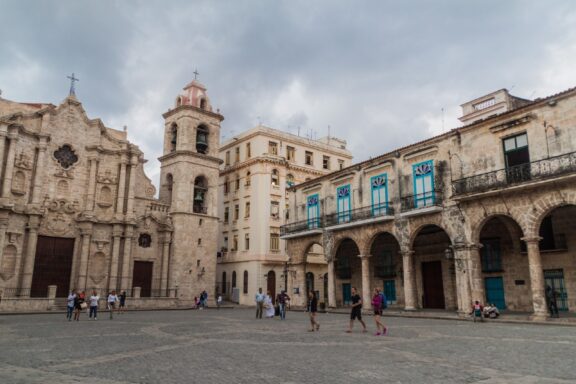 Located in Old Havana, Plaza de la Catedral is one of Havana's most beautiful and best-preserved plazas. The square is dominated by the stunning Catedral de San Cristobal, a prime example of Cuban Baroque architecture. The plaza exudes historical charm and elegance with its cobblestone streets and surrounding colonial buildings.
5. Explore Fort of San Carlos of the Cabin (Fortaleza de San Carlos de la Cabaña)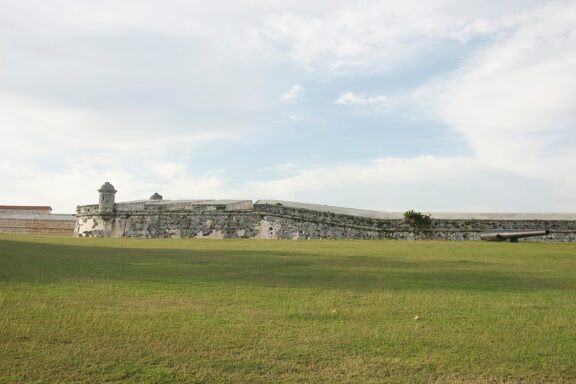 The Fort of San Carlos, located at the entrance of Havana's harbor, is a massive fortress built in the 18th century by the Spanish to protect Havana from pirate attacks and foreign invasions. Today, it is a historical monument offering panoramic views of Havana and the sea. The fort is also the venue for the traditional cannon-firing ceremony, "El Cañonazo," which occurs nightly at 9 PM.
6. Enjoy a Mojito at La Bodeguita Del Medio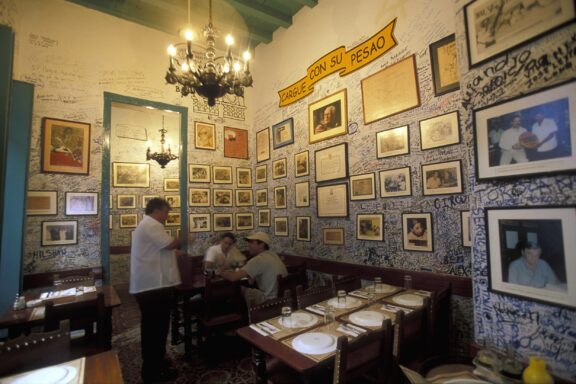 The establishment was initially a small grocery store opened by Angel Martínez in 1942. "La Bodeguita del Medio" translates to "the little store in the middle," initially referring to its location halfway down the block.
La Bodeguita del Medio is a legendary Havana bar famous for associating with Ernest Hemingway, who reportedly favored its mojitos. The bar is filled with scribbles and signatures of visitors from around the world. While it can get crowded, the atmosphere is warm and vibrant, often enlivened by live traditional Cuban music.
7. Relax in Central Park, Havana (Parque Central)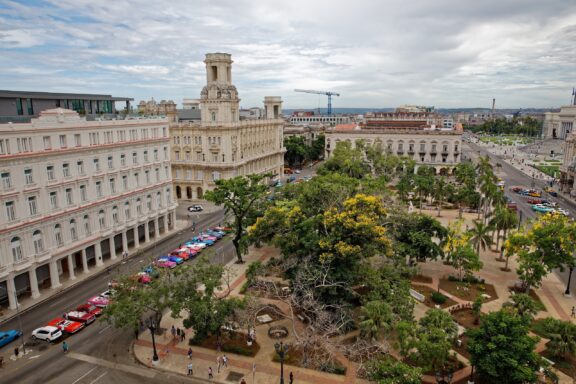 Parque Central is a lush, tree-lined park in Havana's heart. Surrounded by modern and colonial buildings, including the Gran Teatro de la Habana, it's a bustling spot where locals and tourists relax, socialize, and enjoy the warm weather. The park is also known for its passionate gatherings of baseball fans, who come here to debate and discuss their favorite sport.
8. Visit the Museum of the Revolution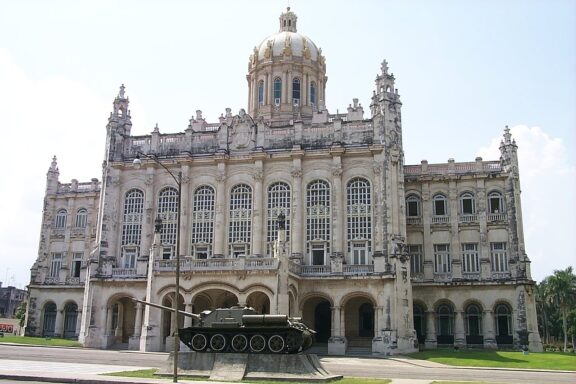 Housed in the former Presidential Palace, the Museum of the Revolution provides a detailed overview of Cuba's complex revolutionary history. Exhibits include photographs, documents, and military equipment from the revolutionary period. The museum offers a unique perspective on the events leading up to and following the 1959 revolution, including the Bay of Pigs invasion and the Cuban Missile Crisis.
9. Tour a Cigar Factory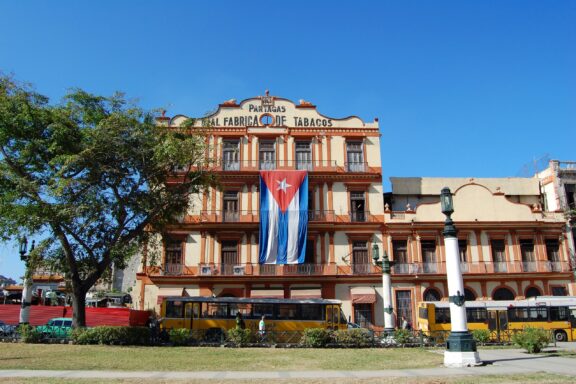 Cigars are synonymous with Cuba, and Havana is home to several cigar factories. A tour of one such factory, like the Partagás or La Corona factories, provides an insight into the meticulous process of crafting one of the world's finest cigars. These guided tours typically showcase different stages of cigar production, from the initial selection and preparation of tobacco leaves to the final rolling and packaging.
10. Visit Ernest Hemingway's Home (Finca Vigía)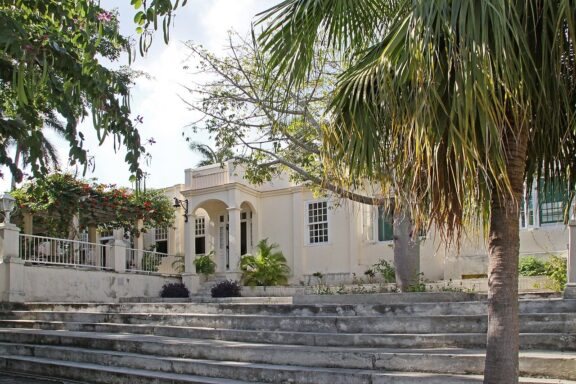 Finca Vigía, located just outside Havana, is where famed American writer Ernest Hemingway lived for over two decades. Now a museum, the house remains as Hemingway left it, providing visitors with an intimate glimpse into his life.
You can see his library, boat Pilar, and the typewriter where he wrote some of his most acclaimed works, including "For Whom the Bell Tolls" and "The Old Man and the Sea." The home offers a captivating journey into the world of one of the 20th century's most celebrated authors.
Frequently Asked Questions
What is the best time to visit Havana?
The best time to visit Havana is typically during the dry season, from November to April. The weather is cooler during this period, and there's less rainfall. However, this is also the peak tourist season, so the city might be more crowded.
What is traditional food like in Havana?
Cuban cuisine is a blend of Spanish, African, and Caribbean influences. Traditional dishes often include rice and beans, roast pork (lechon), yuca, plantains, and Cuban sandwiches. Seafood is also common, given the country's coastal location.
What is a must must-try dish in Havana?
"Ropa Vieja," a dish of slow-cooked shredded beef in a tomato-based sauce, is a classic Cuban dish and a must-try in Havana.
Is it safe to visit Havana?
Havana is generally considered safe for tourists. However, as with any major city, it's advised to take precautions, such as avoiding unlit areas at night and keeping an eye on your belongings. Always check for current travel advisories before your trip.
Which currency is used in Havana, Cuba?
Cuba has a dual currency system: the Cuban Peso (CUP), used mainly by locals, and the Cuban Convertible Peso (CUC), used primarily by tourists. However, as of late 2020, the government announced plans to unify the currencies. Therefore, it's best to check the current status before your trip.
How can I get around in Havana?
Havana offers several means of transport, including taxis, buses, and 'Cocotaxis' (small, motorized rickshaws). For a more vintage experience, you can ride in a classic American car. Havana is also a very walkable city, especially in the Old Town.
What are some cultural customs I should get used to before visiting Havana?
Cubans are generally warm, friendly, and open to engaging with tourists. However, discussing politics, especially criticism of the Cuban government, can be sensitive and generally best avoided. Also, remember that internet access in Cuba can be limited, and asking before taking photos of locals is seen as polite.
What should I learn to respect the local culture and environment in Havana?
Show respect for the local culture by learning and following local customs. Try to support local businesses, such as locally-owned restaurants and shops. Be mindful of your surroundings, don't litter, and respect public spaces. If you're visiting historical or cultural sites, follow any guidelines provided to help preserve these crucial locations. Remember, you are a guest in their city, so try to behave as you would like a visitor to behave in your home.
Final Thoughts
Havana, Cuba, with its vibrant history, rich culture, and warm people, is undoubtedly worth visiting. It is a city where the past and present coexist, a place that immerses you in a tapestry of unforgettable experiences. Beyond its tangible assets, the spirit of its resilient people, who showcase an admirable zest for life amidst challenges, lends an unmistakable allure to the city.
While Havana might not offer the conventional luxuries of other tourist destinations, it provides an authentic, enriching experience that leaves a lasting imprint on its visitors. So, if you're seeking a travel experience that is both unique and memorable, Havana should be high on your list.