Trinidad and Tobago is located in the Caribbean region at latitude 10.691803 and longitude -61.222503 and is part of the North American continent.
The DMS coordinates for the center of the country are:
10° 41' 30.49'' N
61° 13' 21.01'' W
You can see the location of Trinidad and Tobago on the world map below: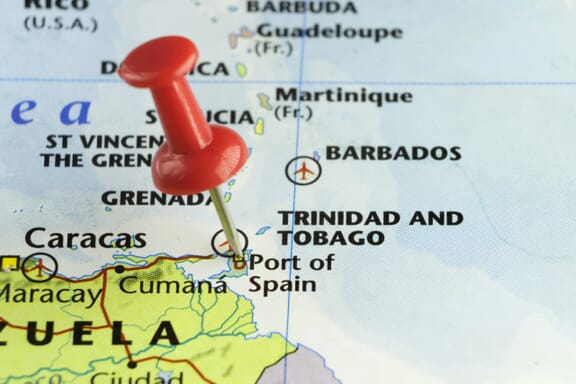 The country has no neighboring countries/land borders.
Maritime Borders
Trinidad and Tobago borders with the Caribbean Sea.
Trinidad and Tobago Related Content
Trinidad and Tobago Key Facts
Country
Trinidad and Tobago
Coordinates
Latitude: 10.691803
Longitude: -61.222503
Country Codes
Alpha 2: TT
Alpha 3: TTO
Country Flag Emoji
🇹🇹
Int. Phone Prefix
+1-868
Capital city
Port of Spain
Continent
Subcontinent
North America
Caribbean
Country Area
5,128 sq km
Population 2021
1,403,374
World Rank: 151
Median Age
35.5
Life expectancy
73
Major languages
English (official), Trinidadian Creole English, Tobagonian Creole English, Caribbean Hindustani (a dialect of Hindi), Trinidadian Creole French, Spanish, Chinese
UTC/GMT Time
Number of time zones: 1

Internet TLD
.tt
Biggest Airport
Piarco International Airport (POS)
Average temperature
25.75 °C
78.35 °F
Administrative Divisions
9 regions 3 boroughs 2 cities 1 ward
Political system
Parliamentary democracy
Trinidad and Tobago Economy Facts
World Bank Income Group
High income
World Bank Region
Latin America & Caribbean
Currency
Trinidad and Tobago Dollar (TTD)
GDP in 2020
$21.4 (billions of USD)
World Rank: 109
GDP per capita in 2020
$15,286
World Rank: 52
Major Industries / Economic Sectors
Oil and gas, manufacturing, agriculture, energy
Top 5 Import Countries
United States, China, Brazil, Mexico, Colombia
Top 5 Export Countries
United States, Brazil, Mexico, China, Colombia
Biggest Cities in Trinidad and Tobago
Here are the largest cities in Trinidad and Tobago based on 2021 data:
City
Population
Chaguanas
83,489
San Fernando
55,419
Couva
48,858
Port of Spain
37,074
Laventille
21,454
Tunapuna
17,650
Saint Joseph
14,376
San Juan
13,797
Siparia
10,254
Map of Trinidad and Tobago with the Largest Cities
Other Countries in the Caribbean Region