Costa Rica is located in the Central America region at latitude 9.748917 and longitude -83.753428 and is part of the North American continent.
The DMS coordinates for the center of the country are:
9° 44' 56.10'' N
83° 45' 12.34'' W
You can see the location of Costa Rica on the world map below: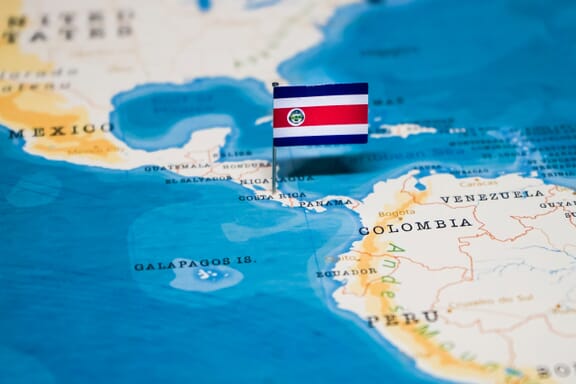 Costa Rica Neighboring Countries
The neighboring countries of Costa Rica (CR) are:
Nicaragua (NI)
Panama (PA)
Maritime Borders
Costa Rica borders with Pacific Ocean, and the Caribbean Sea.
Costa Rica Related Content
Costa Rica Key Facts
Country
Costa Rica
Coordinates
Latitude: 9.748917
Longitude: -83.753428
Country Codes
Alpha 2: CR
Alpha 3: CRI
Country Flag Emoji
🇨🇷
Int. Phone Prefix
+506
Capital city
San José
Continent
Subcontinent
North America
Central America
Country Area
51,100 sq km
Population 2021
5,139,053
World Rank: 121
Median Age
32.9
Life expectancy
77
Major languages
Spanish (official), English
UTC/GMT Time
Number of time zones: 1

Internet TLD
.cr
Biggest Airport
Juan Santamaría International Airport (SJO)
Average temperature
24.80 °C
76.64 °F
Administrative Divisions
7 provinces
Political system
Presidential representative democratic republic
Costa Rica Economy Facts
World Bank Income Group
Upper middle income
World Bank Region
Latin America & Caribbean
Currency
Costa Rican Colone (CRC)
GDP in 2020
$62.2 (billions of USD)
World Rank: 74
GDP per capita in 2020
$12,202
World Rank: 60
Major Industries / Economic Sectors
Agriculture, tourism, manufacturing, energy
Top 5 Import Countries
United States, China, Mexico, Colombia, Brazil
Top 5 Export Countries
United States, China, Mexico, Netherlands, Belgium
Biggest Cities in Costa Rica
Here are the largest cities in Costa Rica based on 2021 data:
City
Population
San Jose
288,054
Puerto Limon
60,710
Alajuela
48,326
Liberia
45,380
Puntarenas
41,528
Quesada
31,106
Buenos Aires
29,454
San Juan
25,866
Cartago
22,775
Canas
20,306
Map of Costa Rica with the Largest Cities
Other Countries in the Central America Region
Costa Rica on the World Map
Costa Rica is a country located in Central America. It is bordered by Nicaragua to the north, Panama to the southeast, and the Pacific Ocean to the west. The country has a total area of 51,100 square kilometers (19,700 sq mi) and a population of 5,161,326 people.
Costa Rica is known for its beautiful forests, beaches, and friendly people. They are top exporters in coffee, bananas, and other goods.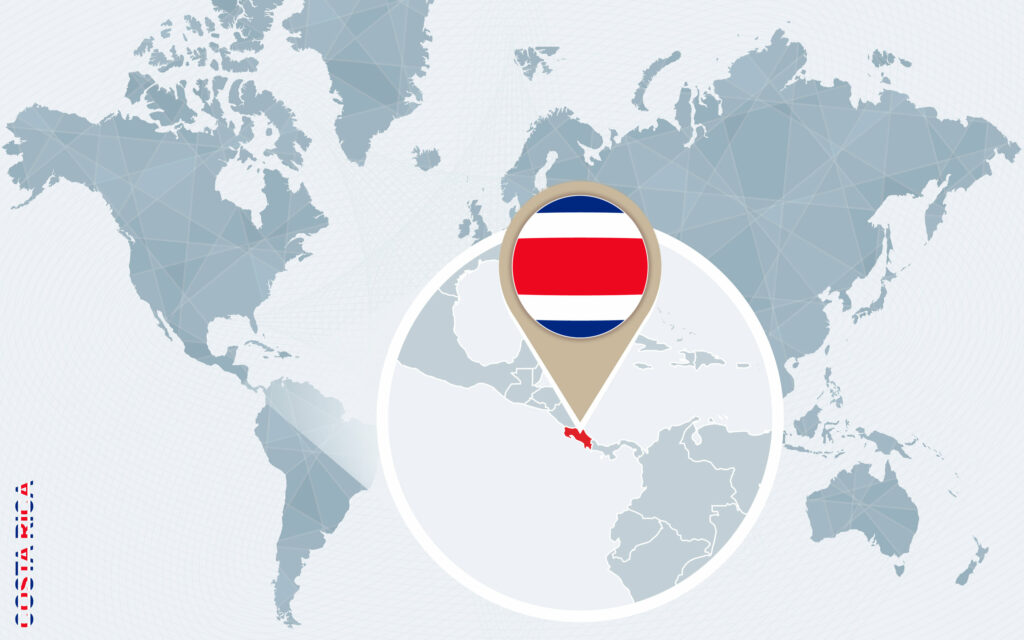 Costa Rica is located in Central American and is crossed by the Cordillera Central mountain range. The highest peak in the country is Chirripó, at 3,819 meters (ca. 12,530 ft).
The capital and largest city of Costa Rica is San José. Other major cities include Alajuela, Cartago, and Heredia.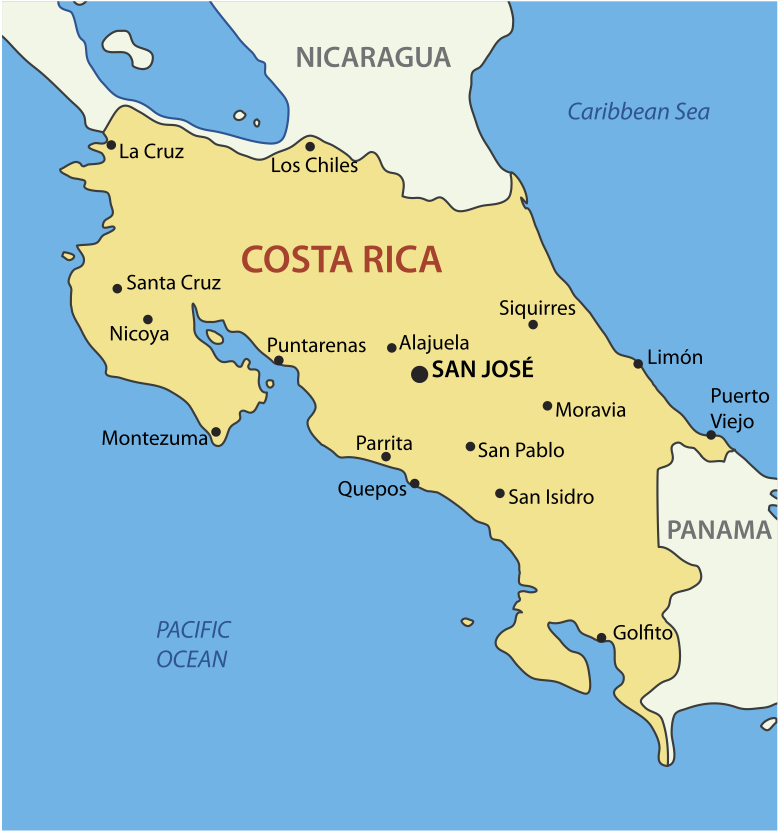 The Economy of Costa Rica
The economy of Costa Rica is based on tourism, agriculture, and electronics exports. The country has a gross domestic product (GDP) of $60 billion and a per capita GDP of $11,900.
In relation to the rest of the world, Costa Rica is ranked as the 76th largest economy.
The country's main export partners are the United States, China, and Mexico. Costa Rica's main exports are medical equipment, bananas, coffee, and sugar. It is the most stable country economically in Central America.
Politics of Costa Rica
The politics of Costa Rica is based on a democratic system with executive, legislative, and judicial branches.
The president is the head of state and government and is elected to a four-year term. The unicameral Legislative Assembly has 57 members who are elected to concurrent four-year terms.
The judiciary is independent of the executive and the legislature. Costa Rica is a member of the United Nations, the World Trade Organization, and the Central American Integration System.
Culture and People of Costa Rica
The population of Costa Rica is a mixture of European, indigenous Central American, and African descent.
There are three recognized ethnic groups:
White (49%)
Mestizo (45%)
Black (6%)
At least 50% of the people in Costa Rica identify themselves as Roman Catholics.
The official language of Costa Rica is Spanish. However, English is widely spoken by the educated population.
Related: Spanish Speaking Countries
The literacy rate in Costa Rica is 97% for people over 15 years old. The country has a life expectancy at birth of 79 years.
Central America With Costa Rica Map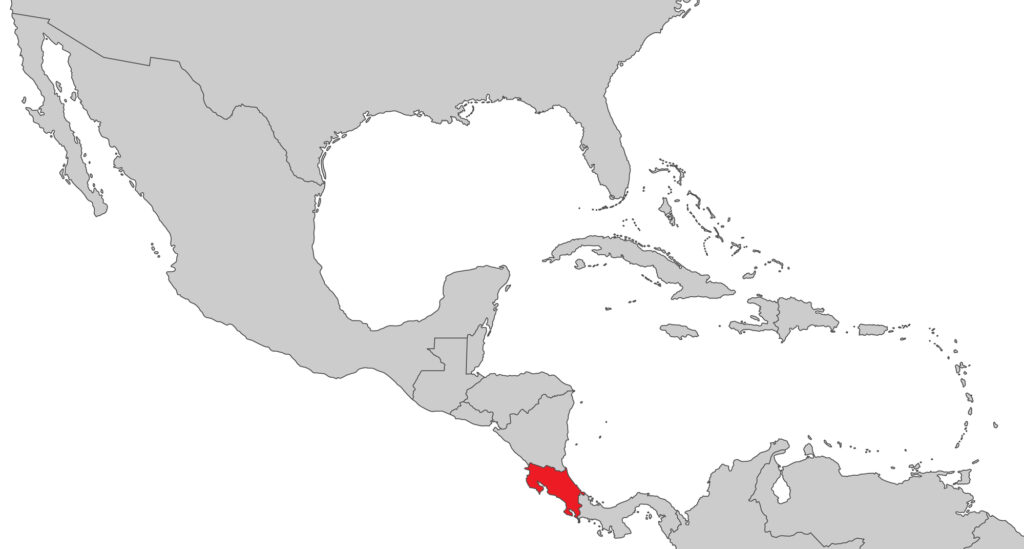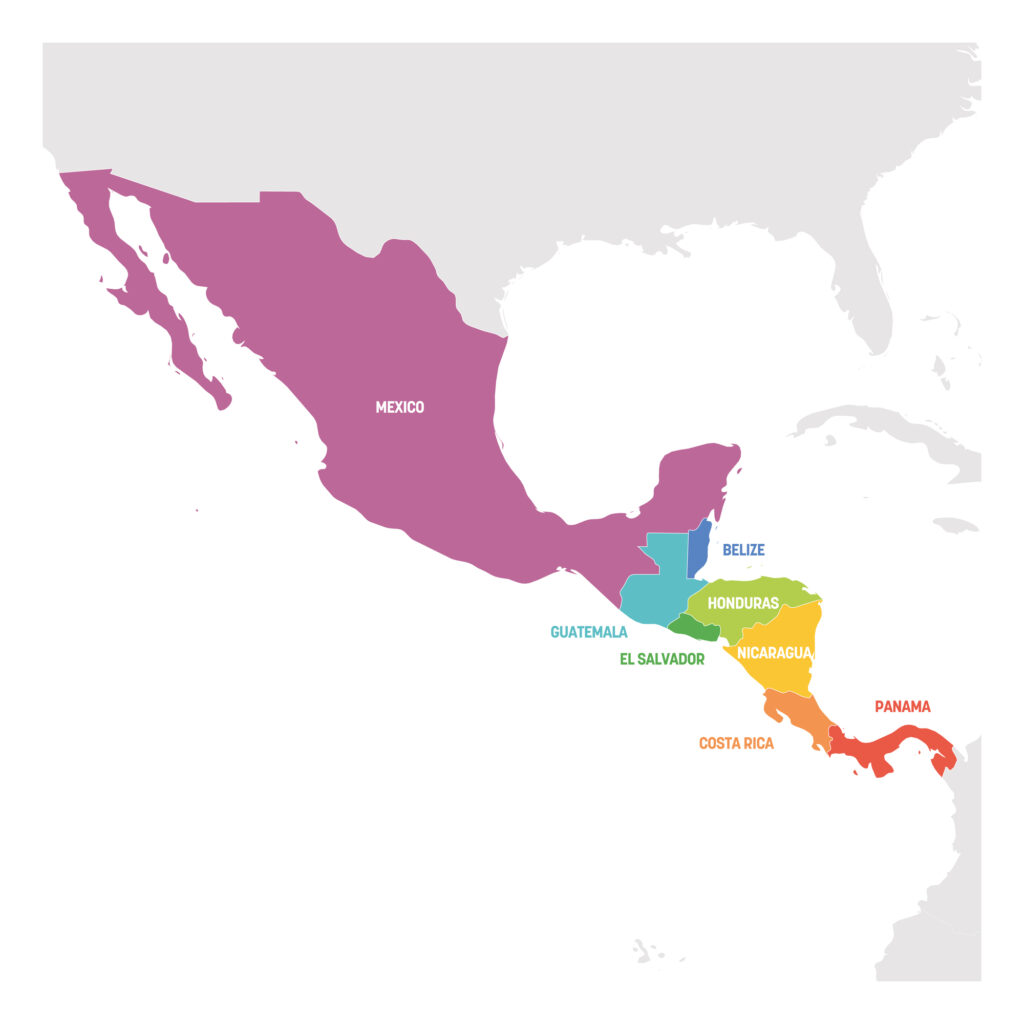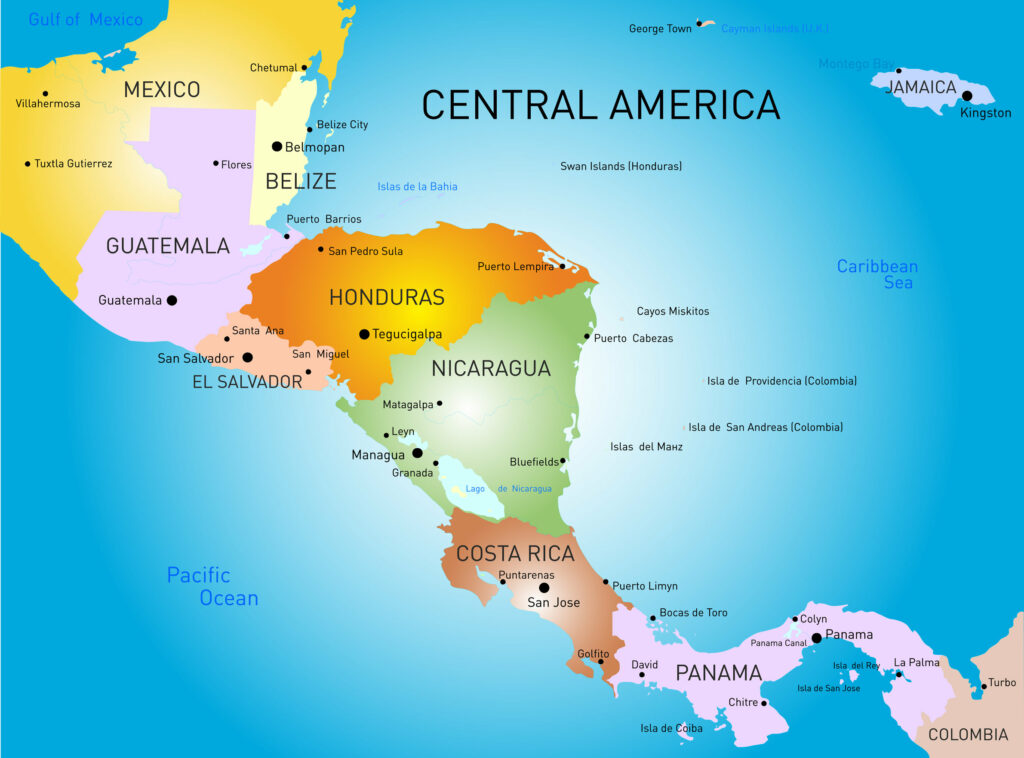 With a land area of 51,100 square kilometers (19,700 sq mi), Costa Rica is in Central America. There are 1.75 million hectares of forest present in the country.
Costa Rica adopted its flag on December 12th, 1906. The blue and red stripes found on the flag represent the equal status of the executive, legislative, and judicial branches of government.
Origin of Flag
The flag uses the same colors as the flag of France to mirror its independence from Spain. Before Costa Rica achieved independence from Spain, they used a different banner. The French Revolution inspired this design.
The coat of arms of Costa Rica depicts three smoking, blue-green volcanoes to symbolize the country's three most significant volcanic ranges:
Seven stars represent the seven provinces of Costa Rica. The Phrygian cap tops the shield, a symbol of liberty.
Related: Costa Rica Flag Map and Meaning
Other countries in Central America include Guatemala, Honduras, El Salvador, Nicaragua. All of these countries are members of the Organization of Central American States, Spanish Organización de Estados Centroamericanos (ODECA).
Costa Rica With Provinces
Each province in Costa Rica is divided into cantons. There are 82 cantons in Costa Rica.
The first canton came to life on October 18th, 1848. This canton was named San Francisco de Dos Ríos.
Provinces of Costa Rica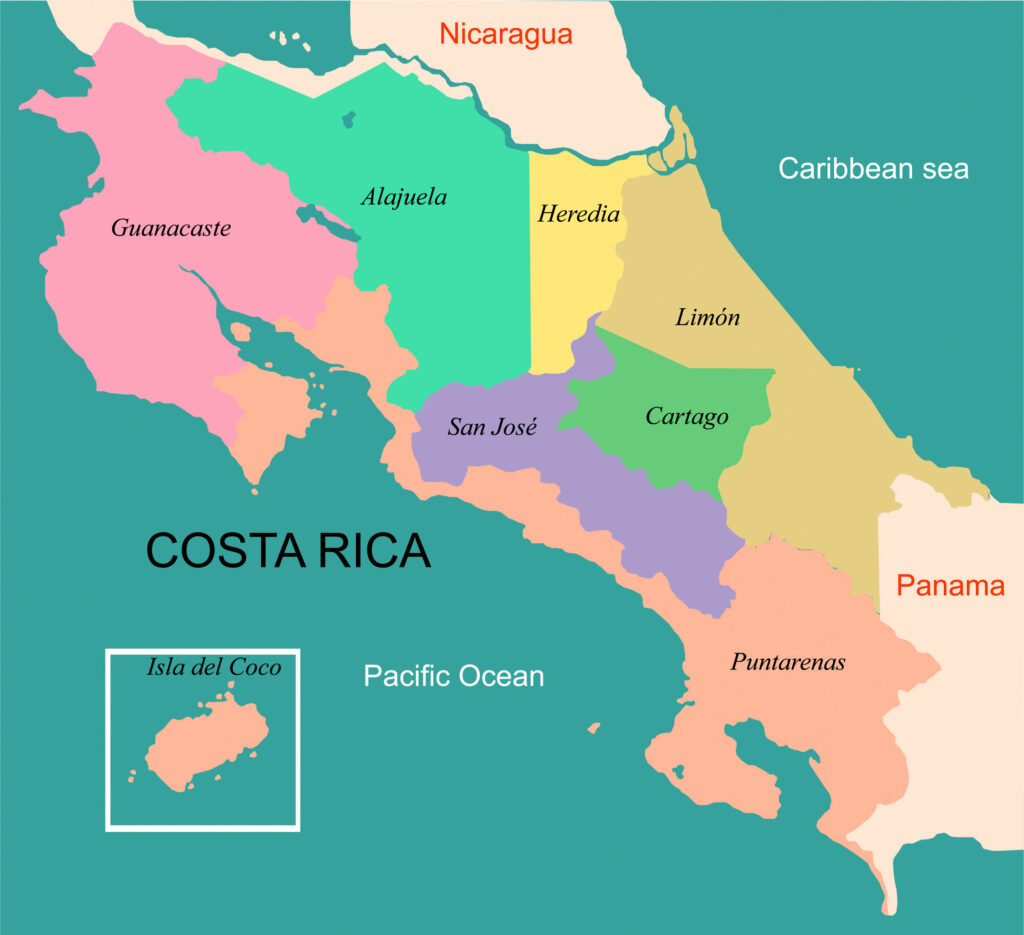 The provinces of Costa Rica include the following:
Alajuela
This province has 16 cantons. Alajuela is the second-largest city in Costa Rica and the capital of the Alajuela Province. The city is affectionately known as the City of Mangoes. This place is one of Central America's cleanest and safest cities.
Cartago
One of Costa Rica's central science and technology institutions is the Technological Institute of Cartago (ITCR), founded in 1971.
The Inter-American (Pan-American) Highway and the Costa Rica Railway lead to San José, the country's national capital. Cartago is also known for its Sunday market.
Cartago was the first actual Spanish settlement in Costa Rica, founded in 1563 by Juan Vasquez de Coronado.
Heredia
Heredia is located in the Central Valley region of Costa Rica and is the smallest province. Lush vegetation and a breathtaking backdrop are some of the natural attractions in this area.
It is also notable for its coffee plants and magnificent volcanoes. Heredia is also famous for its Sunday farmers' market. Heredia was founded in 1705 and is called the "City of Flowers."
Puntarenas
Puntarenas is on the Pacific Coast of Costa Rica. The province is the most populous in Costa Rica, and it is also the most important commercial center on the Pacific Coast.
San José
San Jose is the largest city in the country with about 2 million people. It is located in the Central Valley region of Costa Rica and is known as the "political and economic heart of Costa Rica."
San Jose boasts world-class museums, gardens, hotels, theaters, and historic structures. Majestic volcanoes and green hills guard this place, adding to its natural richness.
Guanacaste
Guanacaste has become a tropical paradise with a pristine beachfront, lovely mountain ranges, and several volcanoes owing to its popularity among tourists.
The long summer days, lively culture, and unmatched wildlife attract tourists. It is in the northwest section of the country, on the Pacific Ocean's shore.
Limón
Limón is the most violent province in Costa Rica per capita due to its longstanding history of gang violence. In Costa Rica, the region of Limon has the most protected territory and a wide range of flora and fauna.
The province is also home to the country's principal port, Limón. The Caribbean coast is known for its expansive rainforest, towering mountains, and pristine beaches. It also has a large Afro-Caribbean population.