Dominican Republic is located in the Caribbean region at latitude 18.735693 and longitude -70.162651 and is part of the North American continent.
The DMS coordinates for the center of the country are:
18° 44' 8.49'' N
70° 9' 45.54'' W
You can see the location of Dominican Republic on the world map below: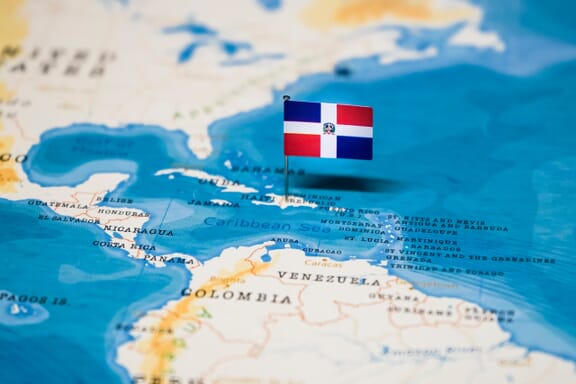 Dominican Republic Neighboring Countries
The neighboring countries of Dominican Republic (DO) are:
Haiti (HT)
The country has no neighboring countries/land borders.
Maritime Borders
Dominican Republic borders with the Caribbean Sea.
Dominican Republic (the) Related Content
Dominican Republic Key Facts
Country
Dominican Republic (the)
Coordinates
Latitude: 18.735693
Longitude: -70.162651
Country Codes
Alpha 2: DO
Alpha 3: DOM
Country Flag Emoji
🇩🇴
Int. Phone Prefix
+1-809, 1-829, 1-849
Capital city
Santo Domingo
Continent
Subcontinent
North America
Caribbean
Country Area
48,670 sq km
Population 2021
10,953,714
World Rank: 84
Median Age
27.1
Life expectancy
72.6
Major languages
Spanish
UTC/GMT Time
Number of time zones: 1

Internet TLD
.do
Biggest Airport
Punta Cana International Airport (Punta Cana)
Average temperature
27.00 °C
80.60 °F
Administrative Divisions
10 regions 1 district 31 provinces
Political system
Presidential representative democratic republic
Dominican Republic Economy Facts
World Bank Income Group
Upper middle income
World Bank Region
Latin America & Caribbean
Currency
Dominican Peso (DOP)
GDP in 2020
$78.8 (billions of USD)
World Rank: 67
GDP per capita in 2020
$7,268
World Rank: 80
Major Industries / Economic Sectors
Manufacturing, tourism, agriculture, energy
Top 5 Import Countries
United States, China, Mexico, Colombia, Brazil
Top 5 Export Countries
United States, China, Canada, Colombia, Mexico
Biggest Cities in Dominican Republic
Here are the largest cities in Dominican Republic based on 2021 data:
City
Population
Santo Domingo
2,581,827
Santiago
1,343,423
Santo Domingo Este
948,855
Los Alcarrizos
272,776
Higuey
251,243
San Cristobal
232,769
La Vega
220,279
San Pedro de Macoris
195,307
San Francisco de Macoris
188,118
Moca
172,294
Map of Dominican Republic with the Largest Cities
Other Countries in the Caribbean Region
Map of the Provinces of the Dominican Republic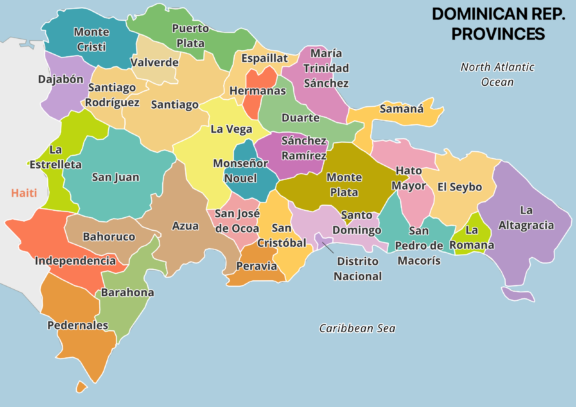 Dominican Rep. Provinces (List & Population)
Here is a table of the provinces of the Dominican Republic and their approximate populations based on the latest available data:
| Province | Approx. Population |
| --- | --- |
| Azua | 221,900 |
| Baoruco | 101,800 |
| Barahona | 189,600 |
| Dajabón | 66,200 |
| Distrito Nacional | 1,016,000 |
| Duarte | 294,800 |
| Elías Piña | 63,600 |
| El Seibo | 92,200 |
| Espaillat | 237,000 |
| Hato Mayor | 87,100 |
| Hermanas Mirabal | 93,100 |
| Independencia | 53,200 |
| La Altagracia | 355,400 |
| La Romana | 274,100 |
| La Vega | 419,300 |
| María Trinidad Sánchez | 145,300 |
| Monseñor Nouel | 178,800 |
| Monte Cristi | 114,500 |
| Monte Plata | 192,300 |
| Pedernales | 34,100 |
| Peravia | 194,800 |
| Puerto Plata | 330,600 |
| Samaná | 114,300 |
| Sánchez Ramírez | 161,100 |
| San Cristóbal | 619,600 |
| San José de Ocoa | 60,400 |
| San Juan | 234,400 |
| San Pedro de Macorís | 210,000 |
| Santiago | 1,110,000 |
| Santiago Rodríguez | 59,600 |
| Santo Domingo | 3,934,000 |
| Valverde | 183,700 |