Kazakhstan is located in the Central & South Asia region at latitude 48.019573 and longitude 66.923684 and is part of the Asian continent.
The DMS coordinates for the center of the country are:
48° 1' 10.46'' N
66° 55' 25.26'' E
You can see the location of Kazakhstan on the world map below: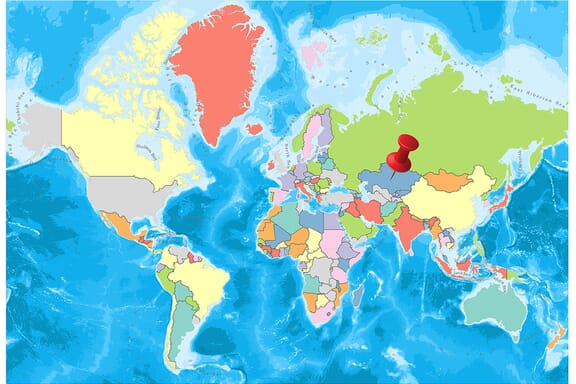 Kazakhstan Neighboring Countries
The neighboring countries of Kazakhstan (KZ) are:
China (CN)
Kyrgyzstan (KG)
Russian Federation (RU)
Turkmenistan (TM)
Uzbekistan (UZ)
Kazakhstan is a landlocked country, which means it does not have direct access to the open ocean.
Maritime Borders
Kazakhstan borders with the Caspian Sea.
Kazakhstan Related Content
Kazakhstan Key Facts
Country
Kazakhstan
Coordinates
Latitude: 48.019573
Longitude: 66.923684
Country Codes
Alpha 2: KZ
Alpha 3: KAZ
Country Flag Emoji
🇰🇿
Int. Phone Prefix
+7
Capital city
Astana
Continent
Subcontinent
Asia
Central & South Asia
Country Area
2,724,900 sq km
Population 2021
19,002,586
World Rank: 63
Median Age
29.5
Life expectancy
69.4
Major languages
Kazakh (official, Qazaq) 83.1% (understand spoken language) and trilingual (Kazakh, Russian, English) 22.3% (2017 est.); Russian (official, used in everyday business, designated the language of interethnic communication") 94.4% (understand spoken language) (2009 est.)"""
UTC/GMT Time
Number of time zones: 2


UTC+05:00 — western Kazakhstan (Aktobe, Atyrau, Kyzylorda, Mangystau and West Kazakhstan)
UTC+06:00 — eastern Kazakhstan

Internet TLD
.kz
Biggest Airport
Almaty International Airport (ALA)
Average temperature
5.50 °C
41.90 °F
Administrative Divisions
3 cities 14 regions
Political system
Presidential representative democratic republic
Kazakhstan Economy Facts
World Bank Income Group
Upper middle income
World Bank Region
Europe & Central Asia
Currency
Tenge (KZT)
GDP in 2020
$171.1 (billions of USD)
World Rank: 53
GDP per capita in 2020
$9,122
World Rank: 70
Major Industries / Economic Sectors
Oil and gas, manufacturing, agriculture, energy
Top 5 Import Countries
Russia, China, Germany, United States, Belarus
Top 5 Export Countries
Russia, China, Italy, Ukraine, Germany
Biggest Cities in Kazakhstan
Here are the largest cities in Kazakhstan based on 2021 data:
City
Population
Almaty
1,916,822
Nur-Sultan
1,078,362
Shymkent
1,028,673
Qaraghandy
497,777
Aqtobe
387,807
Taraz
357,795
Pavlodar
353,930
Semey
350,201
Oskemen
319,067
Atyrau
290,700
Map of Kazakhstan with the Largest Cities
Other Countries in the Central & South Asia Region
Geography
Kazakhstan, one of Central Asia's independent Turkish states, is the ninth-largest country in the world.
Kazakhstan, whose capital is Astana, is divided into 5 provinces and 14 provinces. These regions are Central Kazakhstan, North Kazakhstan, South Kazakhstan, East Kazakhstan, and Western Kazakhstan.
Russia is located in the north of Kazakhstan, which extends from Eastern Europe to Central Asia, Turkmenistan, Uzbekistan, and Kyrgyzstan are in the south, and the People's Republic of China is located in the east.
The country has a coast to the Aral and the Caspian Lakes.
One-fifth of the country's territory is covered with mountains. The other part consists of hilly plains and plateaus. There are thousands of small streams in Kazakhstan. The large part of these streams is poured into the Caspian Sea, Aral, Balkaş and Tengiz lakes. The rivers passing through the territory of Kazakhstan and pouring into the Northern Ice Sea are Irtiş, Isim, and Tobul. Most of the streams dry in summer. The main rivers are Ural and Seyhun. Many dams are located on the Seyhun River to prevent floods and irrigation.
There are fifty thousand lakes within the borders of the country, whose water level is generally variable and some of them dry in certain months. The 2320 km coast of the Caspian Sea is within the borders of Kazakhstan. Other important lakes are Aral, Balkaş, Zaysan, Alakol, Tengiz, and Seletitengiz.
Kazakhstan Political Map
Governance
Kazakhstan declared its independence on 16 December 1991. The Constitution was adopted on 28 January 1993. In the constitution, the country is defined as a unitary, secular, democratic and social state governed by a presidential system.
The President is the head of the executive. The term of office of the President was reduced to 5 years with the constitutional amendment of May 2007, when it was 7 years. The President may be elected for a maximum of 2 terms. However, with the amendment made in the Constitution, only President Nazarbayev has the right to be elected for life.
Climate
Kazakhstan has a continental climate due to its non-coastal and continental position. Summers are hot and dry, winters are cold and snowy. In January, temperatures range from -19 to -4 degrees. It varies between 19 and 26 degrees in July.
Religion
Muslims account for 70 percent of the Kazakh population. In the country where there is no official definition of religion, 26 percent of Christians live. The rest of the population is Buddhist, Jewish and non-religious.
Industry and Tourism
Kazakhstan is rich in oil, uranium, iron and gold reserves. 26 percent of the world's chromium, 20 percent of gold and 17 percent of uranium is located in Kazakhstan reserves.
The country's main source of income is based on the export of underground resources. The gross domestic product of the country, which is very rich in terms of both underground resources and agricultural areas, is at the level of $ 7,000. Total underground riches account for more than $ 2 trillion.
Arts
Handicrafts are very well developed in Kazakhstan. Felt, wood, leather, silver and gold handicraft products come in the country's touristic places. The most popular of these are the toy camels made of felt, and the traditional tents called yurta. The models of the local musical instrument called Dombra, and the sweater dolls dressed in traditional costumes are among the finest examples of this enormous craftsmanship.
Sports
The equestrian sport competitions in Kazakhstan are traditional horsemen games that come to mind first. For centuries, among the Central Asian nomads, and of course the races and games that are widely held among the Kazakhs can be seen as root, bayge, girl kuvuv and avdarspak.