Tanzania is located in the region at latitude -6.369028 and longitude 34.888822 and is part of the African continent.
The DMS coordinates for the center of the country are:
6° 22' 8.50'' S
34° 53' 19.76'' E
You can see the location of Tanzania on the world map below: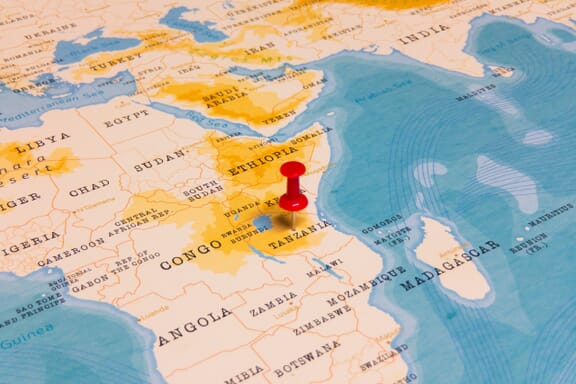 Tanzania Neighboring Countries
The neighboring countries of Tanzania (TZ) are:
Burundi (BI)
Congo (the Democratic Republic of the) (CD)
Kenya (KE)
Malawi (MW)
Mozambique (MZ)
Rwanda (RW)
Uganda (UG)
Zambia (ZM)
Maritime Borders
Tanzania borders with the Indian Ocean.
Tanzania, United Republic of Related Content
Tanzania Key Facts
Country
Tanzania, United Republic of
Coordinates
Latitude: -6.369028
Longitude: 34.888822
Country Codes
Alpha 2: TZ
Alpha 3: TZA
Country Flag Emoji
🇹🇿
Int. Phone Prefix
+255
Capital city
Dodoma
Continent
Subcontinent
Africa

Country Area
947,300 sq km
Population 2021
61,498,438
World Rank: 23
Median Age
16.8
Life expectancy
66.2
Major languages
Swahili, English
UTC/GMT Time
Number of time zones: 1

Internet TLD
.tz
Biggest Airport
Julius Nyerere International Airport (Dar es Salaam)
Average temperature
27.00 °C
80.60 °F
Administrative Divisions
31 regions
Political system
Presidential representative democratic republic
Tanzania Economy Facts
World Bank Income Group
Lower middle income
World Bank Region
Sub-Saharan Africa
Currency
Tanzanian Shilling (TZS)
GDP in 2020
$62.4 (billions of USD)
World Rank: 73
GDP per capita in 2020
$1,076
World Rank: 168
Major Industries / Economic Sectors
Agriculture, manufacturing, energy, services
Top 5 Import Countries
China, India, United Arab Emirates, Saudi Arabia, Kenya
Top 5 Export Countries
China, India, United Arab Emirates, Mozambique, Belgium
Biggest Cities in Tanzania
Here are the largest cities in Tanzania based on 2021 data:
City
Population
Dar es Salaam
7,461,000
Arusha
416,442
Dodoma
410,956
Mwanza
385,810
Mbeya
291,649
Tanga
243,580
Morogoro
207,000
Zanzibar
205,870
Sumbawanga
147,483
Moshi
144,739
Map of Tanzania with the Largest Cities
Other Countries in the Region
Tanzania Political Map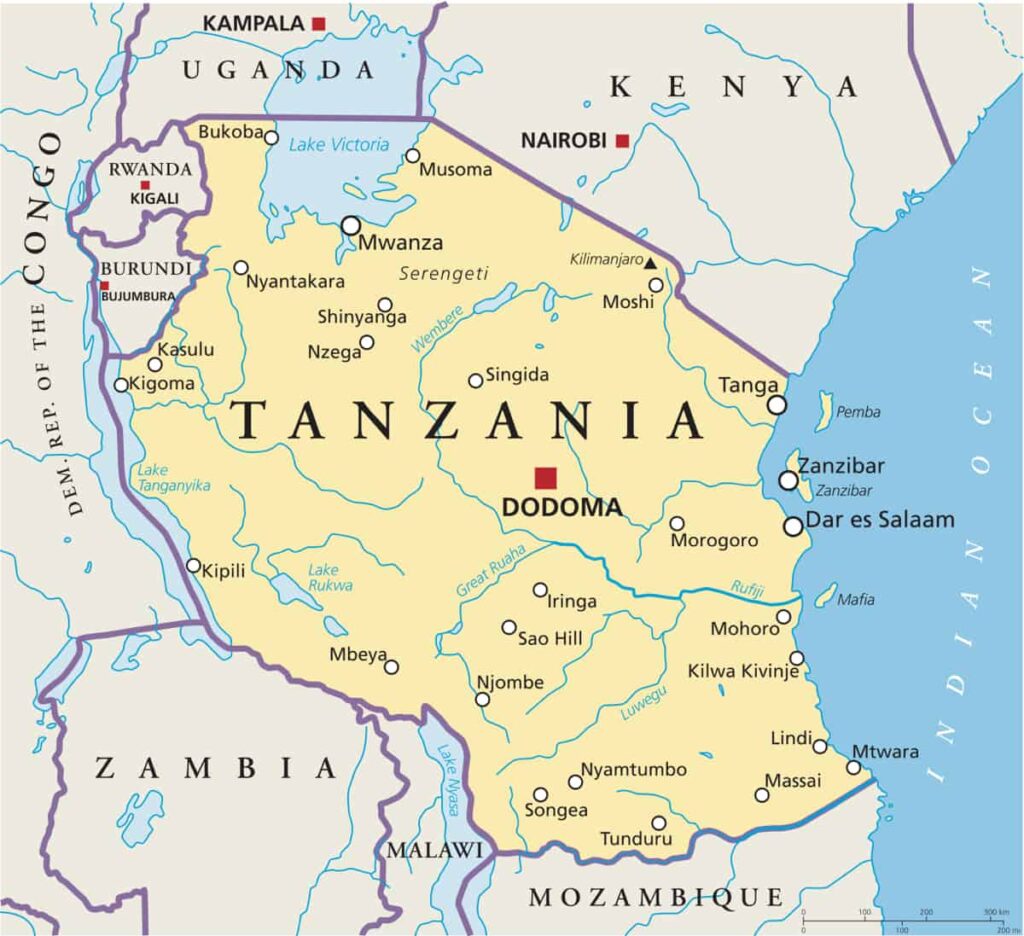 Important Sites
Tanzania has 7 important sites currently registered with UNESCO including a mix of natural and cultural:
Kondoa Rock-Art Sites (2006)
Ruins of Kilwa Kisiwani & Ruins of Songo Mnara (1981)
Stone Town of Zanzibar (2000)
Kilimanjaro National Park (1987)
Selous Game Reserve (1982)
Serengeti National Park (1981)
Ngorongoro Conservation Area (1979)
There is also 5 important sites currently under consideration including Gombe National Park, and The Central Slave and Ivory Trade Route.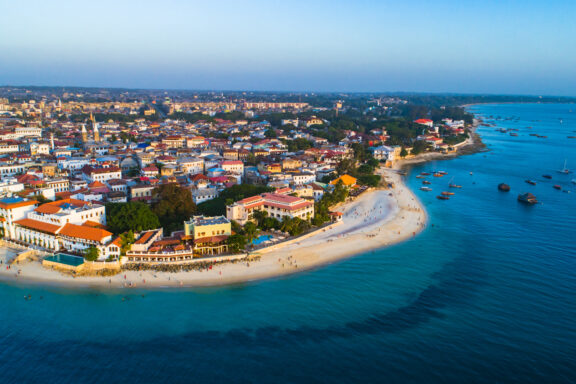 Transport Systems
Tanzania has a varied transport system that caters for tourists and those wishing to explore the national parks. The predominant transport method is the road, followed by the Tanzanian rail network. Trunk roads connect the main cities in this country such as Dodoma, Dar es Salaam, and Tanga. These roads, and regional roads, are managed by the Ministry of Works, Transport, and Communication.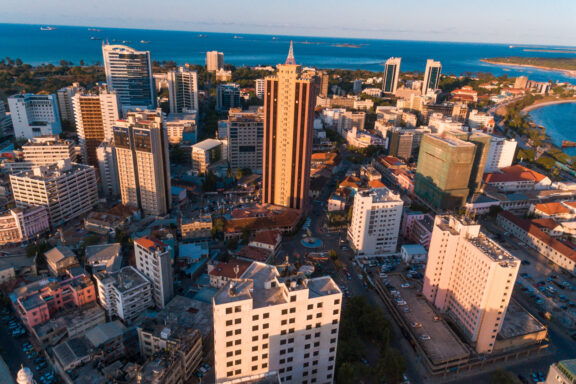 Railways are mainly commercial and used for freight transport. These are maintained by two companies – TRC, and TAZARA.
For travelers, the international airport is located in Da es Salaam and accommodates 2.3 million passengers per year. The Julius Nyerere International Airport facilitates international flights from airlines including KLM, Qatar Airways, and Emirates.
Famous Tourist Attractions
As you can see from the Tanzania map with regions, this country has diverse geography – this means there is an abundance of natural tourist attractions. Tourists usually visit Tanzania to travel through the Serengeti and spot big game wildlife. Alternatively, the other popular spot is the island of Zanzibar which has some amazing beaches and cultural history.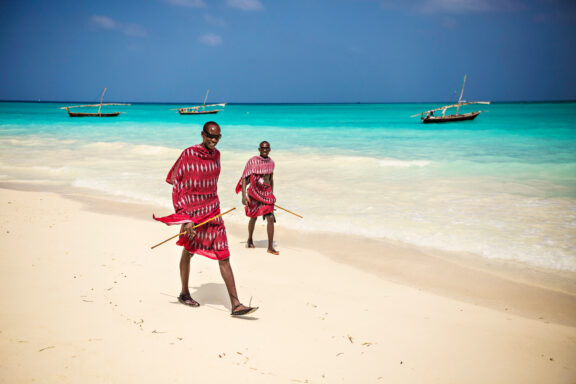 Two Masai walk along a beach in Zanzibar
If you love nature, and the great outdoors, popular natural attractions include [6]:
Lake Manyara National Park
Tarangire National Park
Selous Game Reserve
Gombe Stream National Park
Mount Kilimanjaro
Serengeti National Park
Ngorongoro Conservation Area
Each of these locations offers an abundance of wildlife – from elephants and giraffes to thousands of flamingos and zebras. Guided safaris through the national parks offer breathtaking scenery and an unfiltered look at mother nature.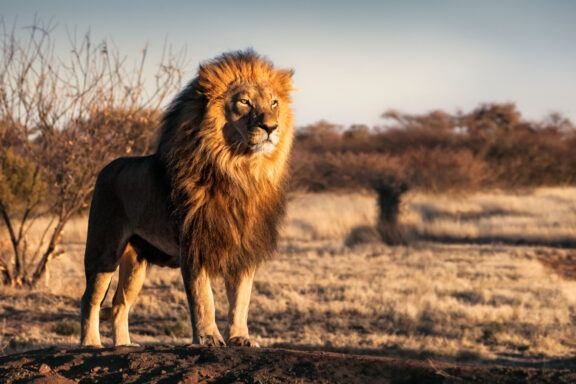 Currency
The official currency of Tanzania is the Tanzanian Shilling. The main unit is one Shilling, and the minor unit is one hundred cents. Tanzanian Shillings have banknote denotations of 500, 1000, 2000, 5000, and 10000. Aside from the Shilling, US Dollars are widely accepted as a secondary currency.
Circulation of the Tanzanian Shilling is controlled by the Central Bank of Tanzania – it was first used as the national currency in 1966 and replaced the East African Shilling.   
Political System & Economy
Tanzania is officially recognized as the United Republic of Tanzania. The country's current constitution was adopted in 1977 – it specifies the single-party government structure and the idea of a strong president.
In terms of leadership, Tanzania has a Chief of State who is also Head of the Government. The functional government is split into three main branches – executive, judicial, and legislative. A president is elected by the public; they then appoint judicial staff. Tanzania also has a National Assembly with 239 voted members from different constituencies. 
This country is split into different administrative divisions – regions, districts, divisions, and finally local wards. Tanzania has the following:
There are multiple divisions and wards and their administrative size can vary depending on the region. The original regions of Tanzania were formed under British rule, but have since been changed.
In terms of economy, Tanzania has a developing system that is mainly dependent on agriculture. The agricultural industry accounts for approximately 50% of the nation's employed population. In the world stage, Tanzania has a GDP rank of 74/196. Moreover, it has a positive GDP growth of +7.2%. Aside from agriculture, other main industries include salt production and mining. The mining industry is hugely important and Tanzania is one of the main exporters of gold in Africa.
Geography
As shown in the detailed political map of Tanzania above, it borders 8 African countries – Mozambique, Malawi, and Zambia in the south. The Democratic Republic of Congo, Burundi, and Rwanda in the west, and Uganda and Kenya in the north.
Its east coast is located on the Indian Ocean and is north of Madagascar. Along the east coast, Tanzania has many small to medium-sized islands – the largest of which is Zanzibar. Zanzibar is a popular tourist location and a main economic hub. Other notable islands include Mafia Island and Pemba Island.
In terms of physical geography, Tanzania has several distinct regions:
Indian coastline and islands sheltered by coral reefs
Mainland central plateau (grassland, rolling hills, and plains)
Serengeti plain
Mountain region (Including Mount Kilimanjaro)
You can also see from the Tanzania map, that it has several borders on some of the largest lakes in Africa including Lake Victoria, and Lake Malawi. Moreover, the Ngorongoro Crater is classed as the world's biggest caldera, spanning an area of 265 square km.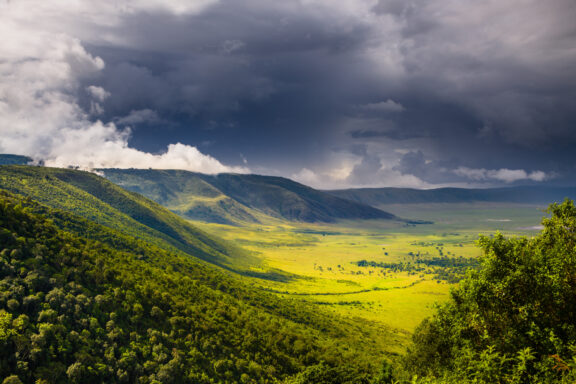 Tanzania FAQs
What Tanzania is famous for?
The first thing that most people think of when considering Tanzania is Mount Kilimanjaro – it is an impressive sight and one of the most noteworthy mountains in the world.
Is Tanzania a safe country?
Tanzania is relatively safe compared to some other African countries [5]. As with traveling anywhere, exercise common sense and keep your belongings out of sight when walking through big cities. It is also advisable to avoid isolated beaches at night and to take taxis for public transportation at night.
Where is Tanzania located?
East Africa – bordering 8 other African countries and the Indian Ocean.
What are the current issues in Tanzania?
The main issues the population of Tanzania currently faces is inequality and poverty – there is a divide in quality of life where some live in poverty, and others have a great quality of life.