Maldives is located in the Central & South Asia region at latitude 3.202778 and longitude 73.22068 and is part of the Asian continent.
The DMS coordinates for the center of the country are:
3° 12' 10.00'' N
73° 13' 14.45'' E
You can see the location of Maldives on the world map below: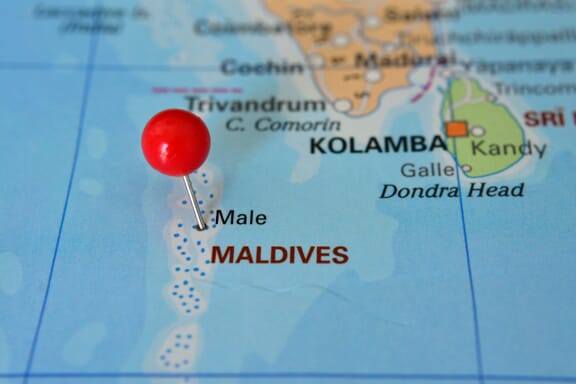 The country has no neighboring countries/land borders.
Maritime Borders
Maldives borders with the Indian Ocean.
Maldives Key Facts
Country
Maldives
Coordinates
Latitude: 3.202778
Longitude: 73.22068
Country Codes
Alpha 2: MV
Alpha 3: MDV
Country Flag Emoji
🇲🇻
Int. Phone Prefix
+960
Capital city
Malé
Continent
Subcontinent
Asia
Central & South Asia
Country Area
298 sq km
Population 2021
543,620
World Rank: 167
Median Age
30.6
Life expectancy
79.9
Major languages
Dhivehi (official, dialect of Sinhala, script derived from Arabic), English (spoken by most government officials)
UTC/GMT Time
Number of time zones: 1

Internet TLD
.mv
Biggest Airport
Velana International Airport (MLE)
Average temperature
28.00 °C
82.40 °F
Administrative Divisions
19 administrative atolls 2 cities
Political system
Presidential representative democratic republic
Maldives Economy Facts
World Bank Income Group
Upper middle income
World Bank Region
South Asia
Currency
Rufiyaa (MVR)
GDP in 2020
$3.7 (billions of USD)
World Rank: 161
GDP per capita in 2020
$6,924
World Rank: 85
Major Industries / Economic Sectors
Tourism, manufacturing, agriculture, energy
Top 5 Import Countries
India, China, United Arab Emirates, Saudi Arabia, Singapore
Top 5 Export Countries
India, China, United Arab Emirates, Malaysia, Singapore
Biggest Cities in Maldives
Here are the largest cities in Maldives based on 2021 data:
City
Population
Male
133,019
Map of Maldives with the Largest Cities
Other Countries in the Central & South Asia Region