Albania is located in the Southern Europe region at latitude 41.153332 and longitude 20.168331 and is part of the European continent.
The DMS coordinates for the center of the country are:
41° 9' 12.00'' N
20° 10' 5.99'' E
You can see the location of Albania on the world map below:
Albania Neighboring Countries
The neighboring countries of Albania (AL) are:
Greece (GR)
Montenegro (ME)
North Macedonia (MK)
Kosovo (XK)
Serbia (RS) by Kosovo
The country has no neighboring countries/land borders.
Maritime Borders
Albania borders the Adriatic Sea, and Ionian Sea.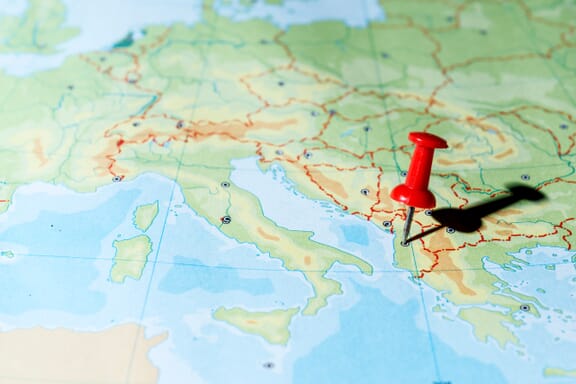 Albania Related Content
Albania Key Facts
Country
Albania
Coordinates
Latitude: 41.153332
Longitude: 20.168331
Country Codes
Alpha 2: AL
Alpha 3: ALB
Country Flag Emoji
🇦🇱
Int. Phone Prefix
+355
Capital city
Tirana
Continent
Subcontinent
Europe
Southern Europe
Country Area
28,748 sq km
Population 2021
2,811,666
World Rank: 136
Median Age
37.3
Life expectancy
76.5
Major languages
Albanian 98.8% (official - derived from Tosk dialect), Greek 0.5%, other 0.6% (including Macedonian, Romani, Vlach, Turkish, Italian, and Serbo-Croatian), unspecified 0.1% (2011 est.)
UTC/GMT Time
Number of time zones: 1

Internet TLD
.al
Biggest Airport
Tirana International Airport Nënë Tereza (TIA)
Average temperature
11.40 °C
52.52 °F
Administrative Divisions
12 counties
Political system
Parliamentary republic
Albania Economy Facts
World Bank Income Group
Upper middle income
World Bank Region
Europe & Central Asia
Currency
Albanian Lek (ALL)
GDP in 2020
$15.1 (billions of USD)
World Rank: 124
GDP per capita in 2020
$5,332
World Rank: 97
Major Industries / Economic Sectors
Agriculture, manufacturing, tourism, energy
Top 5 Import Countries
China, Italy, Germany, Turkey, Greece
Top 5 Export Countries
Italy, Kosovo, Germany, Switzerland, Greece
Biggest Cities in Albania
Here are the largest cities in Albania based on 2021 data:
City
Population
Tirana
418,495
Vlore
130,827
Kamez
126,777
Fier
120,655
Durres
113,249
Shkoder
112,276
Elbasan
78,703
Korce
51,152
Sarande
41,000
Berat
36,496
Map of Albania with the Largest Cities
Other Countries in the Southern Europe Region