Afghanistan is located in the Central & South Asia region at latitude 33.93911 and longitude 67.709953 and is part of the Asian continent.
The DMS coordinates for the center of the country are:
33° 56' 20.80'' N
67° 42' 35.83'' E
You can see the location of Afghanistan on the world map below: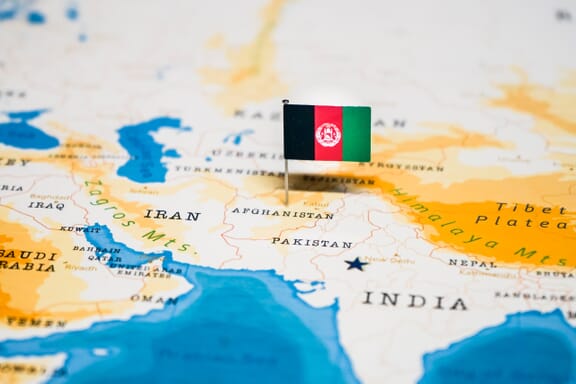 Afghanistan Neighboring Countries
The neighboring countries of Afghanistan (AF) are:
China (CN)
Iran (Islamic Republic of) (IR)
Pakistan (PK)
Tajikistan (TJ)
Turkmenistan (TM)
Uzbekistan (UZ)
The country has no neighboring countries/land borders.
Afghanistan is a landlocked country, which means it does not have direct access to the open ocean.
Afghanistan Related Content
Afghanistan Key Facts
Country
Afghanistan
Coordinates
Latitude: 33.93911
Longitude: 67.709953
Country Codes
Alpha 2: AF
Alpha 3: AFG
Country Flag Emoji
🇦🇫
Int. Phone Prefix
+93
Capital city
Kabul
Continent
Subcontinent
Asia
Central & South Asia
Country Area
652,230 sq km
Population 2021
39,835,428
World Rank: 37
Median Age
16.7
Life expectancy
62
Major languages
Afghan Persian or Dari (official) 77% (Dari functions as the lingua franca), Pashto (official) 48%, Uzbek 11%, English 6%, Turkmen 3%, Urdu 3%, Pashayi 1%, Nuristani 1%, Arabic 1%, Balochi 1% (2017 est.)
UTC/GMT Time
Number of time zones: 1

Internet TLD
.af
Biggest Airport
Hamid Karzai International Airport (KBL)
Average temperature
12.60 °C
54.68 °F
Administrative Divisions
34 provinces
Political system
Presidential system
Afghanistan Economy Facts
World Bank Income Group
Low income
World Bank Region
South Asia
Currency
Afghanistan Afghani (AFN)
GDP in 2020
$20.1 (billions of USD)
World Rank: 110
GDP per capita in 2020
$517
World Rank: 188
Major Industries / Economic Sectors
Agriculture, mining, manufacturing, services
Top 5 Import Countries
China, India, Pakistan, United Arab Emirates, United States
Top 5 Export Countries
Pakistan, India, Iran, China, United States
Biggest Cities in Afghanistan
Here are the largest cities in Afghanistan based on 2021 data:
City
Population
Kabul
4,273,156
Kandahar
614,254
Herat
556,205
Mazar-e Sharif
469,247
Taluqan
263,800
Jalalabad
263,312
Kunduz
259,809
Lashkar Gah
201,546
Maimanah
199,795
Shibirghan
175,599
Map of Afghanistan with the Largest Cities
Other Countries in the Central & South Asia Region