Africa is the second-largest continent in the world and has more countries than any other. Home to a diverse range of beautiful cities, people, cities, landscapes, and cultures, there's no other place like it.
As a large continent, the level of political stability varies widely from country to country in Africa, and some are considered safer than others. In this post, we'll look at the top 10 safest cities in Africa as of 2022, based on data from Statista.
In the table below, the safest cities in Africa are listed with a Safety Index score. The higher the score, the safer the city. Read on to learn more about safety in each of these amazing African cities.
| City | Country | Safety Index |
| --- | --- | --- |
| Kigali | Rwanda | 75.65 |
| Rabat | Morocco | 63.32 |
| Alexandria | Egypt | 61.26 |
| Accra | Ghana | 53.92 |
| Tunis | Tunisia | 52.20 |
| Addis Ababa | Ethiopia | 51.59 |
| Cairo | Egypt | 50.22 |
| Gaborone | Botswana | 45.68 |
| Algiers | Algeria | 45.18 |
| Casablanca | Morocco | 44.41 |
Safety Index Score Graphic: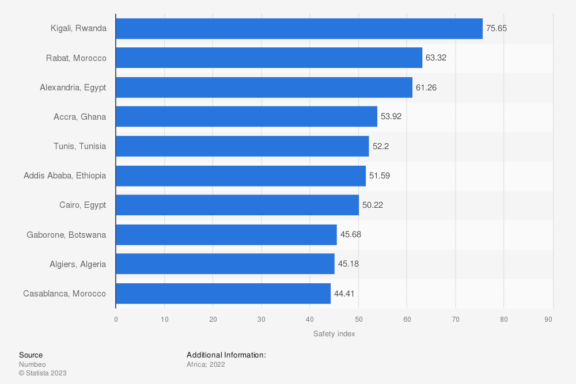 Safest Cities in Africa
10. Casablanca, Morocco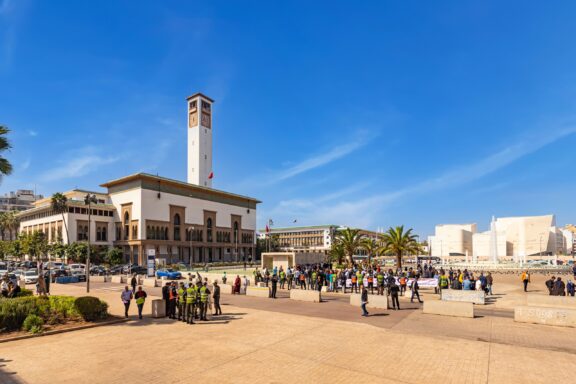 Safety Index: 44.41
Casablanca, Morocco's largest city, holds the 10th spot on the list of safest cities in Africa. While it may not be the safest city on the African continent, Casablanca has a range of safety measures in place to protect both residents and tourists.
The city is home to a well-organized police force, and there are numerous well-lit and monitored public spaces that contribute to a general feeling of safety. Many neighborhoods have community-watch programs, and surveillance cameras are commonly installed in busier areas.
While petty crimes like pickpocketing can occur — common in any major global city — violent crimes are relatively rare, particularly in well-frequented districts. Tourists and locals alike are advised to exercise common-sense safety precautions, such as avoiding poorly lit areas at night and always being aware of their surroundings.
9. Algiers, Algeria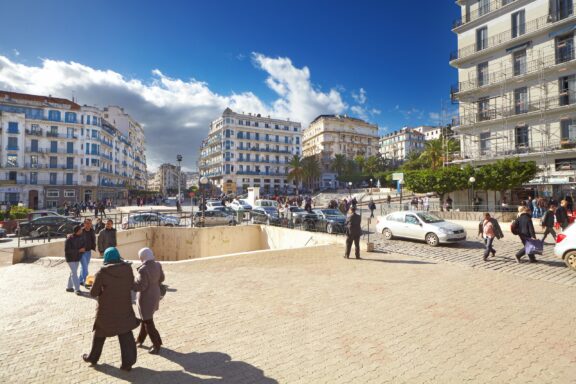 Safety Index: 45.18
Algiers, the capital of Algeria, ranks ninth on the list with a Safety Index score of 45.18. The city has been increasingly focused on enhancing its safety features for both residents and visitors. Local law enforcement agencies are generally efficient, and there are visible police patrols in various parts of the city to deter crime.
Though instances of petty crime, such as pickpocketing, can occasionally occur in crowded areas, violent crimes are relatively infrequent. Security measures, including surveillance cameras and security personnel, are common in shopping centers and tourist attractions.
The US Department of State has issued a travel advisory of "Level 2: Exercise Increased Caution" for Algeria as a whole. The advisory recommends against traveling to the southern and eastern parts of the country, neither of which are close to Algiers.
8. Gaborone, Botswana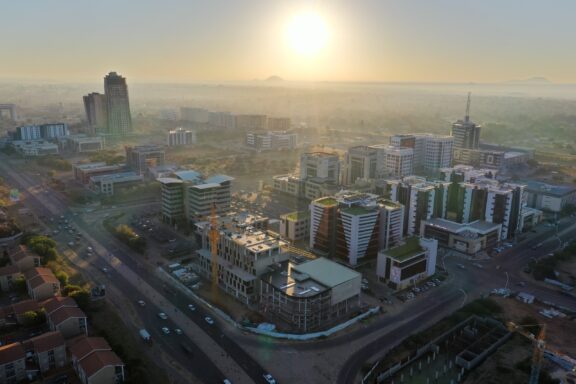 Safety Index: 45.68
Gaborone, the capital city of Botswana, holds the eighth position with a Safety Index score of 45.68. Botswana is often cited as one of the most politically stable countries in Africa, and its capital reflects that stability. Gaborone has been particularly proactive in implementing safety measures to protect its residents and visitors.
A notable effort is the city's "Safe City Project," aimed at reducing both crime and the fear of crime through community involvement and urban planning. The city also hosts regular safety awareness campaigns and workshops, emphasizing the importance of community vigilance.
In recent years, the Botswana Police Service has adopted a community policing model, which has contributed to the city's improved safety ratings. Public and private security sectors often collaborate in crime prevention initiatives, making the city feel secure and welcoming for all.
7. Cairo, Egypt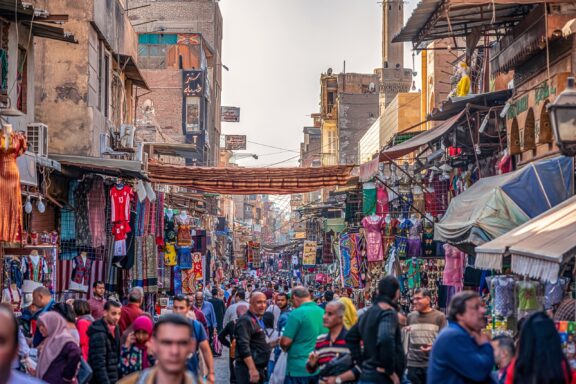 Safety Index: 50.22
Cairo, the sprawling capital of Egypt, offers some of the best tourist activities in the world. Despite its chaotic hustle and bustle, the city has made significant efforts to enhance safety for its residents and the millions of tourists it attracts each year.
Cairo is generally safe from violent crime, and the visibility of law enforcement personnel is high, especially in tourist-heavy areas like the Giza Plateau and the Khan El Khalili market. It's worth noting, however, that the political situation in the broader region is currently unstable, and the UK Government recommends against travel to Egypt due to the potential for terrorist attacks.
Technology is increasingly used to bolster security in Cairo. Surveillance cameras are becoming more prevalent, particularly in public transit systems and major intersections. Moreover, the Egyptian government has also introduced tourist police, who are specially trained to assist travelers and are commonly seen in popular tourist destinations.
While petty crimes such as pickpocketing can still occur, the city's investment in safety infrastructure and policing has contributed to its relatively high Safety Index score.
6. Addis Ababa, Ethiopia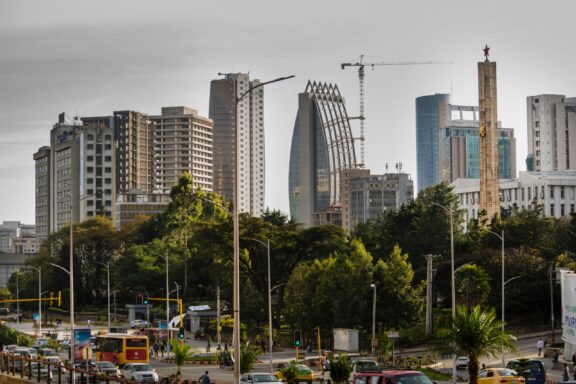 Safety Index: 51.59
Addis Ababa, the capital of Ethiopia, takes the sixth spot on the list with a Safety Index score of 51.59. Known for its vibrant culture and rich history, the city has been taking measures to improve its safety conditions for residents and tourists alike.
The Addis Ababa Police Commission is actively engaged in community policing strategies that involve citizens in crime prevention. This has not only helped in curbing crime rates but also in building trust between the community and the police force.
One noteworthy initiative is the use of mobile police stations in various neighborhoods, which allows for quicker response times and more effective handling of safety concerns. Surveillance cameras have also been installed in key public spaces and busy areas, further enhancing the sense of security.
Although petty crimes like pickpocketing do occur, particularly in crowded places, violent crime rates are relatively low. The US Department of State currently gives Ethiopia a "Level 3: Reconsider Travel" advisory, though it states the security situation in Addis Ababa is stable.
5. Tunis, Tunisia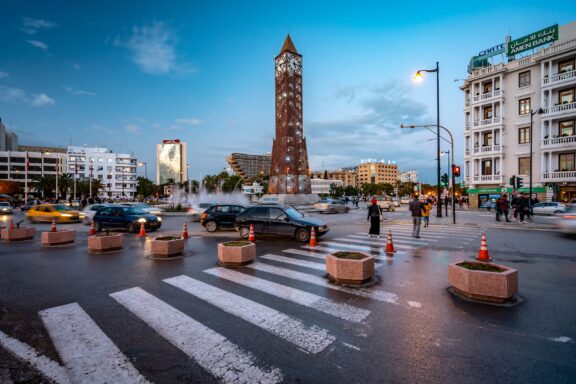 Safety Index: 52.20
Tunis, the capital of Tunisia, has put considerable effort into ensuring the safety of both its residents and visitors. Tunis has a substantial police presence, especially in tourist-frequented areas like the Medina and around key government buildings.
In response to concerns about safety, Tunis has ramped up its security protocols in recent years. Special police units have been trained to focus on tourist safety, and there has been an increased emphasis on community policing.
Although Tunis has made this list of the safest cities in Africa, it's worth noting that there are potential safety concerns that visitors should be aware of. Tourists can visit the UK Government's foreign travel advice page for updated information on Tunisia.
4. Accra, Ghana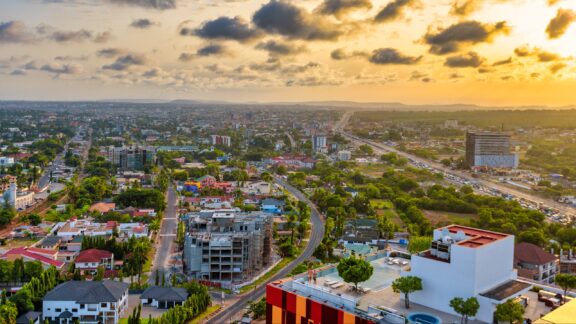 Safety Index: 53.92
Accra is the capital of Ghana and holds the fourth spot on this list with a Safety Index score of 53.92. Ghana is often touted as one of the most peaceful countries in Africa, and Accra epitomizes this reputation. The city is generally free from violent crime, and petty crimes like pickpocketing are relatively low compared to other major cities globally.
A standout feature of Accra's approach to safety is the community policing efforts that actively engage the local population in crime prevention. Various neighborhoods in Accra have their own watch groups, in collaboration with the police, to monitor and report suspicious activities.
As with any city, it's important for both residents and visitors to take normal safety precautions, but Accra's overall level of safety is among the highest in Africa.
3. Alexandria, Egypt
Safety Index: 61.26
Alexandria is another major Egyptian city to make the list of safest countries in Africa. Alexandria's law enforcement agencies have been increasingly effective in maintaining public safety, with a considerable police presence noticeable throughout the city. However, an unfortunate event involving police violence is causing tour operators in the city to struggle to maintain this reputation of safety.
Security measures are stringent in places that attract large crowds, such as shopping malls, museums, and historical sites. It's common to encounter metal detectors and security personnel at the entrances of these venues.
The city has also embraced technological solutions to bolster security, such as the installation of surveillance cameras at strategic locations.
Standard safety precautions are recommended, as with any urban area, but overall, the city's security infrastructure and policing policies have contributed significantly to its high Safety Index score.
2. Rabat, Morocco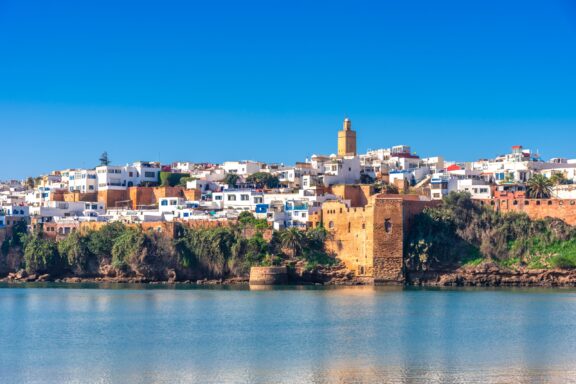 Safety Index: 63.32
The runner-up on this list is Rabat, the capital of Morocco, with an impressive Safety Index score of 63.32. As a political and administrative hub, the city places a high emphasis on maintaining a secure and orderly environment. Rabat benefits from a strong law enforcement presence, with various specialized police units that focus on different aspects of public safety.
The city has recently invested in upgrading its security infrastructure, including the installation of advanced CCTV systems in key areas to deter criminal activity. Security measures in Rabat are particularly stringent in diplomatic areas and government buildings, reflecting the city's role as the seat of the Moroccan government.
While minor crimes like pickpocketing are not entirely absent, they are less frequent than in other major cities. As always, residents and visitors are advised to exercise common sense and take standard safety precautions.
1. Kigali, Rwanda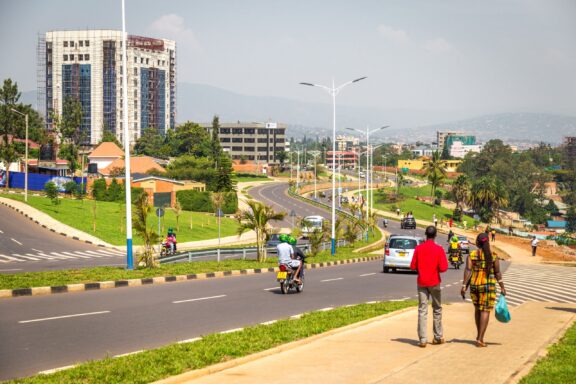 Safety Index: 75.65
With a Safety Index score of 75.65, Kigali, Rwanda's capital, leads the pack as the safest city in Africa. What sets Kigali apart isn't just the numbers; it's the unique way the city approaches safety.
From community-led initiatives like "Umuganda," a mandatory monthly community cleanup and neighborhood meeting, to the use of technology like drones for emergency response, Kigali is innovative in ensuring the well-being of its residents and visitors.
The police force in Kigali is visible, approachable, and integrated into the community. They regularly hold public forums and educational sessions about safety measures, fostering a sense of trust and mutual respect between law enforcement and the residents.
While it is encouraged to remain vigilant and exercise standard safety precautions in Kigali, the city's unique blend of community involvement, technological innovation, and proactive governance makes it the leader in this ranking.