Angola is located in the Southern Africa region at latitude -11.202692 and longitude 17.873887 and is part of the African continent.
The DMS coordinates for the center of the country are:
11° 12' 9.69'' S
17° 52' 25.99'' E
You can see the location of Angola on the world map below: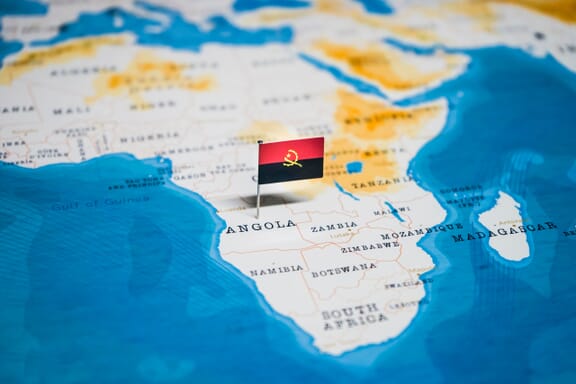 Angola Neighboring Countries
The neighboring countries of Angola (AO) are:
Congo (CG)
Congo (the Democratic Republic of the) (CD)
Namibia (NA)
Zambia (ZM)
The country has no neighboring countries/land borders.
Maritime Borders
Angola borders the Atlantic Ocean.
Angola Related Content
Angola Key Facts
Country
Angola
Coordinates
Latitude: -11.202692
Longitude: 17.873887
Country Codes
Alpha 2: AO
Alpha 3: AGO
Country Flag Emoji
🇦🇴
Int. Phone Prefix
+244
Capital city
Luanda
Continent
Subcontinent
Africa
Southern Africa
Country Area
1,246,700 sq km
Population 2021
33,933,611
World Rank: 43
Median Age
16.2
Life expectancy
61.6
Major languages
Portuguese 71.2% (official), Umbundu 23%, Kikongo 8.2%, Kimbundu 7.8%, Chokwe 6.5%, Nhaneca 3.4%, Nganguela 3.1%, Fiote 2.4%, Kwanhama 2.3%, Muhumbi 2.1%, Luvale 1%, other 3.6% (2014 est.)
UTC/GMT Time
Number of time zones: 1

Internet TLD
.ao
Biggest Airport
Quatro de Fevereiro International Airport (LAD)
Average temperature
21.55 °C
70.79 °F
Administrative Divisions
18 provinces
Political system
Presidential representative democratic republic
Angola Economy Facts
World Bank Income Group
Lower middle income
World Bank Region
Sub-Saharan Africa
Currency
Angolan Kwanza (AON)
GDP in 2020
$53.6 (billions of USD)
World Rank: 83
GDP per capita in 2020
$1,631
World Rank: 152
Major Industries / Economic Sectors
Oil and gas, diamonds, agriculture, manufacturing
Top 5 Import Countries
China, India, Belgium, United States, Brazil
Top 5 Export Countries
China, India, United States, South Korea, Belgium
Biggest Cities in Angola
Here are the largest cities in Angola based on 2021 data:
City
Population
Luanda
8,883,000
Cacuaco
1,279,488
Lubango
776,249
Huambo
665,564
Benguela
561,775
Cabinda
550,000
Belas
500,000
Talatona
500,000
Lobito
393,079
Saurimo
393,000
Map of Angola with the Largest Cities
Other Countries in the Southern Africa Region