Australia is located in the Australia and Oceania region at latitude -25.274398 and longitude 133.775136 and is part of the Oceania continent.
The DMS coordinates for the center of the country are:
25° 16' 27.83'' S
133° 46' 30.49'' E
You can see the location of Australia on the world map below: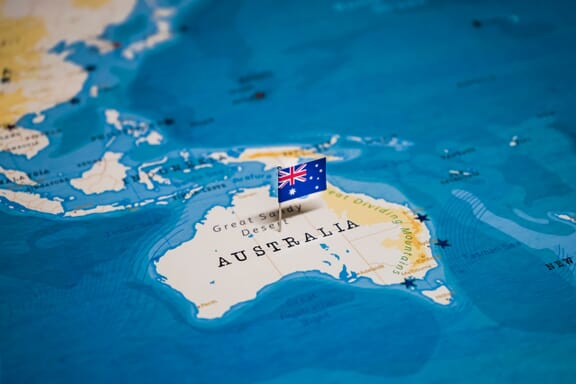 The country has no neighboring countries/land borders.
Maritime Borders
Australia borders with the Indian Ocean, the Pacific Ocean, and the Coral Sea.
Australia Related Content
Australia Key Facts
Country
Australia
Coordinates
Latitude: -25.274398
Longitude: 133.775136
Country Codes
Alpha 2: AU
Alpha 3: AUS
Country Flag Emoji
🇦🇺
Int. Phone Prefix
+61
Capital city
Canberra
Continent
Subcontinent
Oceania
Australia and Oceania
Country Area
7,741,220 sq km
Population 2021
25,739,256
World Rank: 55
Median Age
37
Life expectancy
84.5
Major languages
English 72.7%, Mandarin 2.5%, Arabic 1.4%, Cantonese 1.2%, Vietnamese 1.2%, Italian 1.2%, Greek 1%, other 14.8%, unspecified 6.5% (2016 est.)
UTC/GMT Time
Number of time zones: 9


UTC+05:00 — Heard and McDonald Islands
UTC+06:30 — Cocos (Keeling) Islands
UTC+07:00 (CXT) — Christmas Island
UTC+08:00 (AWST) — Western Australia, Indian Pacific railway when travelling between Port Augusta, South Australia and Kalgoorlie, Western Australia)
UTC+08:45 (CWT) – South Australia (Border Village), Western Australia (Caiguna, Cocklebiddy, Eucla, Madura, Mundrabilla)
UTC+09:30 (ACST) — South Australia, Northern Territory, New South Wales (Yancowinna County)
UTC+10:00 (AEST) — Queensland, New South Wales, Australian Capital Territory, Victoria, Tasmania
UTC+10:30 — Lord Howe Island
UTC+11:00 (NFT) — Norfolk Island

Internet TLD
.au
Biggest Airport
Sydney Airport (SYD)
Average temperature
21.65 °C
70.97 °F
Administrative Divisions
6 states 2 territories
Political system
Federal parliamentary democracy and constitutional monarchy
Australia Economy Facts
World Bank Income Group
High income
World Bank Region
East Asia & Pacific
Currency
Australian Dollar (AUD)
GDP in 2020
$1327.8 (billions of USD)
World Rank: 13
GDP per capita in 2020
$51,680
World Rank: 13
Major Industries / Economic Sectors
Mining, agriculture, manufacturing, tourism, services
Top 5 Import Countries
China, United States, Japan, South Korea, Germany
Top 5 Export Countries
China, United States, Japan, South Korea, India
Biggest Cities in Australia
Here are the largest cities in Australia based on 2021 data:
City
Population
Sydney
4,840,600
Melbourne
4,529,500
Brisbane
2,360,241
Perth
2,039,200
Adelaide
1,295,714
Gold Coast
638,090
Cranbourne
460,491
Canberra
381,488
Central Coast
297,713
Wollongong
261,896
Map of Australia with the Largest Cities
Other Countries in the Australia and Oceania Region