When you buy through links on this page, we may earn an affiliate commission. Commission payments do not affect the evaluations of the products.
For the experienced world traveler, or even the intrepid dreamer, having a high-quality world map to mark dream destinations on is a must.
Whether you're decorating your home, sprucing up your office, or adding value to your classroom, a metal world map is a great way to create a statement. Metal maps are not only beautiful, but they're also durable.
These world metal wall art pieces pass the test of time and can move and grow with you, making them perfect for natural explorers.
Created by independent artists with a record for gorgeous, unique pieces, we found some remarkable options that can fit practically any style.
We compiled a list of our favorites, giving them a "best of" category each to help you choose your best fit.
Here are the best metal world maps for your living space.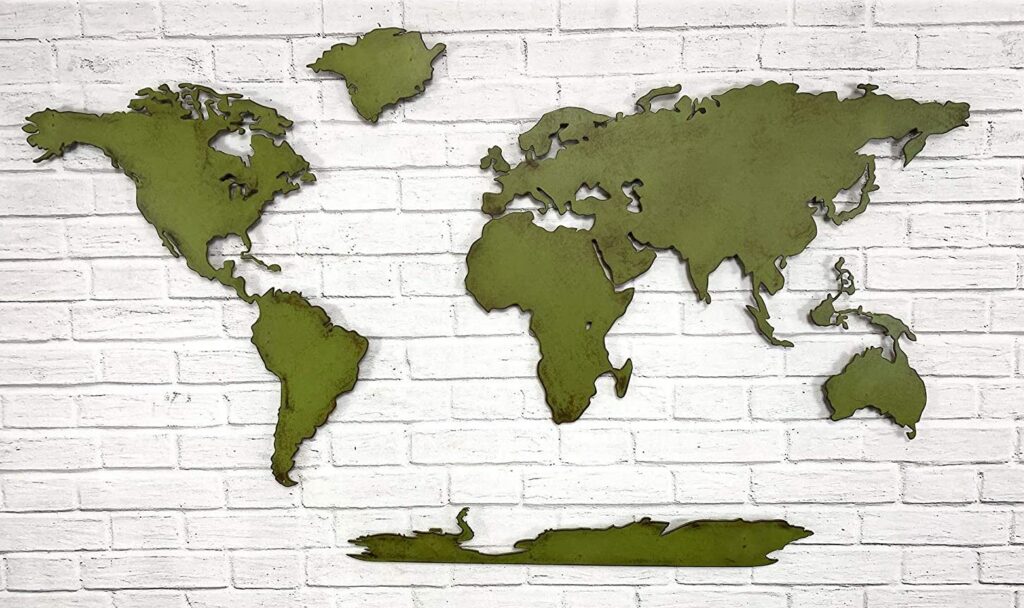 The Functional Sculpture Metal Wall Art World Map is a great choice for the decorator looking for something classic and simple. Its clean lines and muted colors are perfect statement pieces against plain walls.
Functional Sculpture Metal Wall Art is the brand of artist Christopher Jauquet, based in Wisconsin. The company sells primarily directly to customers, though it does have some wholesale relationships, meaning your world metal wall art is more personal.
Related: Best World Map Wall Art Option in 2023
The continental cutouts for this map come in a variety of colors and measurements, ranging from 50-72 inches. Including Antarctica in the map is optional as a separate lower piece (which, interestingly, is the only case of this on the list; most of the others don't include Antarctica at all).
The base price for the piece is $215, which can go up depending on your customization options.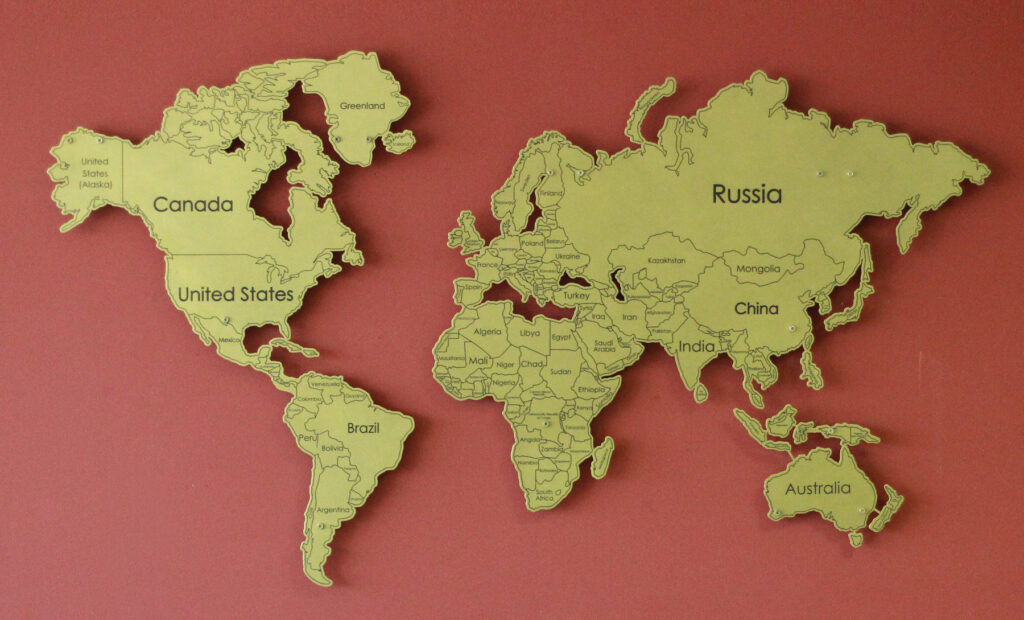 On the more educational side of wall decor is the Colorful World UV Printed Metal World Map. With each country labeled in durable UV print, this map is green in more than just color ‒ it's made with eco-friendly material. It's a great installation for homes, offices, and schools. It also makes an excellent gift for weddings and housewarming parties.
Colorfull advertises that its products come with a 100% customer satisfaction guarantee, meaning if you are unhappy with your product, you can return it. The company also has chat and mail support lines if you have any questions or concerns about the product, so you can rest assured you're getting exactly the piece you paid for and sought.
This map is available in two sizes: medium, or 110cm by 64cm, and large, or 150cm by 87 cm. The company is also open to customization requests. The medium size costs $79, while the large size costs $119. Both are available with free shipping worldwide.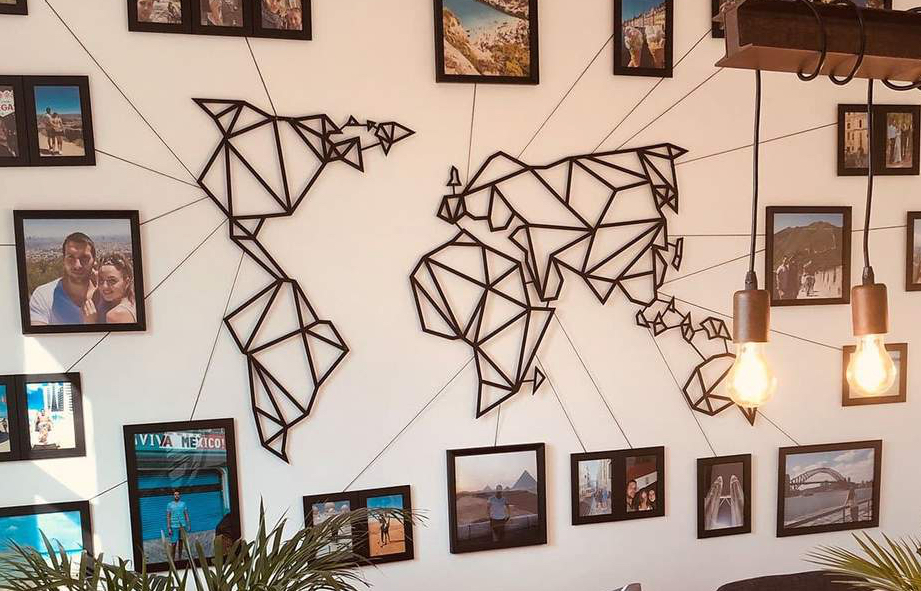 The Hoagard World Map is for the minimalist decorator. Designed in classy geometric shapes, it fits right in with a modern decorating style. Perfect for offices, galleries, and homes, this map is understated without blending into its surroundings.
This metal world map is easy to hang, needing only a few small hooks or nails to catch the ready attachments on the back. It comes in two parts for easier maneuverability. The company even shows its potential as a multimedia piece, with an example connecting pictures from travels via string.
The map comes in three sizes: 23.6 inches by 39.3 inches, 30.3 inches by 54.3 inches, and 45.3 inches by 81.8 inches. The prices are $65, $90, and $160, respectively, including tax. The shop also covers shipping costs on orders with more than one item.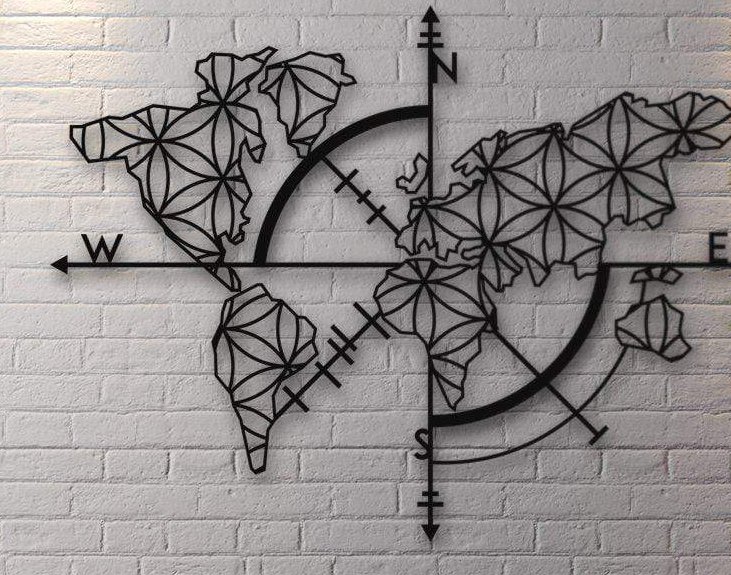 Made for the more Bohemian in style, the Northshire Map of Life is a gorgeous one-piece metal map with the cardinal compass directions worked into the design, the shapes of which are reminiscent of flowers or stained glass.
Each of these maps is handmade, making the individual piece unique to your living space. It's easy to install on one or two small hooks or nails because of its lightweight construction. It's also designed to stand away from the wall, adding a short shadow as part of the art on display and giving it a more dynamic appearance.
The piece comes in two sizes: 98cm by 70cm and 133cm by 97cm. They're priced at $94.90 and $119.90, respectively. The company also offers free worldwide shipping within 1-3 days and ready-to-gift sturdy packaging.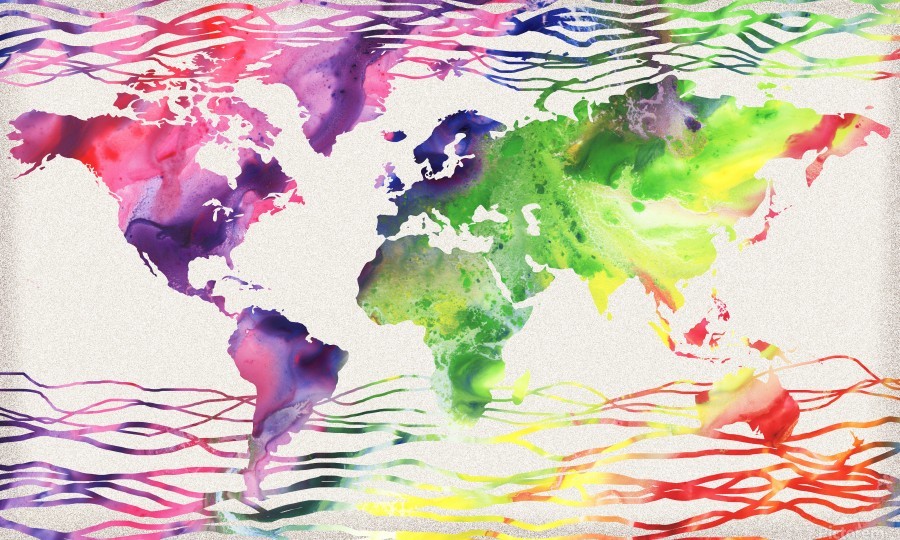 Looking for something with a bit more color? The Pictorem Colorful Wave of Watercolour World Map has you covered. Printed in high definition and with a high-gloss finish on metal via sublimation, it's an attention-grabbing piece that depicts the world in a saturated rainbow.
Irina Sztukowski designed this map. Sztukowski is an award-winning artist licensed in Washington state. Her work has been featured in Today Magazine, People Magazine, and the New York Public Library.
Her world map can also be printed on canvas, but the metal prints will be more durable and provide a more modern finish.
These pieces come in many sizes, from a small 16-by-10 inches to a large 60-by-36 inches. You can also choose whether you want the plain print or a decorative black floating frame. Prices vary depending on the size and frame style and range from $133 up to $856.
Sponsored: Best Metal Prints in 2023 – Reviewed by PhotoWorkout
Choosing a Metal World Map for Your Space
Whether you're looking for something small and simple to fit behind your desk or something complex and colorful to bring your room together, there are metal world maps to suit every need. They're classic pieces that give you perspective on just how vast the world is, and might even inspire you to explore more of it.
Consider these artists' contributions for your next home decorating project, office spruce-up, or classroom redesign.