When you buy through links on this page, we may earn an affiliate commission. Commission payments do not affect the evaluations of the products.
Map making, to some, may seem like a dead art form. However, that couldn't be further from the truth. As technology continues to advance, mapmakers can create more detailed, stunning maps of the world around us. In the same breath, those who create fictional worlds can create remarkable fantasy maps that draw readers and gamers alike deep into a world that only exists within their imagination.
To determine the best map making software, you must first have a solid understanding of what this software is and what it is capable of.
If you arleady know what a GIS software is, you can jump right to the best mapping software.
12 Best Map Making Software Options:
What is GIS Software?
When researching the best map making software, you are likely going to come across the alternative search term, "best GIS software".
GIS, in a nutshell, is a mapping and geographic information system. This information pertains to the spatial and attribute data of a given location. GIS software takes this information and pairs it with various technologies that are used to examine geographic patterns, relationships, and trends.
What is GIS Software Capable Of?
GIS software is more than simple mapping software. Depending on the person using it, this software is capable of:
Mapping where "things" are – including schools, districts, landmarks, natural resources, etc.
Mapping numbers and density – this can include anything from population density to the number of doctors' offices or cemetery locations in a given city.
Resource management – can be used to monitor the total number of natural resources in a given location.
Mapping change – such as the changes in the residential development of a given area or the size of a specific lake as a way of monitoring natural resources in an area.
The best GIS software is capable of creating outstanding datasets that can be put to multiple uses, making it a valuable tool for many occupations.
What Are the Different Types of GIS Software?
While there are dozens of GIS software variations, they are typically broken down into four different "types."
Desktop GIS Software: This type of software typically ranges between $1,000-$20,000 per user and provides personal productivity tools for a wider variety of users across a broader section of industries.
Server GIS: These products average between $4000-$25,000 for small to medium-sized systems. Larger systems go for quite a bit more. These servers offer quite a few functions, including mapping, routing, suitability mapping, and data publishing.
Developer GIS: These are toolkits of GIS functions that can be used by a knowledgeable programmer to build a single-purpose GIS application. These kits can range in price from $1,000 – $5,000 per kit and $100-$500 per application deployed.
Hand-held GIS: These are lightweight GIS systems that are designed for field and mobile use and can cost between $400-$600.
When the time comes to choose the right GIS software, you'll want to do a comparative evaluation to be sure you are choosing the one most suitable for your needs. When conducting your evaluation, you'll want to:
Compare each product by listing out its features
Conduct a vendor survey to see which vendor meshes with your needs the most
Consider cost factors
Consider how you'll use this product
Consider software requirements
12 Best Map Making Software Options for the Best Realistic and Fantasy Map Designers
Again, not all map makers are in the same profession. So, while many professions require GIS software to help them create real-world maps, there are dozens of professions that require the use of the best fantasy map making software.
So, what are the best map making software for professionals and creators? Here are the 11 best realistic and best fantasy map makers currently on the market:
1. Visme Map Generator
After trying all of the major dedicated mapping software applications, we found that the Visme Map Generator is the easiest to use and ideal for creating maps online.
In fact, we decided to use Visme to create our upcoming maps, especially the ones which will have interactive information like you can see in the map below (just hover over the countries):
Made with Visme
Visme allows you to crate country maps (with state regions). Once you are in your dashboard just go to Data > Maps > Select any of the countries in the world.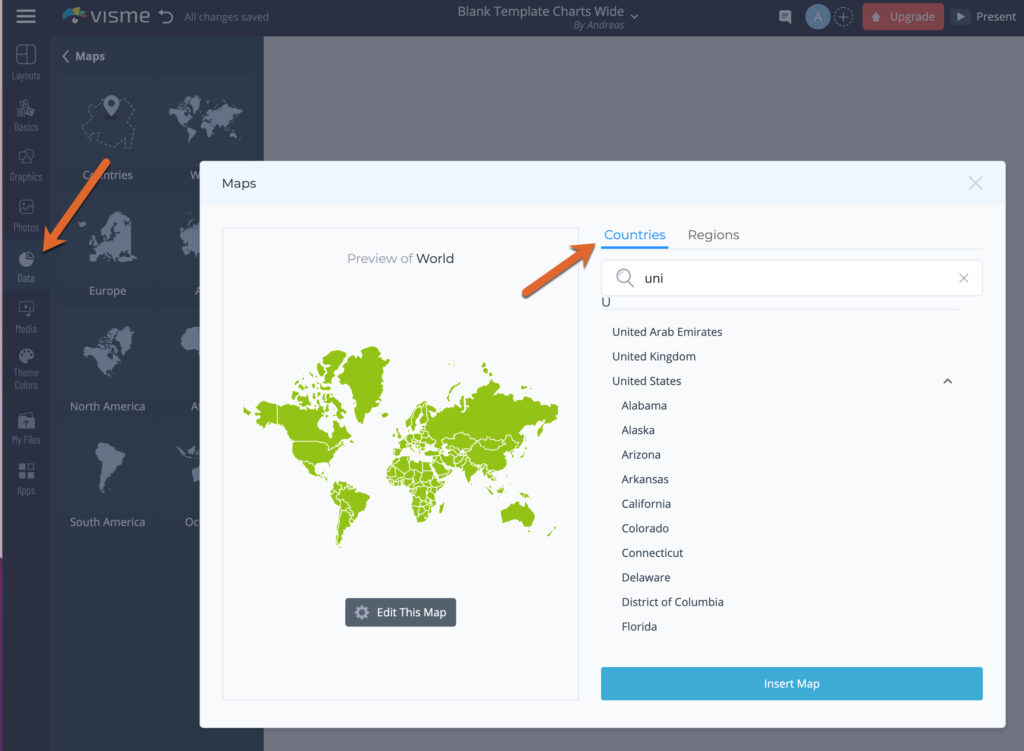 Made with Visme
Visme can do more than just maps. You can create presentations, infographics, presentations, and much more. You can even create ebooks and videos.
Price: You can try Visme for free, but the free version is quite limited. We recommend you upgrade to the paid version (starting at $15/month) which allows you to download your images in high-resolution, removes the Visme branding (like you see it above), and you can do more than 5 projects. You also get access to more charts and widgets.
2. Infogram
Another great map making solution we found (and tried) is the Infogram interactive mapmaker.
Infogram is a web-based software and offers over 550 country and regional map templates allowing you to create beautiful and interactive maps in minutes without any coding or design skills. Even advanced users won't be disappointed: Infogram offers GIS features that can connect your maps to live data via API or the cloud (e.g. Google sheets).
Users can:
Share maps on social media, landing pages
Download maps in various formats for presentation/web
Create a variety of maps: heat maps, icon or marker maps, topographic maps, cartograms, subway maps, and more
Turn maps into powerful infographics
Price: Freemium (pro version starts at $19/month) – you can try Infogram maps for free.
3. G.Projector
The G.Projector software was designed and is distributed by NASA. This particular software is an excellent tool for investigating map projections. It has the ability to convert input map images into approximately 200 regional and global map projections.
Price: Free
4. QGIS
QGIS is another free map building software that utilizes real-world data to either create maps from scratch or compare current maps with up-to-date geospatial data. As an open-source desktop GIS, it is developed and maintained by a dedicated group of volunteers and various organizations from across the globe.
Users can:
Create, edit, and write in a multitude of Geospatial formats
Design high-quality maps
Perform spatial analysis on both raster and vector data
Generate and share professional maps and map series
Price: Free
5. Map Chart
Looking to make custom maps of the world? Then Map Chart could be just what you are looking for. This is a great option for those who need to make custom maps for school reports, work presentations, and more.
Creating your map is as simple as choosing the country/state map you want to work with, coloring the countries/subdivisions you want to be included in the map, adjusting orientation, choosing a label and description for each color group in your map's legend and then downloading the finalized map.
Price: Free
6. Mapme
This is an excellent map making tool for those in the real estate, tourism, education, and government industries. The Mapme editor is simple to use, meaning that you do not need extensive knowledge in GIS or programming to get started.
This software offers advanced customization features, allowing users to create maps to their specifications which can be displayed on a variety of map-rich multimedia content, including 360 tours, videos, and as photos.
Price: Three price tiers: Story for $24/month, Pro for $49/month, and Pro+ for $99/month.
7. Maptive
Do you admire the details captured in Google Maps? Then why not create a customized Google Map for yourself? Maptive allows you to take your spreadsheet data and create a fully customized Google Map that can be used in a variety of ways.
Users have the opportunity to create customized map markers, choose from a variety of different map styles, with the ability to set the default opening view of a map. This is powered by Google's enterprise-level mapping technology, giving customers global coverage, unmatched performance, and world-class tools.
Even better, once you've created your custom map, you can share it digitally, print it out, or embed it within a blog or webpage.
Price: Three price tiers: 45 Day PASS for $250, Individual Plan for $1,250/year, and the Team Plan for $2,500/year.
8. Scribble Maps
Scribble Maps is an excellent tool used by everyone from students to military officials. With this tool, you can create custom map stylings, draw a variety of shapes, place images and text overlays, and place markers. They can also be used for route optimization, measuring area and distance, and used to search by area.
Users can then save their map as an SHP, PDF, KML, CVS, DXF, GPX, Bulk GeoJSON, or as an image file. They can also be printed, embedded on websites, and emailed.
While many of the mapping tools are available in the free version, the pro version offers users more advanced editing tools, formats, and a wide variety of security options.
Price: Three price tiers: Free, Pro Basic for $19/month, and Pro business for $100/month.
9. AstroSynthesis
For those who believe the stars are the limit – AstroSynthesis may be the perfect mapping program for you.
This particular mapping software allows users to map out massive portions of space, granting them complete creative freedom over the galaxy. Users can place single or multiple star systems, nebulas, planets, asteroid belts, and so much more!
What makes this program unique is that it uses scientific principles during the generation process. This means it takes into consideration:
The matters of astronomy
Physics
Atmospheric chemistry
Planetary sciences and more
This allows users to use their imagination to create the galaxy of their dreams, yet maintaining a realistic feel to it.
Price: $34.95
10. Inkarnate
Maybe you aren't quite interested in mapping out galaxies far, far away. Maybe creating unique fantasy worlds is more up your alley. Then Inkarnate may be the best choice for your GIS needs!
This simple to use online map making platform is perfect not only for map enthusiasts but for game masters and fantasy authors as well. This platform allows users to create
Battlemaps (including Interior Maps)
City & Village Maps
Scene & Isometric Maps
World & Region Maps
The options are truly endless with this program! Not only can you create amazing maps with Inkarnate, but you get some amazing features when you upgrade to the pro version. You not only get access to a wide selection of HD stamps, font, textures, and regular art updates each month, but you also gain access to extra features and tools and can upload custom art and export your maps at high resolutions.
Price: Two price tiers: Free, Pro for either $5/month or $25/year.
11. Wanderdraft
Another outstanding option for those looking for the best fantasy map maker is Wonderdraft. With this program, users can create a variety of fantasy maps, including city, region, and world maps, with some excellent color and visual customization options. If you are looking for a faster map-making process, you also have the opportunity to autogenerate continents for your world maps.
While this is a one-time purchase, users do have the option to purchase additional art packs to expand their creative possibilities.
Price: $29.99
12. FlowScape
When creating beautiful fantasy lands, it can be quite discouraging to make a mistake. In FlowScape, there are no such things as mistakes. Instead, there are only "happy accidents," as Bob Ross would say.
This map making program allows users to create stunning 3D models, design stunning landscapes, and include dozens of built-in trees, mountains, flowers, critters, houses, and so much more.
Price: $14.99
Determining the Best Mapping Software Comes Down to the User
When exploring the best map making software available, your choice of the lot comes down to what your personal needs are. Are you looking for the best traditional mapping software to use in conjuncture with your job? Or are you a fantasy fanatic, looking for the best mapping software to help bring your fictional worlds to life?
Regardless of which option you are looking for, there is quite a few map making software options out there for you to choose from! Happy hunting!