Philippines is located in the Southeastern Asia region at latitude 12.879721 and longitude 121.774017 and is part of the Asian continent.
The DMS coordinates for the center of the country are:
12° 52' 47.00'' N
121° 46' 26.46'' E
You can see the location of Philippines on the world map below: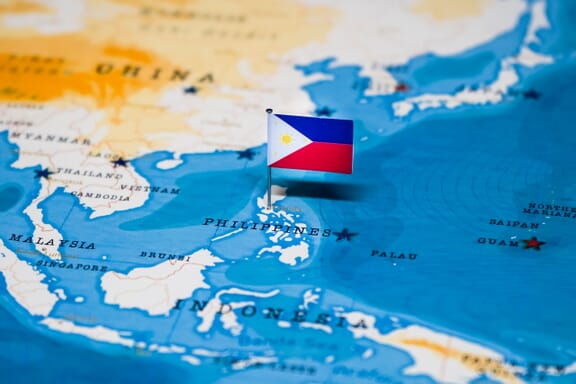 The country has no neighboring countries/land borders.
Maritime Borders
The Philippines border with the South China Sea and the Philippine Sea.
Philippines (the) Related Content
Philippines Key Facts
Country
Philippines (the)
Coordinates
Latitude: 12.879721
Longitude: 121.774017
Country Codes
Alpha 2: PH
Alpha 3: PHL
Country Flag Emoji
🇵🇭
Int. Phone Prefix
+63
Capital city
Manila
Continent
Subcontinent
Asia
Southeastern Asia
Country Area
300000 sq km
Population 2021
111,046,910
World Rank: 13
Median Age
24.5
Life expectancy
69.3
Major languages
Filipino, English
UTC/GMT Time
Number of time zones: 1

Internet TLD
.ph
Biggest Airport
Ninoy Aquino International Airport (Manila)
Average temperature
27.00 °C
80.60 °F
Administrative Divisions
17 regions 81 provinces
Political system
Presidential representative democratic republic
Philippines Economy Facts
World Bank Income Group
Lower middle income
World Bank Region
East Asia & Pacific
Currency
Philippines Peso (PHP)
GDP in 2020
$407.4 (billions of USD)
World Rank: 27
GDP per capita in 2020
$3,301
World Rank: 129
Major Industries / Economic Sectors
Manufacturing, services, agriculture, energy
Top 5 Import Countries
China, Japan, United States, South Korea, Taiwan
Top 5 Export Countries
United States, Japan, China, Hong Kong, Singapore
Biggest Cities in Philippines
Here are the largest cities in Philippines based on 2021 data:
City
Population
Manila
23,971,000
Quezon City
2,960,048
Davao
1,776,949
Caloocan City
1,661,584
Zamboanga City
977,234
Cebu City
964,169
Antipolo
887,399
Taguig City
886,722
Pasig City
803,159
Cagayan de Oro
728,402
Map of Philippines with the Largest Cities
Other Countries in the Southeastern Asia Region