When you buy through links on this page, we may earn an affiliate commission. Commission payments do not affect the evaluations of the products.
There is nothing quite like a world map to spark the imagination. Finding the little dot where you stand and tracing travel routes all over the map can spur dreams of adventure in anyone.
A good world map poster is also not only a gorgeous piece of art, but a great resource for information as well. From the many choices available, here are 5 of the best world map posters to be found, each with something unique to offer.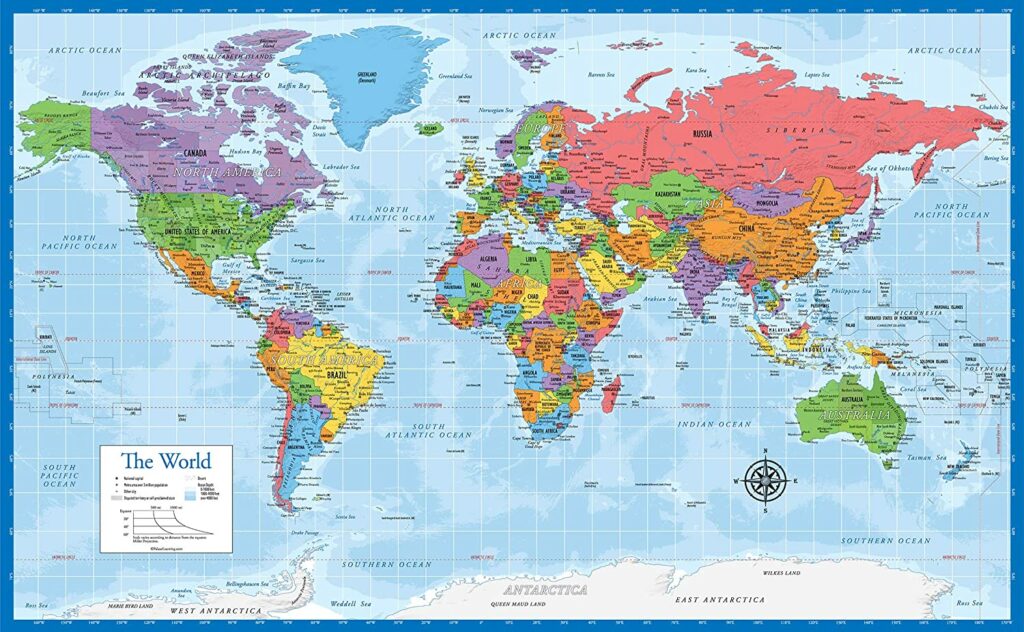 If you are looking for a world and US map combo at an unbelievable price point, then look no further. The PalaceLearning Map Set is a great addition for learning spaces or personal spaces that are looking for something that's both nice to look at and full of fun, useful information.
Also read: Best World Map Wall Art Options
Each map measures 29" X 18" and is laminated for extra durability. It's the lowest price point on the list, and the fact that you get two maps for the price makes it even more of a great deal.
This combo is perfect for teachers looking for a nice map set for the upcoming school year or for parents who want a sturdy set of maps for their kids' rooms.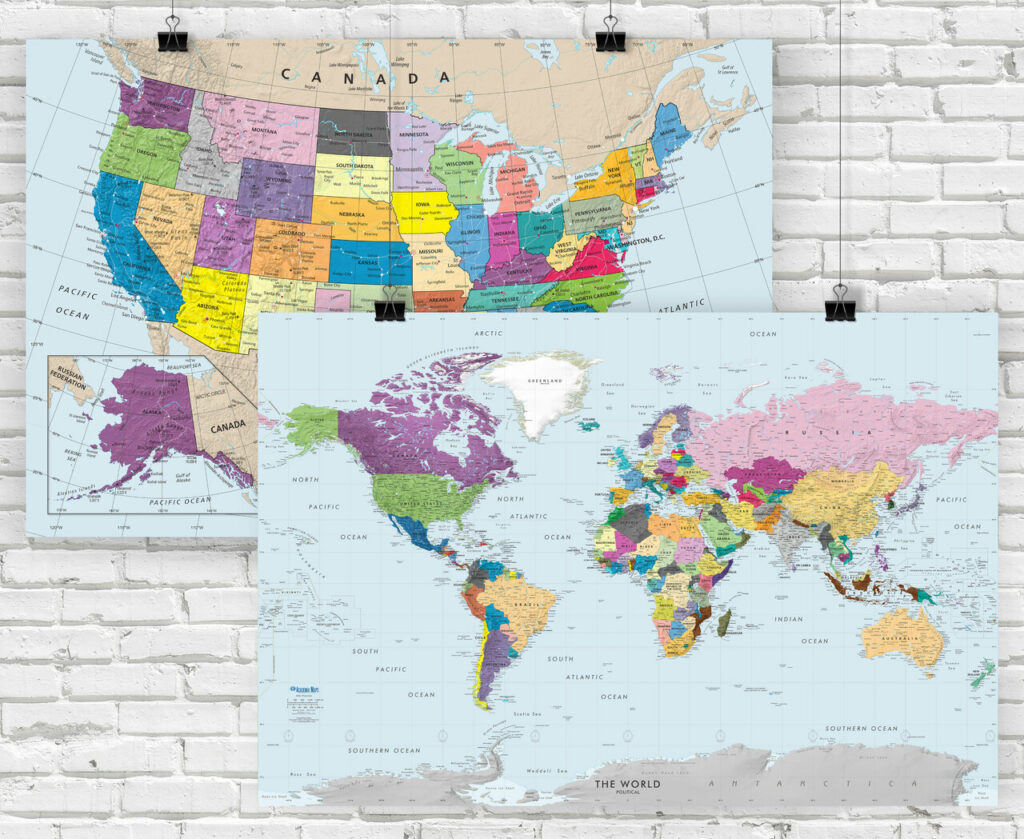 The World Maps Online Colorful US & World Political Wall Map set is another option for those looking for customizable material and size options. World Maps online offers the widest variety of sizes, ranging from 24" X 36" to a whopping 60" X 90". They also offer some unique material options, including a photo paper print, a peel-and-stick wall decal, one that is laminated on wood rails, and many more.
World Maps Online utilizes a wide array of bright colors to make each and every country on the world map and state on the US map really stand out from its neighbors. Country and State capitals are clearly marked as red dots, and all major cities, waterways, peaks, basins, and much more are delineated in easy-to-read fonts.
Related: Best Wooden World Maps
This map set is ideal for people who want a good amount of detail and are looking to use the maps primarily as an information source, particularly for things like national borders and capital cities.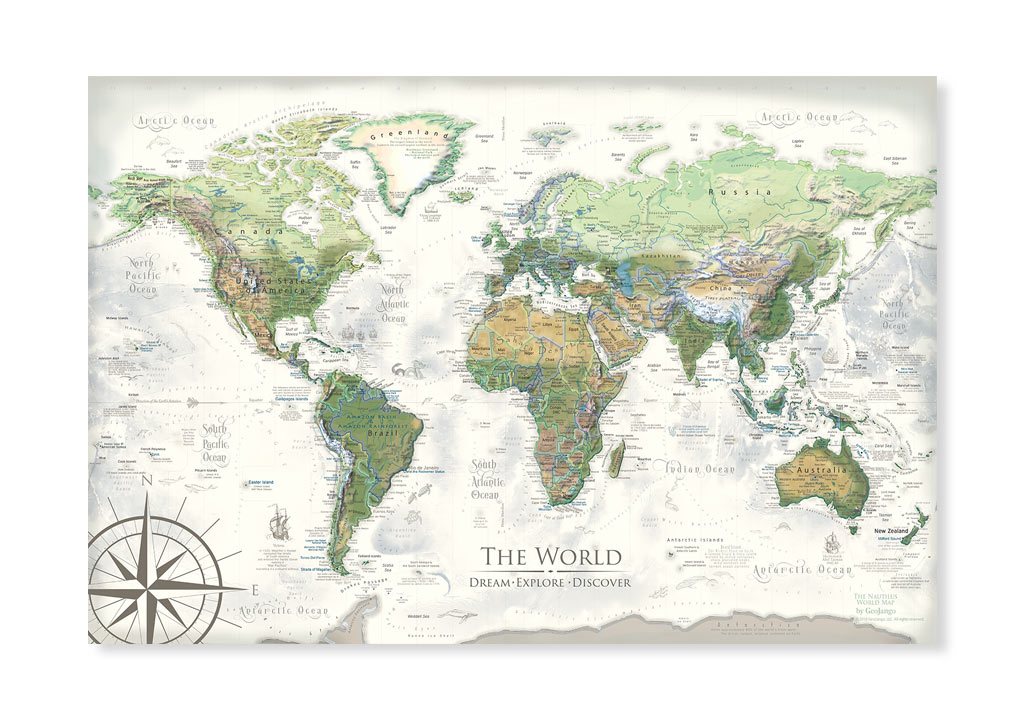 This offering from GeoJango is not only beautiful, but it's packed with information as well. The Nautilus- World Map Poster uses a unique color palette of greens, tans, browns, whites, and greys. That's not the only thing that makes this map a standout choice.
One thing is that the Nautilus World Map goes beyond depicting just the normal information that all maps provide.
This map includes information like ocean currents and trade winds, natural wonders, and other notable locations throughout the planet.
The topography is finely detailed both on land and in the oceans, and it packs in the information without crowding the natural beauty of its form.
The other fantastic feature of the GeoJango map is the incredible array of customization options. You can choose the size (24" X 36" up to 72" X 48"), framing options, a custom title for your piece, material options that include wood and metal, and more.
It is a truly beautiful piece of art and one that you can make your very own like no other on the list.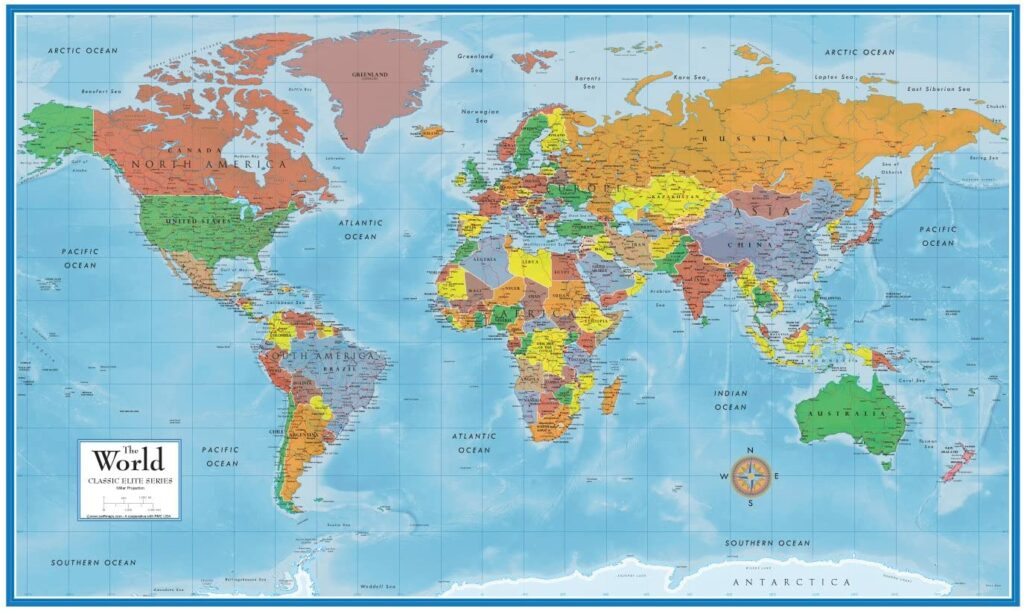 The Swiftmaps world map poster is exquisitely detailed and perfect for geography buffs and aestheticism alike. Each country is a different color for easy delineation, and all countries and landmasses are correctly drawn to scale for an accurate picture of the world.
Also read: Best Canvas World Maps
The map measures 24" X 36" and is printed on 24lb (ca. 11 kg) high-quality paper. If you're looking to bring the map along with you for travel, a folded version is available. But if you want one for display, it's also available to ship rolled and can be ordered in either a paper or laminated version.
Another visually stunning feature of this map is a detailed 3-D topographical shading of the ocean floor, which adds to the intricacy and beauty of this piece. To top it off, it boasts one of the best price points on this list.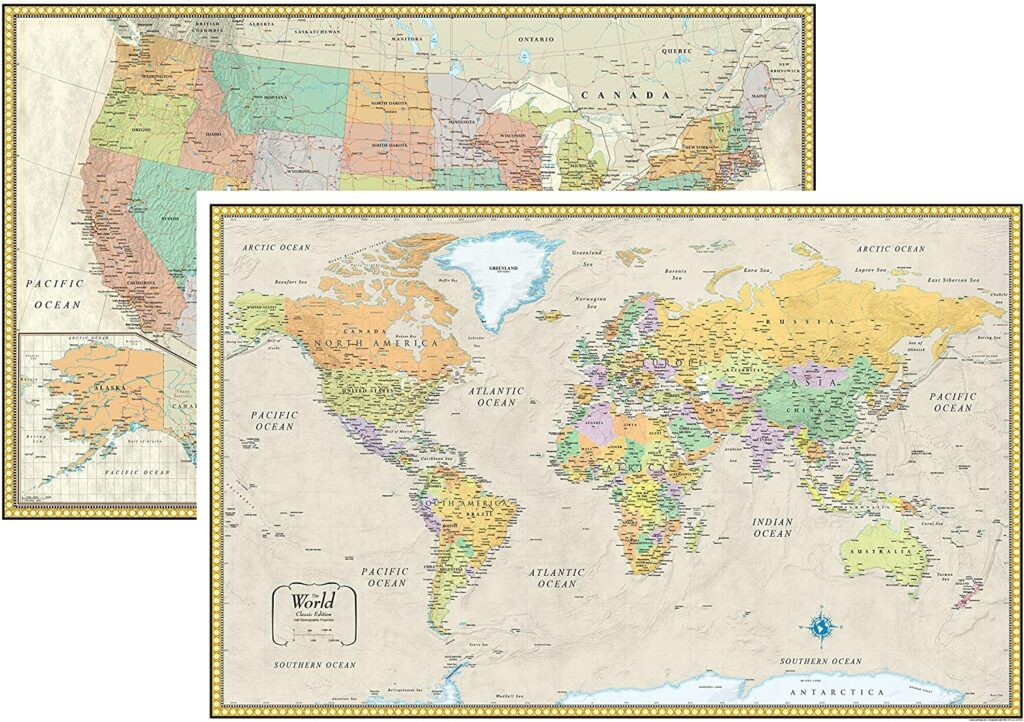 When you think of maps, one company immediately comes to mind. From Rand McNally, the most celebrated and trusted map company in the world, comes this beautiful two-map set.
If you are looking for a world map poster with a classic, antique look, I would recommend taking a look at the Rand McNally Classic US and World Map Set. The maps feature the tea-stained look of classic maps and an elegant border pattern. The understated beauty of this classic look makes this a real eye-catching piece of art as well as a great informational and learning tool.
Also Read: Best 2023 World Atlas
The 32" X 50" posters are printed on super heavy duty 80lb paper stock, and they ship rolled to ensure that they will be crease-free upon arrival. Coming from Rand-McNally, you can also be assured that the scale and all the information on the maps are spot-on.
This set is a perfect combination of style, beauty, quality, and price. If you want a truly classic and classy map for your wall, check this one out.
Which One is Best?
All of these maps will make a great addition to your living space, office, or schoolroom. Each one has unique features to offer, so it depends on what you are looking for in a world map poster.
Do you want a classic, old-world look? Is a good price point the priority? Perhaps you want to be able to customize the size, material, and text of your piece, or you might be looking for a world and US map poster set.
Whatever your needs may be, you are sure to find the right map to fit and enjoy looking at, and learning about, the great wide world around you.