Azerbaijan is located in the Central & South Asia region at latitude 40.143105 and longitude 47.576927 and is part of the European and Asian continent.
The DMS coordinates for the center of the country are:
40° 8' 35.18'' N
47° 34' 36.94'' E
You can see the location of Azerbaijan on the world map below: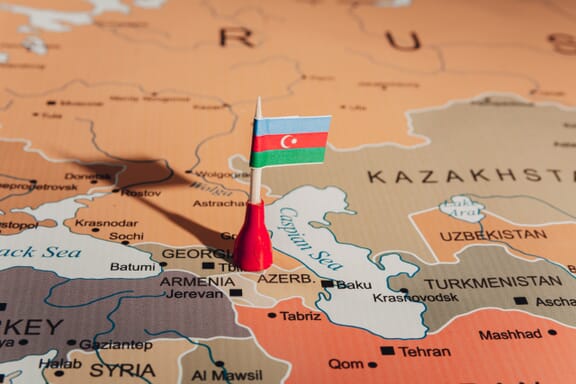 Azerbaijan Neighboring Countries
The neighboring countries of Azerbaijan (AZ) are:
Armenia (AM)
Georgia (GE)
Iran (Islamic Republic of) (IR)
Russian Federation (RU)
Turkey (TR)
Azerbaijan is a landlocked country, which means it does not have direct access to the open ocean.
Maritime Borders
Azerbaijan borders with the Caspian Sea.
Azerbaijan Related Content
Azerbaijan Key Facts
Country
Azerbaijan
Coordinates
Latitude: 40.143105
Longitude: 47.576927
Country Codes
Alpha 2: AZ
Alpha 3: AZE
Country Flag Emoji
🇦🇿
Int. Phone Prefix
+994
Capital city
Baku
Continent
Subcontinent
Europe/Asia
Central & South Asia
Country Area
86,600 sq km
Population 2021
10,145,212
World Rank: 90
Median Age
31.4
Life expectancy
69.4
Major languages
Azerbaijani (Azeri) (official) 92.5%, Russian 1.4%, Armenian 1.4%, other 4.7% (2009 est.)
UTC/GMT Time
Number of time zones: 1

Internet TLD
.az
Biggest Airport
Baku Heydar Aliyev International Airport (GYD)
Average temperature
11.95 °C
53.51 °F
Administrative Divisions
1 autonomous republic 11 municipalities 66 rayons
Political system
Azerbaijan Economy Facts
World Bank Income Group
Upper middle income
World Bank Region
Europe & Central Asia
Currency
Manat (AZN)
GDP in 2020
$42.7 (billions of USD)
World Rank: 88
GDP per capita in 2020
$4,230
World Rank: 111
Major Industries / Economic Sectors
Oil and gas, manufacturing, agriculture, construction
Top 5 Import Countries
Russia, China, Germany, Turkey, Italy
Top 5 Export Countries
Italy, Turkey, China, Russia, Georgia
Biggest Cities in Azerbaijan
Here are the largest cities in Azerbaijan based on 2021 data:
City
Population
Baku
2,181,800
Sumqayit
341,200
Ganca
331,400
Mingacevir
98,800
Xirdalan
95,200
Qaracuxur
85,900
Naxcivan
74,500
Bakixanov
71,600
Sirvan
70,684
Saki
68,360
Map of Azerbaijan with the Largest Cities
Other Countries in the Central & South Asia Region
Located in the Caucasus, the intersection point of Western Asia and Eastern Europe, Azerbaijan has the largest surface area of the South Caucasus.
It is located in the east of the Caspian Sea, Georgia in the northwest, Armenia in the west, Russia in the north and Iran in the south.
The Nakhichevan Autonomous Republic, which is connected to it, borders Armenia in the north and east, and Iran in the south and west. There are 17 kilometers of border with Turkey.
Azerbaijan Key Facts
Population: 9,972,872
Population Density: 121 per Km2
Land Area: 86,658 Km ²
Geography
The Caspian Sea which forms the eastern border, the Great Caucasus Range in the north and the wide plains in the center are the most dominant physical qualities of Azerbaijan.
Caucasus and Talis Mountains cover about forty percent of the country. Bazardüzü Peak is the highest point of Azerbaijan (4,466 m) and the Caspian Sea is the lowest point (-28 m).
In addition, about half of the mud volcanoes nominated for inclusion in the Seven Wonders of Nature remain within the borders of Azerbaijan.
Governance
Azerbaijan, whose capital is Baku, is divided into 59 states, called rayons, 75 cities and 9 economic divisions. 11 cities have metropolitan status.
The biggest cities of the capital except Baku are Sumqayit, Mingechevir, and Ganja. Nakhichevan is an autonomous region of Azerbaijan.
Also read: Economic Regions of Azerbaijan
Climate
A mild continental climate prevails in Azerbaijan. There is a harsh climate in high mountains and other high sections.
High winters are long, cold and snowy, and summers are cool. In the plains, winters are cool and mostly rainy but sometimes snowy and summers are hot and dry. The average annual temperature is above 10 degrees.
Religion
Azerbaijan is a secular country. The majority of the country where there is no official religion is formed by Shiite Muslims.
In addition, the Orthodox Christian minority lives in the country due to the influence of the Russian population.
Industry and Tourism
Azerbaijan, which spent its 90 years with economic crisis, has rich agricultural resources in terms of fertile agricultural lands and natural gas, oil and iron ore.
Crude oil production, which is the main source of income, is at considerable levels. Other income generating economic activities are in areas such as petrochemical, food, clothing and light industry.
Art
Traditional crafts of Azerbaijan, which is a common culture with Turkey as hand-woven rugs and container and copper processing pitcher is famous.
The Azerbaijani music, which has a history of nearly 1,000 years, produced rhythmic and different melodies, the subjects of its music and the social events of the Azerbaijani people. The Azeri language is mostly influenced by Turkish, Arabic and Persian words, but the traditional Azerbaijani music is also predominant in Caucasus, Central Asia, and Iran.
Azerbaijan won first place in 2011 in the Eurovision Song Contest with the song Running Scared, by Eldar and Nigar. The country also has well-known Azeri artists such as Reşid Behbudov, Muslum Magomayev, and Flora Kerimova.
Sports
Freestyle wrestling is the national sport of Azerbaijan. Azerbaijan won 14 medals in this branch. Today, the most common sports in Azerbaijan are chess and football.