Azerbaijan is located in the Central & South Asia region at latitude 40.143105 and longitude 47.576927 and is part of the European and Asian continent.
The DMS coordinates for the center of the country are:
40° 8' 35.18'' N
47° 34' 36.94'' E
You can see the location of Azerbaijan on the world map below:
Azerbaijan Neighboring Countries
The neighboring countries of Azerbaijan (AZ) are:
Armenia (AM)
Georgia (GE)
Iran (Islamic Republic of) (IR)
Russian Federation (RU)
Turkey (TR)
Azerbaijan is a landlocked country, which means it does not have direct access to the open ocean.
Maritime Borders
Azerbaijan borders with the Caspian Sea.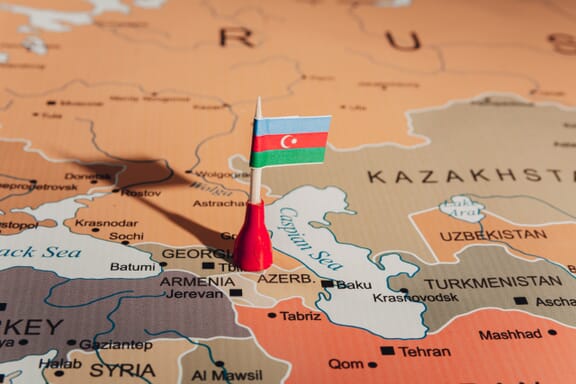 Azerbaijan Related Content
Azerbaijan Key Facts
Country
Azerbaijan
Coordinates
Latitude: 40.143105
Longitude: 47.576927
Country Codes
Alpha 2: AZ
Alpha 3: AZE
Country Flag Emoji
🇦🇿
Int. Phone Prefix
+994
Capital city
Baku
Continent
Subcontinent
Europe/Asia
Central & South Asia
Country Area
86,600 sq km
Population 2021
10,145,212
World Rank: 90
Median Age
31.4
Life expectancy
69.4
Major languages
Azerbaijani (Azeri) (official) 92.5%, Russian 1.4%, Armenian 1.4%, other 4.7% (2009 est.)
UTC/GMT Time
Number of time zones: 1

Internet TLD
.az
Biggest Airport
Baku Heydar Aliyev International Airport (GYD)
Average temperature
11.95 °C
53.51 °F
Administrative Divisions
1 autonomous republic 11 municipalities 66 rayons
Political system
Azerbaijan Economy Facts
World Bank Income Group
Upper middle income
World Bank Region
Europe & Central Asia
Currency
Manat (AZN)
GDP in 2020
$42.7 (billions of USD)
World Rank: 88
GDP per capita in 2020
$4,230
World Rank: 111
Major Industries / Economic Sectors
Oil and gas, manufacturing, agriculture, construction
Top 5 Import Countries
Russia, China, Germany, Turkey, Italy
Top 5 Export Countries
Italy, Turkey, China, Russia, Georgia
Biggest Cities in Azerbaijan
Here are the largest cities in Azerbaijan based on 2021 population data:
City
Population
Baku
2,181,800
Sumqayit
341,200
Ganca
331,400
Mingacevir
98,800
Xirdalan
95,200
Qaracuxur
85,900
Naxcivan
74,500
Bakixanov
71,600
Sirvan
70,684
Saki
68,360
Map of Azerbaijan with the Largest Cities
Other Countries in the Central & South Asia Region