Known for its ancient history and stunning beaches, Cyprus is culturally most similar to Southern Europe, but it is geographically closest to another continent.
So where is Cyprus exactly?
Cyprus is located in the eastern Mediterranean Sea and is technically part of Asia, but it is culturally and politically associated with Europe.
Cyprus Interesting Facts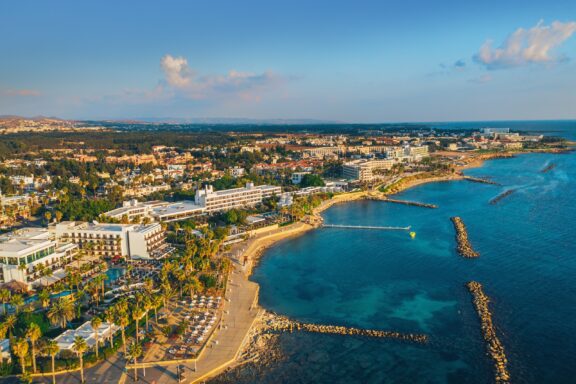 Precise Location Coordinates of Cyprus
The DMS (Degrees, Minutes, Seconds) coordinates for the center of Cyprus are:
35° 7′ 35.09" N
33° 25′ 47.49" E
The latitude and longitude of Cyprus are:
Latitude: 35.126413
Longitude: 33.429859
You can see the location of Cyprus on the world map below:
Neighboring Countries and Maritime Borders of Cyprus
As an island, Cyprus has no neighboring countries or land borders. The nearest foreign borders belong to Turkey, Syria, Lebanon, and Israel.
It's worth noting that the Turkish Republic of Northern Cyprus is a de facto state in the northern portion of the island that is controlled by Turkey. It is only recognized by Turkey, and it is separated from the rest of the Republic of Cyprus by a buffer zone established by the United Nations in 1974.
There is also an Overseas British Territory on the island, officially called the Sovereign Base Areas of Akrotiri and Dhekelia. It consists of two areas, each with a British military base.
The disputed territory with Turkey and the British military bases give Cyprus borders with Turkish and British-controlled land even though it is an island nation.
Maritime Borders
Cyprus is located in the Mediterranean Sea.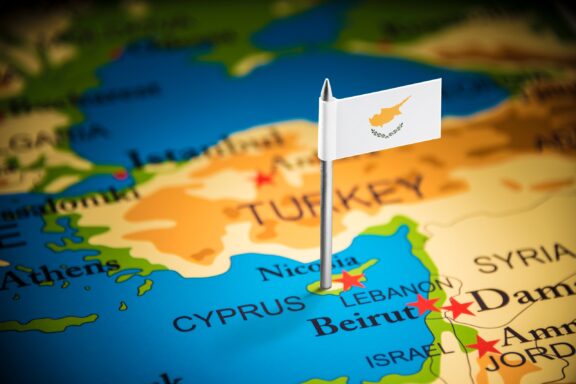 Administrative Divisions of Cyprus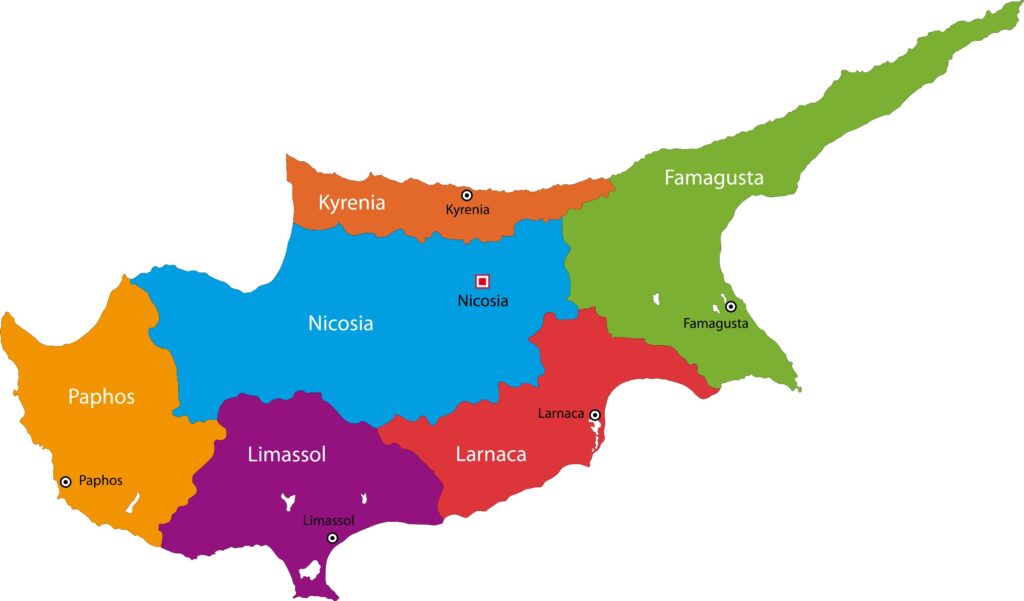 Cyprus is divided into six districts, which are further divided into municipalities and communities. Each district has a capital city of the same name. The largest and most populous of these districts, and the home of the country's capital, is Nicosia.
Each district is headed by a District Officer who coordinates the activities of the ministries in that district and is an extension of the central government.
Kyrenia is the smallest district in Cyprus, and it has been completely controlled by Turkish forces since 1974.
Geography of Cyprus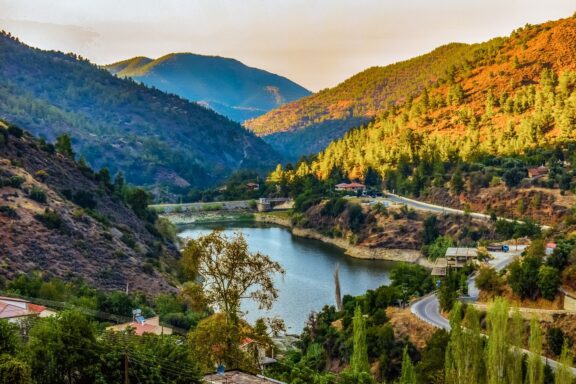 After the Italian islands of Sicily and Sardinia, Cyprus is the third-largest island in the Mediterranean Sea with a total area of 9,251 sq km (3,571.8 sq mi). The island is located south of the Anatolian Peninsula in the far eastern part of the Mediterranean, making it technically a part of Western Asia.
The topography of Cyprus is defined by the Mesaoria Plain and the two mountain ranges that surround it: the Troodos Mountains and the Kyrenia Range. The highest point in Cyprus is Mount Olympus, located in the Troodos Mountains, with an elevation of 1,952 m (6,404 ft).
The longest river in Cyprus is the Pedieos River, which originates in the Troodos Mountains, and flows through the Mesaoria Plains and the capital, Nicosia, eventually emptying into Famagusta Bay.
A unique terrestrial ecoregion in the country is constituted by the Cyprus Mediterranean Forests, where there are 128 endemic species. Some of these, such as the Cyprus cedar and the golden oak, are only found in the Troodos Mountains.
History of Cyprus
Cyprus has a history that dates far back to ancient times. Bones and artifacts found at Aetokremnos can be dated to 12,000 years ago, around 10,000 BCE. This is the earliest confirmed evidence of human activity on the island, but it's unknown if this confirms human settlements as opposed to evidence of humans visiting the islands.
The first confirmed settlements on the island of Cyprus can be dated to around 8,200 BCE. Some of the oldest water wells in the world are thought to be between 9,000 and 10,500 years old and are located near Paphos, Cyprus.
Over thousands of years, the island of Cyprus has been inhabited by a number of different peoples and cultures: Greek, Turkish, Egyptian, Persian, Roman, Ottoman, and British, among others. Cyprus was formally annexed by Britain in 1914 and became an independent state in 1960.
Among these different powers, Greek and Turkish influence has perhaps been the greatest and most prominent today, something that can be seen in the two official languages of Cyprus: Greek and Turkish.
Many Greek Cypriots have historically been in favor of enosis, which would be the political union of Greece and Cyprus. This is not a goal historically shared with most Turkish Cypriots, who instead have their own cultural identity and have at times wanted union with Turkey.
The struggle between Greek and Turkish identities on the island is what led to the 1974 coup d'état by the Greek military junta and the subsequent Turkish invasion of the island. The effects of these events are still easy to see today — the self-declared Turkish Republic of Northern Cyprus covers about 36% of the northern part of the island, which is separated from the rest of the island by a United Nations buffer zone.
Culture and People of Cyprus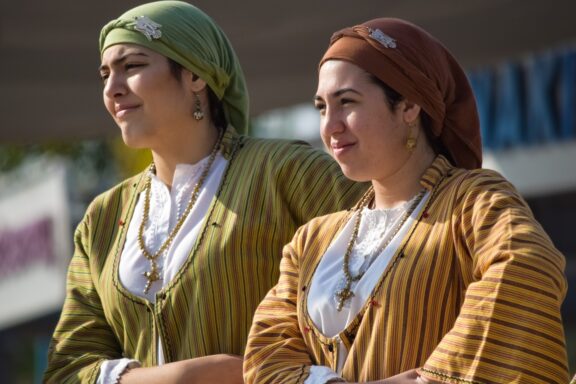 The population of Cyprus was estimated at 1,295,102 in 2022 by the CIA World Factbook. The country has seen steady growth in its population since 1980, though government censuses conducted after 1974 have not included the Turkish population in Northern Cyprus.
Ethnicity
The two major ethnic groups inhabiting Cyprus are Greek Cypriots and Turkish Cypriots. Roughly 80% of the population is Greek, and the remaining 20% are mostly Turkish.
The Greek population on the island descended from a mix of indigenous inhabitants and Peloponnese colonizers that arrived in 1200 BCE. Turkish Cypriots are mostly descendants of Ottoman soldiers that conquered the island in 1571 as well as immigrants from Anatolia.
Religion
The two major religions practiced in Cyprus reflect the island's two major ethnic groups. The vast majority of Greek Cypriots consider themselves Greek Orthodox, and most Turkish Cypriots are practitioners of Sunni Islam.
The first president of Cyprus was an archbishop, and Hala Sultan Tekke — a mosque in Cyprus located near Larnaca Salt Lake — is a site of pilgrimage for Muslims.
Language
The two official languages listed in the constitution of Cyprus are Greek and Turkish. Recognized minority languages in the country are Armenian and Cypriot Maronite Arabic.
Another language that is widely spoken in Cyprus but doesn't have official status is English. It was the sole official language during British rule, and it is spoken as a second language by approximately 80% of the population.
Additional languages spoken in Cyprus include Russian, French, and German.
Arts
The discovery of carved figures in Cypriot villages dates art in Cyprus to around 10,000 years ago. In the Middle Ages, many paintings of religious icons were produced, as were the Painted Churches in the Troodos Region, which have been a UNESCO World Heritage Site since 1985.
One piece of traditional art practiced in Cyprus is the production of Lefkara lace. This practice dates back to the 14th century and involves a time-consuming process that results in a distinct design.
Today, modern art in Cyprus is on display at the Cyprus Museum of Modern Arts and several other museums. Theater and music performances can be seen at the Kypria International Festival, which takes place annually and was first held in 1991.
The traditional folk music of Cyprus shares elements with Greek, Turkish, and Arabic music, all of which are related to Byzantine music.
Cuisine
The cuisine of Cyprus reflects the country's history and inhabitants. A mix of Greek, Turkish, and Middle Eastern influences characterize the food of Cyprus. Several of the traditional dishes on the island are also traditional dishes in other countries.
Halloumi, a cheese famous around the world, is traditionally from Cyprus and consists of a mix of goat's and sheep's milk. Other famous traditional dishes in Cyprus include souvlaki, kleftiko, and meze.
Biggest Cities in Cyprus
Here are the largest cities in Cyprus based on 2021 data:
City
Population
Nicosia
330,000
Limassol
235,056
Larnaca
59,200
Famagusta
40,920
Paphos
35,961
Kyrenia
33,207
Kato Polemidia
22,369
Aradippou
19,199
Latsia
16,774
Paralimni
14,963
Map of Cyprus with the Largest Cities
Cyprus Related Content
Cyprus Key Facts
Country
Cyprus
Coordinates
Latitude: 35.126413
Longitude: 33.429859
Country Codes
Alpha 2: CY
Alpha 3: CYP
Country Flag Emoji
🇨🇾
Int. Phone Prefix
+357
Capital city
Nicosia
Continent
Subcontinent
Europe/Asia
Southern Europe
Country Area
9,251 sq km
Population 2021
1,215,588
World Rank: 155
Median Age
37.6
Life expectancy
81.2
Major languages
Greek (official) 80.9%, Turkish (official) 0.2%, English 4.1%, Romanian 2.9%, Russian 2.5%, Bulgarian 2.2%, Arabic 1.2%, Filipino 1.1%, other 4.3%, unspecified 0.6% (2011 est.)
UTC/GMT Time
Number of time zones: 1

Internet TLD
.cy
Biggest Airport
Larnaca International Airport (LCA)
Average temperature
18.45 °C
65.21 °F
Administrative Divisions
6 districts
Political system
Presidential representative democratic republic
Cyprus Economy Facts
World Bank Income Group
High income
World Bank Region
Europe & Central Asia
Currency
Euro (EUR)
GDP in 2020
$24.7 (billions of USD)
World Rank: 103
GDP per capita in 2020
$27,682
World Rank: 31
Major Industries / Economic Sectors
Tourism, manufacturing, energy, services
Top 5 Import Countries
Greece, United Kingdom, Germany, Italy, France
Top 5 Export Countries
Greece, United Kingdom, United Arab Emirates, Germany, France
Government and Politics in Cyprus
The government of Cyprus is a presidential republic. Presidents of Cyprus are elected by universal suffrage in a two-round system. If no presidential candidates receive more than 50% of the vote int he first round, a second round of voting is held between the top two candidates. The winner of the 2023 presidential election was Nikos Christodoulides.
The political system of Cyprus has changed slightly in response to tensions between Greek and Turkish Cypriots. The country's constitution of 1960 provided a framework to protect the interests of Turkish Cypriots, but tensions in the country have rendered these obsolete.
There are 26 seats in the 56-member House of Representatives that are allocated to members of the Turkish community, but these have remained vacant since 1964.
Tourist Attractions of Cyprus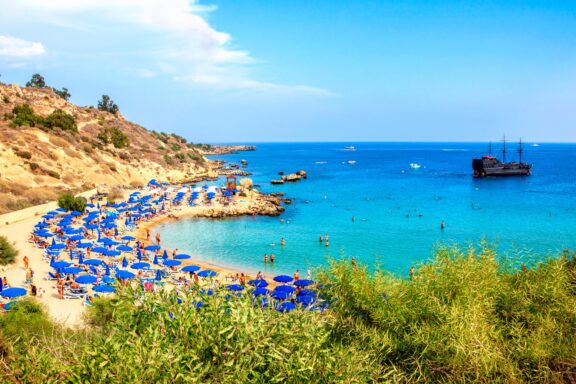 Tourism in Cyprus is a major industry, which shouldn't be a surprise considering its sunny climate and ease of access to EU-member citizens. The country welcomed nearly 4 million tourists in 2019. We'll list some of the most popular tourist destinations in Cyprus below.
Paphos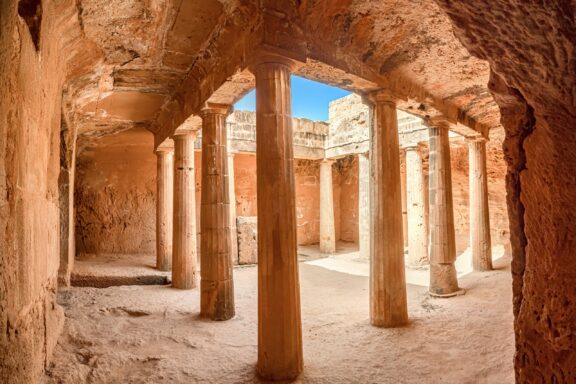 The city of Paphos is the capital of the district of the same name and is one of the most popular locations for tourists in Cyprus. The city lies along the seashore and is particularly interesting to tourists interested in history and culture.
A necropolis known as the Tombs of the Kings is a UNESCO World Heritage Site located in Paphos that consists of underground tombs carved into various shapes. The ancient city of Kato Paphos is another attraction here.
Akamas National park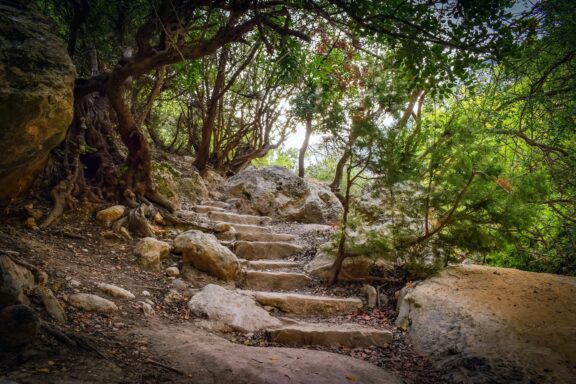 This is an ideal tourist stop for nature lovers visiting Cyprus. The park features extensive hiking trails as well as a grotto in the Baths of Aphrodite area of the park where Aphrodite is said to have met her lover Adonis.
Secluded beaches and a turtle sanctuary round out some of the attractions making this park a popular ecotourism location. There are many endemic species of plants and animals such as the Cyprus tulip.
Larnaca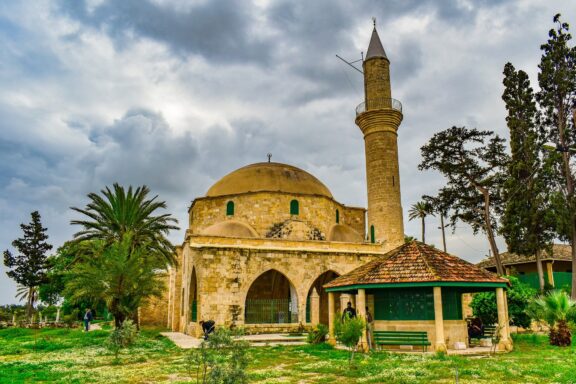 Many tourists visiting Cyprus will arrive at Larnaca International Airport, which puts them just outside the city of Larnaca. The city itself has a lot to offer visitors interested in taking advantage of the sun and exceptionally clear water at Finikoudes Beach as well as those more interested in the history of Cyprus.
The Church of Saint Lazarus is a famous site in Larnaca that was founded in the late 9th century. The Hala Sultan Tekke is also located on the outskirts of Larnaca.
Transportation and Infrastructure of Cyprus
Arriving in Cyprus usually entails taking an international flight to one of the island's international airports. It is possible to arrive by ferry from other Mediterranean countries, but the service of these ferries is limited and very irregular.
There are three main international airports in Cyprus: Larnaca International Airport, Paphos International Airport — both of which are in the Republic of Cyprus — and Ercan International Airport, located in Turkish-controlled Northern Cyprus.
The most common modes of transport for navigating Cyprus are car, taxi, bus, bicycle, and by foot. There is no underground or railway transit system in the country. Cyprus is one of only three EU countries that have left-hand traffic, a legacy of British colonialism.
Climate and Weather of Cyprus
The climate of Cyprus is subtropical, featuring hot and dry summers that last from the middle of May to mid-October and mild, rainy winters that last from November to March.
There is very little rain that falls during the summer months, and winters along the coast are especially mild. Snow does fall, but only in the Troodos Mountains.