Portugal is located in the Southern Europe region at latitude 39.399872 and longitude -8.224454 and is part of the European continent.
The DMS coordinates for the center of the country are:
39° 23' 59.54'' N
8° 13' 28.03'' W
You can see the location of Portugal on the world map below: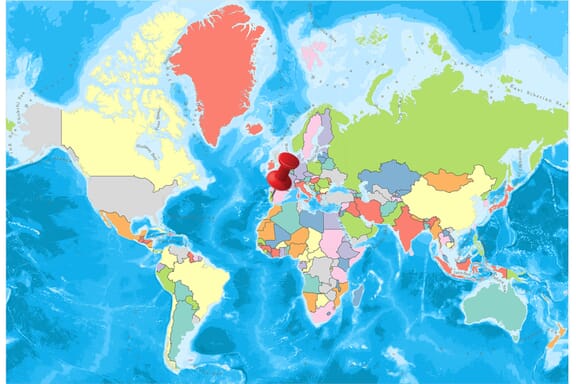 Portugal Neighboring Countries
The neighboring countries of Portugal (PT) are:
Spain (ES)
Maritime Borders
Portugal borders the Atlantic Ocean.
Portugal Related Content
Portugal Key Facts
Country
Portugal
Coordinates
Latitude: 39.399872
Longitude: -8.224454
Country Codes
Alpha 2: PT
Alpha 3: PRT
Country Flag Emoji
🇵🇹
Int. Phone Prefix
+351
Capital city
Lisbon
Continent
Subcontinent
Europe
Southern Europe
Country Area
92,090 sq km
Population 2021
10,299,423
World Rank: 88
Median Age
45
Life expectancy
81
Major languages
Portuguese (official), Mirandese (official, but locally used)
UTC/GMT Time
Number of time zones: 2


UTC−01:00 — Azores
UTC±00:00 (WET) — Madeira and the main territory of Portugal

Internet TLD
.pt
Biggest Airport
Lisbon Airport (LIS)
Average temperature
15.15 °C
59.27 °F
Administrative Divisions
18 districts 2 autonomous regions
Political system
Parliamentary democracy
Portugal Economy Facts
World Bank Income Group
High income
World Bank Region
Europe & Central Asia
Currency
Euro (EUR)
GDP in 2020
$228.5 (billions of USD)
World Rank: 47
GDP per capita in 2020
$22,195
World Rank: 39
Major Industries / Economic Sectors
Manufacturing, services, agriculture, energy
Top 5 Import Countries
Spain, Germany, France, China, United States
Top 5 Export Countries
Spain, Germany, France, United Kingdom, Angola
Biggest Cities in Portugal
Here are the largest cities in Portugal based on 2021 data:
City
Population
Lisbon
506,654
Sintra
377,835
Vila Nova de Gaia
302,295
Porto
237,591
Cascais
206,479
Loures
205,054
Braga
181,494
Matosinhos
175,478
Amadora
175,136
Almada
174,030
Map of Portugal with the Largest Cities
Other Countries in the Southern Europe Region
Geography
Located in the southern part of Europe, Portugal is in the Iberian Peninsula. It is located around the Atlantic Ocean and Spain.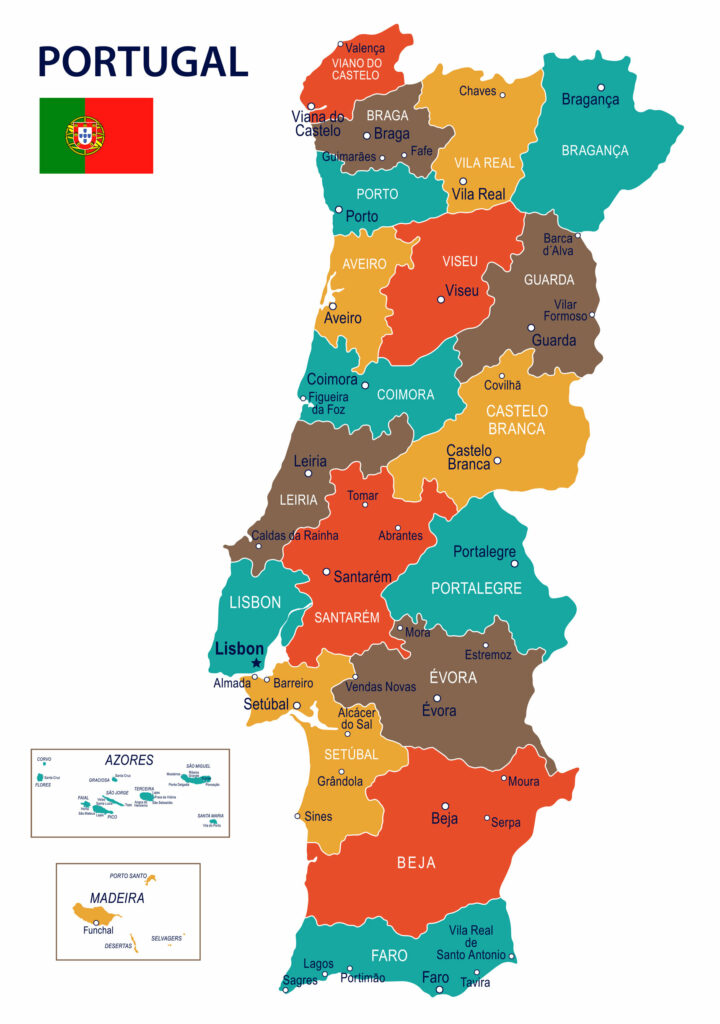 It has an 88,889-kilometer square surface area in Europe. From its easternmost point there is a 218-kilometer border, from north to south there is a 561-kilometer border, there are 832 kilometers of coastline, and with Spain 1,215 kilometers of border strips.
The Azores is the archipelago located in the Atlantic Ocean between Europe and America. It consists of 9 islands with a total area of 2,355 square kilometers. These islands are in 3 groups:
East group – Sao Miguel and Santa Maria,
Central group – Terceira, Grasoza, San Jorge, Pico and Faial and
Western group – Flores and Corvo. It is possible to reach the island with a flight of approximately 2 hours. Madeira Islands spread over a total of 741 square kilometers in the Atlantic Ocean. It is 500 kilometers away from the nearest West African coast and 1000 kilometers away from Europe (and flights from Lisbon take about one and a half hours).
Governance
There are 18 administrative regions in the country. The Azores and Madeira have autonomous status in the Atlantic Ocean. In Portugal, which has a single-parliamentary parliament with 230 seats, general elections are held on a principle of proportional representation every four years. In the last general elections on (4 October 2015), a minority government was established with the support of the other leftist parties (Left Block, Communist Party) represented by the Socialist Party in Parliament.
The president can be chosen twice by the people for five years. Marcelo Rebelo de Sousa, who won the last Presidential elections held on January 24, 2016, took over this task on 9 March 2016.
Climate
In Portugal, the Mediterranean climate dominates, while the winter months are rainy and mild, the summer months are quite hot and dry. The climate in the country is not very visible, but the southern part is generally drier and warmer than the northern part. The northern part of the country has oak, chestnut and prairie forests, and there are olives almost everywhere in the country.
Religion
Approximately 95% of the country is Catholic, the rest is Jewish, Muslim, and Protestant. Society is separated by secularism, and religion and state affairs are separated by secularism. Individuals are freed in religious choices, but the majority of the population is Catholics. The Catholic Church has a great influence on society because of its past in history.
Industry and Tourism
Agriculture: Generally, productivity in agriculture and livestock production is low and marketing opportunities are not developed. The farms in the north are small and divided between the families.
Wheat, corn, rye, rice, oats, dried tofu, potatoes, various fruits, and vegetables. 8% of the arable land consists of olive trees, 6% ties (world's 6th largest wine producer). Cereal and vegetable production is in the north, citrus and olive production is in the south. The vineyards are the inner regions behind Lisbon. Mushroom production is also an important source of income.
Livestock: The total number of animals (cattle, sheep, goats, horses, donkeys) is 10.5 million. Fishing, which constitutes the most important sector of animal husbandry, is a great source of foreign exchange. Sardines and cod are the most hunted species.
Industry: Industry events have gathered in several centers, such as Lisbon and Porto. The largest industry is textile (cotton and wool). Shipbuilding and repair, oil refining and processing, steel, artificial fertilizer, chemistry, building materials, paper, furniture, ceramics, food are other important sectors. 53% of annual electric energy production is from hydroelectric power plants.
Tourism: Portugal is one of the most tourist receiving countries in Europe. The Algarve in the south and the capital Lisbon, Madeira, and the Azores Islands are the most popular destinations for tourism.
Art
Museu Calouste Gulbenkian (Calouste Gulbenkian Museum), one of the favorite addresses of tourists and tourists who are curious about ancient artworks, is located in the Lisbon city limits.
Calouste Gulbenkian Foundation operates the museum, which was the legacy of businessman Calouste Gulbenkian and opened its doors in October 1969. This country, which provides you with colorful days thanks to its entertainment life, culture-art venues, historical texture, and unique beaches, has a very active appearance, especially in spring and summer months.
Sports
Football is the most popular sport in Portugal. As of October 2011, the Portuguese national soccer team is in the 8th place in the FIFA World Ranking among FIFA member national teams of 208 countries.
The legendary Eusébio is still the unforgettable symbol of Portuguese football. Luis Figo was selected by FIFA as the player of the year 2001. Rui Costa and Cristiano Ronaldo are considered to be important players.