Malta is located in the Southern Europe region at latitude 35.937496 and longitude 14.375416 and is part of the European continent.
The DMS coordinates for the center of the country are:
35° 56' 14.99'' N
14° 22' 31.50'' E
You can see the location of Malta on the world map below: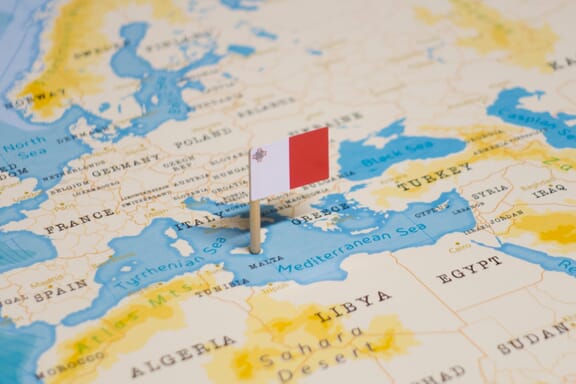 The country has no neighboring countries/land borders.
Maritime Borders
Malta borders with the Mediterranean Sea.
Malta Related Content
Malta Key Facts
Country
Malta
Coordinates
Latitude: 35.937496
Longitude: 14.375416
Country Codes
Alpha 2: MT
Alpha 3: MLT
Country Flag Emoji
🇲🇹
Int. Phone Prefix
+356
Capital city
Valletta
Continent
Subcontinent
Europe
Southern Europe
Country Area
316 sq km
Population 2021
516,869
World Rank: 168
Median Age
39
Life expectancy
83.8
Major languages
Maltese (official) 90.1%, English (official) 6%, multilingual 3%, other 0.9% (2005 est.)
UTC/GMT Time
Number of time zones: 1

Internet TLD
.mt
Biggest Airport
Malta International Airport Valletta (MLA)
Average temperature
19.20 °C
66.56 °F
Administrative Divisions
68 local councils
Political system
Parliamentary democracy
Malta Economy Facts
World Bank Income Group
High income
World Bank Region
Middle East & North Africa
Currency
Euro (EUR)
GDP in 2020
$14.9 (billions of USD)
World Rank: 125
GDP per capita in 2020
$28,946
World Rank: 30
Major Industries / Economic Sectors
Manufacturing, services, agriculture, energy
Top 5 Import Countries
Italy, Germany, China, France, United States
Top 5 Export Countries
Italy, Germany, France, United Kingdom, United States
Biggest Cities in Malta
Here are the largest cities in Malta based on 2021 data:
City
Population
Birkirkara
24,356
Saint Paul's Bay
21,046
Mosta
20,241
Sliema
16,854
Qormi
16,779
Zabbar
15,404
Naxxar
13,443
San Gwann
12,523
Marsaskala
12,134
Zebbug
11,903
Map of Malta with the Largest Cities
Other Countries in the Southern Europe Region