Here are 10 reasons to visit Spain:
1. Barcelona
One of the most visited cities in the world is Barcelona. Those who live here refer to themselves as Catalans. Located in northeastern Spain, Barcelona is one of the best travel destinations in the country, offering everything the tourist has to offer, from historic architecture to vibrant shopping, cultural heritage and vibrant nightlife. It is located in Barcelona's architectural heritage of the famous architect Antoni Gaudi, which includes Casa Batllo and the famous Sagrada Familia church. Both offer extraordinary constructions, fascinating designs, shapes and color combinations.
2. Granada
Located in southern Spain, Granada is home to the world famous Alhambra, the culmination of traditional cultures, vibrant nightlife and Moorish art including the history of Andalusia.
Every year there are hundreds of thousands of visitors from almost every country in the world to see the magnificent Alhambra in Granada. The Alhambra offers magnificent ornamental architecture, magnificent and lush gardens, stepped and dripping water features and breathtaking views of the city.
3. Islands of Spain
Spain has some of the most beautiful islands in Europe. The largest Spanish islands are equally divided between the Balearic Islands and the Canary Islands. To the east of Spain, there are four Balear Islands (Ibiza, Formentera, Mallorca and Menorca). Mallorca is the world's largest and most well-known island of Ibiza. The Canary Islands are located on the shores of Morocco just south of the Atlantic Ocean. Beautiful beaches, temperate climate and important natural attractions, especially the Maspalomas Dunes in Gran Canaria and Teide Volcano in Tenerife are very popular.
4. Madrid
Madrid, the capital and largest city of Spain, is generally famous for its night life. The city has been adopted because of the various ethnic groups that make it one of the most colorful cosmopolitan cities in Europe.
There are also some of Madrid's most popular attractions, such as the Royal Palace, the residence of Spain's ruler in the city center. The Puerta del Sol square is the heart of the city, and hosts festivals, important meetings and street artists as well as it is a center for public transport. Another important square is Plaza Mayor.
5. Seville
Very specific historical sites, with live festivals, are one of the must-see places in Spain. Seville, the Andalusian capital, is also the financial and cultural capital of the region. The city hosts many beautiful and important historic sites such as the Cathedral of Seville, believed to have buried Christopher Columbus. Another important structure is Real Alcazar, an exaggerated Moorish palace equipped with luxurious gardens.
6. Valencia
Valencia, one of Spain's largest and most important cities, is well known in the province, a large cultural and entertainment complex known as the City of Arts and Sciences. This complex includes a variety of artifacts such as a scientific museum, planetarium and aquarium. Every year in March it hosts the Fallas Festival, which displays papier-mâché figures of all sizes and colors.
7. San Sebastian
San Sebastian is the capital of the state of Gipuzko, located in the Basque country of northern Spain along the Bay of Biscay. This beautiful seaside town is very popular for its excellent beaches and outstanding cuisine. The Old Town is home to many historic buildings reconstructed in the 19th century after the wars. It has some of the best beaches in Europe in San Sebastian.
8. Cordoba
Cordoba is the capital of the province of Cordoba in the Andalusian region of southern Spain. Cordoba's historic neighborhood, small medieval streets, plazas and whitewashed courtyards. Originally built as a mosque, Mezquita has now become a magnificent cathedral that preserves most of its original architecture. Its embellishment with red and white striped arches in Islamic style reminds me of Córdoba's glory and importance in medieval times. Other attractions are Christian Monarchs Castle, Flower Street and Jewish Quarter.
9. Toledo
Located on a mountain top in Central Spain, Toledo was the Spanish capital until the 16th century. For centuries, Jews, Christians, and Muslims lived here together and it was called as "Three Cultural Cities". Today, Toledo is a popular destination due to its historic art and architectural richness, dating back to the Roman Empire. The best thing to do in Toledo is to get lost in the medieval streets.
10. Santiago de Compostela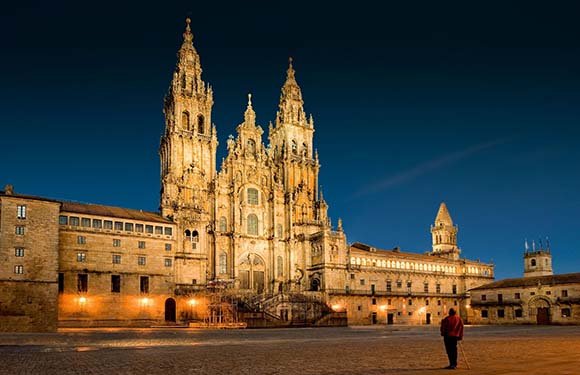 The capital of the Galicia region in northwestern Spain is the traditional pilgrimage site known as Santiago de Compostela. This pilgrimage is important for many Christians, because Santiago de Compostela is the place where Jesus Christ's Apostle St James is buried. Today, the city attracts thousands of visitors every year, both in terms of religious tradition and history.
---
Tourism in Spain
Tourism is the third largest sector in the country after the industrial and banking sectors, with approximately 10-11% contribution to GDP in Spain. In 2017, Spain was the second most visited country in the world, and country visited by 81.7 million tourists in 2017.
Spain is most visited by the United Kingdom. Countries following the United Kingdom respectively; Germany, France, Italy, Netherlands, United States, Belgium, Portugal, Switzerland, Ireland, Russia, Argentina, China, Canada, Brazil, Mexico, Japan, South Korea, Turkey, and Israel.
Spanish Currency / What is the Currency of Spain?
Spain's currency is the Euro. Spain has been using the Euro since 2002. The mark of the euro is € and the code is EUR. The currency of the country before 2002 is Spanish peseta.
Spanish Cuisine / What to Eat in Spain?
When it comes to Spanish cuisine, paella comes first. This very famous dish of the Valenciaregion almost stamped the Spanish cuisine. Paella; It is an extremely delicious rice dish includes chicken meat, fish, and seafood. Paella is a meal that combines the culinary cultures of the Romans and Arabs who have historically occupied Spain.
Public Holidays in Spain
Here below you can find the national public days in Spain:
January 1 – New Year Holiday
January 5-6 – The Hall of Epiphany – Orthodox Churches celebrate on the 6th day of January every year as Epiphany Day. Moreover, on the day of Jesus' baptism, the memorial of three legendary wise men (saints) who brought to him the golden stars, incense, and myrrh are also kept alive.
May 1 – Labour Day
June 23-24 – St. John's Day
August 15 – Assumption of Mother Mary. One of the biggest festivals in Catholic and Orthodox Christianity, "Assumption of Mother Mary" is celebrated on 15 August or the Sunday closest to it, according to church traditions.
September 11 – Catalan National Day. Every year on 11th of September, celebrations commemorate the Catalonia armies defeated during the Spanish Succession War. The Catalonian army supported both the claims of the Habsburg dynasty in the Spanish sovereignty in the War of Succession while colliding for Catalonia's independence. They received a great defeat on September 11, 1714, by V. Felipe, the founder of the Bourbon dynasty in Spain. Between July 25, 1713, and September 11, 1714, the Siege of Barcelona was finally overturned and the Bourbon-Spanish army captured the city. Thus, the Catalans lost their important rights.
September 24 – La Mercè Festival. Every year close to the end of September Barcelona holds its largest street party, the Barcelona La Mercè Festival. The festival, which officially first took place in 1902, is like a goodbye to the summer and welcome to the cooler months of autumn.
October 12 – Columbus Day. Also, the second Monday of October in America is the Columbus Day to commemorate Christopher Columbus, who discovered America in 1492.
November 1 – The Day of the Saints, the holy day of all saints known and unknown in Christianity. On November 1 in the West Churches, on the first Sunday after Hamsin (Pentecost) in the Eastern Churches.
December 6 – Constitution Day
December 8 – Feast of the Immaculate Conception
December 25-26 – Christmas
Easter holidays are celebrated at different times each year.
Festivals in Spain
In Spain, the most important festival country in the world, there are numerous festivals in every season of the year. The Spanish festivals, known as Fiesta, are world famous. Most of the festivals are made up of bull runes, fireworks, war plays, music, cinema and various religious walks, especially the guardian saints of villages, towns and cities, and fiestas for Virgin Mary. During the festivals, colorful festivals are held in the towns and villages. The festivals are also a big visual feast for tourists coming to Spain for sightseeing and holiday.
Popular Festivals in Spain in General
Easter, which is generally regarded as the second bazaar of April, is considered to be the most important artifact of Spain and is celebrated all over Spain. The Sacred Sunday organized in this context is heralding the development of Easter. One of the most popular of these ceremonies, Elx is a ceremony in Europe where sculptures are planted with leaves gathered from palm trees. Easter week ceremonies are called Semana Santa and the most magnificent ceremonies are held in Seville, Malaga, Murcia and Valladolid.
Las Fallas, the great fire festival, is celebrated in Valencia by burning cardboard sculptures at the end of the winter and spring. In Alcoi in April, re-conquest is celebrated with costumed festivals in which wars between Moorish and Christians are staged. Arranged in Andalusia Sevilla in April Feria Abril is also a popular festival of the region.
The first important festival of the summer season is the Pentecostal celebrated in May or June and it is held in El Rocio. In the famous Corpus Christi festival held in the same period, a blessed bread is circulated in a silver box. The most magnificent Corpus Christi celebrations are in Valencia, Toldo and Granada.
San Fermin Bullfighting Festival is held in Pamplona in July. In autumn, Vintage Celebration is usually held in Spain. The most popular cities for Christmas and New Year's Eve celebrations are Barcelona and Madrid.
The Best Spanish Festivals
Festival Internacional de Benicassim (July): The annual festival in Benicassim, Spain, is also one of the most famous music festivals in the world.
Els Castellers (September): It is the traditional festival of Catalonia. During the Castellers, which mean human towers, there are grand festivals with human towers and Catalan dances.
Feria de Abril (April): Watching Andalusia's popular April Fair in Seville is very enjoyable. During the April Fair which is a colorful and fun fiesta, you can see various events.
San Isidro (May): During the San Isidro festival held in the name of the patron saint of Madrid, you can enjoy the magnificent street dances and activities.
Las Fallas (March): Las Fallas, the most magnificent festival of the region, which is the great fire festival with the end of winter and the beginning of spring, is celebrated by burning sculpture statues in Valencia.
San Fermin (July): San Fermin bullfighting in Pamplona is an unbelievable opportunity for lovers of bullfighting and bull run, one of Spain's most famous activities. During the festival, besides the bull run, there are also traditional celebrations accompanied by folkloric dances.
Danza de los Zancos (July-September): Danza de los Zancos, a dance festival, is the most popular folkloric and cultural activity of the La Rioja region.
Tomatina Festival (August): The tomato festival is a very fun festival held in Bunol, near Valencia, with red-painted streets and people who have entered into a competition and tomato-throwing competition.
Sant Joan (June): During the Sant Joan festival organized by the Balear Islands in the name of the patron saint of Minorca, tourists may enjoy the magnificent activities.
Is Spain a Safe Country?
Traveling in Spain is generally safe. Spain ranks 17th in the world in terms of the safest and most dangerous countries. Apart from small-scale theft, there is no serious problem in Spain.
Most pickpocketing is about passport, cash or credit card fraud. There are many fraud cases in Madrid and Barcelona. Especially in touristic places, there are small fraud groups targeting tourists.
Barcelona is filled with the trappings of creativity that your mind can not get. The majority of thieves are immigrants from certain countries, and there are also very professional domestic thieves. F
or Barcelona, who has surpassed Rome and Napoli even in the case of theft, the police can not take precautions because there are no laws to take measures. Once the police catch the thief, the pickpocket, the snatchers, then they have to release it after half an hour, based on certain laws, so here is a complete paradise for thieves.
But as long as you are awake and cautious and follow these precautions, you can have a comfortable holiday and return. Meanwhile, the purpose of the thieves is not to kill you, but to steal your wallets, your money, your baggage or your precious possessions.
Nobody knows what you will encounter in the deserted streets of the old city, especially at night. In your hotel lobby, and even at the airport, do not leave your baggage in front of your eyes.
Safety Precautions List
Do not carry valuable jewelry, goods, or surplus money with you.
Do not carry your passport with you, get a photocopy instead.
Do not hang your bag behind the chairs in cafes, restaurants and bars. Do not put it under your feet, do not leave valuables on the table even if they are in front of your eyes.
Do not carry your camera, video camera on your shoulder.
Pay close attention to your bags and pockets on the crowded metro, especially in crowded city buses on tourist lines, especially watch out for pushers.
Never leave your luggage in baggage transfers (especially at hotel lobbies, airport, train and bus stations).
When you open your city map on the street, do not leave your items unprotected because you give the thieves an image of hunting.
General Security Information
The risk of theft is great for tourists in Spain. The simple measures above will reduce your chances of being a victim.
Especially in big cities (Barcelona, Madrid), there are many cheaters trying to benefit tourists. Be open to the fraudsters' tricks, the fake papers presented to you, the groups acting strangely or trying to disturb you.
In Spain, transport and taxis are usually very safe.
Spain is a country targeted by ISIS. It is useful to watch overcrowded places. ISIS, which attacked Barcelona in 2017, killed 13 people.'
Spain is an extremely safe country for women tourists.
Trip Advice to Places Around Spain
Where to go from Spain, how to get there? Barcelona to Madrid, Barcelona to Ibiza, Barcelona to Valencia, Madrid to Seville.
Prices are given in local currency, Euro, due to exchange rates between currencies.
Barcelona to Madrid
Private Car: Madrid is 624 kilometers from Barcelona by road. It takes about 6 hours. Daily car rentals start at €10EUR.
Bus: With the company Alsa you can travel from Barcelona to Madrid by bus. Round-trip ticket prices average €60EUR. The journey takes 7 hours and 30 minutes.
Train: It is possible to go directly from Barcelona to Madrid by high-speed train. The journey takes 2 hours and 30 minutes. Total return price € 120. For train tickets click.
Flight: It is possible to take a 1 hour 30 munites flight from Barcelona to Madrid. Flying company: AirEuropa. Round-trip average prices are around €70EUR.
Barcelona to Ibiza
Private Car: Ibiza is 573 kilometers from Barcelona by road. It takes about 7 hours. Daily car rentals start at € 10EUR. There is a ferry ride on the route.
Bus: With the company Alsa you can travel from Barcelona to Gandia by bus. Then Ibiza can be reached by ferry from Gandia. The bus journey from Barcelona to Gandia takes 7 hours and the round-trip ticket costs € 66. The ferry from Gandia to Ibiza takes 2 hours and the return price is € 115 EUR.
Train: It is possible to get from Barcelona to Gandia by train. The journey takes 5 hours. The total price of the round-trip ticket is € 44 EUR. The ferry from Gandia to Ibiza takes 2 hours and the round-trip ticket costs € 115 EUR.
Flight: It is possible to take a 1 hour 10 munites flight from Barcelona to Ibiza. Flying company: Ryanair. Round-trip average prices are around €30EUR.
Ferry: It is possible to go directly from Barcelona to Ibiza by ferry. Traveling with Baleria ferries takes 8 hours. Ticket prices are divided into two categories, seat, and cabin. Seat ticket prices are € 26, while cabin ticket prices are € 100.
Barcelona to Valencia
Private Car: Valencia is 351 kilometers from Barcelona by road. It takes about 3 hours and 30 minutes. Daily car rentals start at €10EUR.
Bus: With the company Alsa you can travel from Barcelona to Valencia by bus. Round-trip ticket prices average €66EUR. The journey takes 4 hours and 15 minutes.
Train: It is possible to go directly from Barcelona to Valencia by train. The journey takes 5 hours and 15 minutes. Round trip ticket total price € 45 EUR. For train tickets click.
Flight: It is possible to take a 1 hour 30 munites flight from Barcelona to Valencia. Flying companies: Vueling Airlines and Iberia Round-trip average prices are around €70EUR.
Madrid to Seville
Private Car: Seville is 534 kilometers from Madrid by road. It takes about 5 hours. Daily car rentals start at €10EUR.
Bus: With the company Socibus you can travel from Madrid to Seville by bus. Round-trip ticket prices average €42EUR. The journey takes 6 hours and 42 minutes.
Train: It is possible to go directly from Madrid to Seville by high-speed train. The journey takes 2 hours and 30 minutes. The total price of the round-trip ticket is € 70 EUR. For train tickets click.
Flight: It is possible to take a 1 hour 5 munites flight from Madrid to Seville. Flying companies: Iberia Express, Iberia, and Vueling Airlines Round-trip average prices are around €115EUR.
Best Time to Travel to Spain
Spain is home to some of the most remarkable cities such as San Sebastian, Cordoba and Toledo, the largest country in southern Europe and the second largest in Europe. Spain is also on the 3rd place in the Unesco World Heritage List after Italy and China. In the north of Spain, which shares the Iberian Peninsula with Portugal, France and Andorra, the Atlantic Ocean in the northwest, and Morocco and Gibraltar in the south. Spain is also the only European country neighboring an African country (Morocco).
Madrid, Valencia, Barcelona, Malaga, and Bilbao are the largest cities. There are also the Canary Islands in the Atlantic Ocean, Balear Islands in the Mediterranean, and Ceuta and Melilla in North Africa. Whether it is festivals or historical events, Spain continues to be a frequent destination for millions of tourists every year with its beaches and seas.
In the country that hosted many large festivals, the second week of January is filled with drum sounds. The La Tombarroda Festival in San Sebastian is one of the most stunning festivals where the city is prohibited from sleeping. Corpus Christi, a Catholic tradition, is celebrated in many cities, churches, and squares of Spain. In July, Spain takes on a completely different identity with the adventure of colorful flowers and the spirit of entertainment spread throughout all the cities. By following the calendars of these festivals, organizing your Spanish travel will provide you with a colorful cultural travel plan.
Weather in Spain
The Mediterranean climate in Catalonia, Andalusia, and BalearIslands is not very cold in winter months, but summer is quite hot. The average temperature is 13 degrees in winter and the summers are around 28 degrees.
Rainfall in these areas falls mostly in spring and autumn. The Oceans-Continental climate is dominant in the regions of the country and this climate is in centers such as Madrid. Here the winters are quite cold and summers are hot.
Related Content: Autonomous Regions of Spain
The best time to visit Spain is spring or fall. The summers are very hot in popular tourist places like Seville, Cordoba. However, the northern regions are ideal for exploring in the summer.
Seasons in Spain
Spring – March, April and May.
Summer – June, July and August.
Autumn – September, October and November.
Winter – December, January and February.
What is the Official Language of Spain?
The official language of Spain is Spanish.
Spain has the fifth biggest population of native Spanish speakers after Mexico, Colombia, and Argentina.
In Spain, which has a multicultural structure, languages such as different Basque, Catalan and Galician are spoken in various regions.
Catalan is the language spoken in and around Barcelona. Basque is the language spoken in and around Bilbao, also called "Basque Country" in Spain. Galician is the language spoken in the north-western, oceanic coast of Spain.