Madrid is the capital of Spain. Madrid is the largest city in Spain, standing at an altitude of over 600 meters above sea level, making it the second-highest capital in Europe after Andorra la Vella.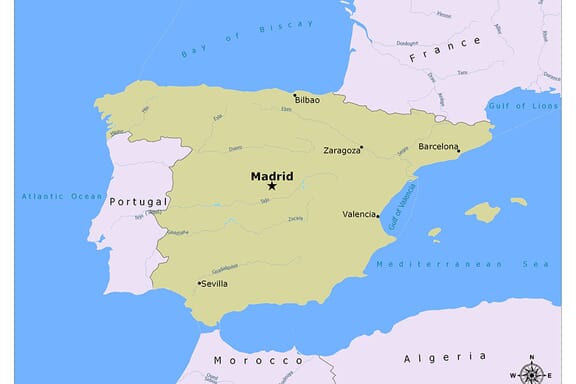 Madrid is known for its rich history, vibrant culture, and diverse architecture. It is home to many famous landmarks, and it's globally recognized for its football clubs, Real Madrid and Atlético de Madrid, both playing in Spain's top-flight league, La Liga. In Madrid, both the traditional and the modern coexist harmoniously, making it a truly diverse and vibrant city.
Where is Madrid?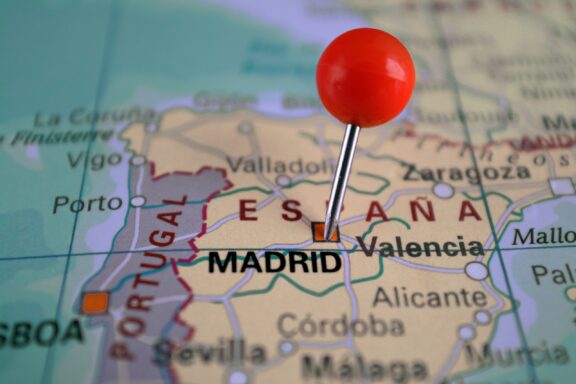 Madrid is located in the center of Spain, on the Iberian Peninsula in southwestern Europe. It's virtually in the country's geographic center, contributing to its status as Spain's political, economic, and cultural hub.
The city is situated on the Manzanares River, and its central location makes it a crucial logistical base, with excellent road, rail, and air connections to the rest of Spain and other parts of Europe. Madrid's coordinates are approximately 40.4168 °N latitude, 3.7038 °W longitude.
History of Madrid
Madrid's history is rich and spans several centuries, reflecting the city's evolution from a small medieval town to the vibrant, cosmopolitan capital of Spain that it is today.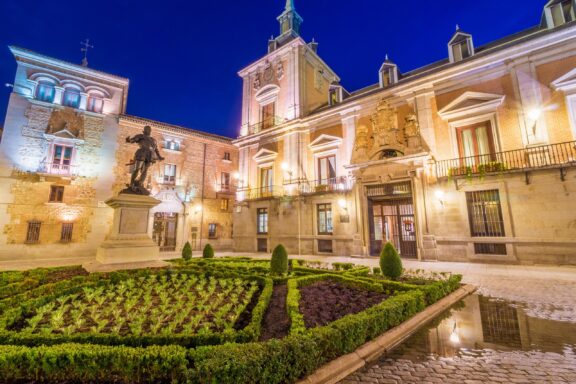 The area that is now Madrid has been inhabited since prehistoric times, with archaeological evidence of Bronze Age, Celtiberian, and Roman settlements. However, the founding of Madrid as a city is usually attributed to the Moors in the 9th century, who built a fortress near the Manzanares River called Magerit, which is the precursor to the city's current name.
The Christian Reconquest in the 11th century led to the city's incorporation into the Kingdom of Castile. Over the following centuries, Madrid grew in importance, eventually being granted a city charter by King Alfonso VIII of Castile in the 12th century.
Renaissance & Early Modern Period – Madrid's natural emergence on the national stage occurred in the 16th century. In 1561, King Philip II chose Madrid as the capital of the Spanish Empire, primarily due to its central location on the Iberian Peninsula. The city underwent rapid expansion, constructing significant structures such as the Royal Alcázar, a precursor to the present-day Royal Palace.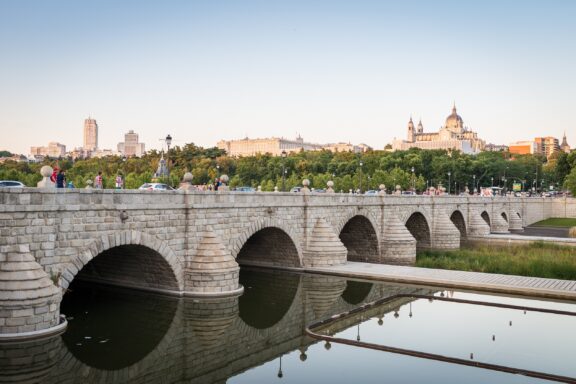 During the 17th century, Madrid further developed as a center of arts and culture under the patronage of the Habsburg and Bourbon monarchs. This period, known as the Spanish Golden Age, saw the creation of Madrid's first university (Complutense University) and the opening of the Prado Museum.
19th Century & Industrialization – The 19th century was a turbulent period for Madrid, marked by the Napoleonic invasion, national revolts, and the loss of the Spanish colonies. However, it also marked the start of Madrid's modernization. The expansion plans of the late 19th and early 20th centuries, notably the Plan Castro, shaped the city's urban layout with a grid pattern and gave rise to neighborhoods like Salamanca and Arganzuela.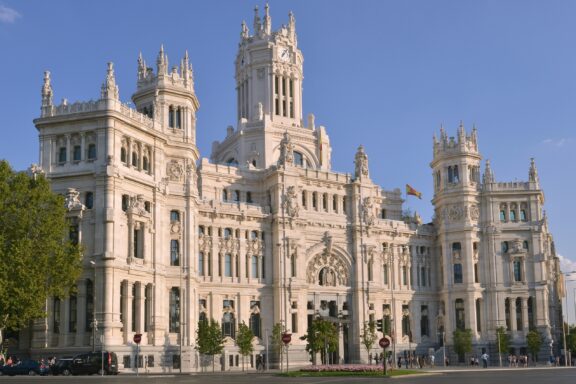 The early 20th century saw further growth, but the city was severely affected by the Spanish Civil War (1936–1939), during which it was a key Republican stronghold. Post-war, Madrid was rebuilt and expanded under Francisco Franco's dictatorship, with major projects like the Gran Via and the University City construction.
Late 20th Century & Today – Following Franco's death in 1975 and the subsequent transition to democracy, Madrid underwent a cultural renaissance known as the Movida Madrileña, becoming a vibrant, cosmopolitan city full of art, culture, and nightlife. Today, Madrid is Spain's economic, political, and cultural heart, known for its architectural beauty, historical significance, and dynamic lifestyle. It continues to play a significant role on the global stage as a hub of commerce and culture.
Features of Madrid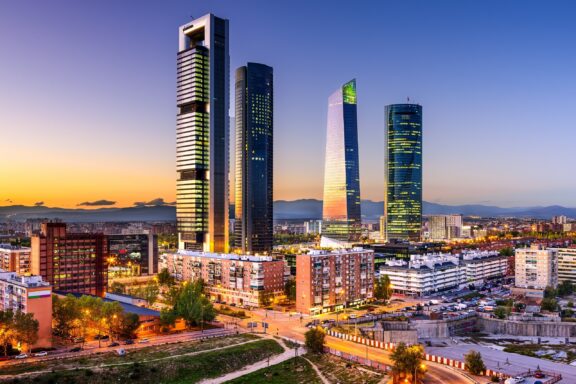 Madrid is a vibrant metropolis brimming with art, culture, history, and life. It's a city that effortlessly combines the old and the new, where medieval structures and grandiose palaces stand shoulder to shoulder with sleek skyscrapers and modern amenities.
One of Madrid's most notable features is its abundant art scene. The city boasts some of the finest art museums in the world and is known for its grand architecture.
In essence, Madrid is a city that offers something for everyone, where every corner turned unveils a new experience, a new piece of history, or a new gastronomic delight. It's a city that invites exploration and promises discovery, leaving an indelible impression on all who visit.
Geography and Climate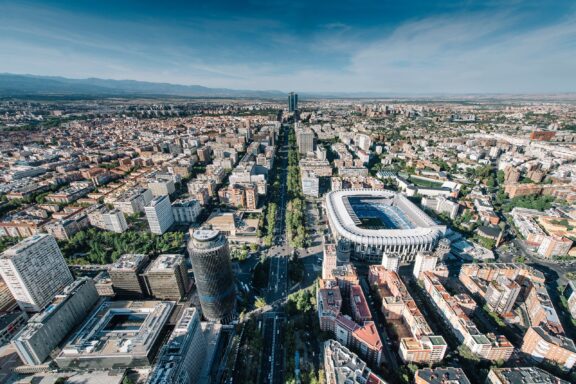 Madrid is situated on the Spanish Central Plateau (Meseta Central), a vast plateau in the heart of the Iberian Peninsula. The city is characterized by a diverse range of landscapes, from the verdant banks of the Manzanares River to the nearby Sierra de Guadarrama mountains, providing opportunities for various outdoor activities.
The climate in Madrid is classified as a hot-summer Mediterranean climate, with some characteristics of a cold semi-arid climate. This means that the city experiences hot summers with average highs often exceeding 30 °C (86 °F) and relatively mild winters with average highs around 10 °C (50 °F) from December to February. Rainfall in Madrid is relatively low due to its location on the leeward side of the Sierra de Guadarrama, with most precipitation occurring in the autumn and spring.
Population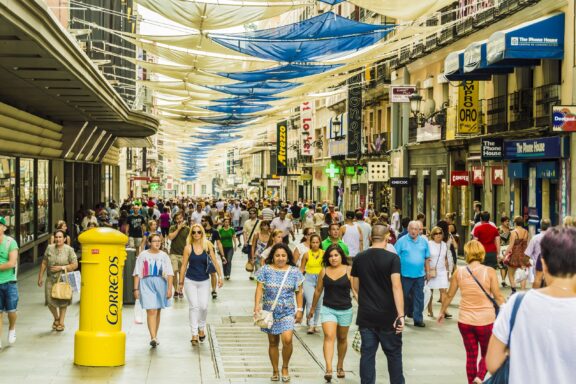 The population of Madrid is estimated to be over 6.2 million, making it the most populous city in Spain. The city is characterized by its diversity, home to people from various backgrounds and cultures. Madrid has many immigrants from Latin America, Africa, and Eastern Europe, making it a multicultural hub.
The people of Madrid, known as Madrileños, are known for their friendly and welcoming nature. They embrace a lifestyle known as "la marcha," which describes the city's lively and late-night social scene.
Economy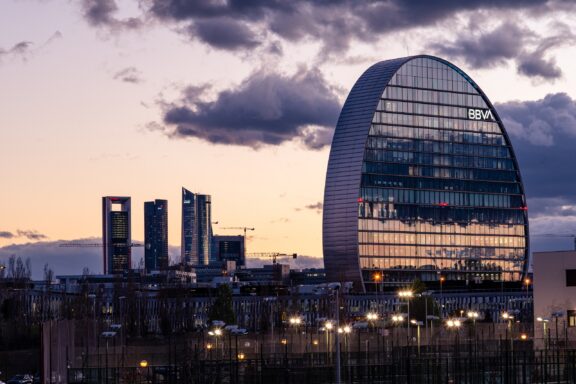 Madrid is the economic powerhouse of Spain, contributing a significant proportion to the country's GDP. The city is a major international business and commerce center with a robust economy primarily based on services and industry.
The service sector is dominant, accounting for a significant portion of the city's economic activity. This includes financial services, with Madrid home to the headquarters of many central Spanish and international banks, such as Banco Santander and BBVA.
Madrid is also a prominent hub for technology and innovation, with a thriving startup scene and numerous tech companies having a significant presence in the city. Additionally, tourism plays a crucial role in Madrid's economy, with millions of visitors attracted to the city's cultural heritage, gastronomy, and vibrant nightlife every year.
Madrid's industrial sector includes aerospace, automotive, electronics, and food and beverage production. Madrid's industrial activity benefits from its excellent transport links, including a large international airport and high-speed rail connections to other major Spanish cities.
In summary, Madrid's economy is diverse and dynamic, demonstrating resilience and adaptability, which helps to reinforce the city's status as a key economic player both within Spain and internationally.
Things to Do and Places to See in Madrid
Madrid offers a diverse array of activities and attractions to explore. Now, let's delve into some of the most sought-after sights and experiences that this vibrant capital city has to offer:
1. Royal Palace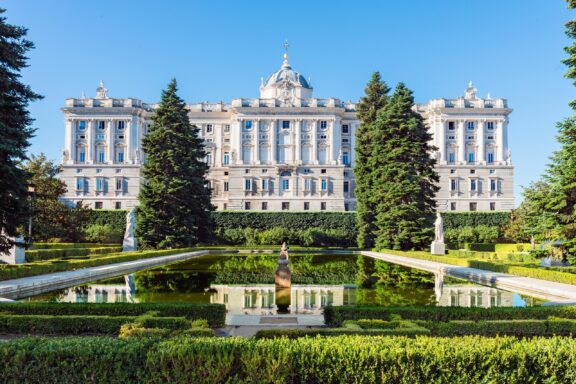 The Royal Palace of Madrid (Palacio Real de Madrid) is the Spanish Royal Family's official residence in Madrid. Still, it is only used for state ceremonies. The palace is owned by the Spanish State and administered by the Patrimonio Nacional, a public agency of the Ministry of the Presidency.
The palace is located on Calle de Bailén in the western part of downtown Madrid, east of the Manzanares River, and is accessible from the Ópera metro station. The palace is partially open to the public except for official business or state functions.
This impressive structure was built on the site of the old Alcázar, a medieval fortress that was destroyed by fire on Christmas Eve 1734. King Felipe V decided to make a palace for his Borbon dynasty on the same site. Construction spanned from 1738 to 1755 and followed a Bernini design by Filippo Juvarra and Giovanni Battista Sacchetti.
2. Retiro Park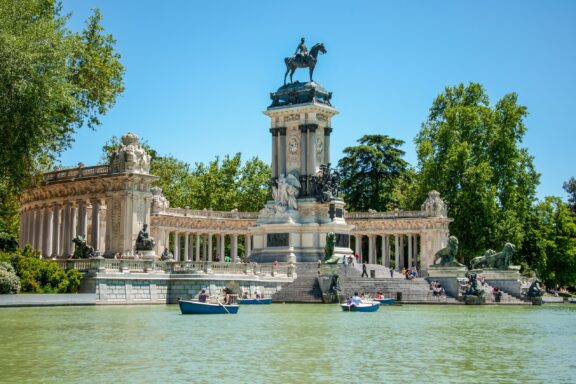 Retiro Park, or Parque del Buen Retiro, is one of the largest parks in Madrid. It is a green oasis in the city's heart, covering over 125 hectares and home to more than 15,000 trees. The park was initially created as a retreat for the Spanish monarchy in the 17th century and was opened to the public in the 19th century.
The park is a popular spot for locals and tourists, offering opportunities for jogging, rowing, picnicking, or simply relaxing outdoors. Street performers often entertain visitors, and puppet shows for children on weekends are expected. There are also numerous cafes and ice cream stands throughout the park.
3. Reina Sofia Museum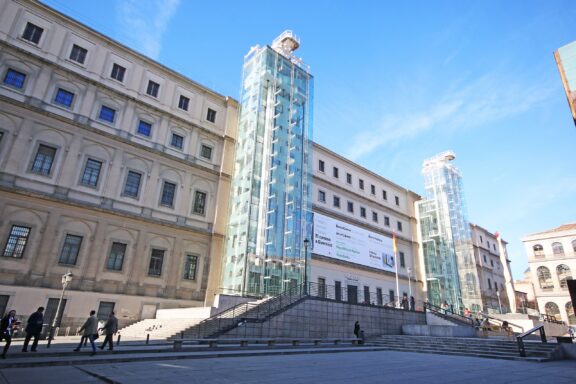 The Reina Sofia Museum is located in Madrid and is named after Queen Sofía. The museum was officially inaugurated in September 1992 and is dedicated to Spanish art. Highlights of the museum include excellent collections of Spain's two greatest 20th-century masters, Pablo Picasso and Salvador Dalí. The most famous masterpiece in the museum is Picasso's painting "Guernica."
The Reina Sofia also holds works by many other great 20th-century Spanish artists, such as Juan Gris, Joan Miró, Julio González, Eduardo Chillida, Antoni Tàpies, and Luis Gordillo, among others. The museum also hosts a free-access library specializing in art, with a collection of over 100,000 books, over 3,500 sound recordings, and almost 1,000 videos.
4. Thyssen-Bornemisza Museum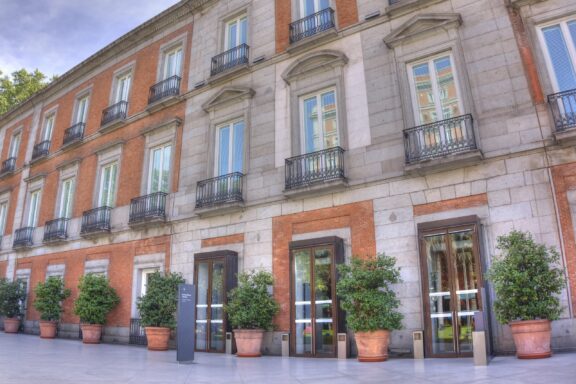 The Thyssen-Bornemisza Museum (Museo Thyssen-Bornemisza) is an art museum located near the Prado Museum on one of the city's main boulevards. It's part of the "Golden Triangle of Art" in Madrid, including the Prado and the Reina Sofia national galleries.
The museum offers visitors an overview of art from the 13th century to the late 20th century. In the words of its director, it provides "a journey through the history of Western art."
You'll find works from artists such as Vincent van Gogh, Edward Hopper, Claude Monet, August Renoir, and many more. Among the most popular paintings is 'Dream Caused by the Flight of a Bee around a Pomegranate a Second Before Awakening' by Salvador Dalí.
5. Plaza Mayor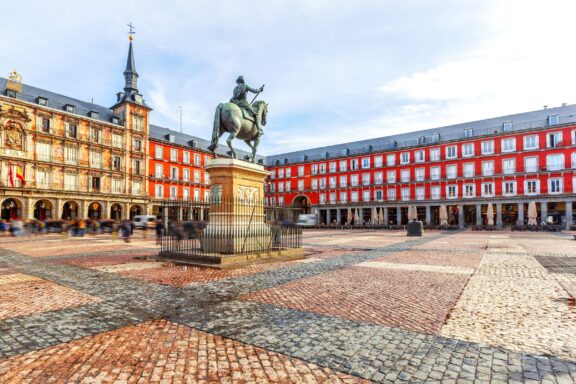 The Plaza Mayor is one of the city's most famous and historic landmarks. This central square, built during the Habsburg period, is rectangular and measures 129 meters by 94 meters. It's surrounded by three-story residential buildings with 237 balconies facing the plaza, and it has a total of nine entranceways.
King Philip II proposed the plaza construction, later led by his successors King Philip III and King Charles II. It was designed by architect Juan de Herrera but was constructed by Juan Gómez de Mora.
The Plaza Mayor has been the scene of numerous public events, including markets, bullfights, football games, public executions, and, during the Spanish Inquisition, "autos de fe" against supposed heretics and the executions of those condemned.
6. Gran Via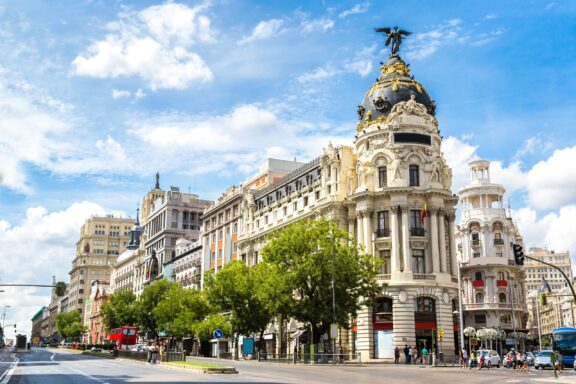 Often referred to as the "Spanish Broadway," the Gran Via is known for its lively atmosphere, grand architecture, and concentration of theaters, shops, bars, and restaurants.
Its construction began in 1910 and was completed in 1931. The street was designed to connect Calle de Alcalá and Plaza de España, and it's now a popular spot for shopping, entertainment, and nightlife.
Architecturally, Gran Via houses a great number of beautiful and historically significant buildings,
including the Edificio Telefónica (a skyscraper built for the Spanish Telecom company in the 1920s and once the tallest building in Europe), the Capitol Building (Edificio Carrion), and the Metropolis Building, among others.
7. Santiago Bernabéu Stadium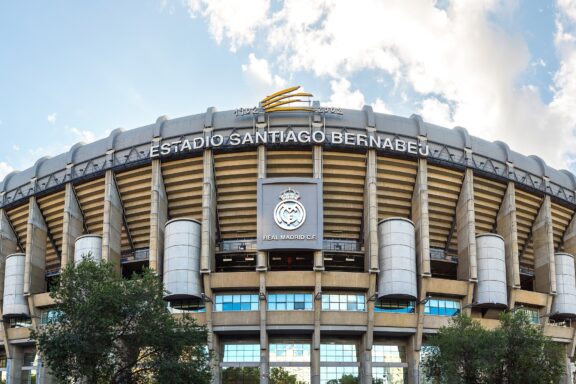 The Santiago Bernabéu Stadium is one of the world's most famous and prestigious football venues. It's named after former Real Madrid president Santiago Bernabéu, who proposed the new stadium.
The stadium has a seating capacity of over 80,000 spectators. Its features include a panoramic view of the city from the top. This museum showcases Real Madrid's history with trophies, photographs, equipment, memorabilia, and several restaurants and bars.
The stadium has hosted numerous important matches, including the FIFA World Cup, European Championship matches, and multiple UEFA Champions League finals. It also occasionally hosts concerts and other entertainment events.
8. Almudena Cathedral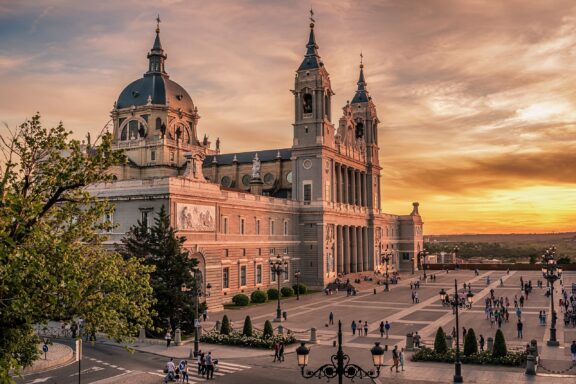 The cathedral was consecrated by Pope John Paul II in 1993, making it one of the newest cathedrals in Spain, though its construction began in 1883. The cathedral was built in a mixture of different styles: neoclassical on the outside, neo-Gothic on the inside, and with a neo-Romanesque crypt.
The Almudena Cathedral is notable for its colorful chapels, beautifully detailed stained glass, and the painting of the "Virgen de la Flor de Lis" (the symbol of Madrid) over the high altar. The cathedral also houses a museum that explains its history and significance in the religious life of Madrid.
9. Temple of Debod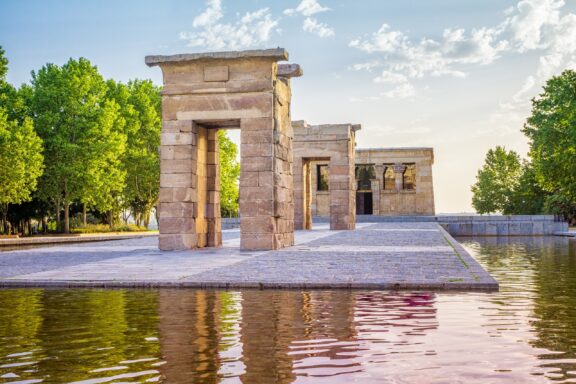 The temple was built in the early 2nd century BC in Debod, near Aswan, in southern Egypt. In 1960, due to the construction of the Great Dam of Aswan and the consequent threat to several monuments and archaeological sites, UNESCO made an international call to save these pieces of history.
As a sign of gratitude for Spain's help in saving the temples of Abu Simbel, the Egyptian government gifted the Temple of Debod to Spain in 1968.
The temple was rebuilt in one of Madrid's parks and opened publicly in 1972. It's one of the few works of ancient Egyptian architecture that can be seen outside Egypt and the only one in Spain. It offers a fascinating glimpse into a distant past, and at sunset, it is one of Madrid's most iconic sights due to its beautiful lighting.
10. Mercado de San Miguel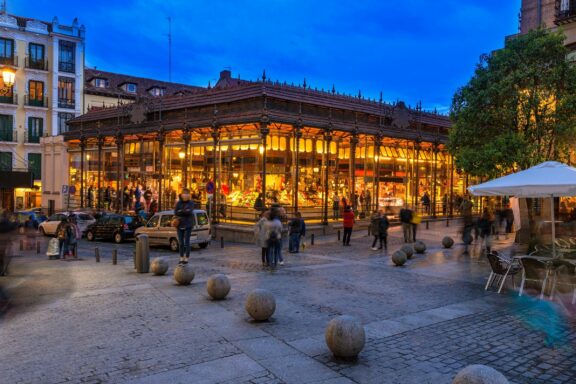 Located near the Plaza Mayor, this historic market is a must-visit for food lovers. The market's structure is an early 20th-century building with beautiful ironwork, making it one of the city's few and best-remaining examples of cast-iron architecture. The market was fully renovated and reopened in 2009.
Inside, you'll find a variety of stalls selling everything from fresh produce to gourmet cheeses, cured meats, seafood, and pastries. Many vendors also offer prepared tapas and small dishes, allowing you to sample various Spanish cuisine in one place. There's also a selection of wines, beers, and other drinks available.
11. Puerta del Sol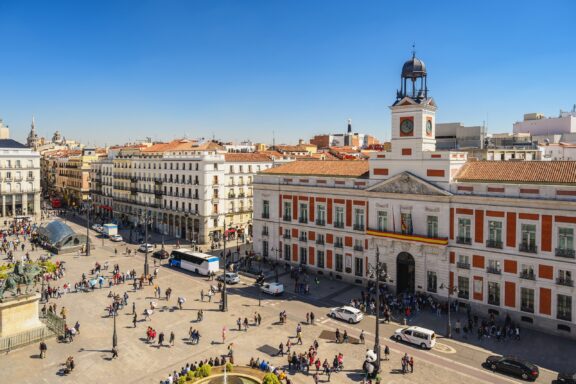 It is the symbolic center of Spain and is also where the so-called "Kilometer 0" of Spain's road network is found. The plaque that marks this spot on the pavement is popular for photos.
There are several notable features in Puerta del Sol, including the "El Oso y El Madroño" statue, the official symbol of the city, and the "Tío Pepe" sign, one of the most famous advertising images in Madrid.
There's also the Old Post Office (Real Casa de Correos), the headquarters of the President of Madrid's Autonomous Community, and its clock tower, which is famous for marking the traditional eating of the Twelve Grapes leading to the New Year.
12. Palacio de Cristal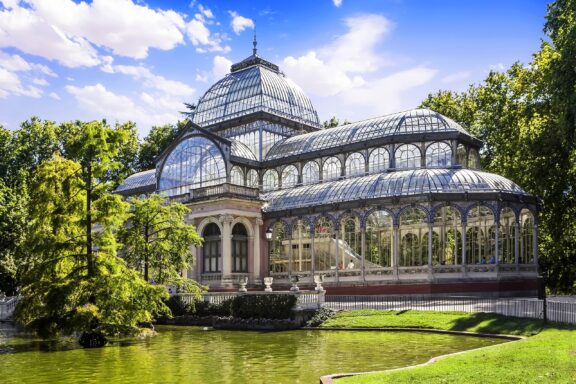 The Palacio de Cristal, or Crystal Palace, is a stunning glass and metal structure in Madrid's Retiro Park. It was built in 1887 by architect Ricardo Velázquez Bosco, with its design heavily influenced by London's Crystal Palace. Initially, it was built to house exotic flora and fauna as part of an exhibition on the Philippines, a Spanish colony.
Today, the Palacio de Cristal, overlooking a small lake, is mainly used for temporary exhibitions organized by the Reina Sofia Museum. Its interior is as impressive as its façade, with the sunlight streaming through the glass walls providing a unique space for displaying artwork. It's one of Madrid's most iconic buildings and a popular visitor spot.
13. Círculo de Bellas Artes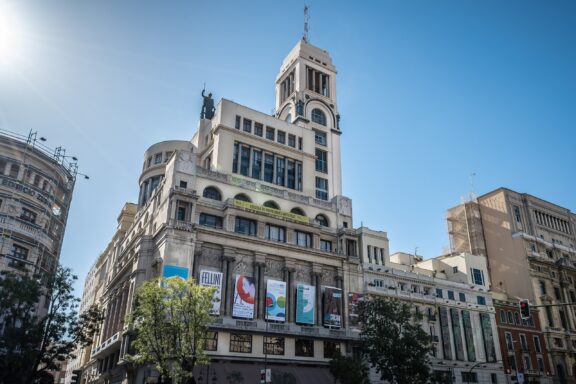 The Círculo de Bellas Artes (CBA) is a private cultural organization. It was declared a "Center for the Protection of the Fine Arts and of Public Interest." Founded in 1880, it's one of Europe's most important private cultural centers, known for its dynamic and varied programming.
Architect Antonio Palacios designed the building on the Calle de Alcalá and is one of the city's most prominent examples of early 20th-century architecture. It houses several exhibition halls, a theater, a cinema, a radio station, workshops, and even a rooftop terrace that offers one of the best panoramic views of Madrid.
14. Sorolla Museum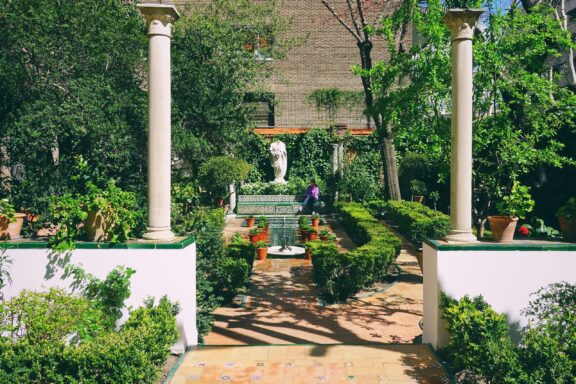 The museum is located in the house and studio where Sorolla lived, built in 1910. The artist's widow, Clotilde García del Castillo, left the building and its contents to the Spanish state to be turned into a museum upon her death in 1925.
The museum showcases Sorolla's many works, including his most famous pieces and sketches. It also displays the artist's objects, including his palette, brushes, and furniture from his time. The house is surrounded by a charming garden, which Sorolla designed and frequently painted.
15. Prado Museum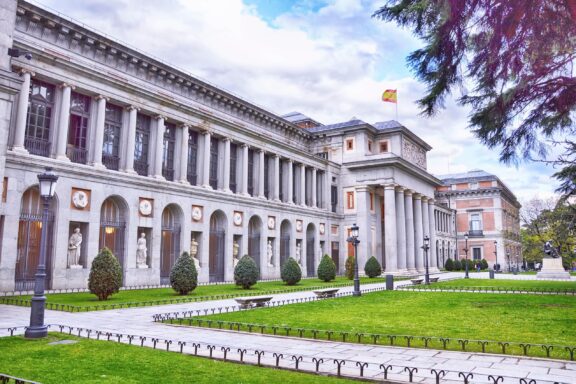 The Prado Museum, or Museo Nacional del Prado, is Spain's national art museum and one of the most visited museums worldwide. It's located in central Madrid and is considered one of the most excellent art museums globally.
The Prado collection comprises around 8,200 drawings, 7,600 paintings, 4,800 prints, and 1,000 sculptures. The museum's collection is solid in Spanish image, with works by artists like Diego Velázquez, Francisco Goya (the most extensively represented artist in the group), and El Greco.
There's also an important collection of Italian masters, like Raphael, Titian, and Caravaggio, and Flemish and Dutch art, including works by Rubens and Hieronymus Bosch.
16. Puerta de Alcalá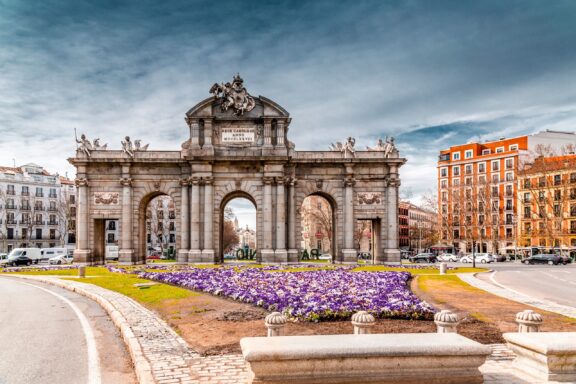 The Puerta de Alcalá is one of the most famous monuments in Madrid. It's located at Plaza de la Independencia, next to the entrance to the Retiro Park, and not far from the Prado Museum. It was built between 1769 and 1778 as part of the king's plan to modernize Madrid. The gate, made of granite, is an excellent example of the neoclassical style.
The name "Puerta de Alcalá" ("Alcalá Gate") comes from the fact that the gate was situated on the road leading to the city of Alcalá de Henares. Despite being called a gate, it's more akin to a triumphal arch, with three large hooks and two smaller ones. It has detailed sculptures and decorative elements.
17. Las Ventas Bullring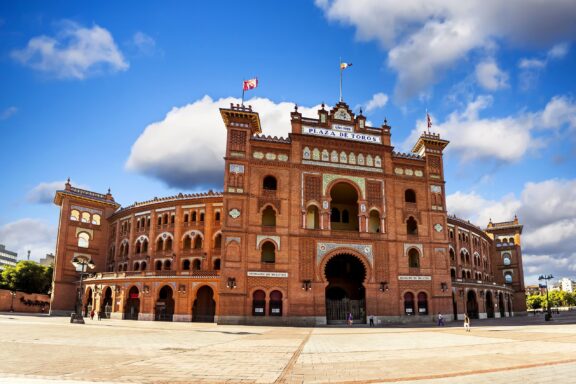 The Las Ventas Bullring is the most important and prestigious in Spain, located in the Guindalera quarter of the district of Salamanca. It was inaugurated in 1931 and had a seating capacity of almost 24,000.
The structure is in the Mudejar style, with ceramic tiling, brickwork, and a series of Arabian-style horseshoe arches. The decoration includes a variety of typical Andalusian ceramics, which add color and aesthetic interest to the building.
Besides bullfighting, Las Ventas also hosts concerts and other events. Inside the bullring is the Bullfighting Museum of Madrid, which exhibits items related to the history of bullfighting in Spain, including costumes, photographs, and paintings.
Frequently Asked Questions
What is the best time to visit Madrid?
The best times to visit Madrid are typically in the spring (April to June) and the fall (September and October) when the weather is mild and the city is less crowded. However, Madrid has attractions that can be enjoyed all year round.
Is it safe to visit Madrid?
Yes, Madrid is one of the safest cities in the world.
What is traditional food and cuisine like in Madrid?
Madrid's cuisine blends regional Spanish influences but is mainly known for hearty, traditional dishes. Staples include:
• Cocido Madrileño, a rich chickpea-based stew with meat and vegetables
• Callos a la Madrileña, a tripe stew
• Bocadillo de Calamares, a fried calamari sandwich
What souvenirs can I bring home from Madrid?
Popular souvenirs from Madrid include Spanish fan, traditional ceramics, flamenco music, Spanish saffron, a bottle of Rioja wine or sherry, and local food items like olive oil or Turron (a nougat).
Which languages are spoken and understood in Madrid?
The official and most widely spoken language in Madrid is Spanish. English is commonly spoken in tourist areas, hotels, and restaurants.
How can I get around in Madrid?
Madrid has an extensive public transportation network, which includes the Metro, buses, and commuter trains. Taxis and rideshare services are readily available, and the city center is also very walkable.
Is it expensive to visit Madrid?
Madrid can be as affordable or as expensive as you make it, depending on your travel style. While it's not the cheapest European city, it's generally less expensive than London or Paris. Affordable accommodation, food, and attractions can be found with some research.
Which currencies are accepted in Madrid?
Like the rest of Spain, the currency used in Madrid is the Euro (€).
Is Madrid a good city to live in?
Yes, Madrid is considered a great place to live with a high quality of life. It boasts a vibrant cultural scene, excellent food, a perfect public transportation system, and a relatively low cost of living compared to other major European cities.
Is it safe to drink tap water in Madrid?
Yes, tap water in Madrid is safe to drink and high-quality.
Are locals friendly in Madrid?
Yes, locals in Madrid, known as Madrileños, are typically friendly and welcoming to visitors.
Which cultural customs should I be aware of when visiting Madrid?
In Madrid, locals often eat dinner around 9 or 10 pm, and staying out late into the night is typical. Traditional afternoon siestas are less common in the city, but many smaller shops still close in the afternoon.
Final Thoughts
With its mix of cultural richness, historical significance, gastronomic delights, and dynamic lifestyle, Madrid truly offers something for every type of traveler. Its blend of time-honored traditions and modern vibrancy creates a captivating and welcoming atmosphere.
Whether it's the world-class art, the architectural beauty, the passion for football, or the joy of sharing tapas late into the night, Madrid leaves an indelible imprint on all who visit.
Overall, the city's depth and diversity make it more than worth visiting—it's a destination that invites exploration and leaves you with cherished memories. Madrid isn't just a city; it's an experience that embodies the spirit of Spain.