Here are ten reasons to travel to Benin:
1. Royal Palaces of Abomey
Abomey's Royal Palaces, are a complex of 12 buildings. These palaces, belonging to the Dahomey West African Kingdom, cover a total area of 40 hectares.
The Abomey Royal Palaces built in the 17th century have been designated as World Cultural Heritage by UNESCO. The palaces were heavily damaged in 1984 after a hurricane, which was repaired immediately after this date.
The Abomey royal palaces, one of Benin's historical sites, are world famous.
2. Pendjari National Park
This national park, adjacent to Benin's neighbors Burkina Faso's Arli National Park, is located on the northwestern part of the country.
The national park, covering an area of 2.755 square kilometers, is named after the Pendjari River.
The national park, famed for its wildlife, hosts dozens of elephants, water buffalo, buffalo and antipollars. The region is also very rich in bird species.
In 2009, it entered to UNESCO World Heritage list.
Pendjari National Park, which attracts tens of thousands of safari enthusiasts every year, is one of the places you should see in Benin.
3. W National Park
W Regional Park covers a huge area of 10 thousand square kilometers. The area, which was declared a national park in 1954, is an enormous area around the Niger River.
This national park, jointly managed by Benin, Niger and Burkina Faso, entered the UNESCO World Heritage List in 1966.
In the W National Park, which has a rich vegetation cover, there are many mammals such as ants, baboons, buffalo, cheetahs, elephants, water buffalo and lions.
Turned into one of the most important addresses in Benin by Safari enthusiasts, the national park attracts thousands of people every year.
4. Basilique de l'Immaculée Conception
It is a Roman Catholic church serving in Ouidah, south of the Benin Republic. Furthermore, the place of worship, which was completed between 1903 and 1909, was created with Neo-Gothic architectural style.
This small basilica is the most valuable spiritual structure of the region. In 2009, great celebrations were organized for the 100th anniversary of the blessing of the Basilica. Do not leave the country without seeing this perfect spiritual journey on your trip.
5. Cotonou Cathedral
It is a valuable cathedral serving as a Roman Catholic church in Cotonou, one of Benin's largest cities.
Moreover, the magnificent sacred structure, built in 1883 and opened for worship, was designated as the Archbishop of Cotonou Metropolitan on 14 September 1955. It is a wonderful cathedral that you should see on Ben's trip.
6. Ancien Pont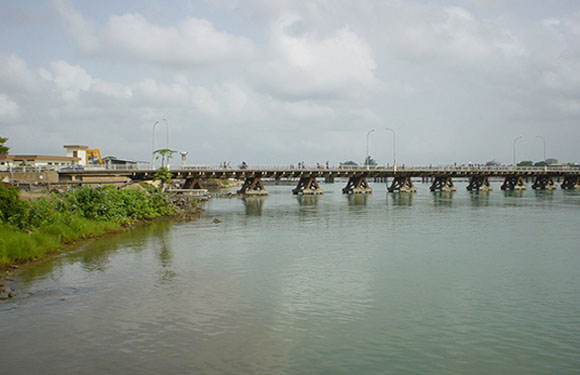 It is a historical bridge in Cotonou country. The bridge is built on the Lagoon de Cotonou River which divides the city into two. Furthermore, the bridge, which was built in 1928, underwent a comprehensive restoration process in 1981 and was reopened in a short time.
Moreover, the big bridge, which became the symbol of Cotonou, connects two different sides of the city. You should definitely see this bridge if you are on your vacation to Cotonou.
7. Stade de l'Amitié
This spectacular football arena, also known as the Friendship Stadium, was built in 1983. This is not only a football but also a giant Olympic stadium that can host athletics competitions at the same time.
Furthermore, the stadium with a capacity of 35 thousand people is located in Cotonou. This stadium, hosted by Ben's National Football Team, is famous as the most important sports complex in the country.
8. Ganvie
The main attraction in Ganvié is the village on the hill where 24,000 Tofinu people live on stilts in bamboo clubs. Moreover, the village extends a few kilometers over Lake Nokoué.
9. Musée en Plein Air de Parakou
Musée en Plein Air de Parakou is a museum about 1.5 kilometers south of the city center. Furthermore, it consists of five circular complexes representing the traditional residences of the local Batanou peoples.
10. Cotonou Central Mosque
Cotonou Central Mosque is in Cotonou. It is the most important structure for the Muslims of the country.
Tourism in Benin
Tourism is a small industry in Benin.
Benin's national parks and culture are among the main tourist attractions.
Cotonou is the only international airport in Benin.
Belgium, France and a number of African countries have direct flights to Benin.
In 2017, 250,000 tourists came to Benin.