Ghana is located in the Northern Africa region at latitude 7.946527 and longitude -1.023194 and is part of the African continent.
The DMS coordinates for the center of the country are:
7° 56' 47.50'' N
1° 1' 23.50'' W
You can see the location of Ghana on the world map below: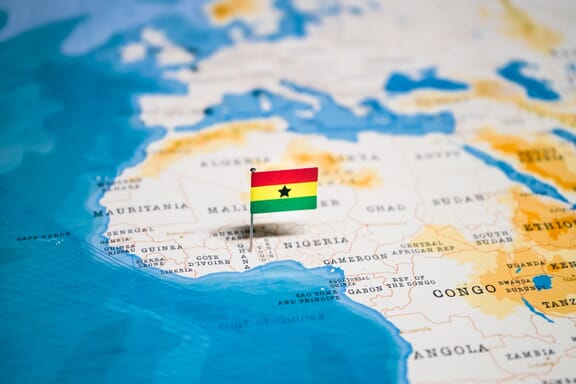 Ghana Neighboring Countries
The neighboring countries of Ghana (GH) are:
Burkina Faso (BF)
Cote d'Ivoire (CI)
Togo (TG)
The country has no neighboring countries/land borders.
Maritime Borders
Ghana bordres with the Gulf of Guinea.
Ghana Related Content
Ghana Key Facts
Country
Ghana
Coordinates
Latitude: 7.946527
Longitude: -1.023194
Country Codes
Alpha 2: GH
Alpha 3: GHA
Country Flag Emoji
🇬🇭
Int. Phone Prefix
+233
Capital city
Accra
Continent
Subcontinent
Africa
Northern Africa
Country Area
238,533 sq km
Population 2021
31,732,128
World Rank: 47
Median Age
20.4
Life expectancy
63.8
Major languages
Asante 16%, Ewe 14%, Fante 11.6%, Boron (Brong) 4.9%, Dagomba 4.4%, Dangme 4.2%, Dagarte (Dagaba) 3.9%, Kokomba 3.5%, Akyem 3.2%, Ga 3.1%, other 31.2% (2010 est.)
UTC/GMT Time
Number of time zones: 1

Internet TLD
.gh
Biggest Airport
Kotoka International Airport (ACC)
Average temperature
27.20 °C
80.96 °F
Administrative Divisions
16 regions
Political system
Presidential representative democratic republic
Ghana Economy Facts
World Bank Income Group
Lower middle income
World Bank Region
Sub-Saharan Africa
Currency
Ghana Cedi (GHC)
GDP in 2020
$70 (billions of USD)
World Rank: 71
GDP per capita in 2020
$2,254
World Rank: 142
Major Industries / Economic Sectors
Agriculture, manufacturing, energy, services
Top 5 Import Countries
China, United States, Netherlands, India, Germany
Top 5 Export Countries
United Kingdom, China, United States, Netherlands, Belgium
Biggest Cities in Ghana
Here are the largest cities in Ghana based on 2021 data:
City
Population
Accra
2,291,352
Kumasi
2,069,350
Tamale
1,095,808
Sekondi
286,248
Obuase
180,460
Tema
161,612
Cape Coast
143,015
Koforidua
127,334
Ho
83,715
Wa
78,107
Map of Ghana with the Largest Cities
Other Countries in the Northern Africa Region