Accra is the capital of Ghana. Modern buildings, shanty towns, occasional castles, and lively markets characterize Accra.
Accra's cultural significance is enhanced by its vibrant arts scene, which includes a wide array of music, dance, and visual arts. Furthermore, Accra is home to several institutions of higher learning, including the University of Ghana.
Where is Accra?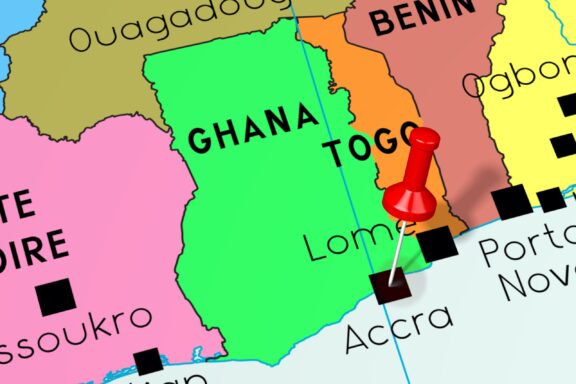 Accra is located on the Atlantic coast of Ghana, in West Africa. It's on the Gulf of Guinea, part of the Atlantic Ocean. Accra is approximately at 5.55 degrees north latitude and 0.20 degrees west longitude. It's in the Greater Accra Region, in southern Ghana.
History of Accra
Accra has a rich and complex history that spans several centuries. The city's origins can be traced back to the Ga people, an ethnic group native to the region, who founded Accra in the late 15th century as a small coastal settlement.
During the 16th and 17th centuries, the region that now encompasses Accra was a significant hub for the Atlantic slave trade, leading to the European powers' construction of several forts and castles along the coast. The most notable is the Osu Castle, or Fort Christiansborg, initially built by the Danes in 1661.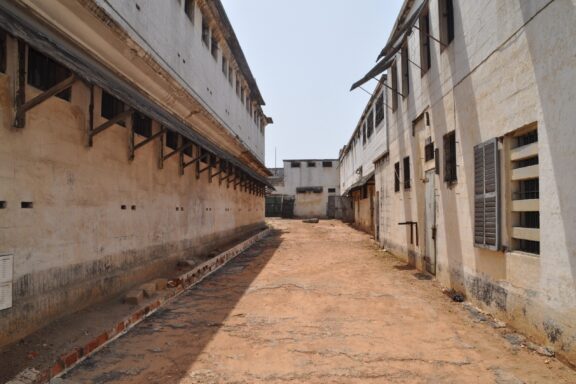 In the 19th century, Accra became a critical administrative center under British colonial rule, primarily due to its strategic coastal location and the opening of trade routes into the Ghanaian interior. In 1877, Accra officially designated the capital of the Gold Coast Colony, replacing Cape Coast, due to its better access to the hinterland and its already established position as an administrative hub.
The city played a pivotal role in the anti-colonial and Pan-African movements of the mid-20th century. The Convention People's Party, led by Kwame Nkrumah, organized a series of strikes and nonviolent protests in Accra in the early 1950s. This civil unrest led to Ghana becoming the first African colony to gain independence in 1957, with Nkrumah as its first president.
Accra has continued to be the capital city of Ghana since independence. It has grown substantially and developed into a vibrant metropolis, showcasing its rich history and modern dynamism.
The modern city is a multicultural and multilingual hub, reflecting the diverse ethnic and cultural groups in Ghana. Despite the challenges of urbanization and economic disparity, Accra remains a vital center of political, economic, and cultural activity in Ghana and, more broadly, West Africa.
Features of Accra
Accra is known for its numerous historic landmarks and hosts various institutions dedicated to the arts and culture. Additionally, the city is renowned for its markets that serve as bustling commerce centers, offering a diverse range of goods such as textiles, traditional clothing, jewelry, and local food items.
As a city along the coast, Accra proudly presents several stunning beaches, offering both locals and tourists a place to unwind and appreciate the sea. Moreover, the city's vibrant music scene, featuring genres like highlife, hiplife, and gospel, highlights Accra's rich artistic and cultural vibrancy.
Geography and Climate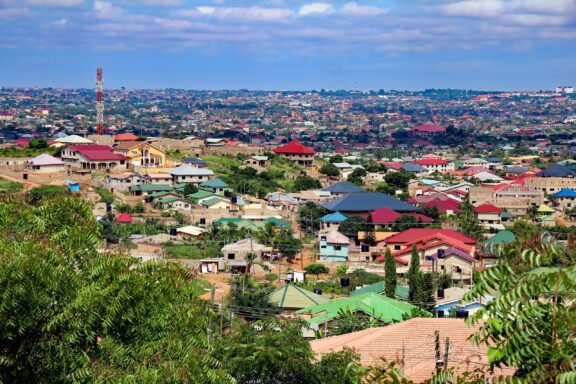 Accra has a relatively flat landscape with elevations ranging from sea level to around 30 meters above sea level. Its coastline includes beautiful beaches, and a tropical savanna climate characterizes it. It's also near the Greenwich Meridian, the reference point for Greenwich Mean Time (GMT).
The city experiences a tropical savanna climate with a distinct wet and dry season. The wet season typically begins in April and ends in mid-November, with the heaviest rainfall in May and June.
The dry season, influenced by the harmattan winds from the Sahara Desert, extends from late November to March. Temperatures in Accra are relatively constant, with average highs ranging from about 28 °C to 32 °C (82 °F to 90 °F) throughout the year, making it one of the hottest countries in the world.
Population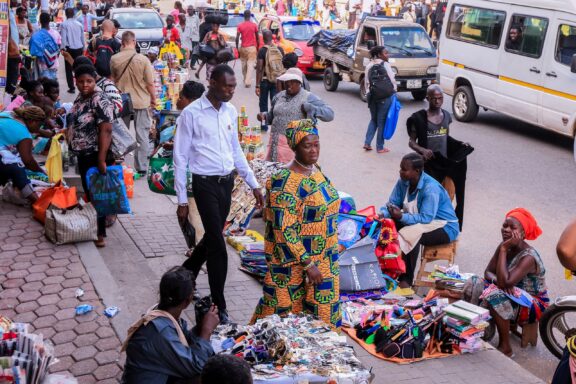 Accra has a population of around 2.4 million, making it the most populous city in Ghana. The population is diverse, with a variety of ethnic groups represented, although the Ga people are the indigenous inhabitants of the city.
Other major ethnic groups include the Akan, Ewe, and Mole-Dagbon. English is the official language of Ghana and is widely spoken in Accra, alongside various local languages such as Ga, Twi, and Ewe.
Economy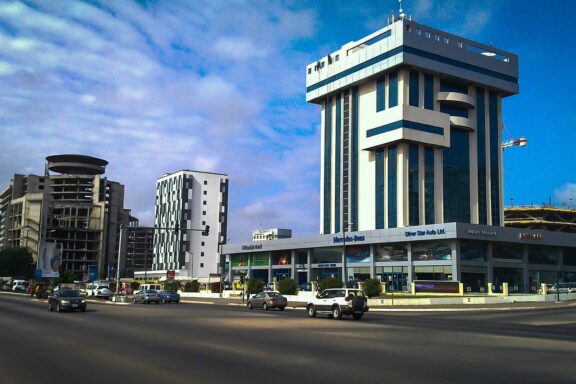 Accra serves as the economic hub of Ghana. It has a mixed economy influenced significantly by trade, manufacturing, and export of commodities. Key sectors include services, manufacturing, commerce, finance, transportation, and agriculture. The city serves as a center for finance and marketing, housing numerous banks, multinational corporations, and business services.
Accra's port, the Tema Harbour, is the largest in Ghana and handles most of the nation's import and export cargo. The city also serves as the country's oil and mining industry base. Tourism is another primary sector due to Accra's rich historical sites, vibrant arts scene, and attractive beaches.
While Accra has seen substantial economic growth over the years, it also faces challenges such as income inequality and unemployment.
Things to Do and Places to See in Accra
Accra offers an expansive array of activities and attractions to explore. Here's a glimpse into some of the most favored destinations and experiences in the city:
1. Kwame Nkrumah Mausoleum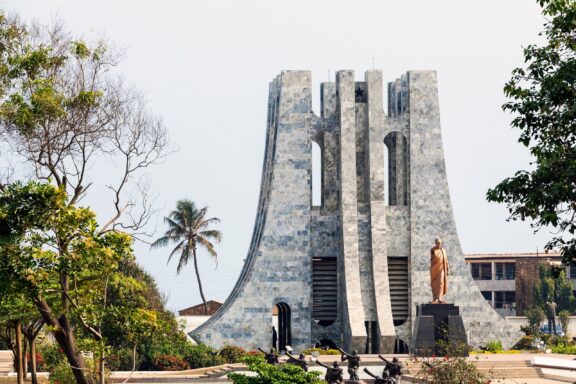 Located in downtown Accra, the Kwame Nkrumah Mausoleum is a memorial park dedicated to Ghana's first president and a notable advocate for Pan-Africanism, Dr. Kwame Nkrumah. The park is home to a museum detailing Nkrumah's life and work and houses his and his wife's tombs.
The mausoleum, designed to represent swords upturned in a symbol of peace, is surrounded by water, representing life's journey. Visitors will also find various statues of Nkrumah, a photo gallery of his life's significant events, and personal artifacts.
2. Black Star Square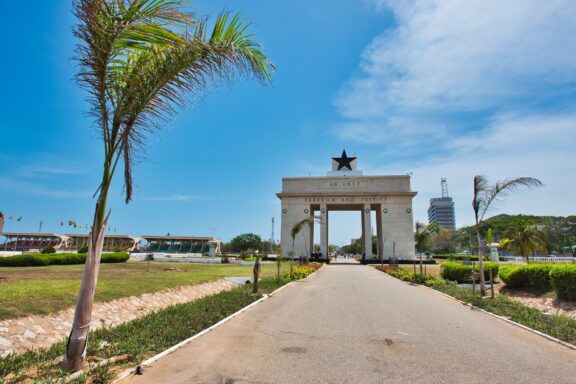 Also known as Independence Square, the Black Star Square is one of the most important landmarks in Ghana, symbolizing the country's fight for freedom. It's the site for numerous national celebrations and public gatherings, including the Independence Day parade.
The square is dominated by the Black Star Monument or the Independence Arch, topped by the Black Star of Africa, where the court gets its name. The square offers an incredible spectacle when lit up at night and provides an excellent backdrop for photography.
3. Osu Castle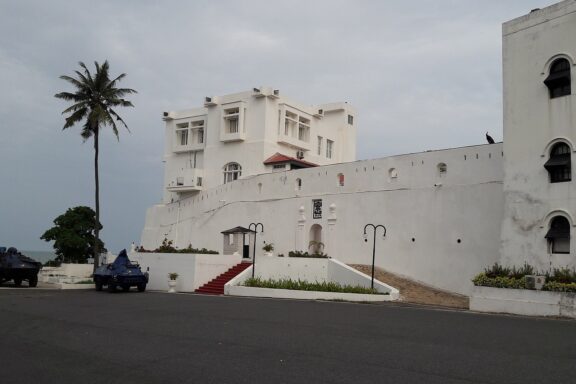 Osu Castle, also known as Fort Christiansborg or simply the Castle, is a 17th-century fort on the coast of the Atlantic Ocean's Gulf of Guinea. Initially built by the Danes as a trading post, it was later used as the seat of government during the colonial era and beyond.
The Castle's whitewashed exterior walls and the sea view present a serene picture, belying its tumultuous past. While access inside the Castle is prohibited, visitors can still appreciate the historical architecture from the outside.
4. National Museum of Ghana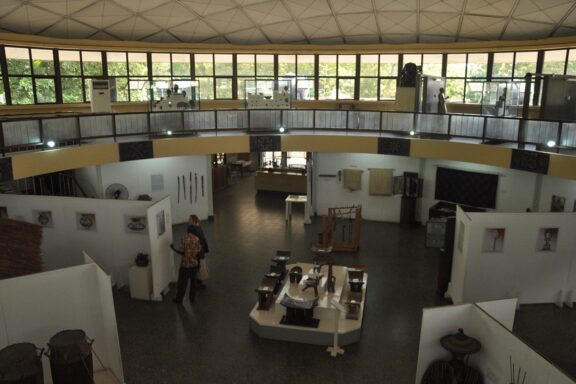 The National Museum of Ghana is the ideal place to delve into Ghana's rich historical and cultural heritage. The museum houses an extensive collection of artifacts, artworks, and exhibits that tell the story of Ghana and its people from prehistoric times to the present.
The National Museum of Ghana in Accra displays archaeology, ethnography, and art, covering areas like the Trans-Atlantic slave trade, Ashanti Kingdom, traditional Ghanaian music, and more.
The museum's collection includes the 1.7 million-year-old skull of an extinct type of elephant, pottery from the Komaland archaeological site dating back to 1450-1650 AD, Asante gold weights, and other unique artifacts.
5. Stroll through the Makola & Arts Centre Markets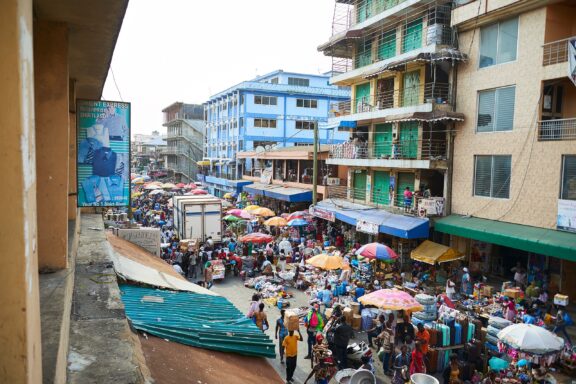 The Makola Market is the beating heart of Accra, a bustling and vibrant market where you can find practically everything. From fresh produce, spices, and local foods to traditional fabrics, clothing, jewelry, and crafts, Makola offers a sensory overload. It's a fantastic place to witness the local life and, with a bit of haggling, pick up some unique items.
The Arts Centre Market is another great market to visit, particularly if you're interested in arts and crafts. Rows of stalls sell beautiful handcrafted items such as wooden sculptures, beadwork, pottery, musical instruments, and traditional clothing. It's an excellent place to find unique souvenirs and gifts, and if you're lucky, you might even catch a local drumming or dance performance.
6. Enjoy the beaches near Accra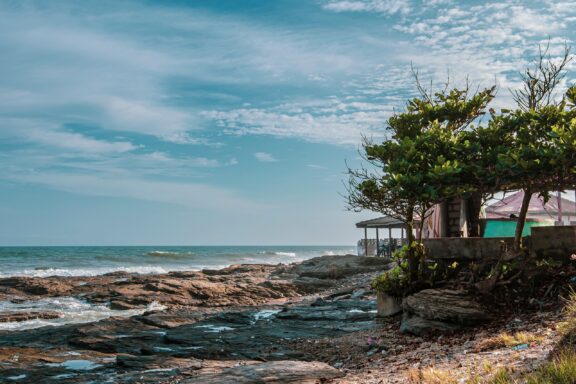 Labadi Beach, or La Pleasure Beach, is Accra's most famous beach. It's a place where locals and tourists mingle against the backdrop of the Atlantic Ocean. The beach is lively, particularly on weekends, with musicians and dancers providing entertainment alongside restaurants and bars offering local food and drink.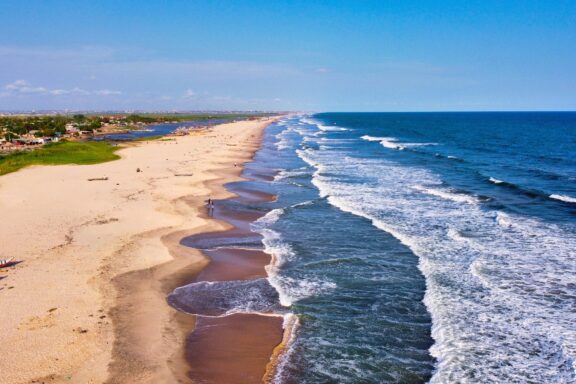 A bit further from the city is Kokrobite Beach, a haven for those seeking a more laid-back atmosphere. It's renowned for its clean sands, palm trees, and relaxed vibe. It's also home to the Academy of African Music and Art, making it a great place to experience traditional drumming and dancing.
7. Legon Botanical Gardens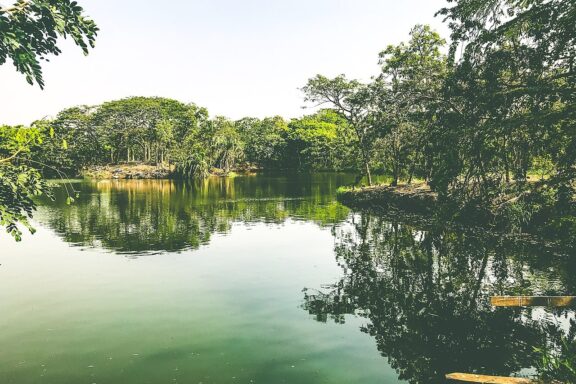 Located on the outskirts of Accra in the suburb of Legon, the Legon Botanical Gardens is a beautiful escape from the city's hustle and bustle. Spanning over 50 hectares, the gardens boast a stunning collection of local and exotic plants, offering a tranquil setting for nature lovers.
Visitors can explore the walking trails, enjoy a leisurely canoe ride on the serene lake, or observe various bird species from the canopy walkway. The gardens also feature an adventure playground, making it a fantastic spot for families with children.
8. Jamestown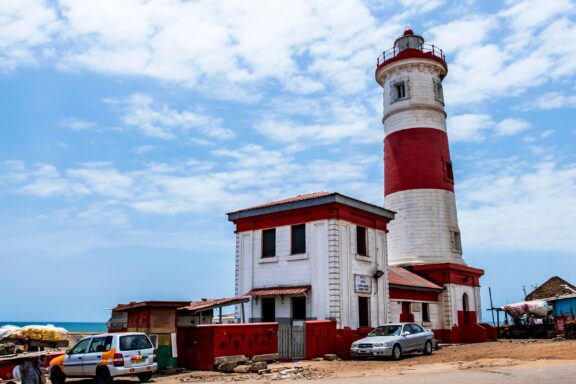 Jamestown is one of the oldest districts in Accra and a place steeped in history and culture. It's a fishing community characterized by colonial-era architecture, including the iconic Jamestown Lighthouse, a British colonial-era structure that offers panoramic views of the area. Walking through the narrow streets of Jamestown, visitors can observe a part of Accra that has retained its traditional character.
His area is also known for its vibrant street art and the annual Chale Wote Street Art Festival, transforming the district into an open-air art gallery. It's a place where history, culture, and modern creativity collide.
Frequently Asked Questions
What is the best time to visit Accra?
The best time to visit Accra is during the dry season, which runs from November to April. This period sees less rainfall and is ideal for outdoor activities and sightseeing.
Is Accra safe for tourists?
While Accra is generally safer compared to other cities and regions within Ghana, particularly during daylight hours, it's prudent to take additional safety measures due to reports of violent crimes such as armed robberies, carjackings, and kidnappings, particularly targeting foreigners.
It's advisable to refrain from walking alone, especially at night, in certain areas, including:
• Agbogbloshie
• Ashaiman
• Avenor
• Nima
• Sowutuom
• Sukura
What is the traditional food like in Accra?
Accra offers various unique and traditional dishes. Here are some of the must-try dishes in Accra:
• Jollof Rice: a one-pot rice dish popular across West Africa. It's made with rice, tomatoes, onions, and spices and often includes meat or fish.
• Banku with Tilapia: a traditional Ghanaian dish with a hot pepper sauce and grilled tilapia fish served with Banku, a fermented corn, and cassava dough.
• Kelewele: If you want a snack or street food option, try Kelewele, a popular Ghanaian food made from ripe plantains seasoned with spices and deep-fried until golden brown. It's sweet, spicy, and a favorite among locals.
How can I get around in Accra?
Accra has a range of transportation options, including taxis, tro-tros (local minibusses), and ride-sharing services. For longer distances, intercity buses and domestic flights are available.
What can I bring home from Accra?
Popular souvenirs from Accra include Kente cloth, wooden crafts, bead jewelry, handmade drums, and locally made chocolates.
What currency is used in Accra?
The official currency of Ghana is the Ghanaian Cedi (GHS).
Is tap water safe to drink in Accra?
It's generally recommended that travelers avoid drinking tap water in Accra and stick to bottled water.
Final Thoughts
As Ghana's vibrant and dynamic capital, Accra truly has something to offer for every kind of traveler. With its rich historical and cultural landmarks, bustling markets, delicious local cuisine, stunning beaches, and hospitable locals, the city provides a remarkable blend of traditional and modern African experiences.
While there are necessary precautions to take regarding safety, the overall experiences, learnings, and memories to be made in Accra make it an enriching and worthwhile destination. Whether you're a history enthusiast, a foodie, a culture lover, or a beach-goer, Accra invites you to immerse yourself in its unique charm and character.