Sri Lanka is located in the Central & South Asia region at latitude 7.873054 and longitude 80.771797 and is part of the Asian continent.
The DMS coordinates for the center of the country are:
7° 52' 22.99'' N
80° 46' 18.47'' E
You can see the location of Sri Lanka on the world map below: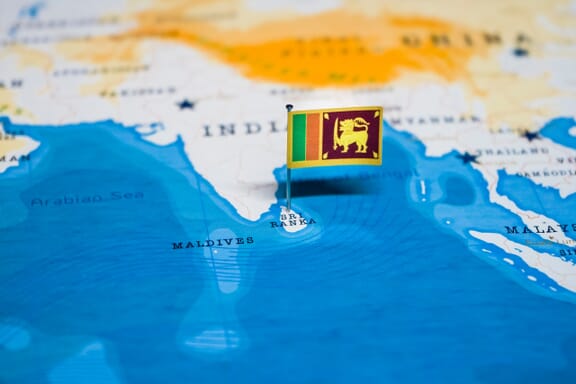 The country has no neighboring countries/land borders.
Maritime Borders
Sri Lanka borders with the Indian Ocean.
Sri Lanka Related Content
Sri Lanka Key Facts
Country
Sri Lanka
Coordinates
Latitude: 7.873054
Longitude: 80.771797
Country Codes
Alpha 2: LK
Alpha 3: LKA
Country Flag Emoji
🇱🇰
Int. Phone Prefix
+94
Capital city
Sri Jayawardenapura Kotte
Continent
Subcontinent
Asia
Central & South Asia
Country Area
65,610 sq km
Population 2021
22,156,000
World Rank: 57
Median Age
32.5
Life expectancy
76.4
Major languages
Sinhala (official and national language) 87%, Tamil (official and national language) 28.5%, English 23.8% (2012 est.)
UTC/GMT Time
Number of time zones: 1

Internet TLD
.lk
Biggest Airport
Bandaranaike International Airport (CMB)
Average temperature
26.95 °C
80.51 °F
Administrative Divisions
9 provinces 25 districts
Political system
Parliamentary democracy
Sri Lanka Economy Facts
World Bank Income Group
Lower middle income
World Bank Region
South Asia
Currency
Sri Lanka Rupee (LKR)
GDP in 2020
$81 (billions of USD)
World Rank: 66
GDP per capita in 2020
$3,694
World Rank: 121
Major Industries / Economic Sectors
Manufacturing, services, agriculture, energy
Top 5 Import Countries
India, China, United States, Japan, South Korea
Top 5 Export Countries
United States, India, United Arab Emirates, China, United Kingdom
Biggest Cities in Sri Lanka
Here are the largest cities in Sri Lanka based on 2021 data:
City
Population
Colombo
752,993
Moratuwa
200,000
Kandy
161,000
Negombo
142,136
Batticaloa
129,222
Sri Jayewardenepura Kotte
115,826
Kilinochchi
103,717
Trincomalee
99,135
Galle
93,118
Jaffna
88,138
Map of Sri Lanka with the Largest Cities
Other Countries in the Central & South Asia Region