Nur-Sultan is the capital of Kazakhstan. Initially known as Astana, recognized as the 'City of Peace' by UNESCO in 1999.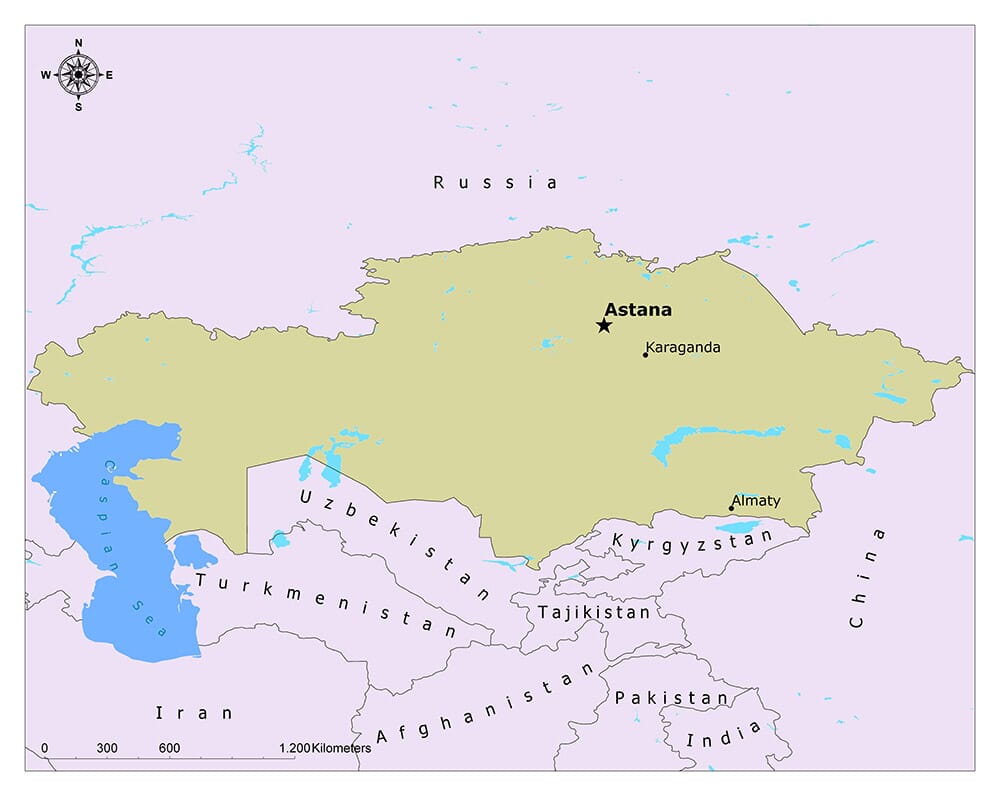 Nur-Sultan is one of the most rapidly developing cities in the region, with many businesses setting up operations there. The city is striving to diversify its economy, promoting sectors like information technology and financial services alongside traditional industries such as oil and gas.
Where is Nur-Sultan?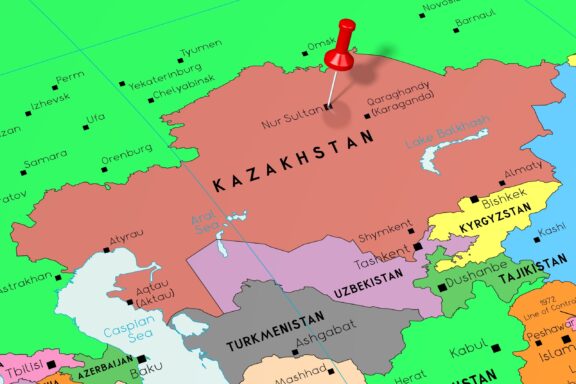 Nur-Sultan is located in the north-central part of Kazakhstan, on the banks of the Ishim River. Its geographical position places it on the transition between the continent's colder and more temperate zones, resulting in a continental climate with cold winters and warm summers. Despite being located in the inland region of Aqmola, Nur-Sultan is a significant economic hub in Asia, connecting various parts of Central Asia.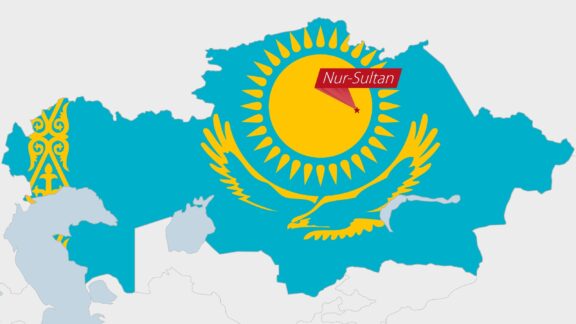 History of Nur-Sultan
Nur-Sultan has a relatively recent history as a significant city. It began as a small fortress settlement founded by Siberian Cossacks in 1830. The colony gradually grew into a city, primarily serving as a transport node and agricultural trade center due to its strategic location along the Trans-Siberian Railway.
In the mid-20th century, under Soviet rule, the city underwent significant changes. It was renamed Tselinograd in 1961 and became the center of the Virgin Lands Campaign initiated by Soviet Premier Nikita Khrushchev. The campaign aimed to boost the Soviet Union's agricultural production to become self-sufficient in food production. This period saw a significant influx of people and investments, shaping the city's socio-economic fabric.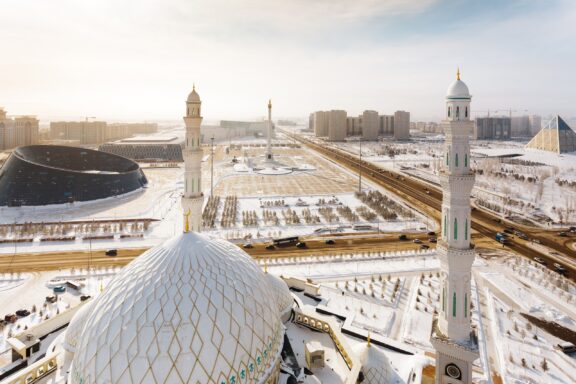 Following Kazakhstan's independence from the Soviet Union in 1991, the city was renamed Akmola. A few years later, in 1997, the capital of Kazakhstan was moved from Almaty to Akmola. President Nursultan Nazarbayev made this decision for several strategic reasons.
Despite being the country's largest city and economic hub, Almaty was located in an earthquake-prone area near the border with China. On the other hand, Akmola, centrally located within the country, was far from any borders, thus providing a strategic advantage.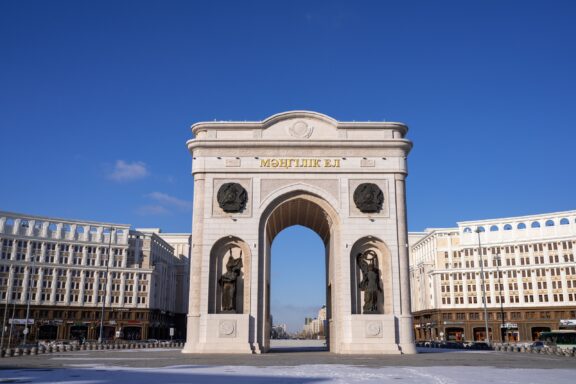 The capital shift led to significant investments in urban development, leading to the city's rapid growth. Major global architects were involved in designing impressive structures, and the city soon showcased a range of futuristic buildings. In 1998, Akmola was renamed Astana, which means "capital" in Kazakh.
In 2019, in honor of Kazakhstan's first President, Nursultan Nazarbayev, Astana was renamed Nur-Sultan. Today, the city stands as a symbol of Kazakhstan's progress and ambitions, boasting a skyline that blends modern, futuristic architecture with traditional Kazakh influences.
Features of Nur-Sultan
Nur-Sultan is renowned for its futuristic and distinctive architecture, designed by prominent architects from around the world.
Despite its modern skyline, Nur-Sultan has preserved its cultural heritage, evident in its museums which offer performances that range from classical opera and ballet to traditional Kazakh music and dance.
Geography and Climate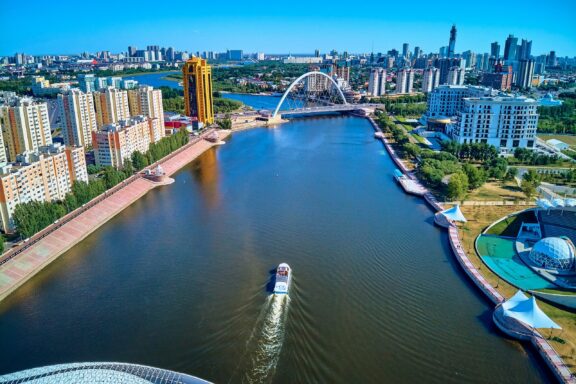 Nur-Sultan's location places it on the transition between the continent's colder and more temperate zones.
The city experiences a continental climate with large seasonal temperature differences. Winters can be extremely cold, with temperatures frequently below freezing, and summers can be quite hot. Spring and autumn are relatively brief transitional seasons. The city is subject to strong winds throughout the year, which can intensify the effect of the temperature extremes.
Population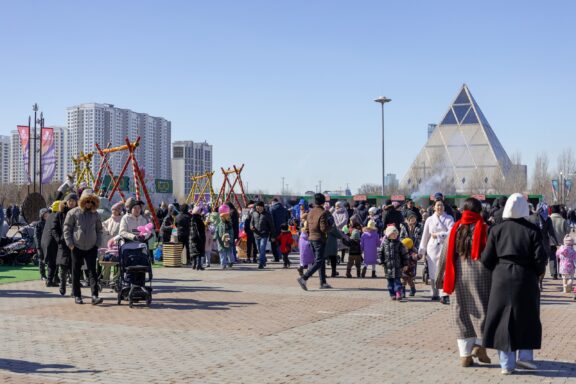 The population of Nur-Sultan is over 1 million people and is rapidly growing. The city's residents are a mix of ethnic Kazakhs, Russians, and smaller minorities, including Ukrainians, Germans, Chechens, and Uzbeks, reflecting the diverse ethnic composition of the country. The dominant language spoken is Kazakh, though Russian is also widely used.
Economy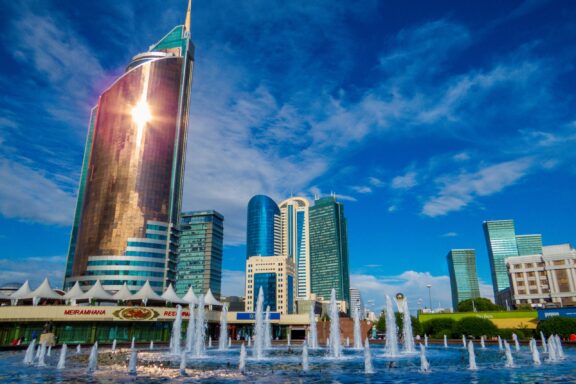 Nur-Sultan is a major economic hub in Kazakhstan. While the country's economy is primarily based on oil and gas, Nur-Sultan has diversified its economic activities. The city is an important financial center, with many national and international banks, insurance companies, and financial services firms establishing operations there.
The city has also encouraged innovation and technological development, emphasizing information technology and digital services. There is a growing startup scene, with government and private sector support.
In addition, Nur-Sultan is the center of construction and real estate development in Kazakhstan, with numerous ambitious projects in progress or planned, many featuring strikingly innovative architecture.
Public administration and services also form a significant part of the city's economy, given its status as the national capital. It houses many government offices, foreign embassies, and international organizations.
The city is also a hub for transportation and logistics, given its strategic location in Central Asia, with significant rail and air links to the rest of the country and beyond.
Things to Do and Places to See in Nur-Sultan
Nur-Sultan boasts a myriad of engaging activities and sightseeing destinations. Let's explore some of the city's most coveted attractions:
1. Baiterek Tower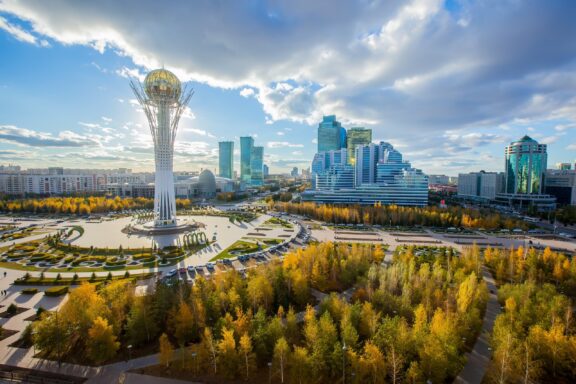 The Baiterek Tower is an iconic symbol of Nur-Sultan and a must-visit destination for any traveler. Standing at 105 meters, the Baiterek Tower represents a modern interpretation of an old Kazakh legend about a magical bird of happiness, Samruk, laying its egg in the branches of a poplar tree (which is what the tower is meant to resemble).
The centerpiece of the tower is a golden sphere that houses an observation deck offering panoramic views of the city. The sphere is also home to a cast of President Nazarbayev's handprint. Visitors often place their hand in it and make a wish. With its captivating architecture and rich symbolism, the Baiterek Tower offers visitors an unforgettable journey into the heart of Kazakhstan's culture and aspirations.
2. Palace of Peace and Reconciliation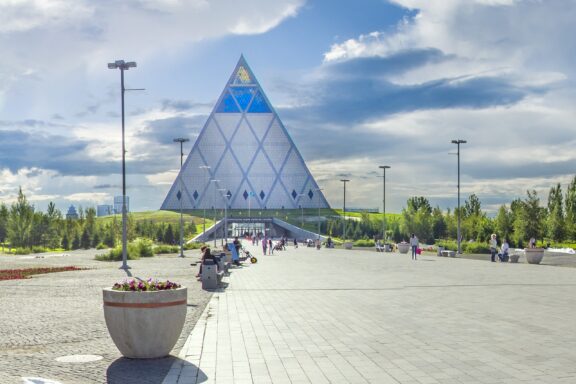 The Palace of Peace and Reconciliation, also known as the Pyramid of Peace and Accord, is another remarkable architectural feat in Nur-Sultan. Designed by renowned British architect Norman Foster, the pyramid stands 62 meters tall and is built entirely of glass. The Palace hosts the Congress of Leaders of World and Traditional Religions every three years, reflecting its mission to foster global religious harmony.
Inside, there's an impressive atrium, conference facilities, and a top-floor observation deck that offers stunning views over the city. The most attractive feature, however, is the 1,500-seat opera hall in the basement, known for its excellent acoustics. Visitors to the Palace of Peace and Reconciliation will appreciate its architectural marvel and its commitment to fostering global peace.
3. Khan Shatyr Entertainment Center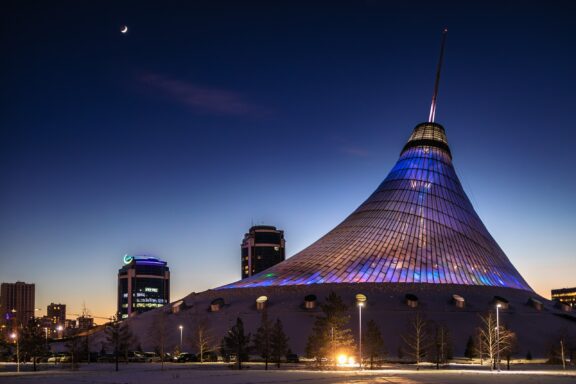 Also designed by architect Norman Foster, the Khan Shatyr Entertainment Center is a giant, transparent tent that has become another iconic symbol of the Nur-Sultan. The structure stretches 150 meters into the sky and covers an area larger than ten football stadiums.
The temperature inside the tent is regulated to provide a comfortable environment throughout the year, despite Nur-Sultan's harsh climate. Visitors will find a vast shopping and entertainment area, including different shops, restaurants, movie theaters, indoor beaches, and a water park to mimic a tropical island resort. With its unique design and a wealth of entertainment options, the Khan Shatyr is a destination that provides fun for the whole family.
4. National Museum of Kazakhstan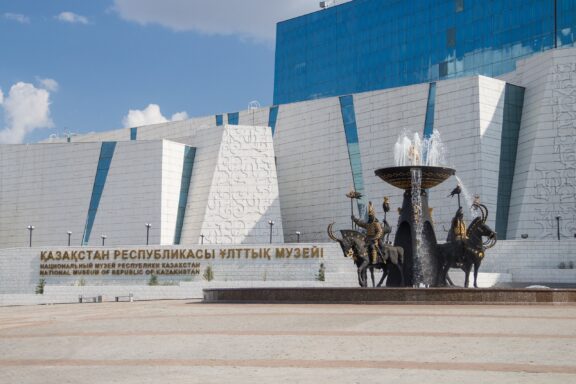 The National Museum of Kazakhstan is an extensive museum covering the history and culture of Kazakhstan from ancient to modern times. The museum, which opened in 2014, is housed in a massive, modern building and contains a wealth of artifacts. Its exhibits include archaeology and ethnography displays, a Hall of Gold with Scythian treasures, and exhibits on contemporary art and the history of Kazakhstan.
The most famous exhibit is the Golden Man, or Golden Warrior, a 3rd-4th century BC Saka warrior whose remains were adorned with around 4,000 gold ornaments, reflecting the sophistication of Scythian gold-working techniques. This exhibit has become a symbol of the country. The museum's broad coverage and interactive exhibits make it a great place for anyone interested in learning about Kazakhstan's rich history and diverse culture.
5. Hazrat Sultan Mosque
The Hazrat Sultan Mosque is a beautiful piece of architecture and the largest mosque in Central Asia. The mosque stands on an 11-hectare site and features a massive prayer hall beautifully adorned with traditional Kazakh ornaments. The mosque's exterior is equally impressive with its white marble walls, sky-blue domes, and towering minarets. In addition to the prayer hall, the mosque complex also includes a library and a lecture hall.
Visitors are welcome to explore the mosque outside of prayer times. It's important to note that modest dress is required to enter, as is the case in many places of worship. Upon entering, visitors are immediately struck by the grandeur of the mosque's interior with its intricate designs, beautiful mosaics, and stunningly detailed decoration.
A tour of the Hazrat Sultan Mosque provides visitors with a deep appreciation of Islamic architecture as well as insight into the religious practices of Kazakhstan. The mosque is a place of worship and a significant landmark in Nur-Sultan that draws visitors from around the world.
6. Astana Opera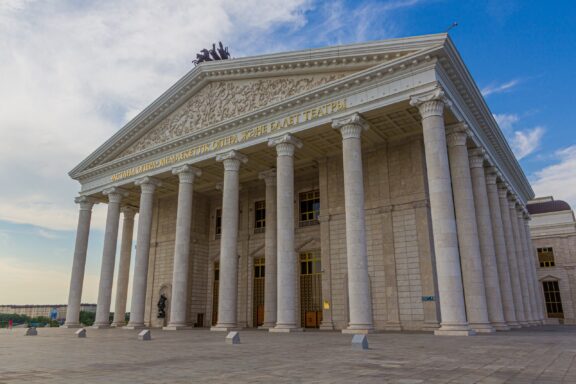 Astana Opera is one of the world's most modern and impressive opera houses, symbolizing the city's cultural ambitions. Opened in 2013, the theater was built on the initiative of former Kazakh President Nursultan Nazarbayev. The opera house is a massive structure, covering over 60,000 square meters and boasting a main hall that can seat 1,250 spectators.
Internally, the opera house is beautifully decorated with ornate chandeliers, marble, gold leaf, and intricate friezes. The main hall is known for its excellent acoustics, and the complex also includes a smaller chamber hall, rehearsal spaces, and other facilities. Astana Opera hosts a wide range of performances, from classical opera and ballet to more modern works and Kazakh folk performances.
Visitors can take a guided tour to admire the interior or, better yet, book tickets for a performance. The experience will be memorable, whether you're a seasoned opera-goer or new to the art form.
7. Presidential Park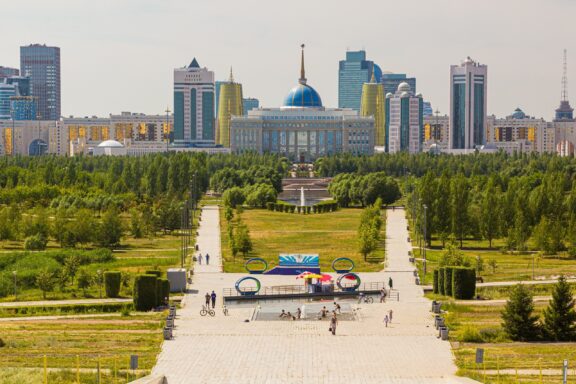 Presidential Park, or as locals call it, President's Park, is a large green space that extends south of the Ak Orda Presidential Palace. This park is one of the city's best spots for a stroll or a picnic on a sunny day. The park is beautifully landscaped with diverse trees, flowers, artificial ponds, fountains, and statues.
A prominent feature is the Golden Triangle, a geometric pattern created by three tall obelisks topped with golden orbs, which aligns perfectly with the Palace and the Baiterek Tower. Walking along the park's main promenade, visitors enjoy the city's impressive skyline.
Although Presidential Park is right in the city's heart, its expansive layout and calming water features offer a peaceful escape from the hustle and bustle. It's a favorite spot for locals and visitors to enjoy the outdoors and appreciate the grandeur of Nur-Sultan's architecture.
8. Ailand Amusement Park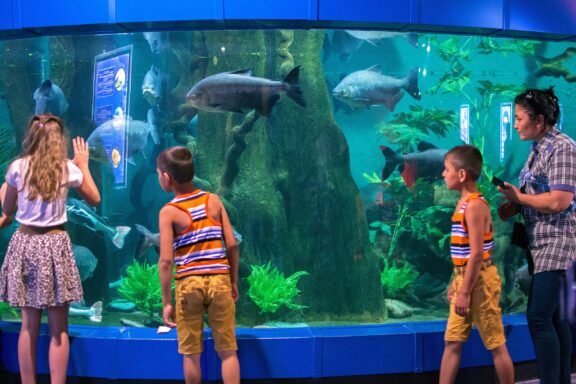 Ailand is a popular water park located just outside Nur-Sultan in Akmola. Despite the city's often harsh climate, Ailand provides a tropical getaway with its indoor water park that operates year-round. The park has a range of water slides, a wave pool, a lazy river, and even an artificial beach.
Apart from the water attractions, Ailand also features a wellness area with saunas, a fitness center, and a spa. A dedicated children's area has age-appropriate slides and activities for the little ones.
Visitors who work up an appetite can use several on-site restaurants and cafes. Whether you're looking for adrenaline-filled fun on the slides or a relaxing day by the pool, Ailand offers something for everyone, making it a great family destination.
9. Duman Entertainment Center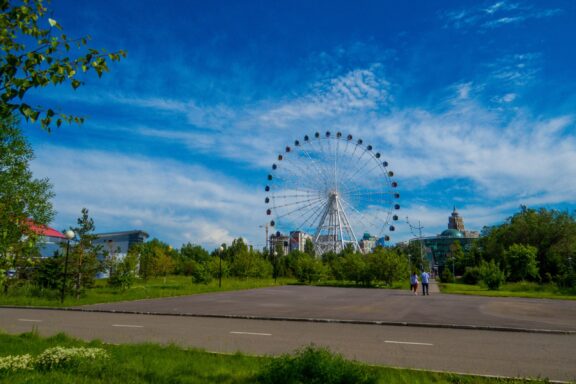 The Duman Entertainment Center is another indoor attraction that caters to all ages. One of the center's most notable features is its aquarium, unique for a landlocked country like Kazakhstan. The aquarium houses more than 2,000 sea inhabitants worldwide, and visitors can walk through a 70-meter-long tunnel to get up close to the marine life.
Apart from the aquarium, the Duman complex also houses a 3D cinema, a jungle park, a bowling alley, and gaming machines. There are numerous stores and restaurants within the complex for shopping and dining.
10. Nur-Astana Mosque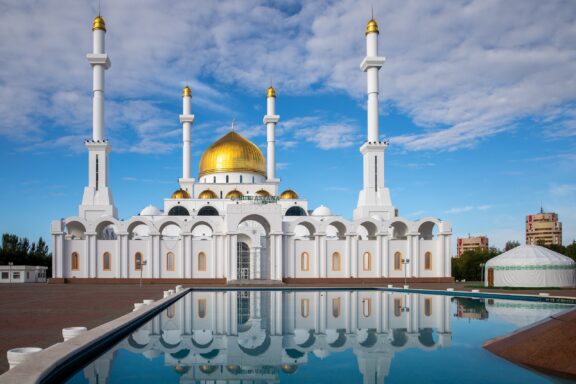 The Nur-Astana Mosque, with its distinctive gold and white color scheme, is one of the largest mosques in Kazakhstan and a standout landmark in Nur-Sultan. It features a large central dome flanked by four towering minarets, each 63 meters high, representing the Prophet Muhammad's age when he passed away.
The mosque's design reflects both Kazakh and Islamic architectural traditions. The interior is strikingly decorated with geometric patterns and calligraphy. The ceiling showcases beautiful Kazakh ornamentation, while the walls are adorned with verses from the Quran.
Visitors are welcome to tour the mosque outside of prayer times concerning its religious functions. The mosque's grandeur and tranquility offer a fascinating insight into Islamic architecture and culture, making it a must-visit location in Nur-Sultan.
11. Atameken Map of Kazakhstan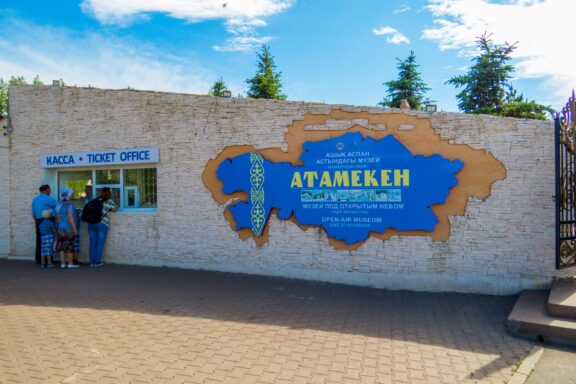 The Atameken Map of Kazakhstan is a unique open-air museum offering an overview of the country. Spread over 1.7 hectares, the museum showcases a miniature model of Kazakhstan, complete with detailed replicas of the country's most significant historical, cultural, and modern landmarks.
The map is divided into two sections: one dedicated to the cityscapes, highlighting places like Nur-Sultan and Almaty, and another to the rural and industrial landscapes, featuring models of factories, mines, and natural landmarks like lakes and mountains. Each model is intricately designed and provides detailed information about the location it represents.
Visiting the Atameken Map of Kazakhstan is a great way to learn about the country's geography and diversity without traveling far. It's both an educational experience and an enjoyable outdoor activity.
12. Mega Silk Way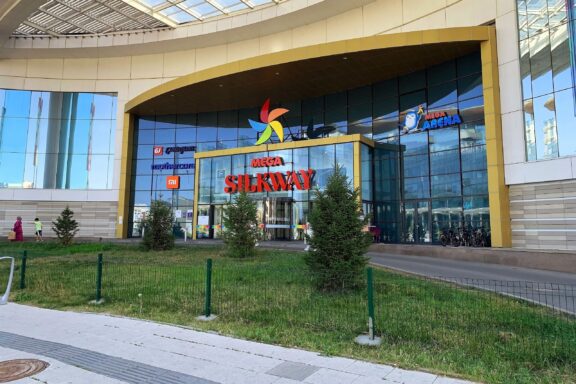 Mega Silk Way is a large shopping and entertainment centers in Nur-Sultan, located near the Expo 2017 grounds. The mall features a vast array of stores, from international brands to local boutiques, satisfying the needs of all kinds of shoppers.
But shopping isn't the only activity on offer. The mall also houses a large food court with diverse cuisines, a cinema, a fitness center, and even an indoor amusement park called Happylon. A unique feature of the mall is the Nazarbayev Center, a cultural space that hosts exhibitions, lectures, and concerts.
The most exciting attraction in Mega Silk Way is the indoor city for kids called Baikonur. This edutainment center allows children to try various professions and earn and spend their currency. It's a fun and interactive way for kids to learn about different jobs.
With such a wide range of facilities and activities, Mega Silk Way offers a day of fun and entertainment for the entire family.
Frequently Asked Questions
Is it safe to visit Nur-Sultan?
What is the best time to visit Nur-Sultan?
The best time to visit Nur-Sultan is during the late spring (April to June) or early autumn (September to October) when the weather is moderate and pleasant.
What is traditional food and cuisine like in Nur-Sultan?
The traditional cuisine of Nur-Sultan, and Kazakhstan in general, is predominantly meat-based, reflecting the country's nomadic past. Popular dishes include Beshbarmak, a boiled meat dish traditionally served with pasta, and Manty, steamed dumplings typically filled with meat.
What's a must-try dish in Nur-Sultan?
Beshbarmak is a must-try dish in Nur-Sultan. It's often considered the national dish of Kazakhstan. The name translates to "five fingers," referring to the traditional way of eating it with one's hands.
What souvenirs can I bring home from Nur-Sultan?
Popular souvenirs from Nur-Sultan include Kazakh crafts, such as felted wool items or traditional jewelry. Local food products, like honey or kumis, a fermented dairy product made from mare's milk, are also popular.
How can I get around in Nur-Sultan?
Nur-Sultan offers several public transportation options, including buses and taxis. The city also has a bike-sharing program. For longer distances, ride-hailing services are also available.
What is the currency in Nur-Sultan?
The currency used in Nur-Sultan, and all of Kazakhstan, is the Kazakhstani Tenge (KZT).
What cultural customs should I be aware of when visiting Nur-Sultan?
Kazakhstan is a predominantly Muslim country, so it's important to dress modestly, especially when visiting religious sites. Kazakh people are known for their hospitality, and greeting each other with a handshake is common.
Also, it's worth noting that removing your shoes when entering someone's home is customary. Finally, tipping for service is increasingly common in restaurants and cafes, with 10% being the standard rate.
Final Thoughts
Nur-Sultan is undeniably worth a visit. As the dynamic capital of Kazakhstan, it offers an intriguing blend of modernity and tradition. Its distinctive skyline, marked by futuristic architecture, captures the spirit of innovation and ambition. Yet, the city remains deeply rooted in its rich history and culture, as reflected in its museums, music, and cuisine.
Nur-Sultan's unique features, from impressive landmarks to its vibrant local life, make it an attractive destination for travelers seeking a taste of Central Asia. Whether you're a history buff, a foodie, an architecture enthusiast, or a curious explorer, Nur-Sultan promises a memorable journey.