El Salvador is located in the Central America region at latitude 13.794185 and longitude -88.89653 and is part of the North American continent.
The DMS coordinates for the center of the country are:
13° 47' 39.07'' N
88° 53' 47.51'' W
You can see the location of El Salvador on the world map below: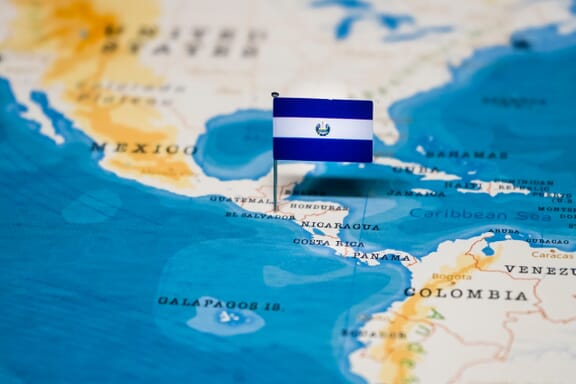 El Salvador Neighboring Countries
The neighboring countries of El Salvador (SV) are:
Guatemala (GT)
Honduras (HN)
Maritime Borders
El Salvador borders with the Pacific Ocean.
El Salvador Related Content
El Salvador Key Facts
Country
El Salvador
Coordinates
Latitude: 13.794185
Longitude: -88.89653
Country Codes
Alpha 2: SV
Alpha 3: SLV
Country Flag Emoji
🇸🇻
Int. Phone Prefix
+503
Capital city
San Salvador
Continent
Subcontinent
North America
Central America
Country Area
21,041 sq km
Population 2021
6,518,500
World Rank: 110
Median Age
26.3
Life expectancy
70.7
Major languages
Spanish (official), Nawat (among some Amerindians)
UTC/GMT Time
Number of time zones: 1

Internet TLD
.sv
Biggest Airport
Romero International Airport (SAL)
Average temperature
24.45 °C
76.01 °F
Administrative Divisions
14 departments
Political system
Presidential representative democratic republic
El Salvador Economy Facts
World Bank Income Group
Lower middle income
World Bank Region
Latin America & Caribbean
Currency
US Dollar (USD)
GDP in 2020
$24.6 (billions of USD)
World Rank: 105
GDP per capita in 2020
$3,799
World Rank: 119
Major Industries / Economic Sectors
Manufacturing, agriculture, energy, services
Top 5 Import Countries
United States, China, Mexico, Guatemala, Honduras
Top 5 Export Countries
United States, Honduras, Guatemala, Mexico, China
Biggest Cities in El Salvador
Here are the largest cities in El Salvador based on 2021 data:
City
Population
San Salvador
567,698
Usulutan
378,606
Santa Ana
270,413
San Miguel
218,410
Mejicanos
140,751
Santa Tecla
135,483
Apopa
131,286
Delgado
120,200
Ahuachapan
110,511
Sonsonate
110,501
Map of El Salvador with the Largest Cities
Other Countries in the Central America Region
El Salvador Map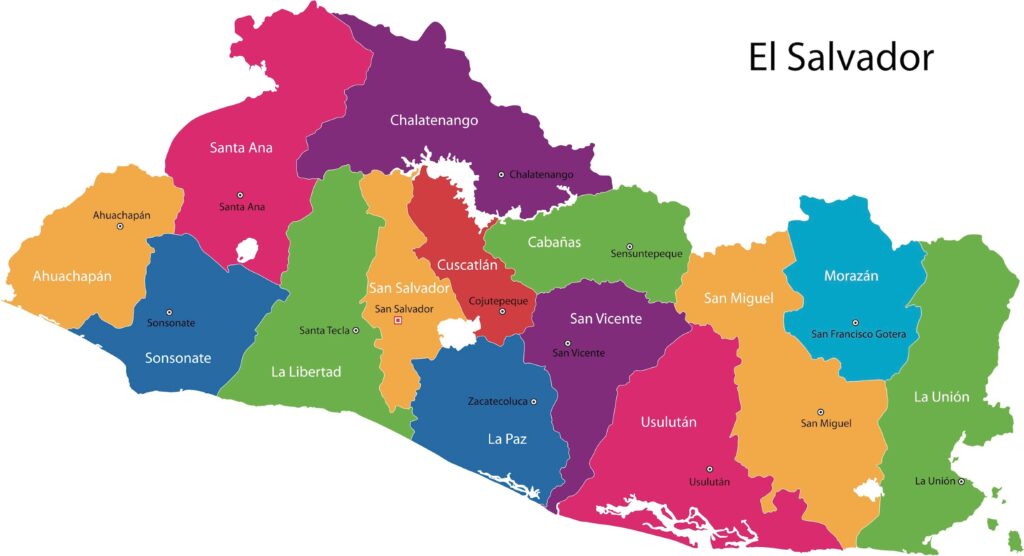 Important Sites
El Salvador has a coastline: 307km (191 miles) and the highest point is Cerro El Pital at 2730m.
El Salvador currently only has one site registered as a UNESCO World Heritage Site.
It does, however, have 6 sites listed for consideration:
Joya de Cerén Archaeological Site
Gulf of Fonseca (1992)
Cara Sucia / El Imposible (1992)
Chalchuapa (1992)
Ciudad Vieja (1992)
Lake Guija (1992)
Cacaopera (1992)
The Joya de Ceren Archaeological Site is famous – it is a well-preserved farming community that was buried under a sea of ash from the eruption of Laguna Caldera Volcano.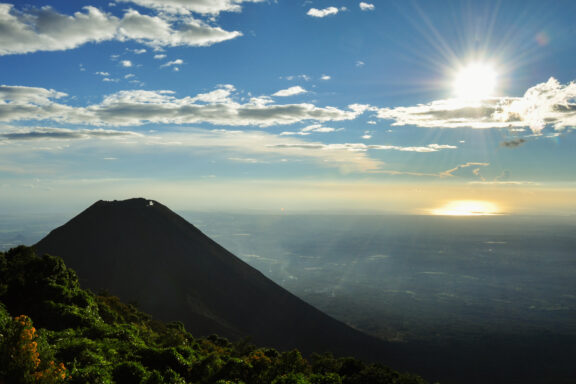 Transport Systems
The transport system in El Salvador relies largely on its road network. As you will see below, the railway network needs development. The main international airport is El Salvador International Airport – there are also two smaller airports dealing with cargo and passengers around Central America.
Road – The main form of transport is via road – as you can see from the El Salvador Map, it has an extensive network of roads that connect all major cities. There is 10,029km of roads including 327km of highways.
Rail – El Salvador has a small railway network – just 602km of narrow gauge track. This provides passenger service from San Salvador to Apopa. Other than this, there is no other rail service in the country.
Seaports – Due to its location on the South Pacific Ocean, El Salvador has a myriad of important seaports. Important ports and harbors include Acajulta, Puerto Cutuco, La Libertad, La Union, and Puerto El Triunfo.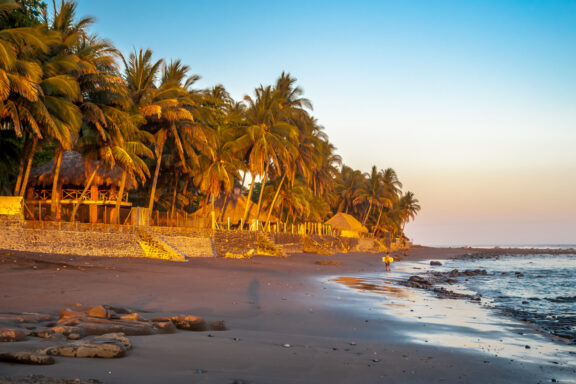 Famous Tourist Attractions
Despite its relatively small size, El Salvador has some outstanding attractions – both natural and cultural. Its geography and a diverse landscape provide tourists with some beautiful landscapes and an abundance of volcano calderas. The following are some of the top cities and tourist attractions in El Salvador:
Tazumal Mayan Ruins
Playa El Tunco
Ruta de las Flores Trail
Lake Ilopango
Montecristo National Park
Puerta del Diablo
City of Santa Ana
City of Suchitoto
Joya de Ceren
Lake Coatepeque
 El Salvador is a vibrant country in the heart of Central America – tourists can enjoy the myriad of distinguished cities, bursting with architecture, or visit some of the gorgeous landscape, and take a glimpse into ancient Mayan history.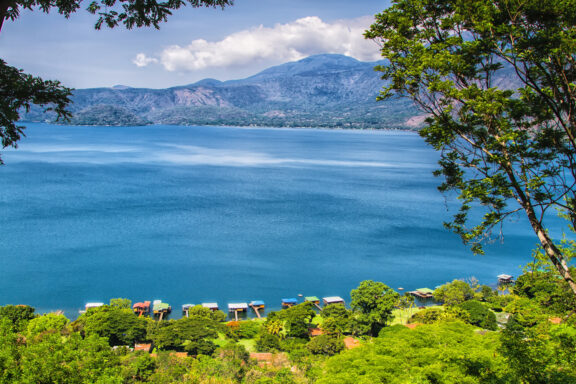 Currency
Until 2001, the national currency of El Salvador was the Colon. This was established during colonial rule in the 19th century, but has now been replaced by the US Dollar. More recently, El Salvador introduced Bitcoin as a legal tender in addition to the US Dollar.
In terms of US Dollars, El Salvador uses 1, 5, 10, 20, 50, and 100 bill banknotes. Moreover, 1, 5, 10, and 25 cent coins are used. The main unit of currency is 1 dollar, and the subunit is 100 cents. Currency circulation and inflation rates are controlled by the Central Reserve Bank of El Salvador, which is based in the capital of San Salvador.
Political System & Economy
El Salvador has a Chief of State, and a Head of Government – it is officially recognized as the Republic of El Salvador and has a republic government.
The current constitution was created and adopted in 1983 and outlines its governmental system and political system. The president of El Salvador is elected via an absolute majority vote and has a term that lasts 5 years.
The administrative system of El Salvador is divided primarily into 14 departments or the States of El Salvador, which can be seen on the El Salvador Map. Each department has a capital and is split into municipalities.
There are 262 municipalities in El Salvador. The largest department is San Salvador, which is both the main economic center and where the capital city is.
Throughout the 19th and 20th centuries, the economy of El Salvador has fluctuated – this is mainly due to natural disasters and corruption within the government. It has an annual GDP growth of approximately 2.5% and is classed as a developing/emerging country.
El Salvador has several main industries and enjoys important trade partnerships with the USA, Mexico, Colombia, China, and Guatemala. Its current main industries include petroleum, chemicals, agriculture, textiles, and food processing. In addition to this, it exports numerous goods including coffee, sugar, gold, chemicals, and textiles.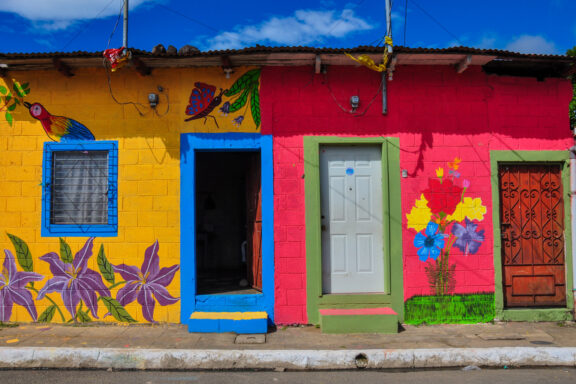 Geography
El Salvador is located in Central America. It sits on the southwestern side of the sub-continent and has borders with Honduras, and Guatemala. It is also one of the smallest countries by land area in Central America.
The geography of El Salvador is mainly mountainous – there are two mountain ranges that run parallel, these are separated by a central plateau landmass.
In the north, running parallel with the border of Honduras, is the Sierra Madre Mountain Range. Alternatively, in the south, the land lowers, there are a staggering 20+ volcanoes that form a line running west to east.
Due to the large volume of volcanoes (most of which are inactive), El Salvador has many volcanic lakes – the largest of which is Ilopango.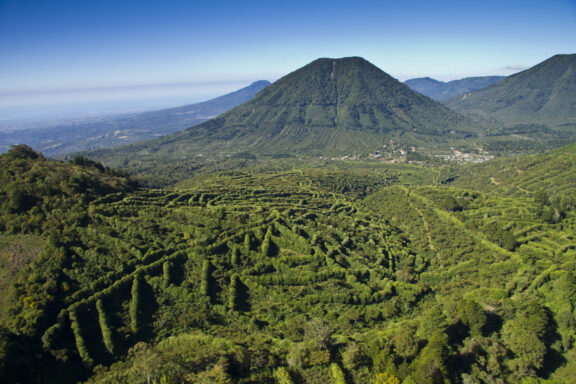 El Salvador FAQs
Where is El Salvador on the world map?
El Salvador is located in Central America. It is a small country that has borders with Honduras and Guatemala. The country has many volcanoes and is predominantly mountainous. Moreover, it has a long coastline in the south, that stretches into the South Pacific Ocean.
Is it safe to go to El Salvador?
Generally El Salvador is considered one of the safest countries in Central America for tourists. As with any new location, you should take caution when visiting large cities, and act with common sense at all times.
What is El Salvador known for?
This small Central American country is generally known as the land of the volcanoes. Furthermore, it is known for its magnificent colonial Spanish architecture and abundance of gorgeous volcanic lakes.
What are the countries that border El Salvador?
El Salvador is a country in Central America – it has borders with Honduras and Guatemala. The border with Honduras lies in the northern mountainous region of the country. Guatemala borders with the El Salvador states of Ahuachapan, and Santa Ana.
What do they eat in El Salvador?
Cuisine in El Salvador has influence from both Native Americans and Spanish culture. The most notable traditional dish is Pupusa – this is a thick flatbread that is often served with refried beans and spice cabbage slaw.