Guatemala is located in the Central America region at latitude 15.783471 and longitude -90.230759 and is part of the North American continent.
The DMS coordinates for the center of the country are:
15° 47' 0.50'' N
90° 13' 50.73'' W
You can see the location of Guatemala on the world map below: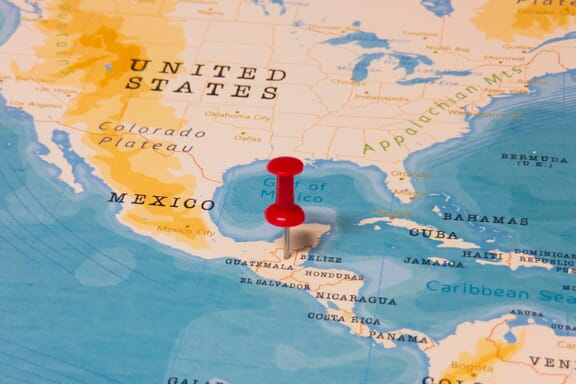 Guatemala Neighboring Countries
The neighboring countries of Guatemala (GT) are:
Belize (BZ)
El Salvador (SV)
Honduras (HN)
Mexico (MX)
Maritime Borders
Guatemala borders with Pacific Ocean and the Caribbean Sea.
Guatemala Related Content
Guatemala Key Facts
Country
Guatemala
Coordinates
Latitude: 15.783471
Longitude: -90.230759
Country Codes
Alpha 2: GT
Alpha 3: GTM
Country Flag Emoji
🇬🇹
Int. Phone Prefix
+502
Capital city
Guatemala City
Continent
Subcontinent
North America
Central America
Country Area
108,889 sq km
Population 2021
17,109,746
World Rank: 69
Median Age
22.1
Life expectancy
69.2
Major languages
Spanish (official) 69.9%, Maya languages 29.7% (Q'eqchi' 8.3%, K'iche 7.8%, Mam 4.4%, Kaqchikel 3%, Q'anjob'al 1.2%, Poqomchi' 1%, other 4%), other 0.4% (includes Xinca and Garifuna) (2018 est.)
UTC/GMT Time
Number of time zones: 1

Internet TLD
.gt
Biggest Airport
La Aurora International Airport (GUA)
Average temperature
23.45 °C
74.21 °F
Administrative Divisions
22 departments
Political system
Presidential representative democratic republic
Guatemala Economy Facts
World Bank Income Group
Upper middle income
World Bank Region
Latin America & Caribbean
Currency
Guatemalan Quetzal (GTQ)
GDP in 2020
$77.6 (billions of USD)
World Rank: 68
GDP per capita in 2020
$4,603
World Rank: 105
Major Industries / Economic Sectors
Agriculture, manufacturing, energy, services
Top 5 Import Countries
United States, China, Mexico, Brazil, Honduras
Top 5 Export Countries
United States, Mexico, China, El Salvador, Honduras
Biggest Cities in Guatemala
Here are the largest cities in Guatemala based on 2021 data:
City
Population
Guatemala City
2,934,841
Villa Nueva
618,397
Coatepeque
300,000
San Pedro Carcha
255,006
Coban
228,664
Quetzaltenango
225,000
San Juan Sacatepequez
193,000
Jutiapa
162,312
Flores
144,932
Momostenango
139,552
Map of Guatemala with the Largest Cities
Other Countries in the Central America Region
History of Guatemala
The independent Mayan Kingdom of Guatemala experienced a decline by the ninth century AD and was conquered by the expanding Toltec Empire in the 12th century. Over the next centuries, Guatemala would fall under Spanish rule.
During the Spanish occupation of Guatemala, there was a long and bloody struggle. Gradually, the territory that would later become Guatemala was incorporated into the Spanish Viceroyalty of New Spain during the colonial period.
The conflict lasted from ca. 1524, when warriors of Habsburg Spain destroyed the native Maya Indian civilization in the territory that would become Guatemala, until 1821 when the Mexican War of Independence ended Spanish rule. At that time, Central America was a department under the Mexican Empire.
The conquest of Guatemala included many months during which over 100,000 indigenous peoples were massacred by Spaniards and their Guatemalan allies, especially targeting those who refused to enslavement.
The country of Guatemala achieved its independence in 1821 but remained part of the Mexican Empire until 1838.
Guatemala on the World Map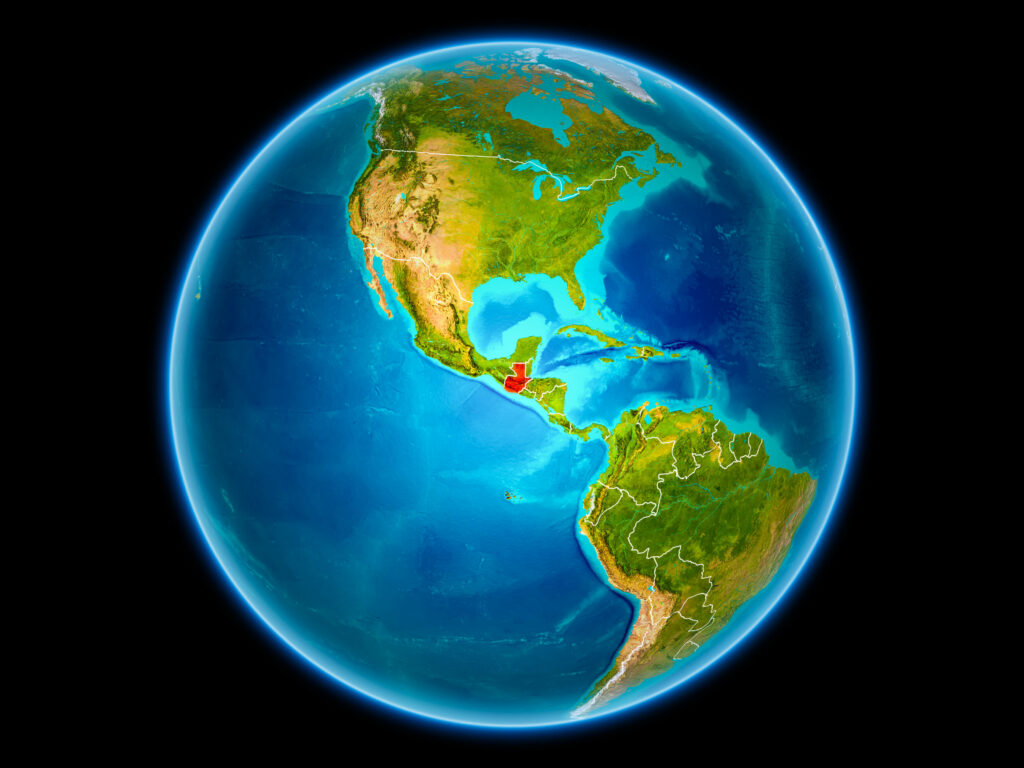 Guatemala is a country that has many rainforests, Mayan sites, and volcanoes. The population is over 16 million people. GDP is 84.5 billion USD. If you come here from another country, you will fly into La Aurora International Airport or Mundo Maya Intl. Airport.
Highlighted on the map of North America with the national flag on it, Guatemala (officially the Republic of Guatemala) is a country in Central America bordered by Mexico to the north and west, Belize and the Caribbean to the northeast, Honduras to the east, El Salvador to the southeast, and the Pacific Ocean to the south.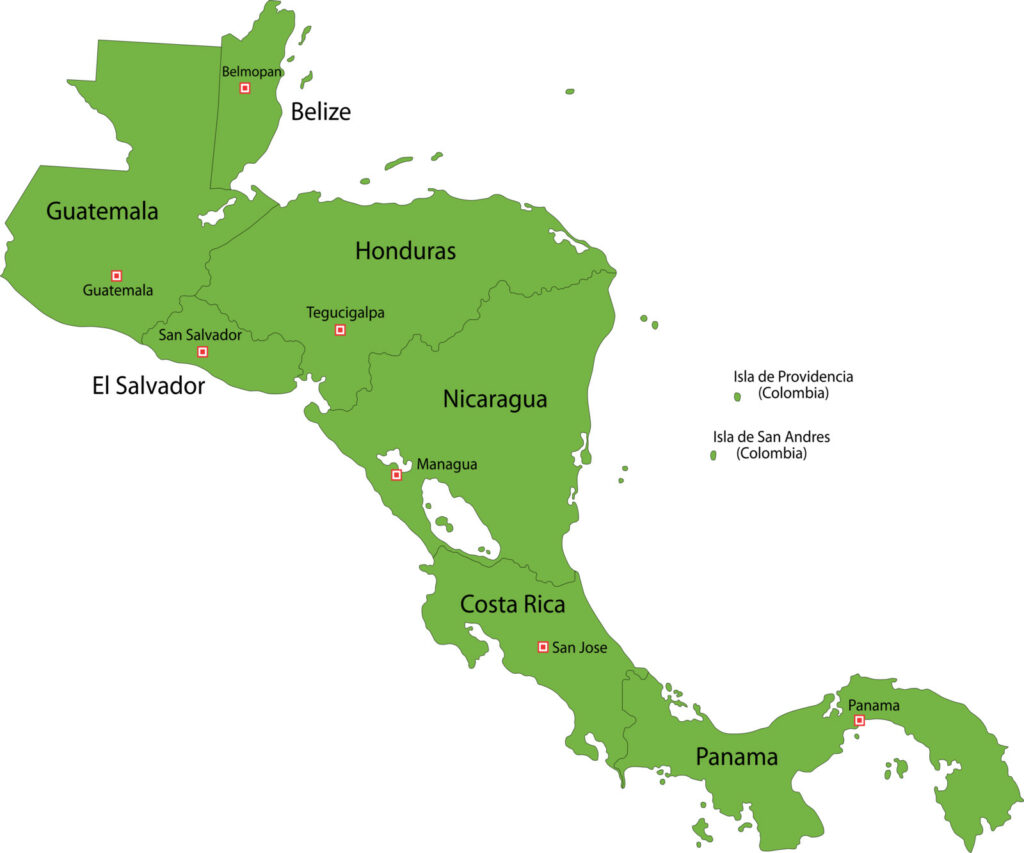 Guatemala is the largest Central American country in terms of population – it has a population of 17 million people. It measures 108,889 square miles (283,400 km2).Guatemala is divided into 22 departments.
Guatemala Political Map
Below you can see a map of Guatemala containing the most important cities, and showing the neighboring countries of Mexico, Belize, El Salvador, Honduras, and Belize.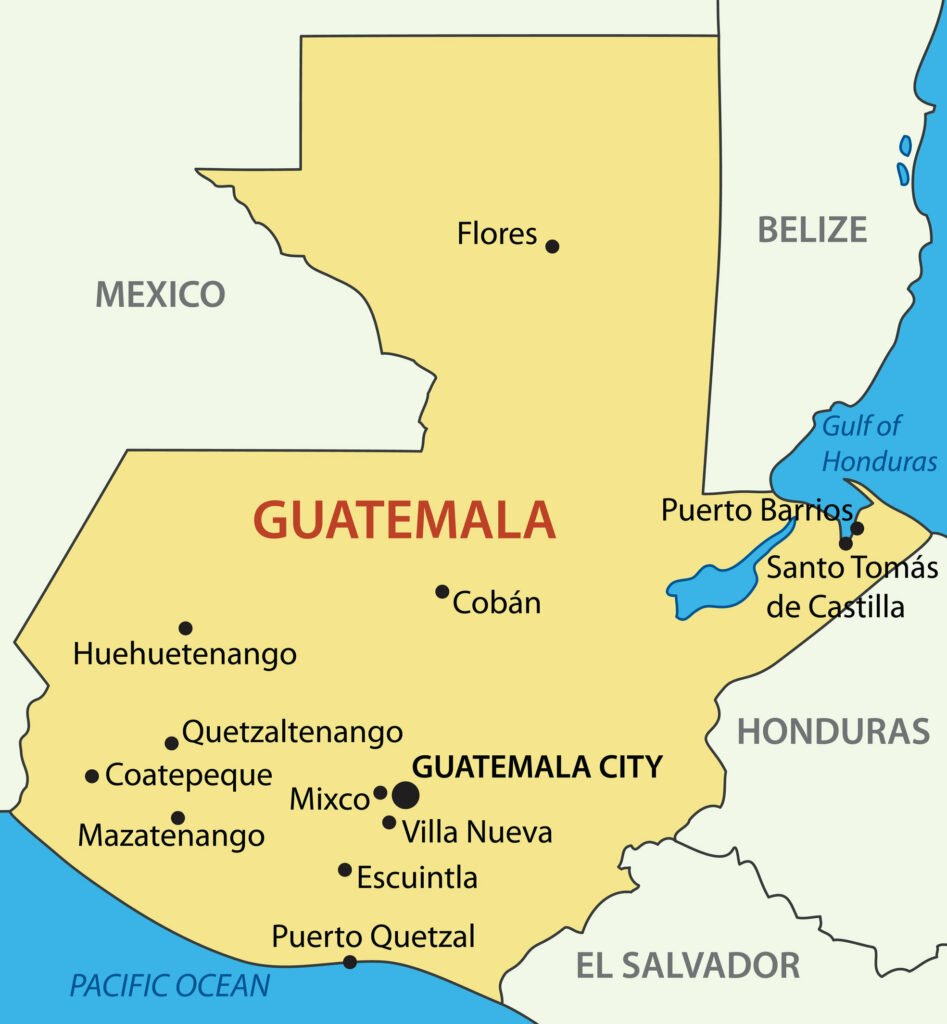 The capital is Guatemala City. Guatemala City is both the largest city in Guatemala and Central America. The official language of Guatemala is Spanish, and many different races live in this country.
One of the largest ethnic groups in Guatemala is the mestizo, a mixture of indigenous Native Americans and Europeans. The other most numerous group are the Mayans, who live mainly in the mountainous regions.
Guatemala is a Spanish-speaking country, with English speakers being a notable minority. The Republic of Guatemala divides into 22 departments, which are subdivided into more than 300 municipalities.
Guatemala Departments Map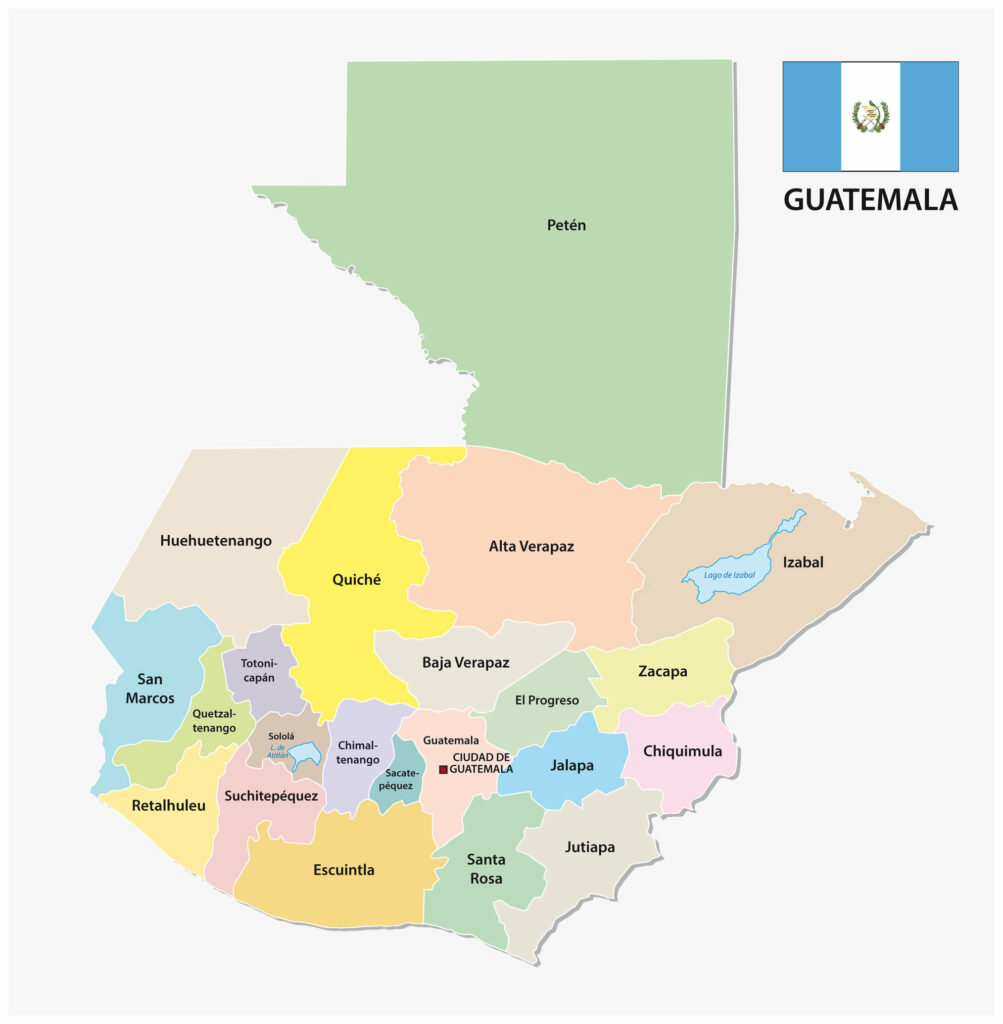 Departments of Guatemala
Alta Verapaz
Baja Verapaz
Chimaltenango
Chiquimula
El Progreso
Escuintla
Guatemala
Huehuetenango
Izabal
Jalapa
Jutiapa
Petén
Quetzaltenango
Quiché
Retalhuleu
Sacatepéquez
San Marcos
Santa Rosa
Sololá
Suchitepéquez
Totonicapán
Zacapa
Alta Verapaz
This department is in north-central Guatemala. Cobán is the capital city. It has an elevation of 2800 m. This department has 17 municipalities including Chahal, Lanquin, Tactic, and Panzos. This area used to be part of the ancient Mayan civilization. The British used to refer to this department as simply Vera Paz.
Baja Verapaz
Almost 300,000 people make up the population in this department. The area measures 3124 km, and the capital city is Salama. There were eight municipalities here, such as Cubulco and San Miguel Chicaj. The Mario Dary Biotope Preserve, which preserves the local fauna and flora.
Chimaltenango
Over 600,000 people live here, and the area is approximately 1979 km. The 16 municipalities include Acatenango, Chimaltenango, El Tejar, Parramos, Patzicía, Patzún, and Pochuta. This area is in the eastern part of Guatemala. Most of the residents are of Cakchiquel Mayan descent.
Chiquimula
Chiquimula was established in 1871 and is in the northeastern region of Guatemala. Chiquimula is the capital city. The population of this department is over 400,000 people, and the area is about 2376 kilometers. There are 11 municipalities, mountains, and a tropical to temperate climate.
El Progreso
This area became a department in 1908, broke up in 1920, and then formed again in 1934. This department has a population of 176,632 people in northeastern Guatemala. Guastatoya is the capital city. There are eight municipalities in this department. The dominant ethnic group here is Ladinos.
Escuintla
There are a total of 13 municipalities here. The population here is over 700,000 people. The area measures 4384 km and sits in the coastal lowlands region of the country. The department is responsible for 43% of the nation's domestic products. Visit the Museo Regional de Arqueología de la Democracia here.
Guatemala
Guatemala City is the capital of this department and the country. The population is over 3 million people and measures 2126 km. The 17 Municipalities include San Miguel Petapa, San José del Golfo,Villa Nueva, and Fraijanes.
Huehuetenango
This department sits in the western Highlands of Guatemala, and the capital city shares the same name. This area is one of the most ethnically diverse parts of Guatemala. There are various Mayan groups, but the Mam are the dominant ones. The nine ethnic groups each have their language.
Izabal
This department surrounds a lake by the same name. It is also the country's biggest lake. There are five municipalities – including the capital Puerto Barrios, Los Amantes, Morales, Livingston, and El Estor. The population is over 400,000 people with a space over 9038 km.
Jalapa
Over 300,000 people live in this department that measures 2063 km. The capital city shares the same name. In terms of agriculture, the area produces tobacco, onions, corn, and cattle. This department in the southeast of Guatemala has seven municipalities including Monjas, San Carlos Alzatate, and San Luis Jilotepeque. The area even has a volcano, Jumay.
Jutiapa
At 405 above sea level, this department has a population of almost 500,000 people. most of the population is ethnically mestizo. Jutiapa means " Sun City". This area has cattle and is the Southeastern most Department in Guatemala. 17 municipalities include Asunción Mita, Pasaco,Yupiltepeque, Zapotitlán.
Petén
This section is in the northeasternmost part of the country. It is also the largest department thanks to its 35854 km size. has a population of over 500,000 people. It shares a border with both Mexico and Belize. The 14 municipalities include Santa Ana, Flores, Dolores, San Francisco, and San Jose. There are many archeological sites from the ancient Mayans.
Quetzaltenango
Located in the western Highlands, this department has 24 municipalities and a capital city of the same name. K'iche', Mam Maya, and Ladinos are the main ethnic groups here. The area features mountains as well as the Samala River. It has a population of almost 800,000 people. The climate here can range from wet to dry.
Quiché
Over 900,000 residents live in this department that measures 8378 km. The native spelling is K'iche' – It means "many trees". K'iche' people are the largest ethnic group in the area. There are two mountain ranges, the foothills of a volcanic mountain, and the Central Highlands. Pre-colonial archeological relics still exist here.
Retalhuleu
326,828 residents live here in an area that comprises 1856 km. It is in the Southwest area of the country and has many pre-Columbian ruins. The area has a tropical climate along with a dry season. Seven municipalities include San Felipe, San Sebastian, Nuevo San Carlos, and San Andres Villa Seca.
Sacatepéquez
The population consists of more than 330,000 people and the area is 465 km. There are active volcanoes here such as Acatenago and Volcan De Agua. Crops such as sugar, tobacco, coffee, cotton, and Maze grow here. There are 16 municipalities including Santa Maria de Jesus, Pastores, and Sumpango.
San Marcos
This department has a capital city by the same name and sits in Northwestern Guatemala. There are 30 municipalities including El Rodeo, San Lorenzo, and La Blanca. The area produces products such as beans, coffee, potatoes, wheat, sugar cane, and cacao. Tourists come here for the beautiful beaches.
Santa Rosa
This department has 14 municipalities and a population of almost 400,000 people. Cuilapa is the capital city. Santa Rosa is in the southeastern part of the country. The area has Rivers, ponds, waterfalls, caves, and archeological sites.
Sololá
Sololá has a capital city by the same name and is in the western part of Guatemala. Over 400,000 people in the department come from different Mayan ethnic groups. Farmers grow wheat, vegetables, peaches, cherries, and other fruit in the fertile soil. Sheep are a part of the economy, thanks to the large wool industry.
Suchitepéquez
Mazatenango is the capital city of this southwestern department. The population here is over 500,000 people in an area of 2,510 km. 20 municipalities include Chicacao, Cuyotenango, Río Bravo, and Samayac.
Totonicapán
This department has over 400,000 people in the western Highlands of Guatemala. The Mayans here speak K'iche and many use Spanish as well. Farmers raise livestock and produce sugar, wheat, and various other products.
Zacapa
Zacapa is in eastern Guatemala with a population of 245,000 people. There are 10 municipalities, such as San Jorge and San Diego. This rural area grows tobacco, tomatoes, and cantaloupe.