Buenos Aires is the capital and the most developed city of Argentina.
The city is governed by an autonomous government. It was founded in the 16th century alongside Rio de la Plata.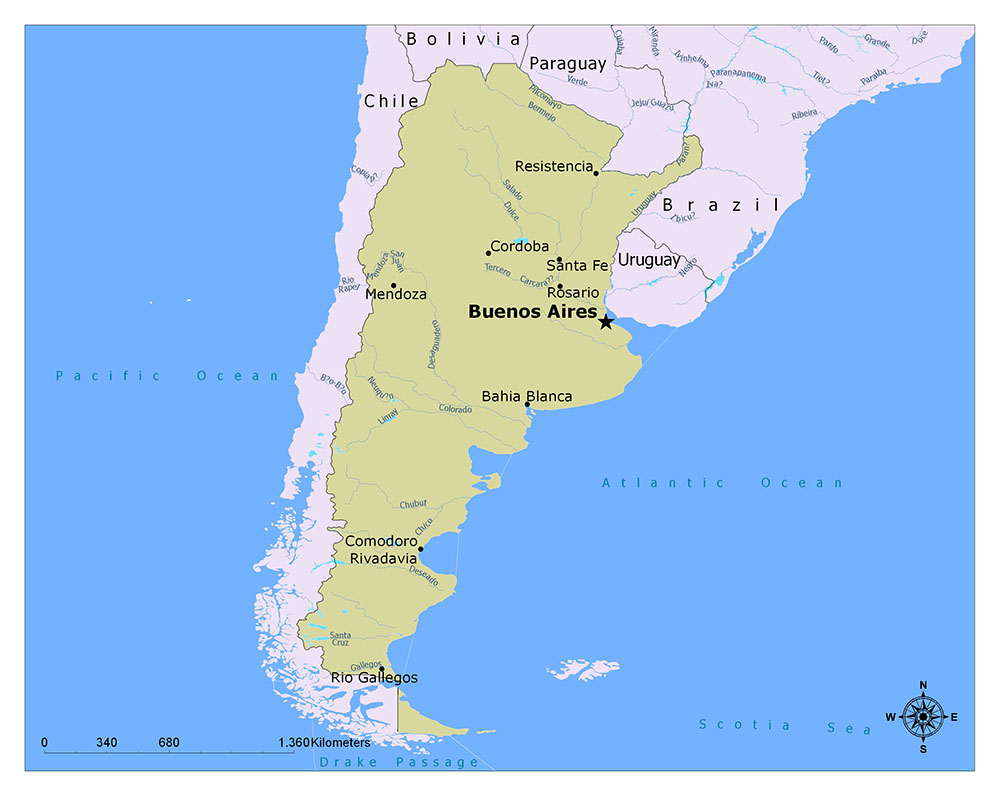 Where is Buenos Aires?
Buenos Aires is located in the southeastern part of South America. It is the capital and largest city of Argentina, situated on the western shore of the Río de la Plata, a large estuary formed by the confluence of the Paraná and Uruguay rivers.
The city is positioned on the eastern coast of Argentina, near the country's border with Uruguay.
The coordinates of Buenos Aires are approximately 34.6037° S latitude and 58.3816° W longitude.
When did Buenos Aires Become the Capital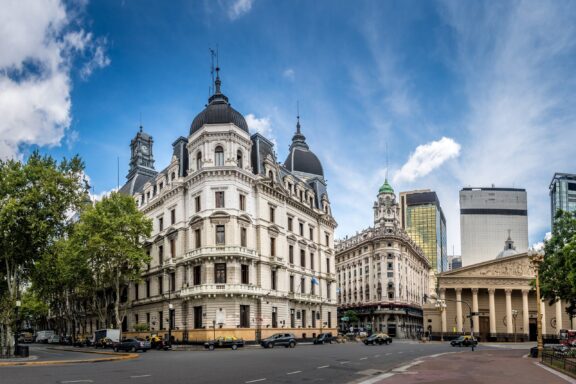 Buenos Aires, which was initially founded by Pedro de Mendoza on February 2, 1536, faced many early challenges, including a lack of food and conflict with local indigenous tribes. These hardships led the initial settlers to abandon the city.
Juan de Garay later reestablished the city in 1580, giving it the name "Ciudad de la Santísima Trinidad y Puerto Santa Maria de los Buenos Aires." However, it wasn't until much later that Buenos Aires would become the capital of Argentina.
During the 17th and 18th centuries, Spanish trade restrictions caused frustration among the Buenos Aires traders, as the Spanish Crown required all goods for Europe to pass through Lima in Peru for taxation. This policy led to increased smuggling and discontent, prompting King Charles III of Spain to relax these rules eventually.
Recognition of Buenos Aires as a free port city was a significant development, as it allowed goods to be shipped directly from there without passing through Lima.
Buenos Aires officially became the capital of Argentina after the country gained independence from Spain on July 9, 1816. Although Buenos Aires did not officially become the capital until the Argentine Constitution was ratified on May 1, 1853.
This was a crucial step in the city's growth and development, and it led to Buenos Aires becoming the economic and political center of Argentina.
Features of Buenos Aires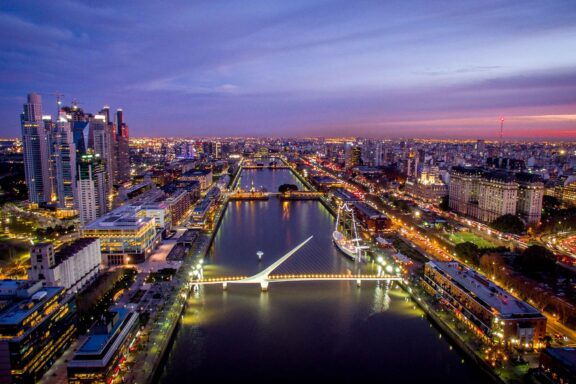 Geography and Climate
Buenos Aires had a population of 16,2 million by 2021. The surface area is 203 km² square kilometers and the weather is warm and temperate. The average annual temperature is 17.3 °C | 63.2 °F degrees.
Furthermore, the warmest month is around 25 degrees in January, the coldest month is in June with an average of 10.5 °C | 50.9 °F. Even in winter, the temperature rarely drops below zero and snow is very rare.
Buenos Aires experiences a humid subtropical climate (Cfa according to the Köppen climate classification), with four distinct seasons. However, the temperatures are relatively mild throughout the year, compared to other cities with this type of climate.
Summer (December to March): Summers are hot and humid, with average high temperatures around 28–30 degrees Celsius (82-86 degrees Fahrenheit). Heatwaves can push temperatures above 35 degrees Celsius (95 degrees Fahrenheit), but thunderstorms usually follow them.
Autumn (March to June): Autumn in Buenos Aires is mild, with regular rainfall. Average temperatures range from 10 to 20 degrees Celsius (50-68 degrees Fahrenheit).
Winter (June to September): Winters are cool with average temperatures ranging from 8 to 16 degrees Celsius (46-61 degrees Fahrenheit). Although snow is extremely rare in Buenos Aires, the city does experience cold fronts from the south, which can cause temperatures to drop.
Spring (September to December): Spring weather can be variable, with temperatures ranging from 13 to 24 degrees Celsius (55-75 degrees Fahrenheit). This season also sees regular rainfall.
It's worth mentioning that Buenos Aires, like other coastal cities, can experience high humidity levels, which can make the perceived temperature feel hotter or colder than it actually is. Rainfall throughout the year is evenly distributed, but the summer months are slightly wetter.
Population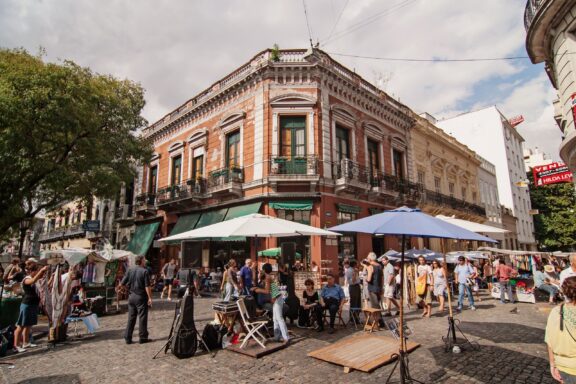 The population of Buenos Aires, Argentina, was estimated to be around 3 million people within the city limits. However, the population of the Greater Buenos Aires metropolitan area, which includes the city and its surrounding suburbs, is much larger.
The metropolitan area is one of the most populous in South America, with estimates ranging from 13 to 15 million people.
Economy
Despite occasional economic troubles, Argentina, particularly Buenos Aires, holds a universally positive reputation. Renowned as a captivating city, Buenos Aires exudes an air of culture and art, akin to a living museum. Perhaps most notably, it has earned the moniker of the "Paris of South America."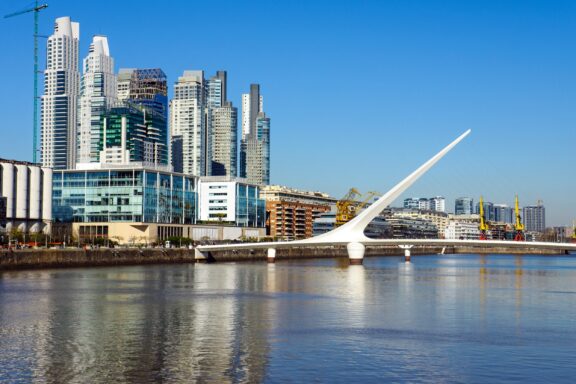 Buenos Aires plays a crucial role in the country's economy. It is a vibrant commerce, finance, industrial production, and trade hub.
Services Sector: The services sector dominates Buenos Aires's economy, and this is a common trend for many global cities. This includes financial services, real estate, tourism, education, and various professional services like law, medicine, engineering, and design. Buenos Aires is the economic center of Argentina, housing many national banks, insurance companies, and the Buenos Aires Stock Exchange.
Industry: The city and its suburbs also have a significant industrial sector. It includes food processing, automobile manufacturing, textiles, chemicals, paper, leather, and clothes production. The port of Buenos Aires, one of the largest in South America, also plays a critical role in the city's economy, facilitating the country's foreign trade.
Tourism: Buenos Aires is also one of the most visited cities in South America. Its cultural richness includes historical sites, beautiful architecture, tango music and dance, numerous theatres, and gastronomy. Tourists from all over the world are attracted to Buenos Aires, boosting its local economy.
Media and Entertainment: Buenos Aires is a vital hub for culture in Latin America, housing numerous film and TV studios, advertising agencies, and fashion houses, making it a key player in the global media and entertainment industry. Buenos Aires also offers a vibrant nightlife with numerous restaurants, bars, and nightclubs.
Technology and Innovation: Buenos Aires is an emerging hub for technology and innovation in Latin America. It's home to a growing number of tech companies and startups. The city government has actively encouraged the development of this sector through various initiatives and the creation of technological districts.
However, it's important to note that the economy in Buenos Aires has faced some challenges over the years, including inflation and economic instability, which have also affected Buenos Aires. Despite these issues, Buenos Aires remains a vital and dynamic economic center.
Important Places to See in Buenos Aires
Buenos Aires is a city that lives 24 hours a day. You will feel it from the very first day of your trip. People are happy, they like to have fun, they live life alive. You will get to Buenos Aires, Latin culture, history, art, food, nightlife, neighborhoods, long and colorful streets.
1. Recoleta Cemetery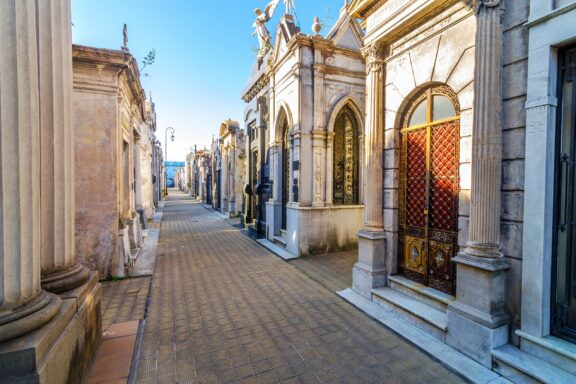 La Recoleta Cemetery is one of the most famous tourist attractions in Buenos Aires, known for its beautiful monuments and mausoleums decorated with statues in various architectural styles. It opened in 1822 and has since become the final resting place for many of Argentina's most significant figures.
Here are a few key highlights of the cemetery:
Eva Perón's Grave: Perhaps the most visited grave in the entire cemetery, it belongs to Eva Perón (Evita), the former First Lady of Argentina who championed labor rights and women's suffrage. Despite her controversial political career, she remains a beloved figure in Argentina.
Elaborate Mausoleums: The cemetery is home to grand mausoleums belonging to wealthy families in Buenos Aires. They are often architectural masterpieces featuring Gothic, Art Deco, Art Nouveau, Baroque, and Neo-Classic styles.
Famous Figures: Apart from Eva Perón, several other notable Argentinians are buried here, including presidents, Nobel laureates, writers, and other significant figures.
Statues and Art: Many tombs are decorated with intricate sculptures and beautiful art, making the cemetery look like an open-air museum.
Cats of Recoleta: The cemetery is known for the many cats living among the mausoleums. Volunteers feed and care for them, and they have become a distinctive feature of the place.
Visiting La Recoleta Cemetery provides an exciting perspective into Argentina's history, culture, and architecture. It's a place of tranquility, contemplation, and beauty amidst the bustling city of Buenos Aires. The cemetery offers guided tours, which can be beneficial to understand the historical significance and stories behind the gravesites.
2. Palacio Barolo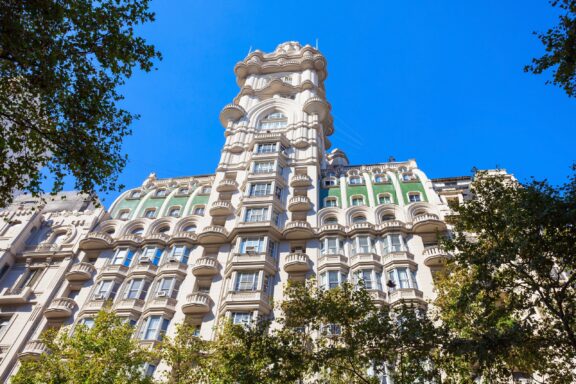 The Palacio Barolo is another fascinating attraction in Buenos Aires that visitors should take notice of. This unique building is a National Historic Monument and a shining example of early 20th-century architecture inspired by Dante's Divine Comedy.
Here are some highlights of Palacio Barolo:
Architectural Design: Palacio Barolo was designed by Italian architect Mario Palanti and was completed in 1923. The building's design is based on the cosmology of Dante's Divine Comedy, with different levels representing Hell, Purgatory, and Heaven. The 22-floor building was once the tallest in South America.
Symbolic Elements: The building contains symbols and references to the Divine Comedy. The lighthouse at the top symbolizes the nine angelic hierarchies, and its beam of light can be seen from Montevideo, Uruguay, on a clear day. The number nine, a recurring motif, symbolizes the nine circles of hell and the nine celestial spheres.
Incredible Views: Visiting the lighthouse offers one of the best panoramic views of Buenos Aires. Visitors can see the city stretching out in all directions, with notable sights like the Congress building and the River Plate visible on clear days.
Tours: Guided tours are available, where knowledgeable guides explain the architecture's symbolism and share the building's history. Night tours are trendy, including a trip to the lighthouse to enjoy the city's night skyline.
Events and Activities: The building also hosts various events, including wine tastings, tango shows, and concerts. It's home to offices, a Spanish school, and a cultural center that hosts different classes and workshops.
Visiting the Palacio Barolo is an architectural journey and an immersion into a literary masterpiece. It's a testament to the cultural richness and architectural grandeur that Buenos Aires offers to its residents and visitors.
3. Parque 3 de febrero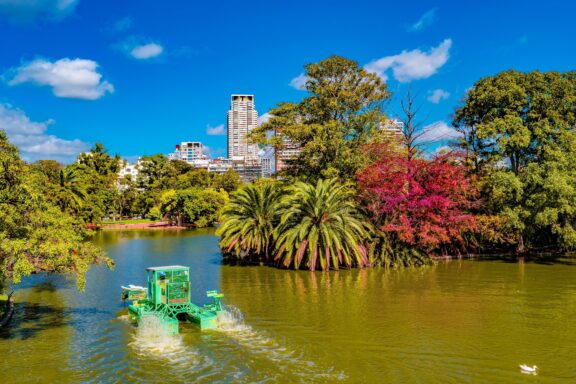 Parque 3 de Febrero, also known as Bosques de Palermo (Palermo Woods), is one of the largest and most popular green spaces in Buenos Aires. This urban park is named in honor of the day the Argentine Constitution was first ratified in 1852.
Here's what you can expect when visiting Parque 3 de Febrero:
Rose Garden (El Rosedal): The Rose Garden is arguably the park's highlight, with more than 18,000 rose bushes in bloom. The garden features a romantic style, with arched bridges, pergolas, and a beautiful white patio surrounded by fountains and sculptures.
Lakes: The park features several artificial lakes where you can rent paddle boats or sit by the water and enjoy the tranquil environment.
Planetarium Galileo Galilei: This modern planetarium is another highlight, featuring astronomy shows and exhibits. The building itself, resembling a spaceship, is a striking feature of the park.
Japanese Garden: Operated by the Argentine-Japanese Cultural Foundation, this garden offers an authentic experience with its tea house, Japanese plants, Koi ponds, and bridges.
Buenos Aires Zoo: Located near the park, the zoo is a good option for visiting with children.
Monuments and sculptures: The park is dotted with various monuments and statues, including a monument to the four regions of Argentina and several poet's corners.
Sports Facilities: The park offers several sports facilities, including running and biking paths, a golf course, and tennis courts.
Parque 3 de Febrero is a lovely place to have a picnic, run, ride a bike, or relax and enjoy the natural surroundings in the middle of the city. The park is easily accessible and offers attractions for all age groups.