When you buy through links on this page, we may earn an affiliate commission. Commission payments do not affect the evaluations of the products.
No matter if you love traveling the world or not, it's a great idea to have a visual representation of the world in your home.
Incorporating a world map into your decor could be something to give you inspiration for future trips. If this is something you may need, why not consider one of the best wooden world maps?
Here you can find a range of awesome wooden world maps to display proudly in your home.
Some have detailed geographical features and can help you reminisce on fantastic adventures you have had.
Others have minimalistic designs and can add an element of style to your home. All of them are made from premium wood and are often longer-lasting than a simple poster or canvas.
In this guide, we have found 5 great wooden world maps available in 2023 for your consideration – enjoy!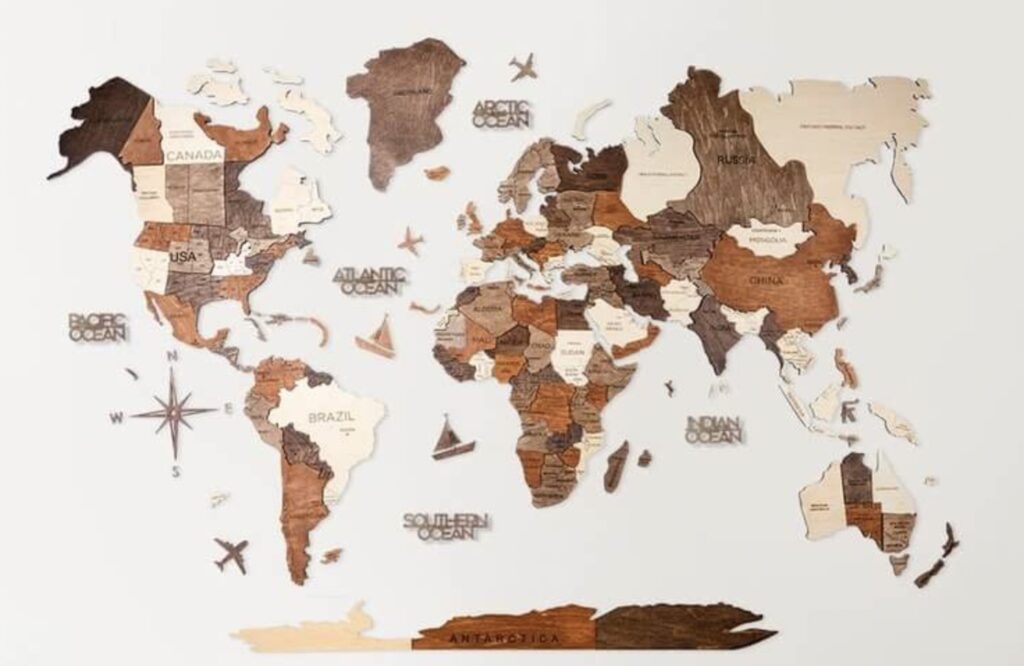 Our top pick for the best wooden world maps is a stunning product from Enjoy The Wood. This is a company that creates a variety of high-quality wooden products. Their 3D Wooden World Map is simply beautiful and an ingenious product.
The wooden sections are split into different pieces and there is no background. You simply stick the different countries, islands, and continents onto your wall to emulate a traditional world map.
The wood is available in an array of materials – oak, dark walnut, terra, and light. There is also a multicolored option that uses a combination of the above woods. The craftsmanship and quality of this product are amazing, and it looks simply fantastic. Together with the countries, there is also a range of words and objects such as planes, boats, and a traditional compass.
You can get the map in four different sizes, and there are also different levels of detail. For example, the prime version includes country names and borders, country capitals, and Antarctica.
2. MapofX – Wooden World Map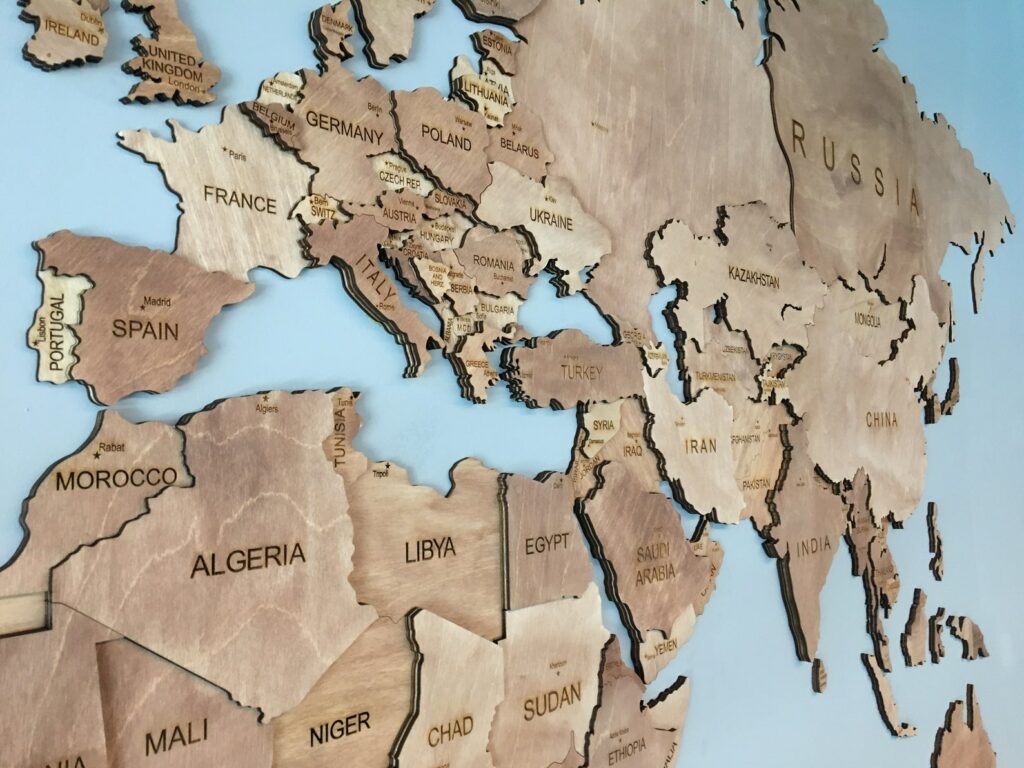 MapofX has created a similar wooden world map that has some great customization options. Their Wooden World Map is available in five different size options – 110x60cm, 150×80cm, 190×95cm, 250×135cm, and 310×165cm.
Also, each size variant is available in three levels of detail – no country, country name, or country and state name. The country and state offer the greatest detail. For example, this version shows the country name of Australia, but also individual states like South Australia and the Northern Territory.
In terms of quality, this wooden world map is handmade and made from 100% birch plywood. You can select the primary color as either gray or brown. Furthermore, the different countries have varying colors, which add to the style and beauty of this map.
3. WoodenCraftsBG – Wood World Map Wall Art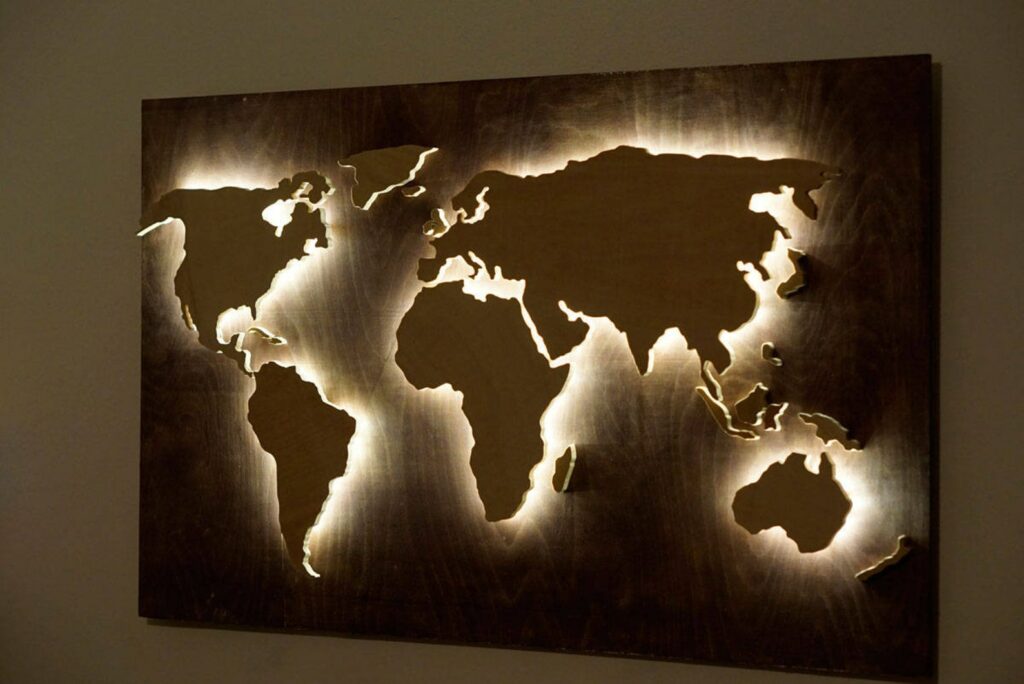 Next, we look at something slightly different. The Wood World Map Wall Art from WoodenCraftsBG is a beautiful piece that provides a simple world map erected on a gorgeous wooden background.
Related: Best World Map Wall Art
The background is a single piece of dark wood plywood. This contrasts perfectly with the lighter plywood used for the continents. The continents are attached to the dark background and are slightly raised – this gives more depth to the product.
We also love that this wooden world map has LED lighting. Underneath each of the separate sections, there is an LED light. This looks fantastic at night and really makes the different sections stand out. You can buy this LED wooden world map in two different sizes – 62x100cm, or 75×125cm. It also comes with a switch for the LED lights and a plug to connect to a power supply.
4. GreenBorsch – 3D Wood World Map Wall Decor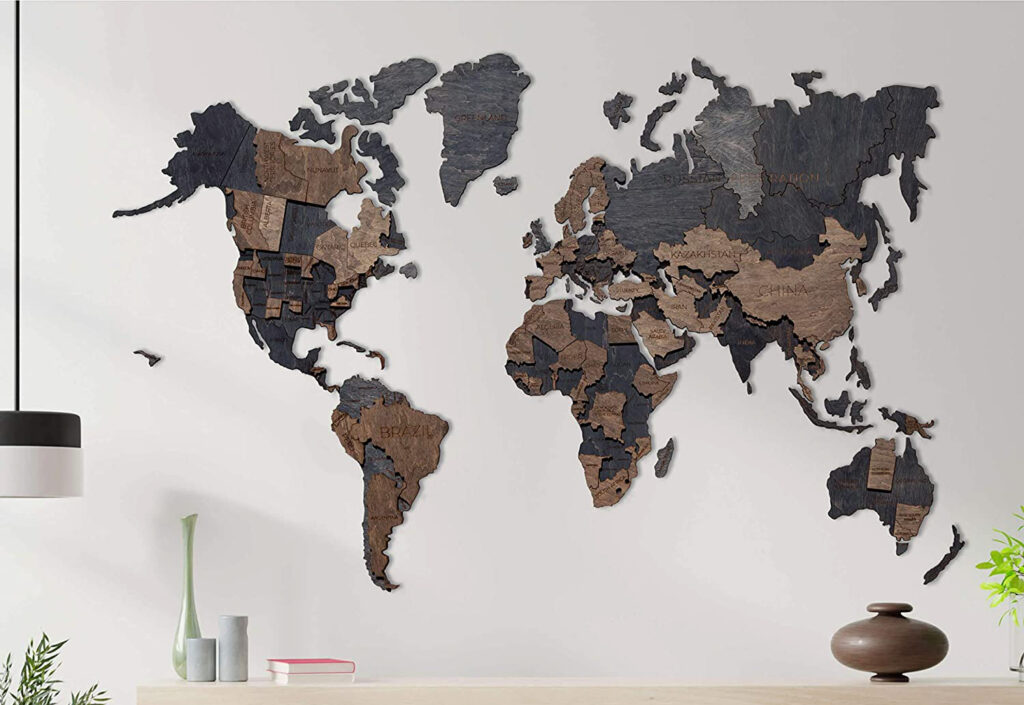 Our last pick for the best wooden world maps is from GreenBorsch. Their 3D Wood World Map Wall Decor offers a slightly different range of colors to the other maps on this list. Where most of the maps have lighter wooden colors, this map uses some stunning gray wood colors.
The type of wood used, and the colors, give this map a rustic appeal. It will look incredibly stylish when mounted on a light color wall.
Included in the package you also get some cool accessories including a home pin, a heart pin, a star pin, and three location pins. We also like that there are two versions of this wooden world map available. Firstly, you can buy a clear version with no engraving or writing. Secondly, you can buy the extended version that has country names, borders, and state names for the USA, Canada, and Australia.
5. TheDhuka – XL Wood World Map
Note: Currently Unavailable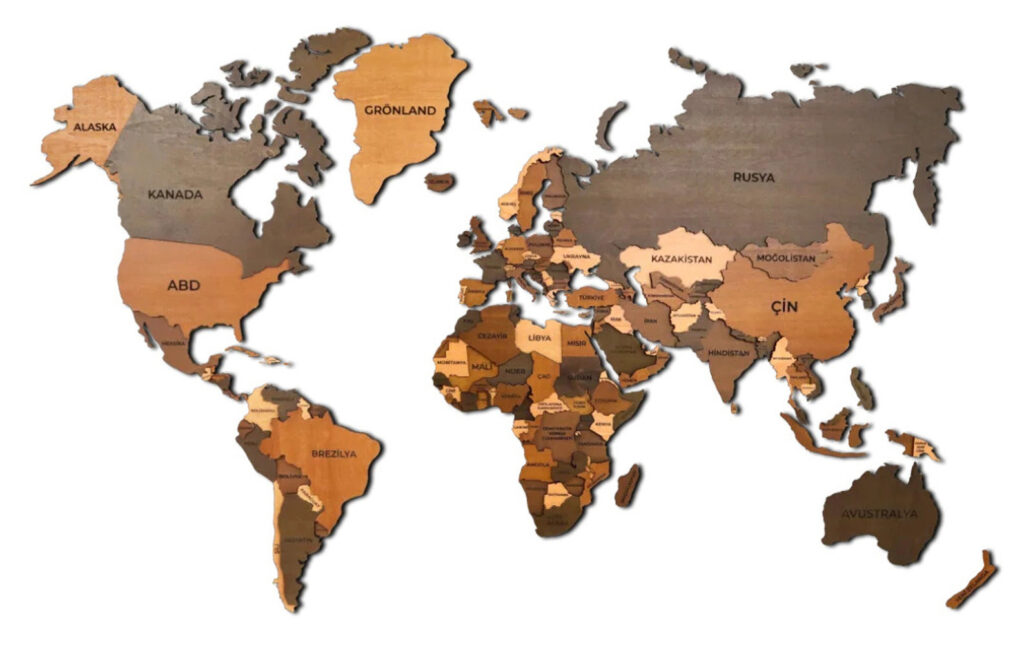 To erect the map, you get high bonding double-sided tape, and a plan showing the arrangement of the different pieces.
Our next pick is the XL Wood World Map from TheDhuka. This is another premium product and is handmade from poplar wood. The different wooden pieces are made from four different colors and include three layers of depth. This gives the map an improved 3D look and makes it pop more.
The variation of color in the different countries also makes them easy to identify and makes the borders more distinguishable.
We also like that you can choose from an array of options for the schema and naming. For example, you can buy a simple world map that doesn't have any country names. Alternatively, you can also buy an advanced version that contains country names and their capital city names. The XL version of this wooden world map measures 55.1 inches (1.4 m) ×94.4 inches (2.4 m).
The Best Wooden World Maps Can Add a Dash of Style and Intrigue to Your Home
Instead of having a simple world map poster or canvas print, why not pick one of the best wooden world maps, like the one from Enjoy the Wood, instead?
A wooden world map can look incredibly stylish. It can also add intrigue and wonder to your home. It will stand out as a centerpiece or decoration and will be a great talking point.
As you can see, there are many wooden world maps available. Some are almost like pieces of art, whereas others offer more geographical detail.
Whatever style you like, we hope you have found something of interest!