When you buy through links on this page, we may earn an affiliate commission. Commission payments do not affect the evaluations of the products.
Transforming rooms with impressive world map wall art can become educational showpieces that complement the space and serve as conversation starters.
Those wanting to step above a standard paper map tacked to the wall, have an array of choices from top-rated manufacturers and retailers.
Take a look at these 12 best world map wall art that highlight the vastness of the world with class and style.
1. 3D LED Wooden (Best Fancy World Map Wall Art)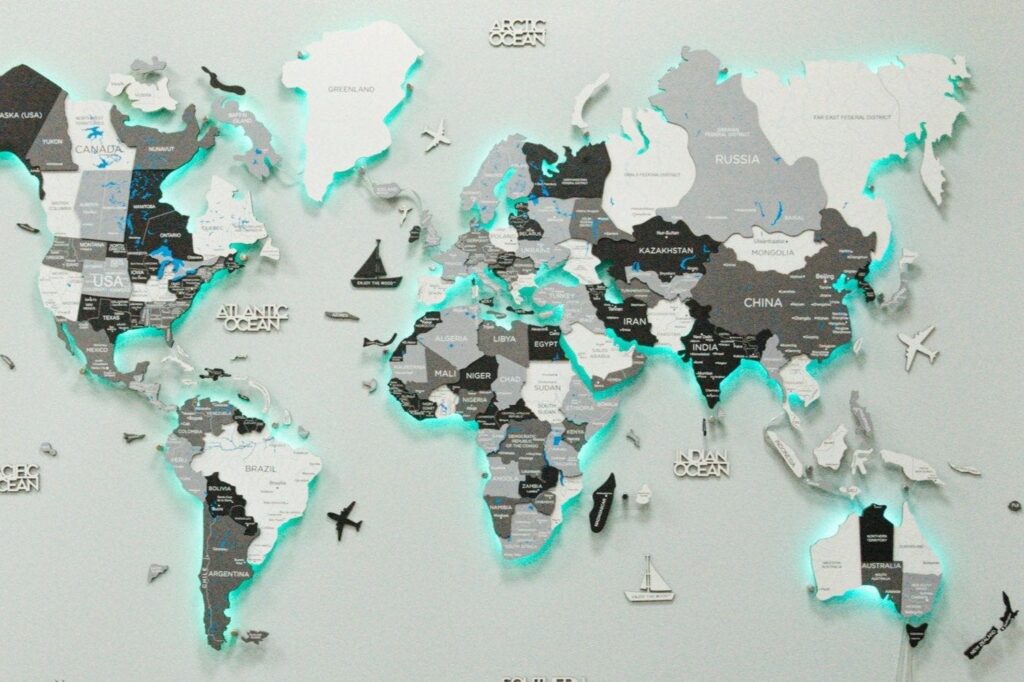 This gorgeous 3-D LED Wooden World Map is simply stunning and is offered with or without lighting. Handcrafted in the Ukraine, each birch plywood piece is detailed with precise laser engravings representing the landscapes. Each nation, state, and continent can be labeled in English or in another one of your choice with customization options.
This 3-D world map sits off the wall between 22-20 mm, which allows lights to glow from behind the map and can be operated with an included remote control.
The map comes with 3-D accent pieces including ocean names, wooden planes, boats, and a compass. With the basic non-lit world map prices starting at $1,689 and lighted models starting at $2,598, this fancy piece is an investment that has the potential to grow in value over the years.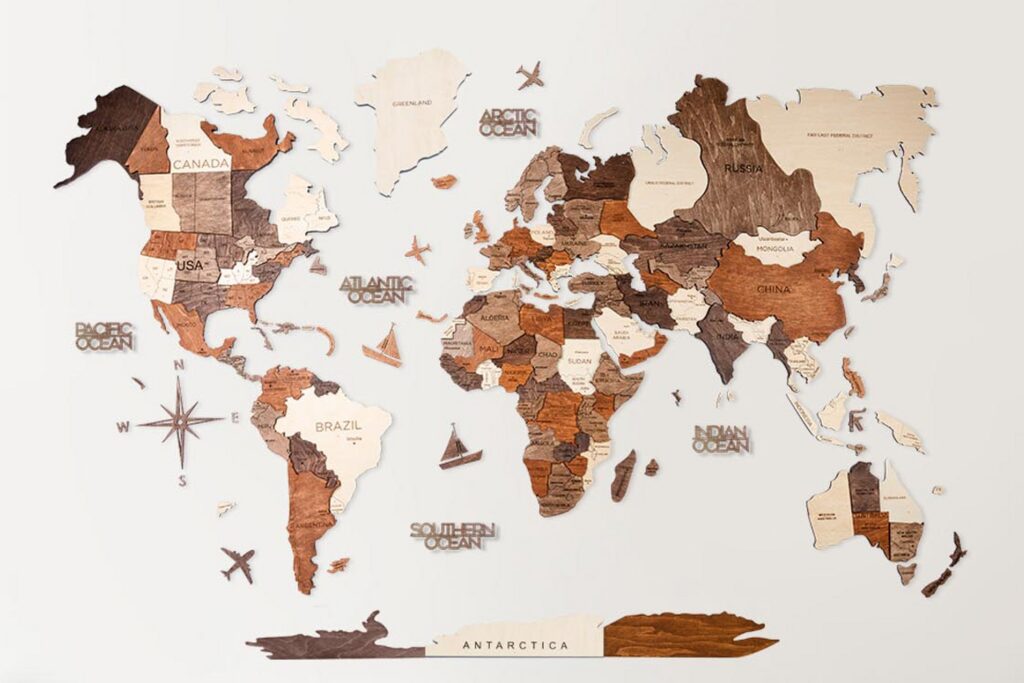 This 3-D Wooden Multicolor World Map is handcrafted with solid birch plywood materials ranging between 6 and 12 mm and is available in four different sizes, which makes it suitable for both small and oversized wall spaces.
Buyers looking to transform a bare room with a classic centerpiece, will appreciate this affordable option with prices ranging between $599 and $1199 depending on the size purchased.
Related: Best Wooden World Maps
Each area is labeled with flawless engravings, and this world map decor comes with pieces including ocean names, boats & compass, and wooden planes. Buyers can choose from several languages with English as the default option. It comes ready to hang with ease with double-sided sticky tape, corner stencils and the company offers a lifetime warranty.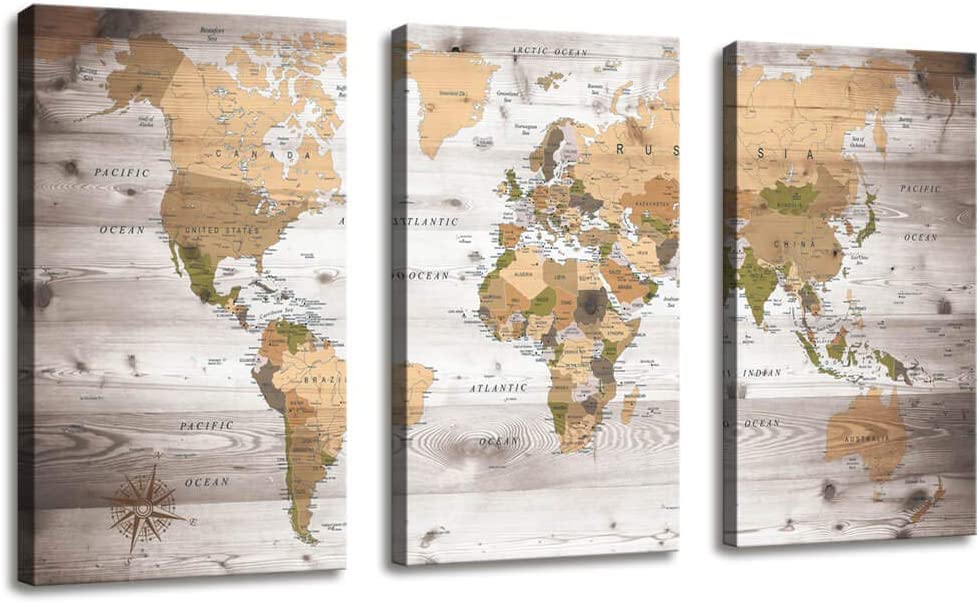 Go big with a nautical themed 3-panel canvas world map crafted by the artisans at Moyedecor Art. This world map boasts giclee HD pictures on large canvas sized 40 cm x 70 cm x 3 pieces for an overall size of 48″ x 28" inches.
Related: Best Canvas World Map
The whitewashed birchwood imprinting gives this map an aged look that works with most any decor. This artwork has a classic look and is ideal for any space such as offices, classrooms, business lobbies or anywhere a touch of neutral hues is appreciated.
4. World Map Art – Best Simple Framed World Map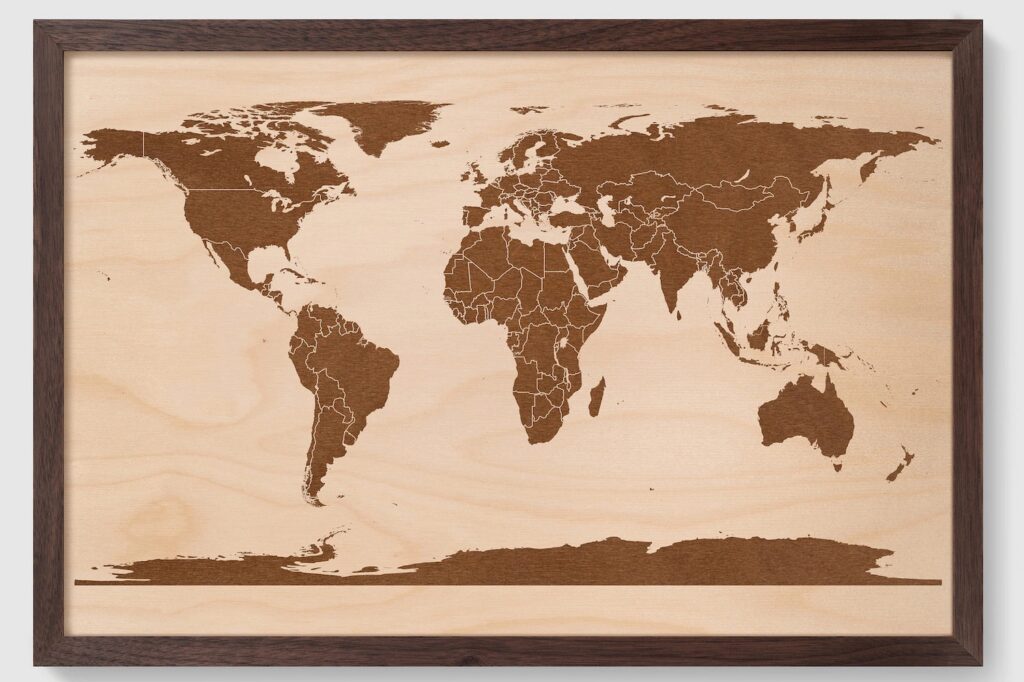 This Etched Atlas World Map production takes top ranks for those looking for a simple framed world map option. This global landscape is engraved on a half-inch Baltic Birch backboard and the engraving is crisp, sharp and accurate. This makes for a timeless piece of wall art and it is available in framed or unframed versions with personalization options of names, location markers and dates being offered at a small additional charge.
The price point for this map starts at $129 and increases with larger sizes, so it's a good gift option for someone special in your life who shares a passion for history and travel.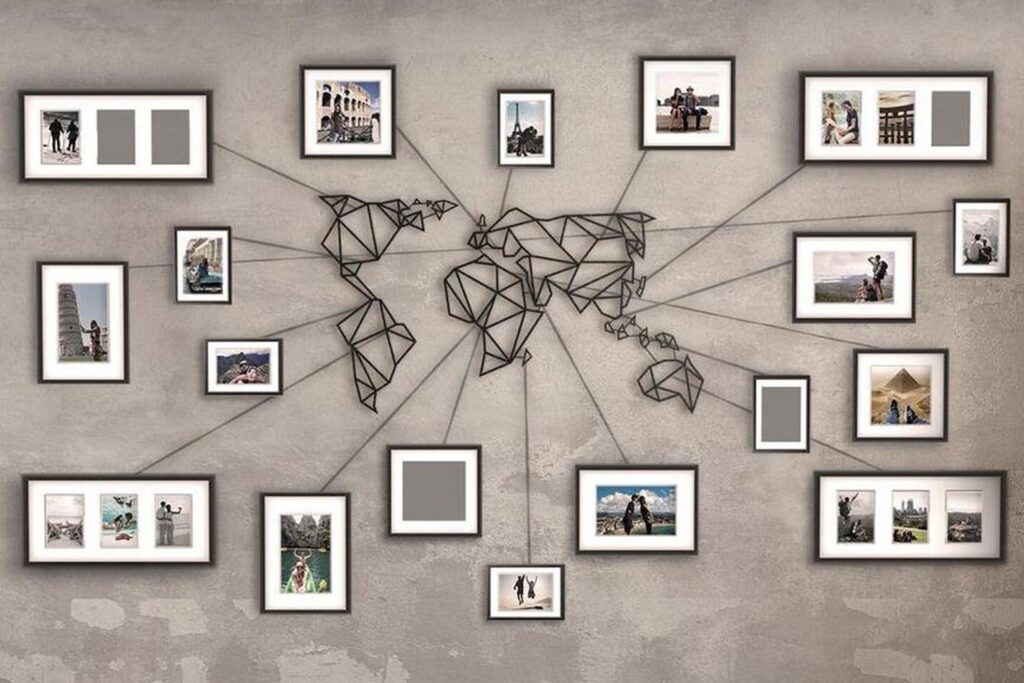 Those interested in metal work and the world will love this handmade Dukha Metal World Map. Each continent comprises an individual piece that can be connected via string or wire to personalized photos that commemorate travel experiences or goals for explorations in the future.
Related: Best Metal World Maps
This affordable world map artwork starts at $109, can be customized and is a great choice for personal decor or as a housewarming or anniversary gift for friends and family.
This gorgeous large push pin world map is an excellent investment for buyers who want to showcase their world travels with push pins as well as highlight places they aspire to head to in the future.
Backed with a 3/16-inch foam core board, this handmade world map is laden with pigment ink in a classic style upon thick matte paper. Sizes available are 24×36″ or 24×16″, so it will fit on even smaller walls or larger ones.
Related: Best Push Pin World Map
This map comes unframed and there are 50 multi-colored push pins included. Shipping is fast, with duty fees being paid for by the shipper for shipments to the US and Canada.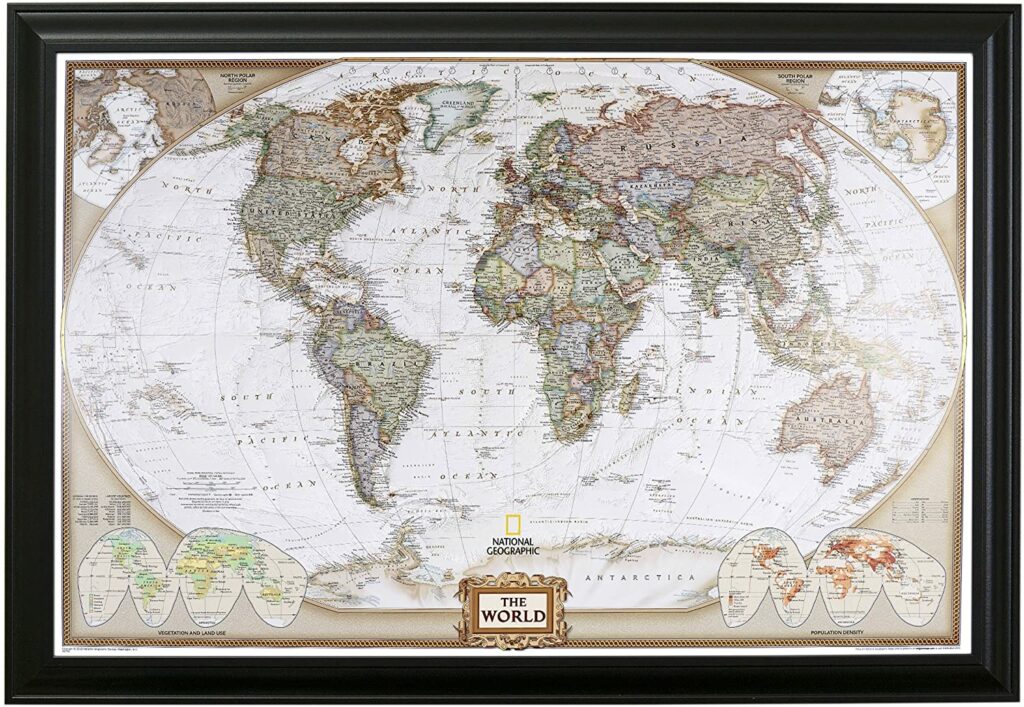 Track your travels around the world with this highly detailed Executive World Pin Map created by the experts at National Geographic. This sophisticated conversation starter boasts an antique style color palette that is finished with a rich shaded relief that allows it to complement almost any decor.
There are eight two-inch framing options included with your investment, making the map design 27.5 inches (0.7 m) x 39.5 inches (ca. 1 m) overall.
The smooth thick paper surface is backed by a sturdy foam core board and comes with 100 push pins in black, white, and red to establish previous travels and past ones with ease.
This executive world map wall decor comes with a wire holder and is ready to hang right out of the box with an included nail and hanger hook. It's the ultimate gift for weddings, retirements, or holiday gifts for any world traveler in your life!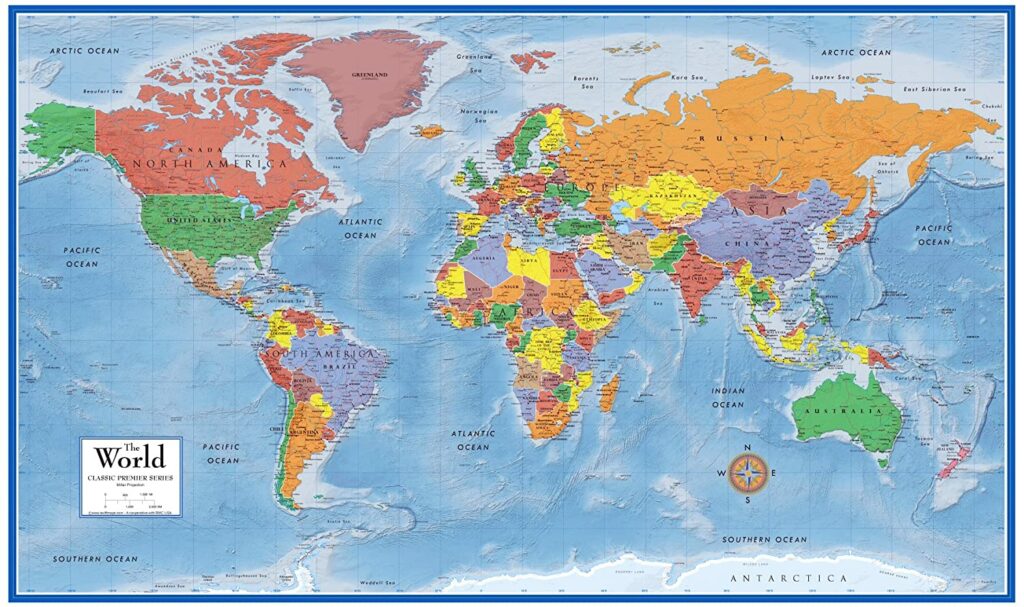 Taking the top spot for best laminated map poster is this 24 x 36 inch World Classic Premier Wall Map Poster from Swiftmaps. This colorful map uses vibrant hues and shaded visual terrain relief to display mountains and oceans.
Related: Best World Map Posters
The resilient and thick UV coated lamination helps it retain its aesthetic appeal and is perfect for educational efforts and use with dry erase markers. And at the $20 range, this world map artwork is feasible for most budgets for gifting or personal enjoyment in any space.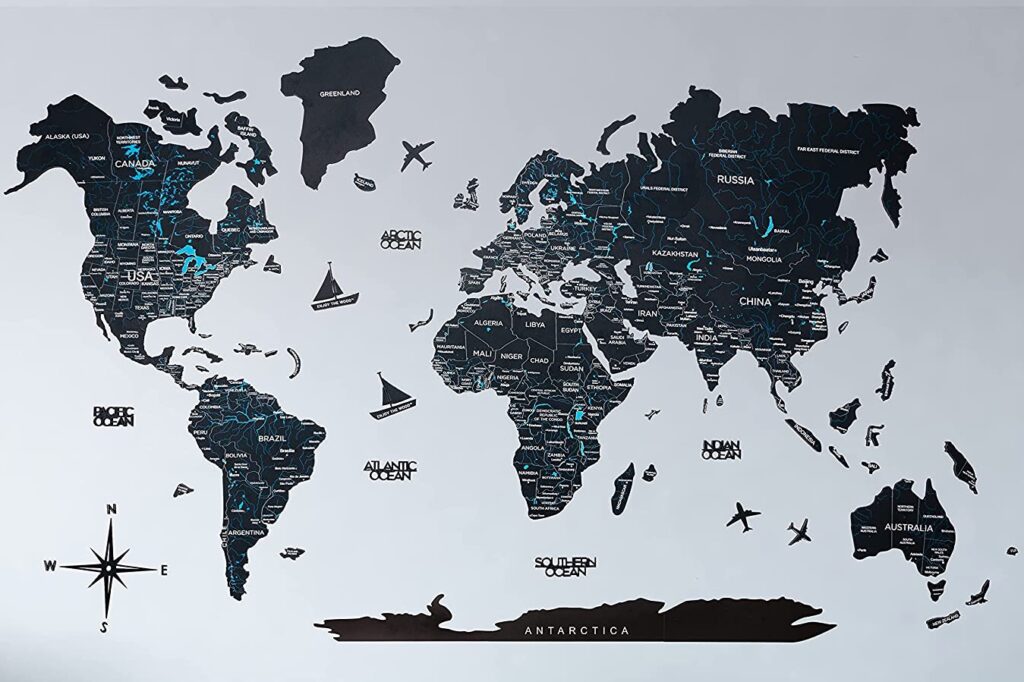 This impressive 5-6 mm thick fiberboard cork world map is available in natural cork hues or black to ensure a good match for current decorative themes in place. Sizes range from medium at 100 – 60 cm and up to XXL sizing of 300 – 175 cm, which is a good choice for an entire wall world map installation.
Handcrafted in the Ukraine, the manufacturer guarantees shipping and offers a lifetime warranty with this product, which happens to be one of Enjoy the Woods best selling world map options. The default language is English, but buyers have several customizable selections when ordering their cork world map.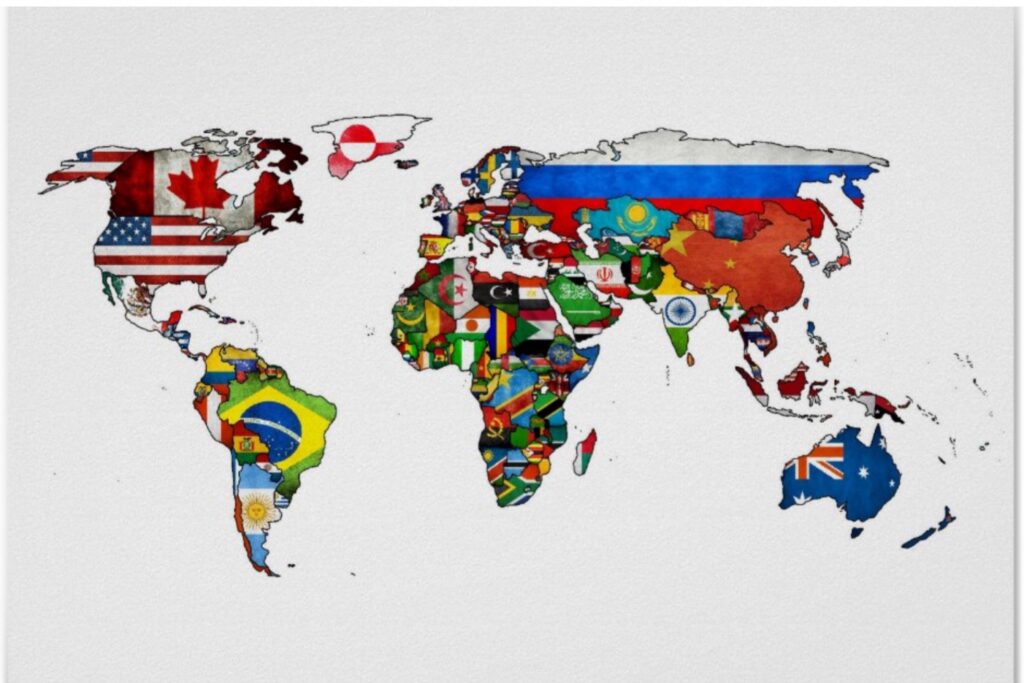 This gallery quality Giclee print world flag map poster is a vibrant piece of art melded with photo reproduction. Flags literally represent each area and outline the specific regions of the world that makes this piece a great choice for classrooms, offices and other places where the curious visit.
Adornments of the world are placed upon a 7.5 point thick poster paper and is available in custom sizes up to 60 inches (1.52 m) in width and up to 40 inches (ca. 1 m) in height.
This poster is fully colored with vibrant high-resolution printing with a smooth surface of pigment-based inks that preserve details optimally. There are several options available on the company's website, so let your style be at the forefront of your display with customization.
Their customized options allow you to add dates to specific locations to memorialize visits, special occasions or to note future travel dates that keep you mindful of those long term goals to see the world!
11. Artistic Water Color World Maps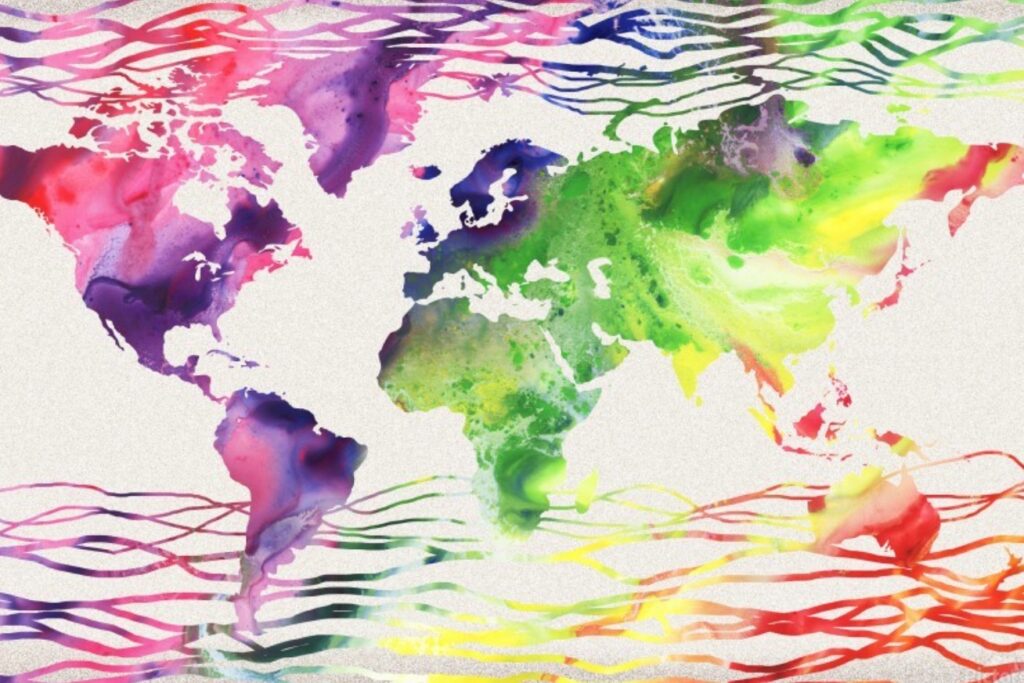 You can pick your print medium with ease at Pictorem with a huge collection of water color world maps that are also available in prints or actually hand-painted versions. There are also drawings, abstracts, illustrations, and graffiti maps that range from vintage styles to modern colorful patterns and even black and white selections.
If water color isn't your preference, be sure to check out their collection of oil and old masters-style paintings and posters. This provider is known for fast-shipping, and for quickly honoring any requests for returns or exchanges in compliance with their lifetime warranty on all maps they sell.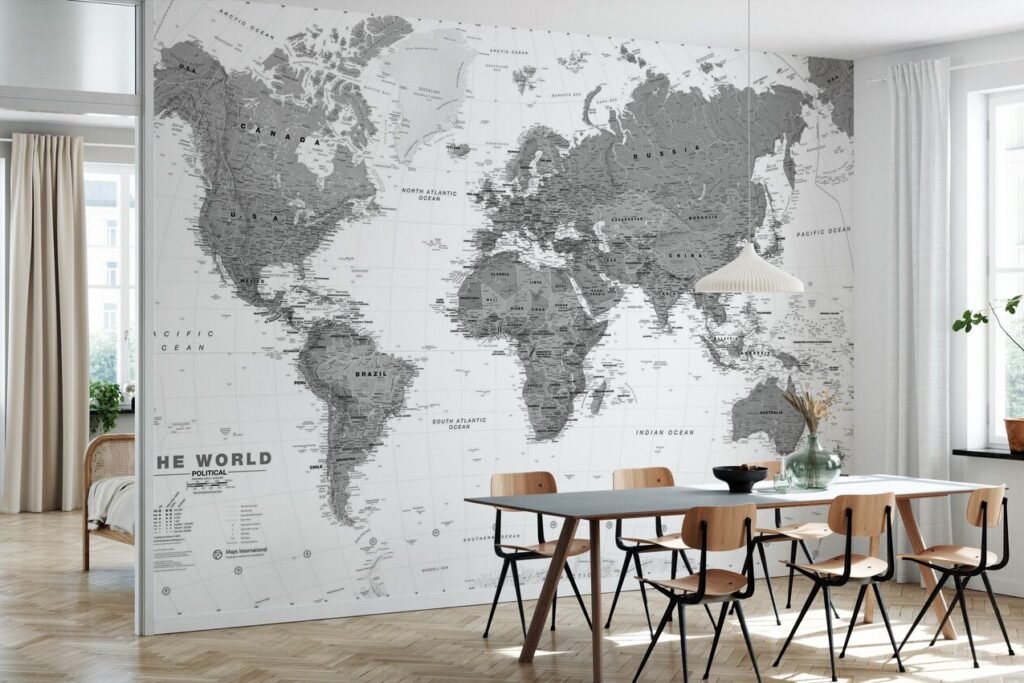 Go for the gusto by transforming entire walls into representations of the world with map wall paper murals from Photowall. These interesting installations incite excitement with a larger than life image of all that the globe has to offer concerning travel destinations. Anyone looking at them can easily feel as though they are a part of the bigger picture.
There are options available in full color, neutrals and muted tones to establish a specific tone in any space.
Have a look at the company's giant selection of world map wall paper and flags from around the world to enjoy a greater freedom when it comes to style in various rooms to set the tone you desire.
Looking for the Best World Map Wall Art?
Any of these 12 gorgeous maps of the world can complement any space or room to showcase past and anticipated travels. From wall paper and large individual piece installations to singular posters and artwork with 3-D features and LED lighting, you will find the best options among this comprehensive list from a variety of purveyors and a wide range of pricing levels.