When you buy through links on this page, we may earn an affiliate commission. Commission payments do not affect the evaluations of the products.
World globes have been a symbol of exploration, education, and sophistication for centuries. For adults, these decorative and functional pieces can spark curiosity, ignite wanderlust, or simply serve as a reminder of the vastness of our beautiful planet. In the age of digital maps and satellite imagery, a world globe provides a tangible, aesthetically pleasing way to explore the geography of Earth.
While globes can be both educational tools and captivating works of art, their craftsmanship varies greatly. Materials, size, and attention to detail all play a role in determining the value and appeal of a particular globe. Some people might prefer a classic globe made of traditional materials like wood or metal, while others might be drawn to a modern, sleek design made of durable plastic.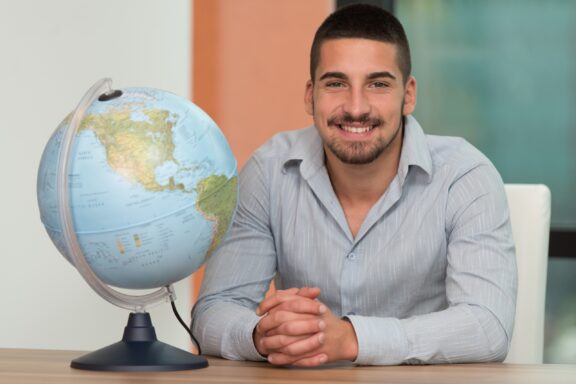 When selecting the best world globe for adults, the critical factors to consider include size, construction, cartographic accuracy, and design. A globe that is too small may be difficult to read, while one that is too large may be unwieldy or take up excessive space. Some globes also incorporate additional features like illumination or incorporate topographic details, adding more value and fascination to the piece.
In the following section, we will be presenting our top picks for the best world globes for adults, taking into consideration the aforementioned factors.
We've carefully analyzed each globe to ensure they would make an excellent addition to your home or office, sparking interesting conversations and satisfying your inner explorer.
Top Desktop Globes for Adults
We have compiled a list of the best world globes for adults, perfect for those fascinated by geography and eager to explore the world from the comfort of their homes.
8 Best Value-for-Money Desk Globes for Adults Available Online:
Price on Amazon: $59.99
Diameter: 12-inch
Replogle Aragon 12″ Desktop World Globe, Raised Relief, Up-to-Date Cartography, Made in USA (Blue Ocean) (Images from Amazon)
We believe this globe is an excellent purchase for both learning and decorative purposes, with its up-to-date cartography and attractive design.
Pros
Up-to-date cartography recognized by the US State Department
Made in the US
Raised relief feature for better understanding of topography
Cons
Requires additional purchase for smart pen map features
May be too large for some spaces
Needs careful handling due to delicate details
The Replogle Aragon 12″ Desktop World Globe offers a classic yet modern take on world globes, with up-to-date cartography recognized by the US State Department.
This highly detailed globe will keep you engaged in learning more about the world, and its raised relief feature allows for a tactile exploration of mountain ranges, giving you a better understanding of the world's topography.
Made in the USA, this globe boasts quality construction and a beautiful design. The square 7-3/4 inch two-layer base features a black and cherry grain foil finish on MDF, ensuring it will last for years to come. The current world map with a blue ocean displays major shipping routes and exploration ships, adding a touch of history to your learning experience.
One thing to keep in mind is that the Intelli-enabled map feature on this globe requires an additional purchase of the mart Intelliglobe pen/book kits, which allows users to access 30,000 more facts about the world.
Additionally, the 12 inch diameter may be too large for small spaces, and the delicate cartography details demand careful handling. Nonetheless, we think the Replogle Aragon 12″ Desktop World Globe is a worthwhile investment for anyone looking to expand their knowledge of the world while adding a decorative touch to their space.
Price on Amazon: $44.99
Diameter: 12-inch
This 12-inch Replogle globe offers an enriching experience for geography enthusiasts and complements any office or home decor.
Pros
Detailed map with over 3,500 place names, raised relief, and explorer routes
Globe ball made of 100% recycled paper fibers
Time dial at the North pole for global time comparisons
Cons
Base may feel less substantial
No internal illumination
Limited to desktop usage
The Replogle 12″ Antique World Classic Globe comes with a beautifully designed map that includes more than 3,500 place names, showing mountain peaks, explorer's ships, and shipping routes.
The raised relief adds a tactile element that highlights the globe's topography, allowing users to feel the contours of the world's landscapes.
Constructed from 100% recycled paper fibers, this globe is an eco-friendly addition to any educational or decorative setup.
The square walnut finished base and die-cast semi-meridian provide stability, ensuring that the globe stays in place during use. The time dial at the North pole allows for easy comparison of time zones around the world, making this globe a valuable resource for understanding global time differences.
This globe offers an excellent balance between price and quality, making it an ideal choice for those seeking an aesthetically pleasing and accurate representation of the world. The traditional design and antique appearance make it suitable for various settings, from home offices to living rooms.
Though the base may not feel as substantial as some users might prefer, the overall craftsmanship and timeless design make this Replogle globe a consistently popular and well-reviewed choice.
Price on Amazon: $62.33
Diameter: 12-inch
Discover the versatile and educational Advantus 12 Inch Desktop World Globe, perfect for anyone seeking both aesthetics and knowledge at a great value.
Pros
Visually attractive with bright contrasting colors
Shows natural coloration of the earth and geographical features
Raised topographical relief for better understanding of elevation
Cons
Some misspellings and outdated locations
Made from plastic and metal, not the most high-end materials
Larger size may not be suitable for smaller spaces
The Advantus 12″ Desktop World Globe combines the best of education and aesthetics, making it an excellent addition to any home, office, or classroom setting.
With its bright contrasting colors, this globe offers a visually appealing presentation of thousands of locations and geographical features.
One of the standout features of this globe is its raised topographical relief, which allows users to truly appreciate the changes in elevation of mountain ranges. This element provides an interactive learning experience, differentiating between various landscapes such as mountains, deserts, forests, and grasslands.
However, it's essential to mention that this product has some drawbacks. Some users have noted misspellings and outdated locations, which may impact its accuracy as an educational tool. Additionally, the globe is constructed using plastic and metal materials, which may not be of the highest quality compared to more premium options on the market.
Size-wise, the Advantus Desktop World Globe is relatively large, measuring 12"W x 15"D x 13"H. While this ensures that the globe's details are easily readable, it may not be the best fit for individuals with limited space.
In conclusion, the Advantus 12″ Inch" Desktop World Globe provides an engaging blend of education and creativity, with its visually attractive design and raised topographical relief.
While there are minor drawbacks concerning accuracy and material quality, this globe remains a valuable addition to any learning environment or workspace.
Price on Amazon: $39.99
Diameter: 10-inch
Exerz 8″ Antique Globe with a Metal Base – 360 All Direction World Globe Rotating Vintage Decorative – Diametre 8 inches (Images from Amazon)
This Exerz Antique Globe is an excellent choice for those looking to add a touch of vintage charm to their home or office while exploring the world's geography.
Pros
Beautiful antique design with wooden base
Rotates on a sturdy stand for easy exploration
Educational and fun for inquisitive minds
Cons
May require a magnifying glass for small details
Durability issues reported by some users
The Exerz 10″ Antique Globe with a Wood Base is not just an elegant addition to your home or office, but a functional and educational tool. With its vintage design and sturdy build, this globe encourages exploration and discovery of our vast world.
One of the strengths of this world globe is its rotating feature supported by a metal rack and a wooden base, adding elegance and stability. It allows for easy viewing and examination of different regions on Earth, making it a valuable learning tool for inquisitive learners.
However, it's worth noting that some users have reported issues with the durability of the globe, specifically the hinge part. Additionally, due to its intricate details, having a magnifying glass handy might be necessary for examining smaller countries and locations.
While this globe is a great pick for adults, it is also suitable for children over 13 years old. If you want to buy a globe which also younger children can use, you may want to see our guide on the best world globes for kids.
In conclusion, the Exerz 10″ Antique Globe is a visually appealing and functional tool for geography enthusiasts and those who simply love to have a classic touch to their space.
While there may be minor drawbacks such as durability and the need for a magnifying glass, its overall features and design make it well worth considering as an addition to your home or office.
Price on Amazon: $36.99
Diameter: 8-inch
Exerz 8″ World Globe Political Map – Educational Geographic Globe – Stainless Steel Arc and Base (Images from Amazon)
This Exerz 8″ World Globe is ideal for those who want an attractive, educational, and affordable globe for their home or office.
Pros
High-quality printing for clear and easy reading
Fun and educational for adults and children
Stylish metallic design with stainless steel arc and base
Cons
Print size may be hard to read for some people
Map may contain controversial naming conventions
The Exerz 8″ World Globe is not only a decorative piece, but it also provides valuable information on countries, political boundaries, capital cities, and major cities. The high-quality printing ensures that you can read the geographical sphere with ease.
This globe is not just for decoration; it also serves as a fun and educational tool for both children and adults.
In terms of design, the Exerz Globe features an eye-catching metallic look with a stainless steel arc and base. This makes it a perfect addition to your home or office, adding a modern touch to any space.
However, the print size may be challenging to read for some people, and the map may contain controversial naming conventions such as calling the Falkland Islands "Las Malvinas."
Overall, the Exerz 8″ World Globe offers excellent value for its price, featuring an attractive design and educational benefits for both children and adults.
Price on Amazon: $19.99
Diameter: 6-inch
TTKTK Mini Vintage World Globe Antique Decorative Desktop Globe Rotating Earth Geography Globe Wooden Base Educational Globe Wedding Gift with Magnifying Glass (Images from Amazon)
An excellent choice for anyone seeking an elegant and educational antique-styled world globe for their home or office.
Pros
Beautiful antique design with wooden base and metal rack
Educational and informative for children and adults alike
Perfect as a gift or as a decorative piece
Cons
Small size may not suit all preferences
Limited geographic detail due to the vintage styling
Some reported inaccuracies on the map
The Mini Vintage World Globe is an antique-looking globe that features a wooden base and a metal rack, making it a visually appealing addition to any room. Its vintage design, coupled with a distressed brown wooden styling, allows it to blend seamlessly with various home decor styles.
Not just a decorative piece, the globe is also educational, encouraging curious children and inquisitive adults to explore the world of science and geography. Made of high-impact polystyrene, this 6″ diameter globe stands 8.5″ tall, making it an ideal size for display on a desk or bookshelf.
However, due to its small size and vintage styling, the level of geographic detail on the globe may be limited. This might not suit the preferences of those who require more accurate or detailed information.
Additionally, some users have reported inaccuracies on the map, so it is advisable to cross-check against other sources for precise data.
In conclusion, the Mini Vintage World Globe is a beautiful and educational accessory that would make a great gift or a stylish addition to your home or office.
While its small size and limited geographic detail may not suit everyone, it still stands as a charming piece that adds a touch of vintage elegance to any space.
Price on Amazon: $99.99
Diameter: 12-inch
Waypoint Geographic Atlantic Illuminated Globe (Images from Amazon)
This beautifully designed globe is perfect for those seeking a stylish and educational addition to their home or office space.
Pros
Detailed and up-to-date information
Illuminated for easy viewing in low light
High-quality construction with elegant design
Cons
Some instances of missing or defective parts
Construction quality could be better for the price
Light bulb issues and unclear instructions
The Waypoint Geographic Atlantic II Illuminated Globe is an excellent reference material for adults, combining elegance and functionality. With its political landmass and ocean floor details, this decorative globe provides an engaging and informative experience.
Crafted with attention to detail, this 12″ globe displays ocean floor topography, multiple political boundaries, and named places. Its illuminated display makes it ideal for low-light conditions, serving as an educational tool for geography enthusiasts.
The Atlantic II Illuminated Globe features a gold-finished metal and numbered meridian, supported by a beautiful dark cherry finish wood base. This visually stunning piece, measuring 17″ H x 13.5″ W x 12″ D, enhances the aesthetics of any room while showcasing the elegance of the reference globe.
Despite its attractive and functional design, there seem to be some issues with missing or defective parts and construction quality. Moreover, customers have reported difficulties with the light bulb and unclear instructions for bulb replacement.
However, overall, we believe the Waypoint Geographic Atlantic II Illuminated Globe can provide an engaging and visually appealing geographical learning experience.
Price on Amazon: $38.99
Diameter: 9.1-inch
Exerz Illuminated World Globe 9.1-inch Diameter Metal Base – 2 in 1 Light up Cable Free LED lamp – Political Map/Constellation Stars – Day and Night (Images from Amazon)
This Exerz illuminated world globe is an excellent choice for those seeking an informative and decorative globe for adults, with the bonus of constellations visible when lit.
Pros
2-in-1 globe: political map and constellations with LED
Sturdy metal stand
Cable-free operation with battery
Cons
Batteries not included
Some quality control issues
As a 9.1″ diameter globe, the Exerz illuminated world globe presents a clear and accurate political map during the day. The real magic happens when you turn on the LED light, revealing 88 stunning constellations against a deep blue background.
This feature makes it not only educational but also a unique piece of décor that can spark conversations and serve as a nightlight.
Made with high-quality plastic, this globe stands securely on a 12.4″ tall metal base, ensuring stability and durability. While the globe is primarily designed for adult use, it can also be an engaging learning tool for children above eight years old under adult supervision.
One of the best aspects of the Exerz illuminated world globe is that it is cable-free, powered by four AAA batteries (not included), providing more convenience and flexibility in placement. However, some customers have reported quality control issues, such as lighting problems or difficulty reading names on the globe.
Nevertheless, this well-priced globe, with its dual functionality, is an attractive and valuable addition to anyone's home or office.
Buying Guide
When it comes to choosing the best world globe for adults, there are several factors to consider. In this buying guide, we will discuss some of the essential features and aspects to examine before making a purchase.
One of the first things to look at is the globe's size and scale. Globes come in various sizes, ranging from tabletop models to larger floor-standing options. Consider your available space and how prominently you want to display the globe in your home or office. Make sure to choose one that fits well in your room and is easy to read and reference.
Next, consider the material and build quality of the globe. High-quality materials, such as metal or wood, will lend a touch of elegance and sophistication to your space. Additionally, these materials are more durable and long-lasting compared to cheaper, plastic globes.
Globes also come with a variety of map styles and designs. Some globes showcase modern political boundaries, while others may focus on historical or vintage mapping. Think about the purpose of your globe, whether you plan to use it for reference or as a decorative piece, and choose a map style that best suits your preferences.
Globe Features
Here are some of the features to take into account:
Illumination: Some globes come with built-in lights, which can create a beautiful, ambient glow in your space. This feature also makes it easier to read and interact with the globe in low-light conditions.
Additional information: Many globes include informative details such as latitude and longitude markings, boundaries, landmarks, and more. Consider the level of detail you desire and choose a globe that has the right balance between legibility and complexity.
Rotation and movement: Globes with smooth, seamless rotation allow for easy interaction and study. Consider a model with a sturdy and well-constructed axis to ensure the globe's movement remains free and smooth over time.
In summary, to choose the best world globe for adults, take into account the size, material, map style, and additional features such as illumination, detailed information, and ease of rotation. By considering these aspects, you will be better equipped to find the perfect globe for your needs and preferences.