When you buy through links on this page, we may earn an affiliate commission. Commission payments do not affect the evaluations of the products.
Introducing children to geography and the world around them can be both educational and interactive. One great way to achieve this is by incorporating a globe into their learning environment. Globes not only give a visual representation of the Earth's continents and countries but also blend learning with hands-on exploration, making them ideal educational tools for young minds.
For kids, it's essential to choose a globe that is age-appropriate, engaging, and informative. Interactive globes can particularly pique a child's interest by incorporating additional features such as illumination, raised topography, or integrating technology like apps or electronic quizzes.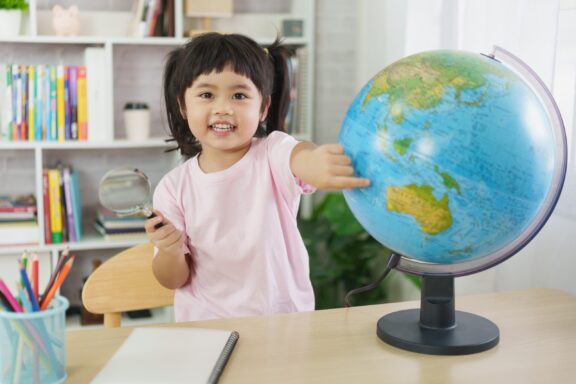 We've meticulously explored options and analyzed critical factors to compile a list of the best globes for kids to enhance their learning journey. Now let's dive into the details to find your child's perfect globe companion.
Best Globes for Kids
Best Globes for Kids in 2023:
We have curated a list of the best educational and interactive globes for kids, making it easier for you to choose the perfect one for your child's learning and exploration.
Recommended age: 5-7 years
Globe size: 10 inch | 25.4 cm in diameter
Price on Amazon: $154.99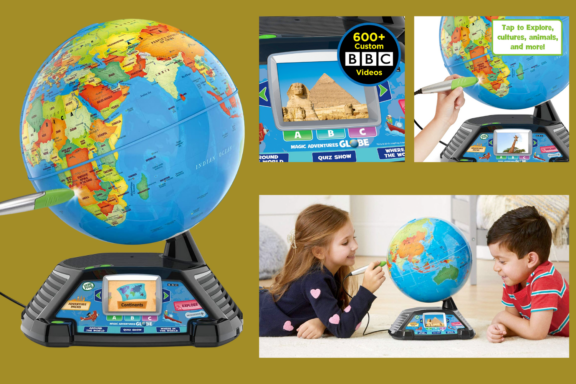 The LeapFrog Magic Adventures Globe provides an immersive and interactive educational experience for kids exploring world geography, cultures, animals, and more.
Pros
Rich educational content with 5+ hours of BBC videos
Interactive map and games for engaging learning
Illuminated LCD screen for video display and animations
Cons
Pricey compared to a standard globe
Intended for 5-7 year-olds, may not cater to a wide age range
Requires 4 AA batteries that are not included for regular use
The LeapFrog Magic Adventures Globe offers an exciting way for kids to explore world geography beyond just countries and capitals. With more than 5 hours of BBC videos about cultures, animals, habitats, and other interesting topics, children are fully immersed in the learning experience. The globe comes with a stand and stylus that allows kids to interact with unique games and trigger videos, making learning fun and engaging.
The 2.7″ LCD screen on this globe displays videos and animations, bringing each topic to life through visually appealing content. This feature, combined with an interactive map and games like Race Around the World and Quiz Show, ensures that children's minds stay active and curious throughout the learning process.
While the LeapFrog Globe is undoubtedly an asset for children interested in learning more about the world, it comes at a higher price compared to a standard globe. Additionally, this learning tool is designed for kids aged 5 to 7, which may limit its appeal for a broader age range. Furthermore, it requires 4 AA batteries that are not included for regular use, so parents should keep this in mind when purchasing.
Considering the overall benefits and drawbacks, the LeapFrog Magic Adventures Globe is a great investment for parents looking to supplement their child's learning with an interactive and visually engaging educational tool. Despite the higher price point and age-specific content, it's an excellent resource for making world geography and cultures fun and approachable for young learners.
Recommended age: 4+
Globe size: 10 inch | 25.4 cm in diameter
Price on Amazon: $43.99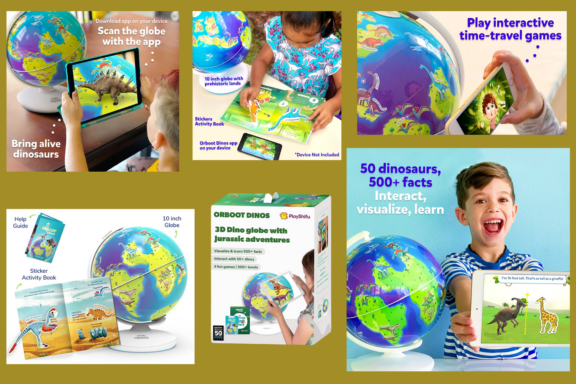 This interactive globe with app provides an engaging and educational experience for anyone interested in exploring the world of dinosaurs.
Pros
First-ever AR globe with prehistoric lands and 50 realistic 3D dinosaurs
Fun and educational, with over 400 facts about dinosaurs
Compatible with most iOS and Android devices
Cons
Amazon Fire devices not supported
Requires device with 3GB RAM or better for smooth operation
Lighter than expected, may affect durability
Shifu's PlayShifu Interactive Orboot Dinos globe is an innovative and impressive educational toy for children interested in learning about dinosaurs. This unique product brings prehistoric creatures to life through an augmented reality experience, making it an interactive and engaging way for kids to explore the world of these fascinating animals.
By incorporating a well-designed app with hundreds of facts, games, and stories, the Orboot Dinos globe transforms the study of dinosaurs from simple memorization into something fun and interactive. It encourages curiosity and helps to build scientific thinking, perseverance, and attention to detail in young minds.
While the product is overall a fantastic option, there are some limitations to consider. It is not compatible with Amazon Fire devices, and you may need a device with at least 3GB RAM for a smooth experience. Additionally, some users may find the globe lighter than expected, which could have an impact on its long-term durability. Nevertheless, the Orboot 3D Dino globe is perfect for sparking a lifelong interest in science and the world of dinosaurs.
Recommended age: 3+ years
Globe size: 9 inch | 22.86 cm in diameter
Price on Amazon: $49.99
The USA Toyz Illuminated Globe is a fantastic educational tool and decorative piece for children interested in geography, constellations, and more.
Pros
Multipurpose use: geography lessons and LED illuminated constellations
Tip-resistant stand with 360° rotation
Bonus app and constellation booklet included
Cons
Plug may not suit all countries
Some reported issues with wiring
Inaccurate constellation locations on some globes
The USA Toyz Illuminated Globe is a versatile 3-in-1 world globe that features detailed geography and LED-lighted constellations, making it a perfect teaching aid and an attractive night light or desk lamp for children. The easy-to-read texts on both the continents and the constellations help kids learn about Earth's geography and the night sky in an engaging way.
Along with the globe, you get a bonus interactive app and an illustrated constellation booklet, which aids in learning more about our world's natural wonders, countries, capitals, and stars. The 13.5-inch tall globe sits on a stable, chromed steel stand that is tip-resistant and allows for 360° rotation, offering a complete view of the Earth and constellations.
The only downsides to consider would be the plug not compatible with all countries, a few cases of wiring issues, and some globes having inaccurate constellation placements. However, the manufacturer has been responsive in addressing these issues.
Overall, the USA Toyz Illuminated Globe is a fantastic educational toy and decorative piece that both kids and adults can enjoy while learning about our world and the stars above us.
Also read: Best Desktop World Globes for Adults
Recommended age: 6+ month
Globe size: 8 inch | 20.32 cm in diameter
Price on Amazon: $29.99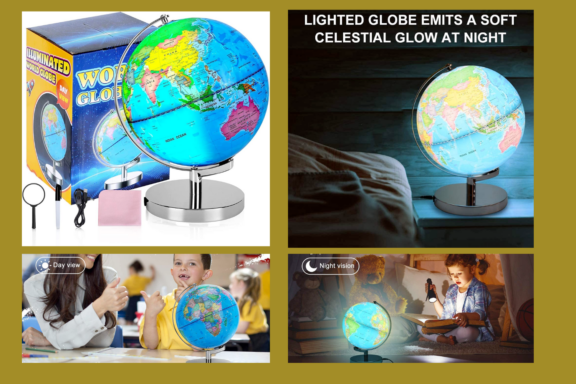 A brilliant choice for sparking curiosity in children about the world while providing a beautiful light-up decor element.
Pros
Daytime and nighttime functionality
USB powered, no need for batteries
Rewritable and easy-clean surface
Cons
May not be suitable for very young kids
Requires power source nearby for illumination
Some users might prefer a larger globe size
The POOCCI Illuminated World Globe effortlessly combines learning and fun for children. With its colorful, easy-to-read map, children can explore continents, countries, cities, and natural wonders during the day. The switch-controlled LED lights transform the globe into a beautiful decoration and night light, making it perfect for bedtime learning and creating a cozy atmosphere.
USB-powered, this well-designed globe helps save on battery costs, while also ensuring the warm LED light contrasts brilliantly against the colorful globe surface. The globe's rewritable surface is a unique feature that allows children to write on it and personalize their learning experience – this also makes it easy to clean and maintain.
While the educational aspect of the POOCCI Globe is its main attraction, its decorative capabilities are also impressive. The warm glow it emits adds a touch of elegance to any room while sparking curiosity in children and adults alike. Keep in mind that this globe has a diameter of 8 inches, making it a great size for tabletops or desks, but users desiring a larger display may need to explore other options.
Ultimately, the POOCCI Illuminated World Globe stands as a fantastic gift for children curious about the world around them. Its combination of engagement, education, and decor make it a valuable learning tool suitable for kids aged 6 months and up. With a rating of 4.6 out of 5 stars from 1,193 ratings, it's evident that this globe is well-received and cherished by many.
Recommended age: 3+ years
Globe size: 9 inch | 22.86 cm in diameter
Price on Amazon: $49.90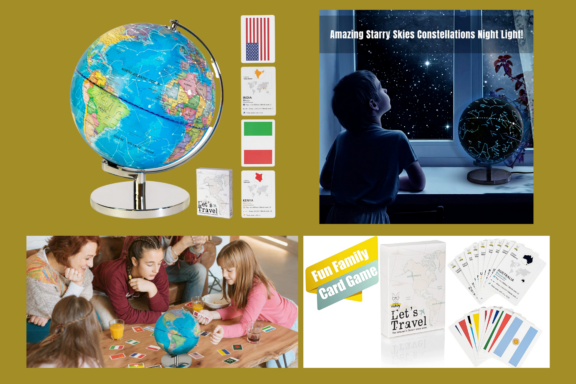 Our recommendation: This globe provides an engaging educational experience for children and a great decorative piece for any room.
Pros
Detailed political and physical map information
LED night light feature with constellation display
Comes with two educational bonuses: constellation guide and "Let's Travel" card game
Cons
Manufacturer's minimum age is 3 years old
USB and wall adapter may limit portability
No batteries required, but might be a useful feature for some users
The SMART WALLABY 9″ Illuminated Educational Kids World Globe is a wonderful and interactive way for children to learn about the earth and its beauty. Having a diameter of 9 inches and standing at 12 inches high, this colorful globe showcases the world's countries, cities, oceans, and waterways, allowing even preschoolers to become attracted to the idea of learning about their global neighbors.
One impressive feature of this globe is its night view mode. With its electronic LED light, this globe beautifully showcases all 88 constellations when placed in a dark room, allowing children and adults alike to appreciate the wonders of the night sky from the comfort of their home. This feature can also be used as a trendy accent piece for chic mood lighting or as a nightlight for those who prefer a little bit of light while they sleep.
In addition to the globe, purchasers receive two brain-building bonuses to enhance the educational experience. One is a constellation guide that can expand children's knowledge of the celestial bodies, while the other bonus is the "Let's Travel" card game, an interactive activity for the whole family to enjoy.
Overall, the SMART WALLABY Globe is an excellent learning tool and decorative piece that will undoubtedly make a great gift for children, parents, and grandparents alike.
Recommended age: Not suitable for very young kids
Globe size: 6 inch | 15.24 cm in diameter
Price on Amazon: $13.99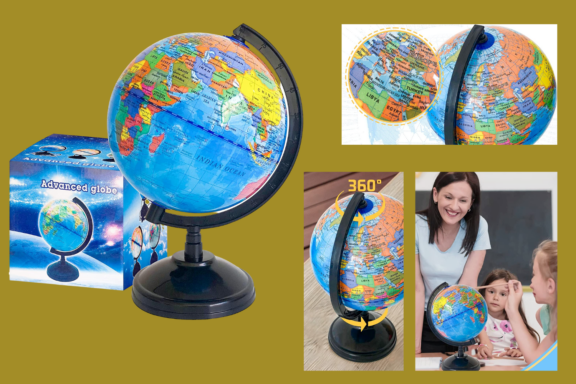 A perfect starter globe for children to explore the world in an engaging and affordable way.
Pros
Detailed geographic information
High-quality construction and printing
360° rotatable stand
Cons
Small size (6 inches)
Limited to political geography
Not suitable for very young kids
The 6" Geographic World Globe for Kids is an educational and decorative piece that offers detailed geographic information, including countries, water bodies, capitals, continental borders, and regional borders. The high-quality construction of this plastic globe ensures it is safe for the family and has clear, fine printing for easy reading.
Featuring a 360° rotatable stand, children can easily explore different countries by rotating the globe, fueling their enthusiasm for learning. This interactive element transforms the ordinary globe into an interactive learning tool and conversation starter between parents and children.
On the downside, the 6-inch size of the globe may be too small for some children, making it difficult to read and understand the finer details. Additionally, this globe focuses on political geography, which may limit its educational value for those seeking information on other aspects such as topography or climatic zones. Moreover, it may not be suitable for very young kids due to its size and potential choking hazard.
Overall, we recommend this 6" globe as an affordable and visually appealing educational tool that can spark the curiosity of young minds and encourage them to explore the world.
Recommended age: 8+ years
Globe size: 9 inch | 22.86 cm in diameter
Price on Amazon: Price not available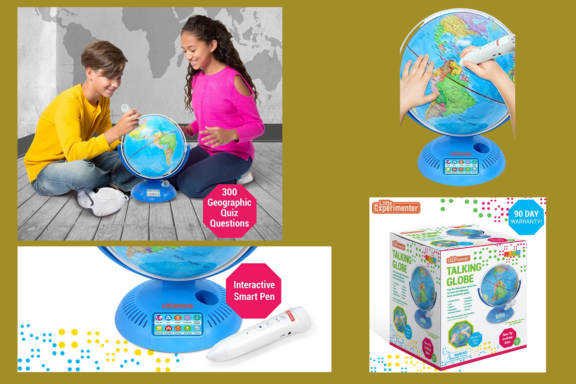 A perfect choice for kids to learn about the world with an interactive and educational experience.
Pros
Early learning with various world facts
Interactive smart pen for real-time information
300 engaging trivia questions
Cons
Some reported inaccuracies in capitals
Errors in trivia questions
May not update information frequently
The Little Experimenter Talking Globe offers a fun and interactive way for children to learn about different countries, capitals, geography, and more. With its early learning focus, this 9-inch globe is suitable for both home and classroom settings, keeping children engaged and curious.
Featuring a smart pen, the globe allows children to touch various locations to access voice recordings with real-time information through a built-in speaker. This hands-on approach makes geography learning more enjoyable and easier to remember for young minds.
In addition to the geographical facts, the globe also offers 300 trivia questions to challenge and entertain kids. These thought-provoking questions encourage further exploration, prompting children to learn more about the world we live in.
However, some customers mentioned inaccuracies in the information provided, such as incorrect capitals and errors in trivia questions. It's essential to ensure that parents or teachers cross-check and verify the data to prevent misunderstandings.
In conclusion, the Little Experimenter Talking Globe is an engaging educational tool that sparks curiosity and learning among children. With its interactive features and trivia questions, it serves as an excellent supplemental resource for geography education, even though it may require some fact-checking.
Recommended age: 4-10 years
Globe size: 10 inch | 25.4 cm in diameter
Price on Amazon: $49.49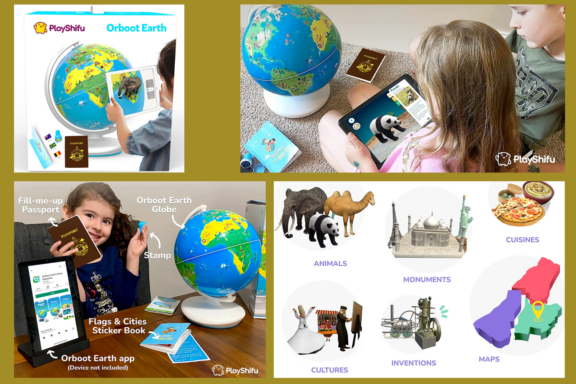 Explore and learn about the world with the interactive and engaging Shifu Orboot Earth globe, perfect for curious minds aged 4 to 10.
Pros
Augmented reality learning experience
Covers 400+ highlights and 1000+ world facts
Durable and attractive 10-inch globe
Cons
Requires a compatible smartphone or tablet
No borders or names on the globe
Amazon Fire devices not supported
The Shifu Orboot Earth educational globe combines physical play with the digital world, offering an immersive AR experience for young learners. By pairing the globe with the companion app, kids can explore a wealth of information about animals, cultures, monuments, inventions, maps, and cuisines worldwide. The app also includes fun quizzes, puzzles, and scavenger hunts to keep children engaged and entertained.
While the globe itself is well-constructed and visually appealing, it does not feature any borders or country names on its surface. Instead, the app is used to reveal these details. This design choice may not appeal to some users, especially if you prefer using a globe without requiring a device.
We appreciate that the Orboot Earth globe aims to encourage STEM learning and environmental awareness, building geography, social science, and cultural sensitivity skills in children. However, it's essential to note that the globe relies heavily on the companion app for its educational value, which may not suit everyone's preferences or device availability. Despite these cons, it remains an innovative and engaging educational toy alternative for children eager to uncover the wonders of our world.
Buying Guide
When looking for the best globe for kids, it's essential to consider several factors. In this guide, we'll discuss the key features to look for when choosing the perfect globe for your child.
Material and Durability
First and foremost, consider the materials used in the globe. Look for globes made from durable, high-quality materials that can withstand the curiosity and energy of children.
Some common materials include plastic, wood, metal, and glass, each with its own benefits and drawbacks. For example, plastic globes are lightweight and affordable, while wooden globes offer a more vintage and classic aesthetic.
Size
The size of the globe plays an essential role in your child's ability to engage with it. Smaller globes are more portable and fit well in smaller spaces, while larger globes may provide better visibility, more detail, and a more immersive learning experience. Consider your child's age and interests when deciding on the size of the globe.
Features and Functionality
When it comes to features and functionality, take into account the following:
Labeling: The importance of clear and accurate labeling cannot be overstated. Look for a globe that presents detailed, up-to-date information on countries, cities, and geographical landmarks.
Illumination: Some globes come with built-in lights, enhancing the overall appearance and making it easier to read in low-light conditions.
Interactive components: Certain globes come with interactive features, such as touch-sensitive surfaces or audio, which can foster additional engagement and encourage curiosity about geography.
Educational content: Look for globes with additional educational content tailored to kids, such as flags, animals, or unique facts about each country.
Age Appropriateness
Choose a globe that aligns with your child's age, interests, and level of cognitive development. For younger children, consider purchasing a globe with bright colors, simple labeling, and age-appropriate educational content. For older kids who are more advanced in their geographic knowledge, opt for a more detailed globe that includes specifics such as topography, political boundaries, and accurate labeling.
By taking these factors into account, you can find the best globe to spark your child's interest in geography and elevate their learning experience.