When you buy through links on this page, we may earn an affiliate commission. Commission payments do not affect the evaluations of the products.
If you're a frequent traveler or an avid explorer, push pin world maps offer an exciting way to catalog your adventures and make space for new ones. But with so many options to pick from, it's not always easy to tell which push pin maps are great – and which ones don't live up to the hype.
Fortunately, we've already done the legwork for you – here's a quick rundown of the best push pin world maps currently available: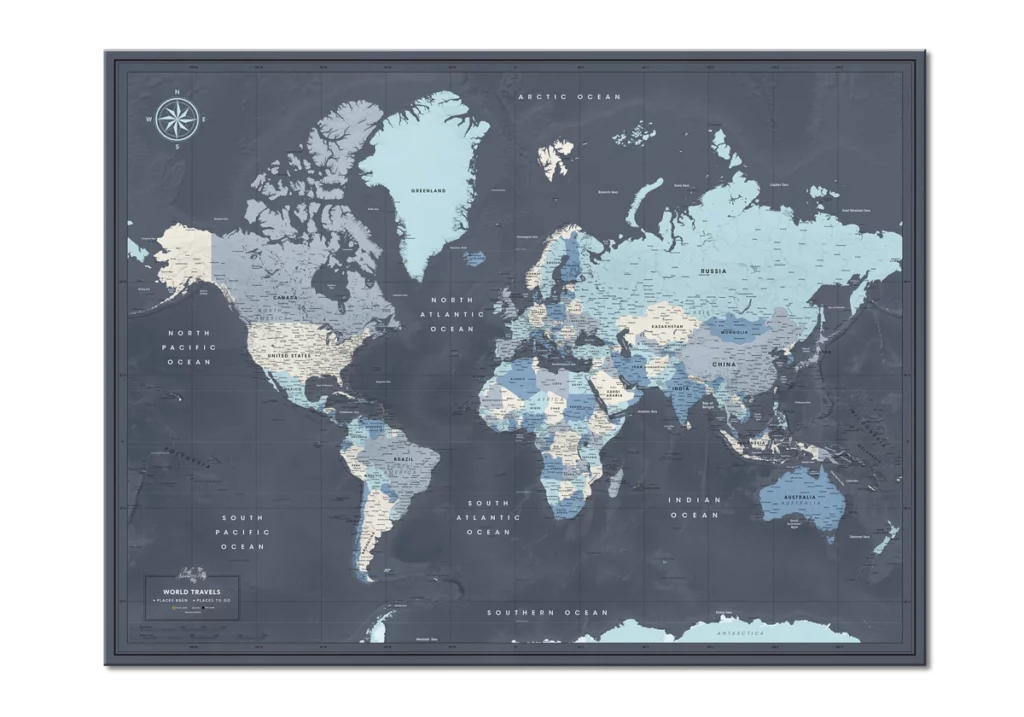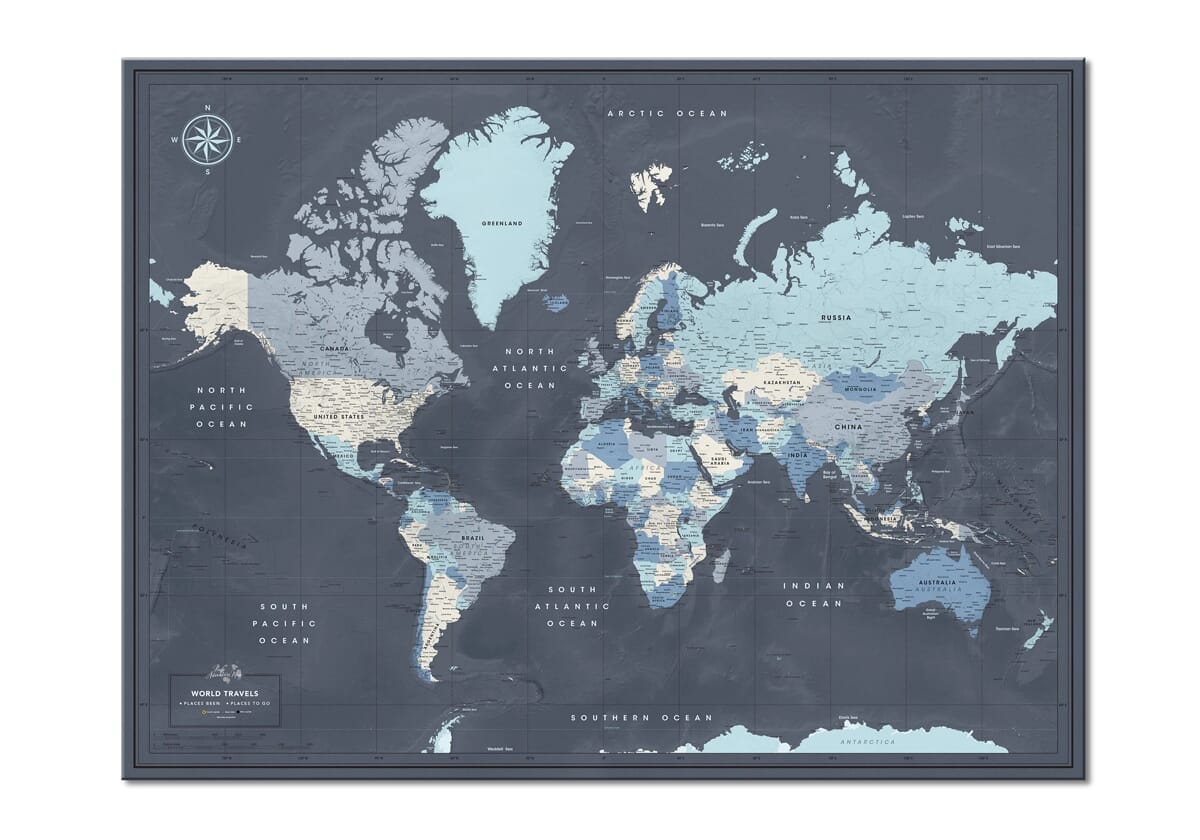 Specs/Sizes:
24 x 32 inches (ca. 81 cm) (available as a poster or mounted)
30 x 40 inches (ca. 1 meters) (available as a poster or mounted)
40 x 53 inches (1.35 m)
Available as both a regular poster and a mounted poster, the Pin Adventures World Travel Map with Pins doesn't pull any punches. The poster version of this map is laminated so that it's less likely to warp or curve, especially during transport, and the mounted version is printed on warp-resistant foam board.
And, if you're looking for a map that allows you to personalize it, this may be the right option for you. Not only can you add any banner or quote that you'd like, but you can also pick the colors of the ninety push pins that it comes with.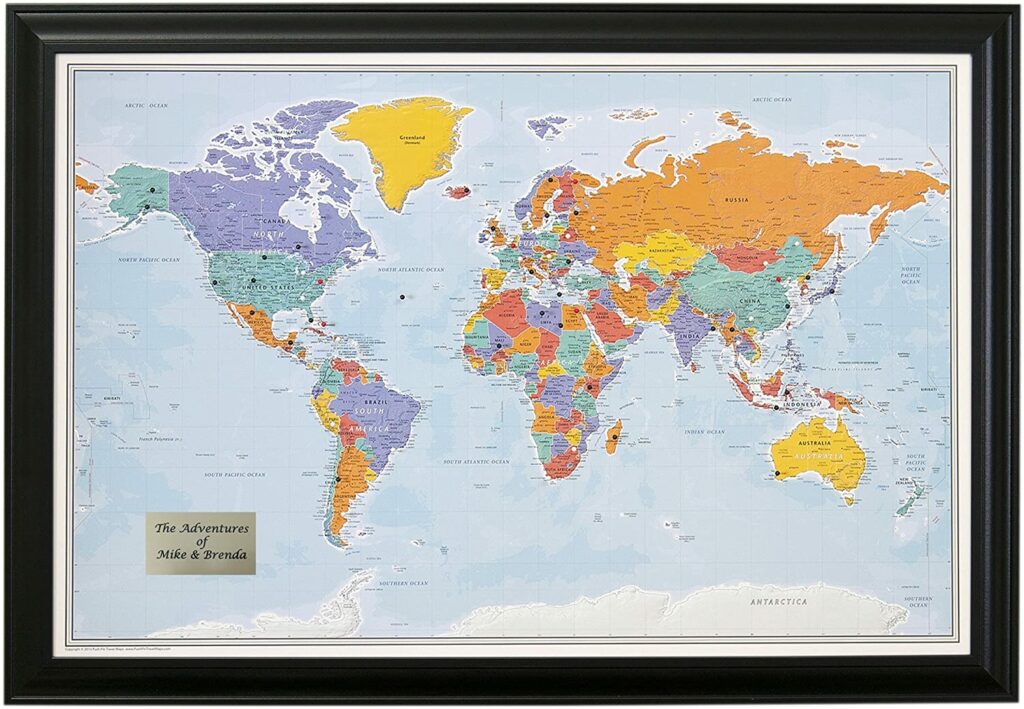 Specs/Sizes:
39.5 x 27.5 inches (ca. 70 cm) (with frame)
36 x 24 inches (ca. 61 cm) (without frame)
11 pounds (ca. 5 kilogram)
If you're looking for a map that's big enough to cover the entire family's travels, the Personalized Push Pin World Travel Map gets the job done. It includes 100 different push pins, and since it comes with a black frame that mounts easily on your wall, it even doubles as an art piece too.
The pins come in three different colors (red, white, and black), and you can assign colors for each member of the family or for different types of traveling you've done.
Keep in mind that you can also personalize the map too. There's a plaque located near the bottom of the map, and you can add up to three lines of text to it.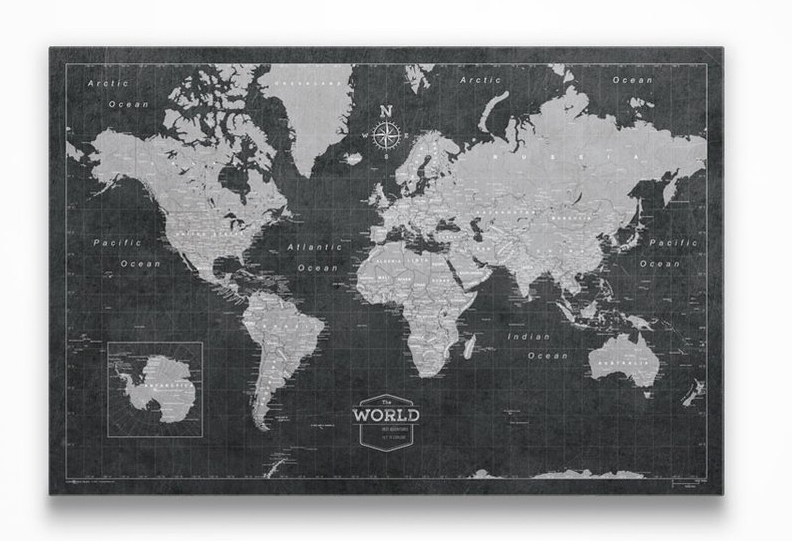 Specs/Sizes:
24 x 16 inches (ca. 41 cm)
36 x 24 inches (ca. 61 cm)
48 x 32 inches (ca. 81 cm)
For anyone interested in personalizing the layout of their map and even the colors of the pins, the Conquest Maps Push Pin World Travel Map easily allows you to do so. While most travel maps are only available as posters or mounted posters, this one actually allows for another option – a three-panel pin board.
The layout of this map is inspired by old blueprints, and that's easy to see from its minimalistic design. When it comes in the mail, the map has all the hardware ready to hang, and you'll even get two complimentary boxes of fifty push pins (which you can choose the colors of).
It's also worth noting this map contains the Mercator projection, which has now become the standard for teaching nautical navigation in classrooms.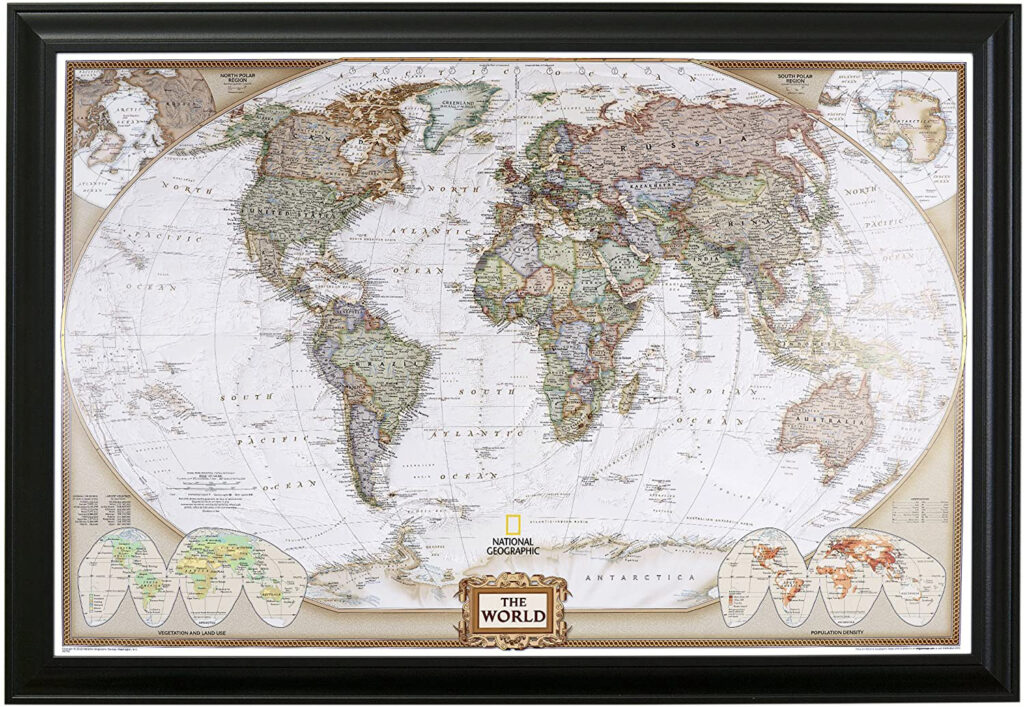 Specs/Sizes:
39.5 x 27.5 inches (ca. 70 centimeters) (with frame)
36 x 24 inches (ca. 61 centimeters) (without frame)
11 pounds (4.99 kilogram)
Including a nail and hammer, this Push Pin Executive Travel Map comes ready to hang up, and it should only take a few minutes. Compared to some of the other maps on this list, this map features a direct, minimal design that may look vintage but is still up-to-date. In fact, the entire design has been created by experts at The National Geographic, and the actual map is handmade in the USA for better quality.
If you're looking to match the map to your decor, this map makes it easy – there are eight different frame styles to pick from, which include wood composite frames and solid wood frames in varying colors and styles.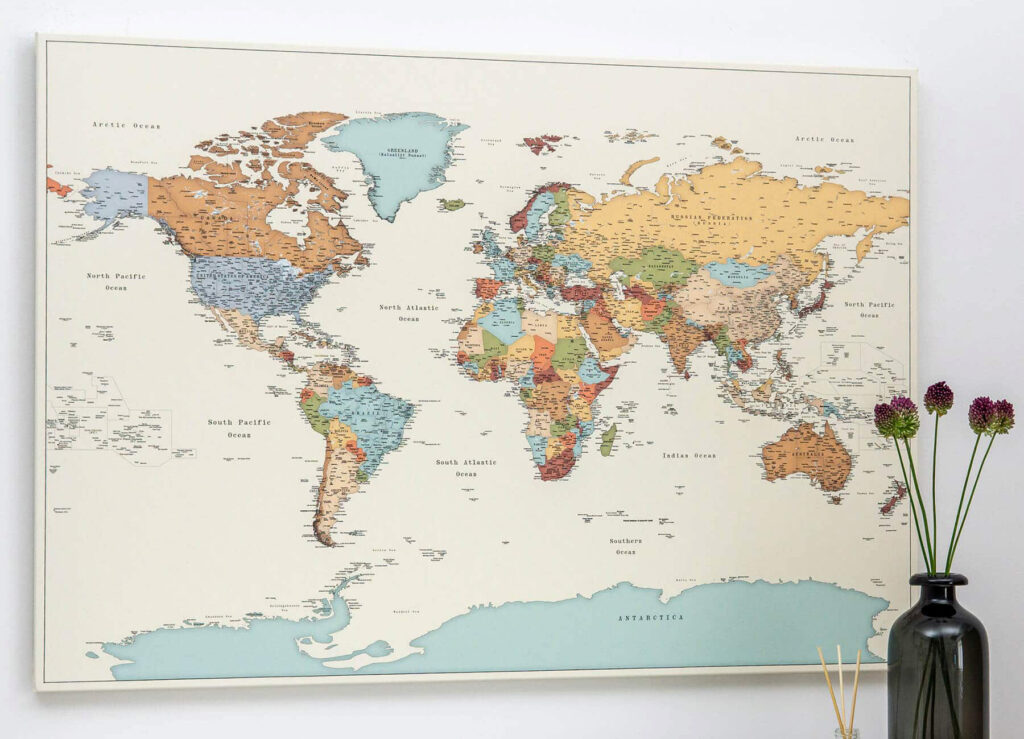 Specs/Sizes:
39.3 × 27.5 inches (ca. 70 cm)
47.2 × 31.5 inches (ca. 80 cm)
59 × 39.inches (ca. 1 meters)
Coming in medium, large, and extra-large sizes, you can get the Trip Map Colorful Push Pin World Map as an actual push pin map, a canvas poster, or even a paper poster that's rolled up without a frame. You'll also get to pick the color of your pins, and for an extra charge, you'll have the option of personalizing your map, getting extra pins, or adding sticky hanging hooks.
What sets this map apart from the competition is how colorful it is – rather than using minimalist designs and muted colors, this map doesn't shy away from bright, vivid colors. Hanging up this map shouldn't take more than a few minutes, and with its vibrant color scheme, it'll catch anyone's eye.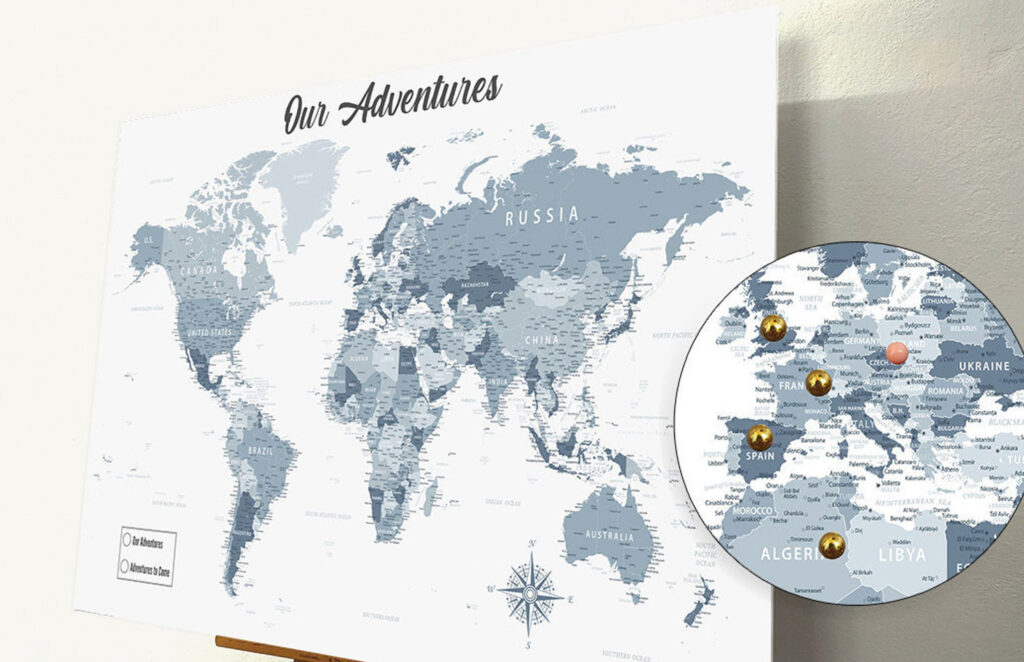 Specs/Sizes:
37 × 23 inches (ca. 58 cm)
40 × 25 inches (ca. 64 cm)
47 × 29 inches (ca. 74 cm)
51 × 32 inches (ca. 81 cm)
55 × 34 inches (ca. 86 cm)
Not only does it come in several sizes, but this Pandaboards Push Pin World Map is even available as a digital file if you'd like to download and print it yourself. This map is all about personalization – you've got five unique styles and color schemes to pick from. You can add your name and a quote and even adjust the font if you'd like.
Also Read: Best Globe for Kids
The seller allows you to add up to seven different names, so you can use this map to track your family or friend's traveling adventures, too.
Final Thoughts
When it comes to the best push pin travel and world travel maps with pins, not all maps can stand the test of time. Some products may be flimsy and warp with time, while others could have weird color schemes that don't look great.
Whether you're looking for a neutral, classic map, or something you can completely personalize, we hope our buying guide made it easier for you to find the perfect world map with pins.