Ukraine is located in the Eastern Europe region at latitude 48.379433 and longitude 31.16558 and is part of the European continent.
The DMS coordinates for the center of the country are:
48° 22' 45.96'' N
31° 9' 56.09'' E
You can see the location of Ukraine on the world map below: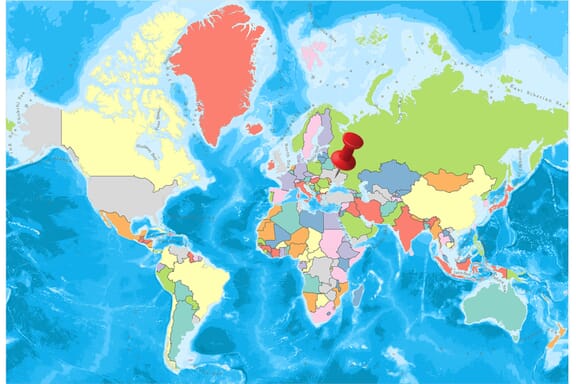 Ukraine Neighboring Countries
The neighboring countries of Ukraine (UA) are:
Belarus (BY)
Hungary (HU)
Moldova (the Republic of) (MD)
Poland (PL)
Romania (RO)
Russian Federation (RU)
Slovakia (SK)
Maritime Borders
Ukraine borders with the Black Sea, and the Sea of Azov.
Ukraine Related Content
Ukraine Key Facts
Country
Ukraine
Coordinates
Latitude: 48.379433
Longitude: 31.16558
Country Codes
Alpha 2: UA
Alpha 3: UKR
Country Flag Emoji
🇺🇦
Int. Phone Prefix
+380
Capital city
Kiev
Continent
Subcontinent
Europe
Eastern Europe
Country Area
603,550 sq km
Population 2021
43,814,581
World Rank: 35
Median Age
40.8
Life expectancy
71.6
Major languages
Ukrainian (official) 67.5%, Russian (regional language) 29.6%, other (includes small Crimean Tatar-, Moldovan/Romanian-, and Hungarian-speaking minorities) 2.9% (2001 est.)
UTC/GMT Time
Number of time zones: 1

Internet TLD
.ua
Biggest Airport
Boryspil International Airport (KBP)
Average temperature
8.30 °C
46.94 °F
Administrative Divisions
24 regions 1 republic 2 cities
Political system
Presidential representative democratic republic
Ukraine Economy Facts
World Bank Income Group
Lower middle income
World Bank Region
Europe & Central Asia
Currency
Hryvnia (UAH)
GDP in 2020
$156.6 (billions of USD)
World Rank: 55
GDP per capita in 2020
$3,752
World Rank: 120
Major Industries / Economic Sectors
Manufacturing, services, agriculture, energy
Top 5 Import Countries
Russia, China, Germany, Poland, Italy
Top 5 Export Countries
Russia, Poland, Turkey, Italy, Germany
Biggest Cities in Ukraine
Here are the largest cities in Ukraine based on 2021 data:
City
Population
Kyiv
2,963,199
Kharkiv
1,446,107
Odesa
1,017,699
Dnipro
980,948
Donetsk
929,063
Zaporizhzhia
741,717
Lviv
724,314
Kryvyi Rih
629,695
Sevastopol
509,992
Mykolaiv
498,748
Map of Ukraine with the Largest Cities
Other Countries in the Eastern Europe Region
Geography
Ukraine is situated in the southeastern part of Europe and is the largest country in Europe with an area of 603,628 square kilometers.
The border neighbors are Poland, Slovakia, Hungary, Romania, Moldova, Belarus, and Russia.
The geographical structure of Ukraine is composed of large plains and covers a large part of the Eastern Europe Bloc. In the middle of Ukraine lies the Dnieper Plain of the Dnieper River from north to south.
Other plains are located in the south of Ukraine along the coasts of the Black Sea and the Azov Sea. In the Crimean Peninsula in the southernmost region, it is possible to encounter both plains and mountains. To the west of the country, the Carpathian Mountains cover a wide area of 240 km.
Governance
The highest legislative body in Ukraine is the High Council. Parliament members are elected every five years. The High Council appoints the President and members of the Council of Ministers.
Climate
Ukraine is located in the temperate climate zone and about 400-600 millimeters of precipitation per year. Except for the southern region, there are not very hard colds; the winters are warm.
The summers are warm and rugged, rarely rainfall. The country is suitable for agriculture because the temperatures are generally mild. Ukraine is also one of the most important sugar producers in the world. Sugar produced in the country is of great importance for import and export.
Religion
Christian (mostly Orthodox, few Protestant, Catholic), Muslim, Jewish.
Industry and Tourism
The main livelihoods of Ukraine are based on industry and agriculture. With the Ukrainian natural resources, it is also called "grain warehouse" of Europe.
The main sources of income are agriculture, mining based industry, fisheries, and coastal tourism. Coal, iron, manganese, gypsum are underground resources. The northern part of Crimea is the most prevalent part of agriculture.
Sunflower, corn, and wheat are mainly grown. The required water is supplied through channels from the Dnieper river. The headquarters of the administrative unit, Simferopol is also the center of culture and industry of the peninsula.
In the southern slopes, there are vineyards. Iron and steel locomotives, wagons, ships, aircraft, agricultural machinery, tractors, cranes, sugar, chemistry, weaving, plastics, automotive, consumer durables, basic industry events. In addition, the country is a very strong electricity producer.
Tourism: Odessa is a city that attracts attention with its natural beauties, and ranks fourth among the big cities in the country.
There are many reasons why tourists visit Ukraine. Odessa is one of them, it is a popular place to visit with its attractions, tours, and activities.
Kiev is the largest city in Ukraine, with a population of around 3 million.
Art
Lviv is also the art city. Art galleries, churches, museums, cathedrals, operas, temples, and theaters are located in this city. Lviv, which is the most important city of the country in artistic and cultural terms, is on the list of Unesco World Cultural Heritage.
Sports
It is a country where every kind of sport is popular. Its geographical structure is suitable for winter sports as well as for summer sports. But football, like everywhere else, is exciting here too. The Olympics, however, are watched with great interest.
Ukraine on the Europe Map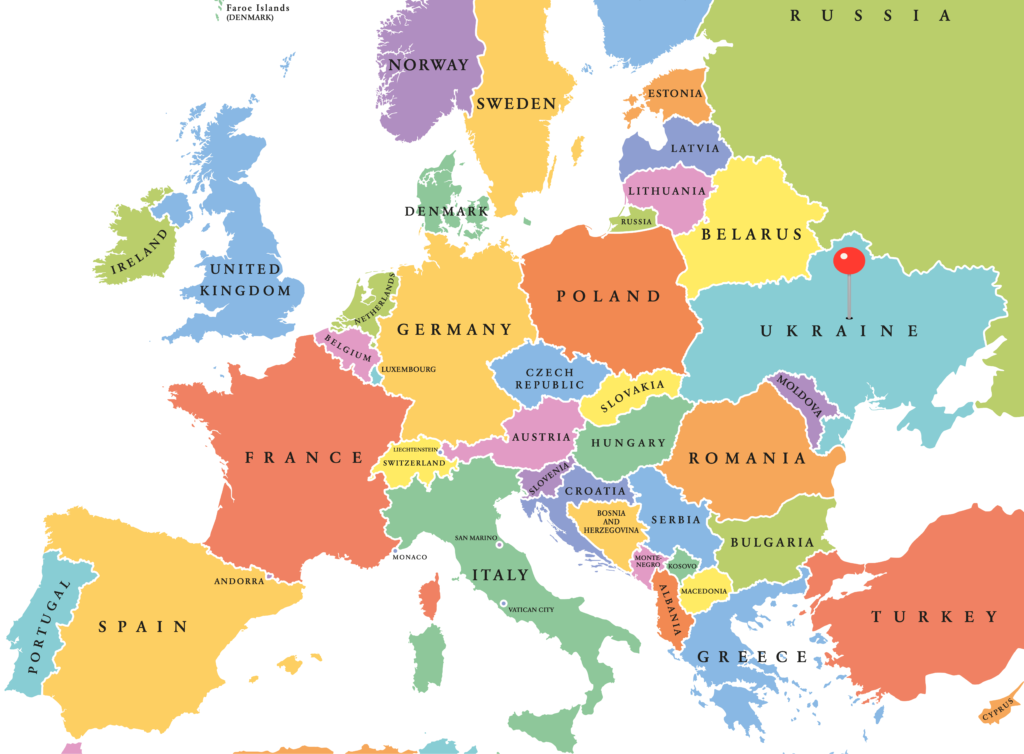 Map of Ukraine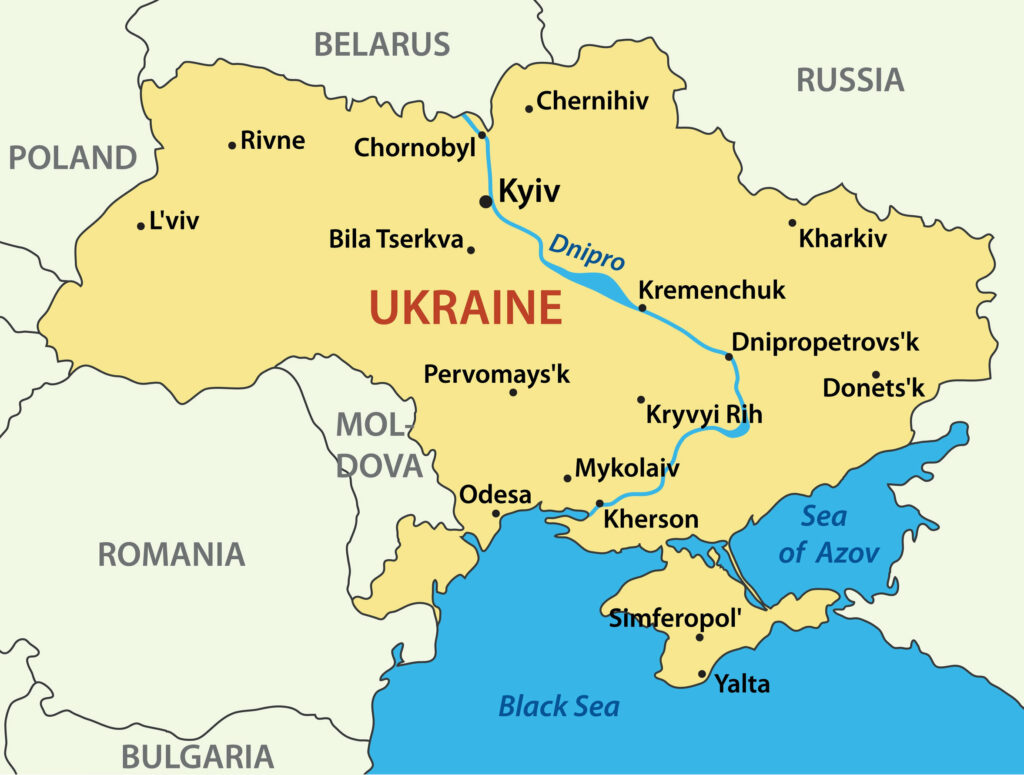 Map of Ukraine with Regions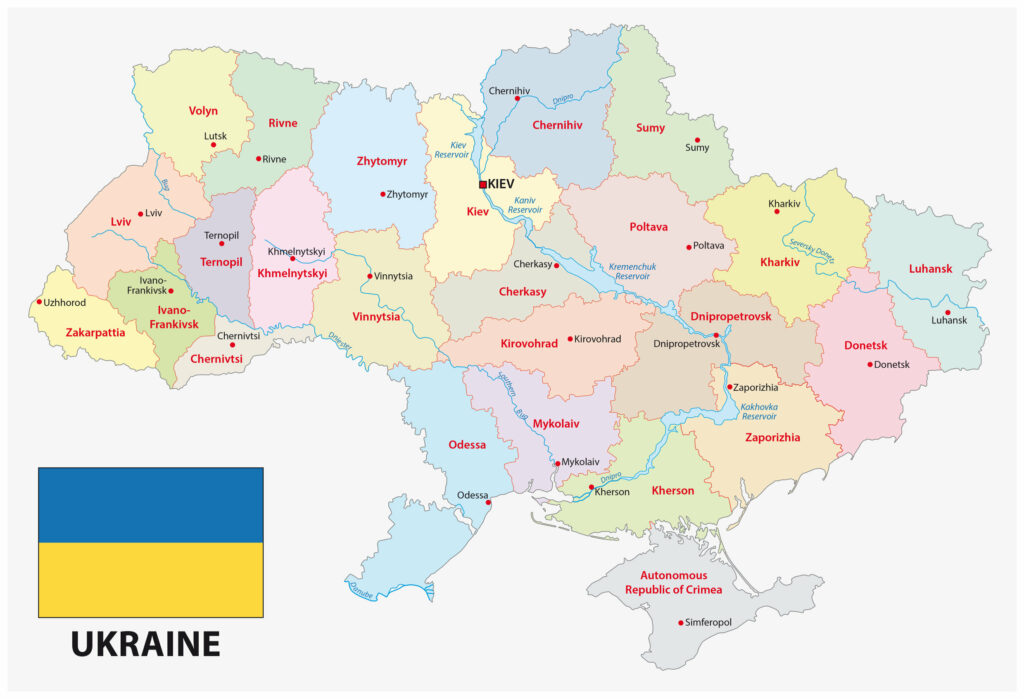 Road Map and Major Cities of Ukraine