Its location at the crossroads of Europe and Asia has made Turkey's Istanbul one of the world's most contested and sought-after cities throughout history.
But where is Turkey located exactly?
Turkey is located mostly in West Asia and is part of the Asian and European continents.
Turkey Interesting Facts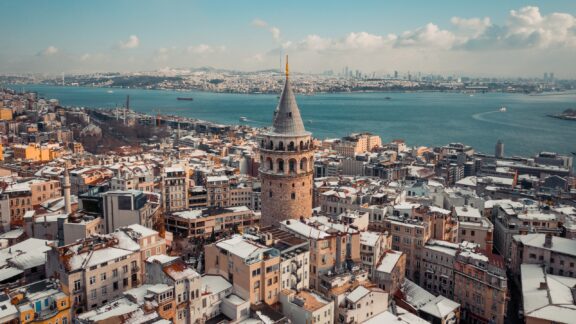 Precise Location Coordinates of Turkey
The DMS (Degrees, Minutes, Seconds) coordinates for the center of Turkey are:
38° 57′ 49.48" N
35° 14′ 35.96" E
The latitude and longitude of Turkey are:
Latitude: 38.963745
Longitude: 35.243322
You can see the location of Turkey on the world map below:
Turkey Neighboring Countries
There are eight countries that share an international land border with Turkey. The longest of these borders runs between Turkey and Syria and is about 909 km (565 mi) long.
The neighboring countries of Turkey (TR) are:
Maritime Borders
Although it doesn't border any open oceans, Turkey has three different maritime borders. It is one of six countries on the Black Sea, as well as one of many that border the Mediterranean Sea. It also shares the Aegean Sea with neighboring Greece.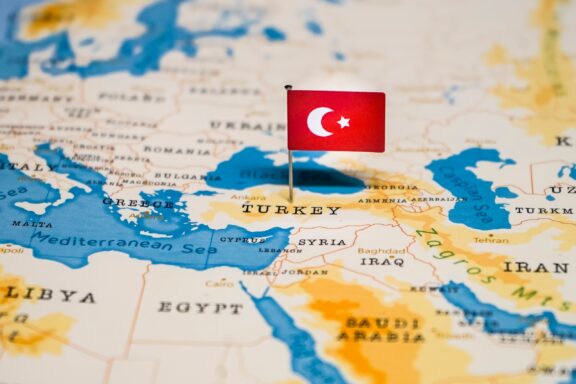 Administrative Divisions of Turkey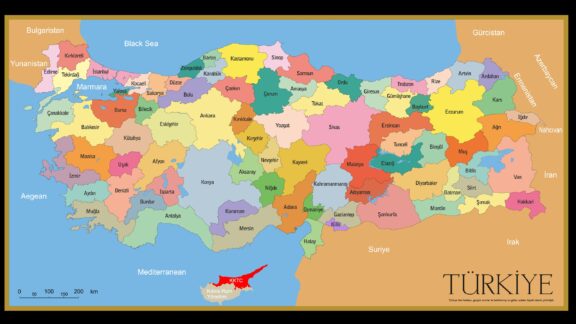 The administrative divisions of Turkey consist of 81 provinces, each of which is divided into a number of the country's 973 total districts. Each province is administered by a governor who is appointed by the Ministry of the Interior.
The largest province in Turkey is Konya, which is 40,814 km2 (15,758 mi2). In terms of total population, Istanbul Province is by far the largest, with a 2021 population of 15,840,900.
Geography of Turkey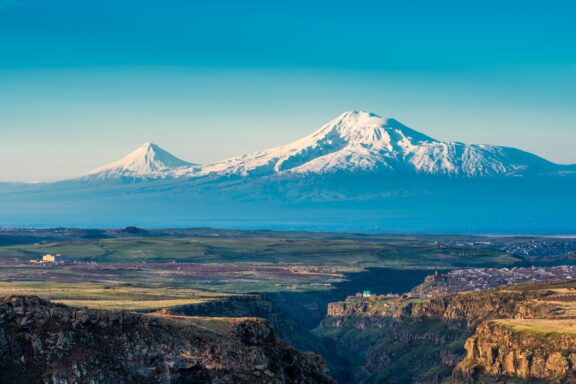 97% of Turkey is located in Asia, and the small part of its territory on European soil is separated from the rest of the country by the Bosphorus and other small bodies of water. Geographically, Turkey can be divided into seven distinct regions, each with their own unique qualities. In total, Turkey covers an area of 783,562 km2 (302,535 mi2).
A predominantly mountainous country, the lowlands in Turkey can be found around its coastal areas. The highest point in the country can be found at Mount Ararat, the summit of which has an elevation of 5,165 m (16,945 ft).
The Lakes Region in Turkey is an area in which many of the country's largest lakes can be found. Rocks along the shore of Lake Salda in this area were formed by microbes and provide some of the oldest known fossilized records of life on Earth.
Eastern Turkey is prone to severe earthquakes, one of which struck near the city of Gaziantep in February 2023 and claimed tens of thousands of lives.
History of Turkey
Most of present-day Turkey lies on the Anatolian Peninsula, which is one of the oldest permanently inhabited regions in the world. For millennia it was home to ancient Anatolian peoples and may have even been the center from which Indo-European languages originated.
The European portion of Turkey, known as Eastern Thrace, has been inhabited for at least 40,000 years. Göbekli Tepe, the site of the oldest known man-made structures in the world, is located in Eastern Turkey and dates back to around 9600 BCE.
Over several thousand years, control of the area of modern-day Turkey passed between Persians, Greeks, and Romans. By the year 330, Constantinople (modern-day Istanbul) became the capital of the Roman Empire under Constantine the Great. Several decades later, the city would become the capital of the East Roman, or Byzantine, Empire.
The slow transition from Anatolia as a mostly Christian, Greek-speaking region to a predominantly Muslim, Turkish-speaking one started at the beginning of the 11th century with the arrival of the Great Seljuk Empire. The Ottoman Empire would later capture Constantinople in 1453.
In the years after World War I, Turkey was occupied by British, French, and Greek forces, among others, as well as what was left of the Ottoman Empire. This was when the Turkish National Movement began, led by Mustafa Kemal Pasha, and when the Turkish War of Independence took place.
Turkey's war of independence resulted in the international recognition of the Republic of Turkey as the successor state of the Ottoman Empire in 1923.
In more recent history, Turkey became a member of the United Nations in 1945 and joined NATO in 1952. The country has since transitioned to a multi-party democracy, experienced several military coups, liberalized the economy, and gone through multiple periods of economic turmoil.
A referendum in 2017 changed Turkey's government from a parliamentary republic to an executive presidential system, of which Recep Tayyip Erdoğan is president.
Culture and People of Turkey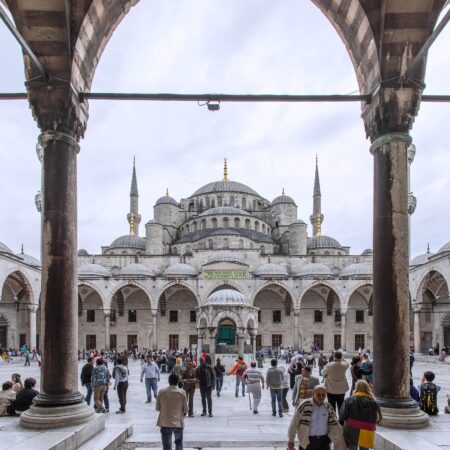 Ethnicity
In 2021, Turkey had a population of approximately 84,600,273, which is composed of an estimated 47 ethnic groups. Ethnic Turks make up roughly three-fourths of the population, and the most significant minority is Kurdish, accounting for between 12% – 20% of the population. The census in Turkey does not collect or report information related to ethnicity.
Language
The official language of Turkey is Turkish, which is the most widely spoken Turkic language in the world and is spoken as a first language by around 85% of the Turkish population. The Kurmanji dialect of Kurdish is spoken by nearly 12% of the population as a first language.
Religion
Turkey's constitution describes the country as a secular state with no official religion. According to one poll conducted by Ipsos, the most prominent religion in the country is Islam, of which 82% of the population are adherents. Other sources cite varying percentages of Muslims in Turkey, and there are no official statistics regarding religious affiliation.
Cuisine
Turkish cuisine varies across different regions of Turkey, but it comes largely from Ottoman culture and is influenced by Mediterranean, Balkan, Middle Eastern, Central Asian, and Eastern European cuisines. These influences have created one of the best cuisines in the world.
Some of the most famous Turkish foods are baklava, şiş kebap, döner, and meze, the last of which is an assortment of many small dishes.
Arts
The various types of art performed in Turkey reflect the country's diverse cultural heritage and vary by region across the country. Some of the traditional crafts performed in Turkey are ceramics, carpet weaving, and ceramics.
Theater, literature, music, and dance are all art forms that have rich histories in Turkey and are central to Turkish culture. Some of the folk dances performed in different regions of Turkey are Hora, Teke, Kaşık Oyunları, Karşılama, and Halay.
Biggest Cities in Turkey
Here are the largest cities in Turkey based on 2021 data:
City
Population
Istanbul
15,311,000
Bagcilar
556,519
Kucukcekmece
469,431
Kagithane
437,026
Elazig
421,726
Esenler
380,709
Esenyurt
373,017
Manisa
356,702
Van
353,419
Hatay
347,974
Map of Turkey with the Largest Cities
Turkey Economy Facts
World Bank Income Group
Upper middle income
World Bank Region
Europe & Central Asia
Currency
Turkish Lira (TRY)
GDP in 2020
$779.3 (billions of USD)
World Rank: 18
GDP per capita in 2020
$8,536
World Rank: 74
Major Industries / Economic Sectors
Manufacturing, services, agriculture, energy
Top 5 Import Countries
Russia, China, Germany, Italy, United States
Top 5 Export Countries
Germany, United Kingdom, Italy, United States, Iraq
Government and Politics in Turkey
The government of Turkey is a presidential republic with a multi-party system and a constitution that was approved in 1982 and amended as recently as 2017. There are three branches that make up the government: executive, legislative, and judicial; there are also three levels of government: local, provincial, and national.
The referendums made to the constitution in 2017 were in response to the failed military coup in 2016 and abolished the office of the prime minister, granting more power to the president. The existing parliamentary system was replaced with an executive presidency and a presidential system.
The current government of Turkey is highly centralized around president Recep Tayyip Erdoğan and is associated with the deterioration of human rights in the country.
Tourist Attractions in Turkey
Whether it's the incredible food, bustling cities, beautiful Mediterranean beaches, ancient sites, or Turkish baths, there is no shortage of reasons to visit Turkey. Tourism activity in Turkey peaked in 2019 before the COVID-19 pandemic, and the industry has been recovering in recent years.
Turkey is a large country with an impressive history, and there is so much to see within its borders. Read on to learn more about just three of the many spectacular sites in the country.
Cappadocia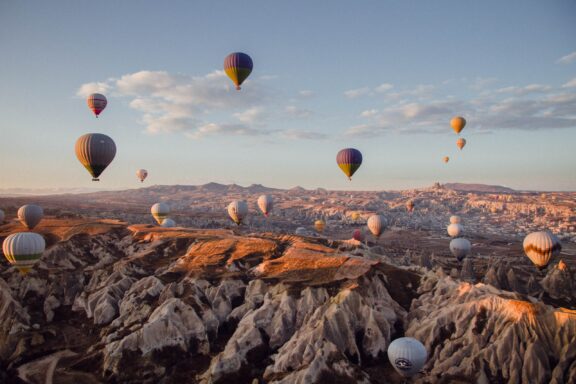 Cappadocia is easily one of the most iconic tourist locales in the world. It is a historical region in Central Anatolia best known for its stunning natural beauty and the colorful hot air balloons that ferry tourists over the landscape.
Hot air balloon rides may be the most popular attraction in Cappadocia, but there are also historic mansions, cave houses, underground cities, and much more to be seen in the region.
Ephesus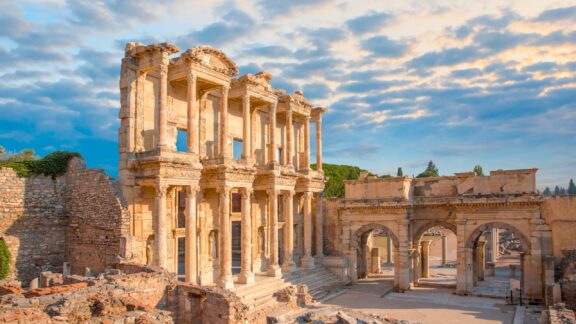 If ancient history is your thing, a visit to Ephesus should be on your bucket list. Ephesus was a city in ancient Greece that was constructed in the 10th century BCE. The two most notable features of the city's ruins are likely what's left of the Library of Celsus and the city's outdoor theater. Ruins of the Temple of Artemis are also located nearby, something that made the city famous when it was inhabited.
Hagia Sophia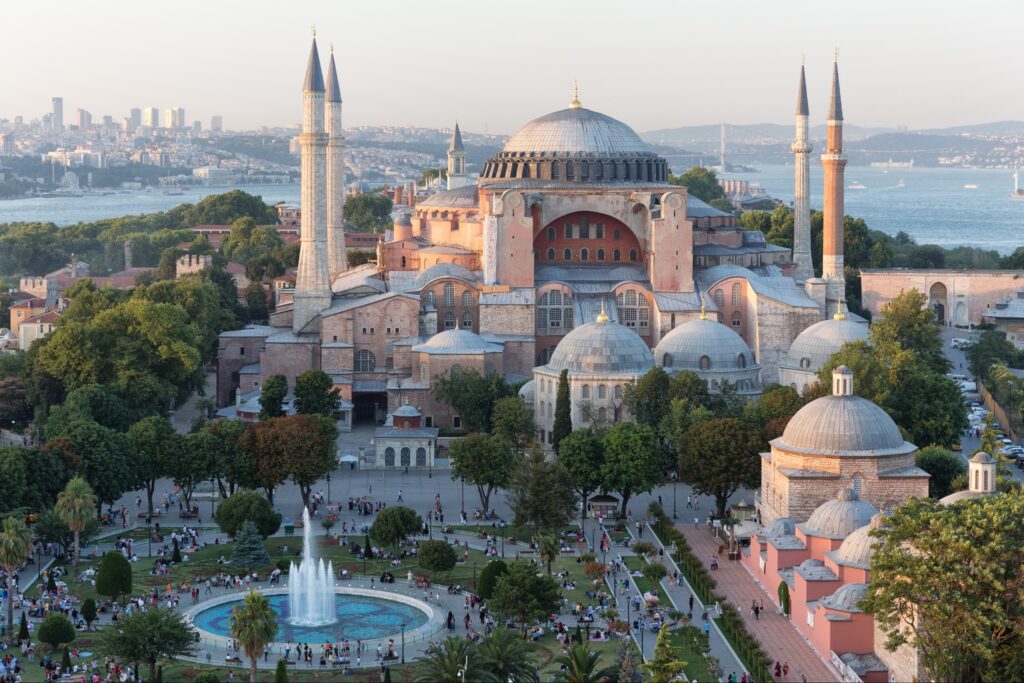 Located in Istanbul and overlooking the Bosphorus is the Hagia Sophia, a world-famous cultural and historic site. It was established as a Greek Orthodox Church in 306 and remained as such until the Ottoman Empire took control of the city in 1435, turning it into a mosque.
Hagia Sophia remained a mosque until 1935 when it became a museum. It later became a mosque once more in 2020. Although it is no longer a museum, the mosque is still open to visitors. It is open from 10 AM until 10 PM and there is no entry charge.
Transportation and Infrastructure of Turkey
Reaching Turkey from other countries is most often accomplished with an airplane. There are many international and domestic airports in the country, but the largest and busiest is Istanbul Airport, which was opened in 2018, replacing Atatürk Airport for commercial traffic.
There are also major international airports in Antalya, Ankara, and Izmir. It's also possible to arrive in Turkey via bus from neighboring countries that share land borders and with ferries from Greek islands.
Once in Turkey, travel throughout the country happens via many different modes of transportation: cars, taxis, buses, trains, subways, flights, ferries, and more. Between cities, long-distance buses are a popular option, and flights are common for longer distances.
Construction of a new high-speed metro line connecting Istanbul Airport with the city was completed in 2023.
Climate and Weather of Turkey
Being a large country, the climate varies throughout Turkey by geographical region, though weather is generally temperate throughout. The country's coastal areas around the Aegean and the Mediterranean Sea experience hot, dry summers and mild, wet winters. The Black Sea coastal areas have warm, wet summers and mild to cold, wet winters.
The interior of the country is generally drier than the coastal areas and is more mountainous. The Central Anatolian plateau has severely contrasting seasons and sees extreme winter conditions.
Turkey Related Content
Turkey Key Facts
Country
Turkey
Coordinates
Latitude: 38.963745
Longitude: 35.243322
Country Codes
Alpha 2: TR
Alpha 3: TUR
Country Flag Emoji
🇹🇷
Int. Phone Prefix
+90
Capital city
Ankara
Continent
Subcontinent
Europe/Asia
Eastern Europe
Country Area
783562 sq km
Population 2021
85,042,736
World Rank: 17
Median Age
30.9
Life expectancy
76
Major languages
Turkish (official), Kurdish, other minority languages
UTC/GMT Time
Number of time zones: 1

Internet TLD
.tr
Biggest Airport
Istanbul Airport (IST)
Average temperature
9.90 °C
49.82 °F
Administrative Divisions
81 provinces
Political system
Parliamentary democracy