Medieval towns, the forests of Transylvania, and the Carpathian Mountains lend great natural and cultural beauty to Romania. Where is Romania located?
Romania is located in Southeastern Europe and is part of the European continent.
Precise Location Coordinates of Romania
The DMS (Degrees, Minutes, Seconds) coordinates for the center of Romania are:
45° 56′ 35.38" N
24° 58′ 0.34" E
The latitude and longitude of Romania are:
Latitude: 45.943161
Longitude: 24.96676
You can see the location of Romania on the world map below:
Romania Interesting Facts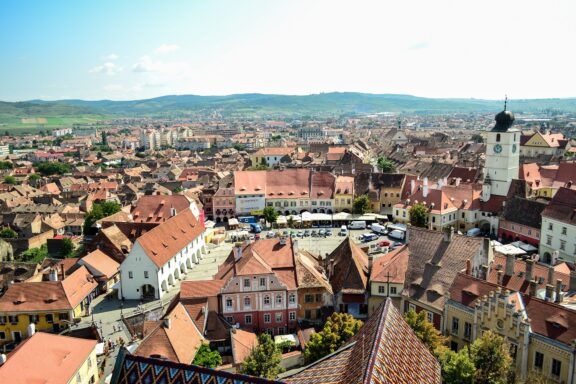 Romania's city of Timișoara was the first in Europe to have electric streetlights.
Bran Castle in Romania is known as Dracula's Castle and could have inspired the Dracula story.
The Palace of the Parliament in Bucharest is the heaviest building in the world.
Romania Neighboring Countries
Romania shares borders with five other countries in Southeastern Europe. Its border with Bulgaria mostly follows the path of the Danube River, and its border with Moldova follows the Prut River.
The neighboring countries of Romania (RO) are:
Maritime Borders
Romania's only maritime border is on the Black Sea, which is also bordered by Ukraine, Russia, Georgia, Turkey, and Bulgaria.
The Danube passes through many capital cities on its way through Europe and eventually empties into the Black Sea in the Danube Delta in Romania.
Administrative Divisions of Romania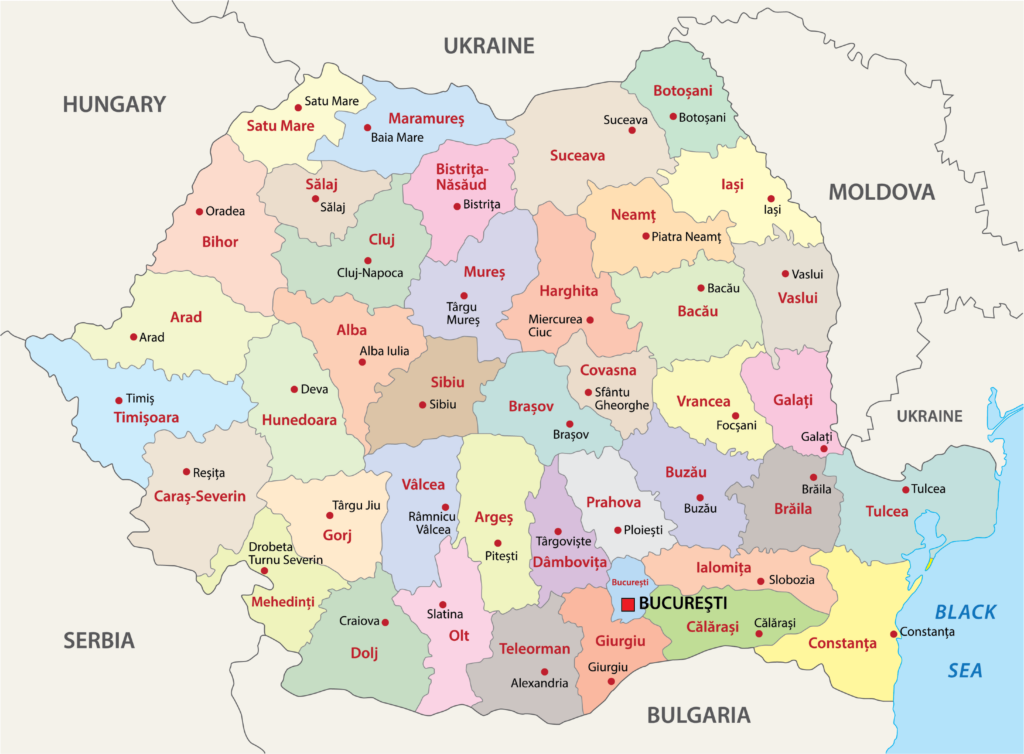 Romania is divided into three types of administrative divisions: counties, communes, and cities. The counties of Romania are the largest division, and there are 41 in the country. The city of Bucharest, the capital of Romania, exists separately from these counties as its own special administrative unit. Iași is the most populous county in Romania, and Alba is the largest in size.
Major cities in Romania are considered municipalities, of which there are 103, and there are 217 smaller towns in the country. The smallest official administrative division in Romania is the commune, of which there are 2,686. Each of these communes has its own mayor and is made up of several villages.
Geography of Romania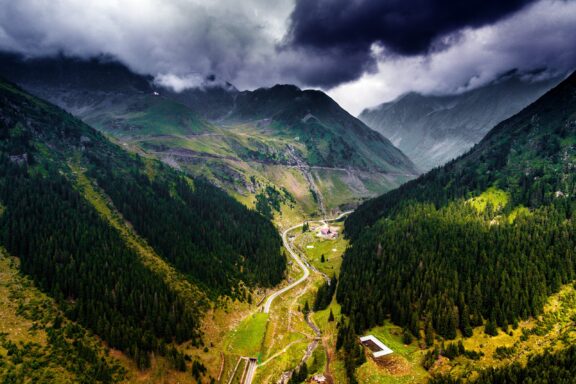 Romania is the twelfth-largest country in Europe, covering an area of 238,397 km2 (92,046 mi2), and its landscape is defined by mountains, forests, rivers, plains, and plateaus. Of the diverse geographic elements found in Romania, the Carpathian Mountains are perhaps the most visually striking.
The Carpathian Mountains are the third-longest mountain range in Europe, extending to the northeast of Romania through Ukraine, Slovakia, Poland, the Czech Republic, and the edge of Austria. In Romania, these mountains are crossed by many valleys and major rivers.
Forests can be found throughout much of Romania and make up almost 30% of the total land in the country. Romania is estimated to contain up to two-thirds of all primary forests in Europe.
The Danube Delta in Eastern Romania is the second-largest river delta in Europe and has been recognized as a UNESCO World Heritage Site since 1991. The delta is home to an impressive range of birdlife and is the best-preserved delta on the continent.
History of Romania
Prehistory
Some of the earliest evidence of humans in Europe was found in Peştera cu Oase, Romania, indicating that humans were present in the area around 40,000 years ago. Permanent settlements were established which later became proto-cities, and the first fortified settlements appeared around 1800 BCE.
Early Modern History
The identity and culture of Romanians were strengthened in the 14th century with the establishment of independent Romanian principalities Wallachia in 1330 and Moldavia in 1359. Control of land in modern-day Romania was contested between the Kingdom of Hungary and the Ottoman Empire among other groups for centuries.
The principalities of Wallachia and Moldavia united in 1859 after electing Alexandru Ioan Cuza as their political leader; they adopted Romania as their name in 1862. Romania drafted its first constitution in 1866.
World Wars
With the end of World War I in 1918, Transylvania joined Romania and peace treaties with Austria, Hungary, and Bulgaria defined new national borders in 1919 and 1920. During World War II, Romania initially sided with Germany but was later forced to align with the Soviet Union after the Battle of Stalingrad.
Communism
The Paris Peace Treaties that came in 1947 after the end of World War II restored Romania's territory in Northern Transylvania and legalized the presence of the Red Army in the country. The communist party gained control of the government in Romania and Gheorghe Gheorghiu-Dej was its first communist leader.
Romania signed the Warsaw Pact in 1955 and continued a policy of integration with the Soviet sphere until the mid-1960s when the country attempted to reduce its dependence on the Soviet Union.
Nicolae Ceaușescu came into power in 1965, and after three decades of increasingly austere and Stalinistic policies, his dictatorship was overthrown in the Romanian Revolution of 1989.
Recent History
Romania drafted a new constitution in 1991 and has spent decades trying to recover from its communist period and the Ceaușescu dictatorship. Romania joined NATO in 2004 and the European Union in 2007.
The current president of Romania is Klaus Iohannis, who was elected in 2014.
Culture and People of Romania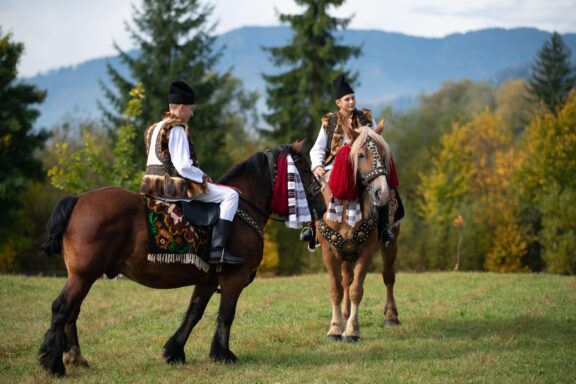 Population
Romania had a population of just over 19 million according to 2022 census results, and ethnic Romanians make up almost 90% of this number. The second largest ethnic group is Hungarian, followed by the Romani people.
Like several others in Southeastern Europe, Romania is among the top 20 countries with declining populations due to low fertility levels and high emigration.
Language
The official language of Romania is Romanian, which is spoken as a first language by 92% of the population. Hungarian is spoken by about 6% of Romania's population, and Romani is spoken by just over 1%.
Religion
As a secular state, there is no official religion in Romania, but the vast majority of Romanians identify as Christian. The Romanian Orthodox Church is the third-largest Eastern Orthodox Church, uses a Romance liturgical language, and has jurisdiction in Romania and Moldova.
Cuisine
Romania owes its diverse range of culinary influences in part to its location. Balkan, Turkish, Hungarian, and Central European influences can be found in the country's food, though it retains a distinctly Romanian identity.
Typical Romanian dishes are often matched with a particular season or holiday and include a wide range of ingredients: vegetables, meat, game, dairy, honey, fruit, and grains. The national dish of Romania is considered to be Sarmale, which consists of stuffed cabbage rolls.
Arts
A variety of different styles of folk art have been practiced in Romania for many years. Most of these involve complex geometric patterns, and some of the most famous include egg painting, ceramics, wood carving, and textile production.
A number of museums throughout Romania such as the National Museum of Art of Romania and the National Museum of Contemporary Art in Bucharest display Romanian art from different eras.
Biggest Cities in Romania
Biggest Cities in Romania
Here are the largest cities in Romania based on 2021 data:
City
Population
Bucharest
1,883,425
Cluj-Napoca
324,576
Timisoara
319,279
Brasov
290,743
Iasi
290,422
Constanta
283,872
Craiova
269,506
Galati
249,432
Ploiesti
209,945
Oradea
196,367
Map of Romania with the Largest Cities
Romania Economy Facts
World Bank Income Group
High income
World Bank Region
Europe & Central Asia
Currency
Romania Leu (RON)
GDP in 2020
$249.5 (billions of USD)
World Rank: 44
GDP per capita in 2020
$12,957
World Rank: 58
Major Industries / Economic Sectors
Manufacturing, services, agriculture, energy
Top 5 Import Countries
Germany, Italy, Hungary, France, China
Top 5 Export Countries
Germany, Italy, Hungary, France, United States
Government and Politics in Romania
Romania is a semi-presidential republic, which means executive powers in the country are shared between the president and the government, headed by the prime minister. The president of the country is elected by popular vote and can serve for a maximum of two five-year terms. The president appoints the prime minister.
Having joined the European Union in 2007, Romania has made efforts to reduce levels of corruption in the country and has increased judicial cooperation with other member states.
Tourist Attractions in Romania
A land of natural and cultural beauty, Romania is home to nine UNESCO World Heritage Sites. These are just some of the many reasons to visit Romania and why tourism is an important industry in the country. We'll explore some of the top attractions in Romania below.
Rock Sculpture of Decebalus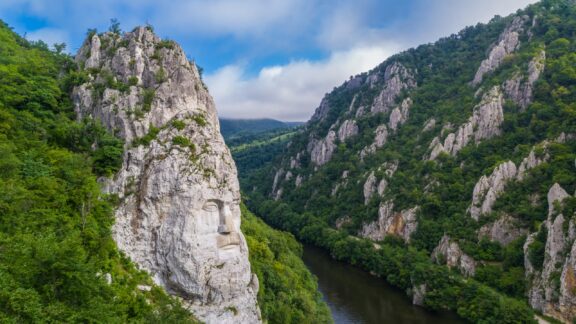 This massive rock sculpture is the tallest in Europe, and it can be found on the banks of the Danube in Romania. Decebalus was the last king of Dacia, and the sculpture was commissioned by Iosif Constantin Drăgan, who employed 12 sculptors to complete the project.
Visiting the sculpture is possible via car travel or a guided tour from a nearby town.
Bran Castle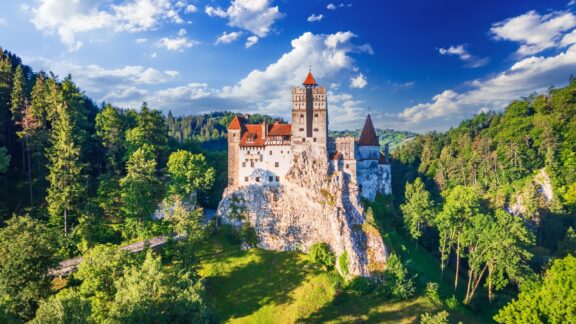 Did Bran Castle really inspire Bram Stoker's Dracula? That's up for debate, but there's little arguing over whether it's one of the most visited spots in Romania. A tour of the castle offers an up-close experience of its medieval architecture, interesting history, and a museum.
Aside from traveling with your own vehicle, the easiest way to get to Bran Castle is to take one of the many buses leaving from Brașov.
Merry Cemetery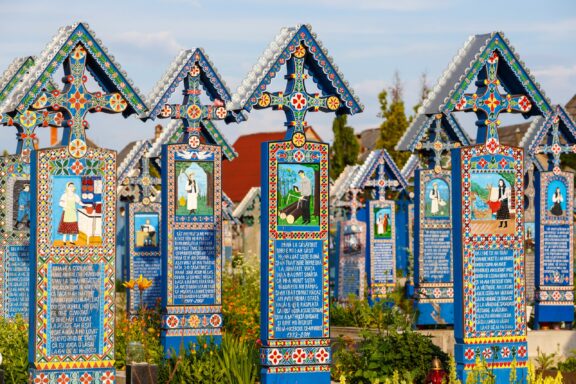 Visiting a cemetery might not be at the top of most to-do lists while visiting a new country, but Romania's "Merry Cemetery" in Sǎpânţa could be worth an exception.
This unique cemetery gets its name for the strikingly cheerful aesthetic that permeates the site. Gravestones are a hopeful blue instead of a mournful gray, and they're adorned with pictures and poems commemorating the lives of the deceased.
Transportation and Infrastructure of Romania
Romania is connected to the rest of Europe by trains, buses, and airplanes. Planes are the most practical option for visitors arriving from further abroad, and most flights operate out of Bucharest.
The largest airport in Romania is Henri Coandă International Airport, located 17 km (10.6 miles) northwest of Bucharest. Business air traffic flows through the capital's Bucharest Aurel Vlaicu Airport.
Once in Romania, travel from one city to another throughout the country can be done by bus, car, and train. The train system in Romania is well connected; most major cities have a train station near the city center, and overnight sleeper trains are available for longer journeys.
Mini-buses, or "Maxi-taxis," as they're called in Romania, are another viable option for getting around the country.
Climate and Weather of Romania
The climate across Romania is generally mild and temperate, but coastal, plains, and mountain regions each have their own features. Romania borders the Black Sea, but its distance from the open ocean gives it a continental climate.
In Bucharest, the county's capital, temperatures range from an average low of −5 °C (23 °F) in the winter to an average high of 33 °C (91.4 °F) in the hottest summer months.
The entire country receives some rainfall, but there is a pattern of more precipitation in the western parts of the territory and less in the east. Snowfall is a common occurrence during winter months in the mountains of Romania.
Romania Related Content
Romania Key Facts
Country
Romania
Coordinates
Latitude: 45.943161
Longitude: 24.96676
Country Codes
Alpha 2: RO
Alpha 3: ROU
Country Flag Emoji
🇷🇴
Int. Phone Prefix
+40
Capital city
Bucharest
Continent
Subcontinent
Europe
Eastern Europe
Country Area
238,391 sq km
Population 2021
19,115,146
World Rank: 62
Median Age
41.9
Life expectancy
74.2
Major languages
Romanian (official) 85.4%, Hungarian 6.3%, Romani 1.2%, other 1%, unspecified 6.1% (2011 est.)
UTC/GMT Time
Number of time zones: 1

Internet TLD
.ro
Biggest Airport
Henri Coanda International Airport (OTP)
Average temperature
8.80 °C
47.84 °F
Administrative Divisions
41 departments 1 municipality
Political system
Parliamentary democracy