Hungary is located in the Eastern Europe region at latitude 47.162494 and longitude 19.503304 and is part of the European continent.
The DMS coordinates for the center of the country are:
47° 9' 44.98'' N
19° 30' 11.89'' E
You can see the location of Hungary on the world map below: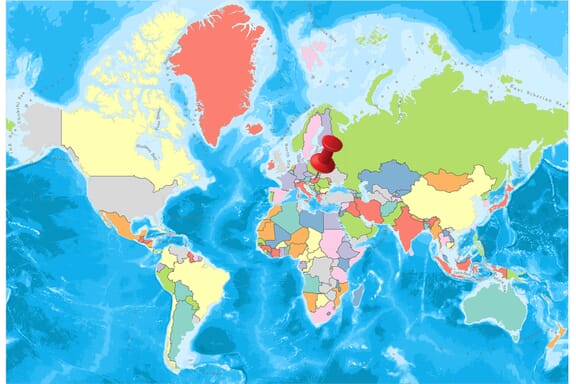 Hungary Neighboring Countries
The neighboring countries of Hungary (HU) are:
Austria (AT)
Croatia (HR)
Romania (RO)
Serbia (RS)
Slovakia (SK)
Slovenia (SI)
Ukraine (UA)
Hungary is a landlocked country, which means it does not have direct access to the open ocean.
Hungary Related Content
Hungary Key Facts
Country
Hungary
Coordinates
Latitude: 47.162494
Longitude: 19.503304
Country Codes
Alpha 2: HU
Alpha 3: HUN
Country Flag Emoji
🇭🇺
Int. Phone Prefix
+36
Capital city
Budapest
Continent
Subcontinent
Europe
Eastern Europe
Country Area
93,028 sq km
Population 2021
9,709,886
World Rank: 94
Median Age
42.7
Life expectancy
74.5
Major languages
Hungarian (official) 99.6%, English 16%, German 11.2%, Russian 1.6%, Romanian 1.3%, French 1.2%, other 4.2% (2011 est.)
UTC/GMT Time
Number of time zones: 1

Internet TLD
.hu
Biggest Airport
Budapest Liszt Ferenc International Airport (BUD)
Average temperature
9.75 °C
49.55 °F
Administrative Divisions
1 capital city 19 counties 23 cities of county right
Political system
Parliamentary republic
Hungary Economy Facts
World Bank Income Group
High income
World Bank Region
Europe & Central Asia
Currency
Hungarian Forint (HUF)
GDP in 2020
$156.7 (billions of USD)
World Rank: 54
GDP per capita in 2020
$16,076
World Rank: 49
Major Industries / Economic Sectors
Manufacturing, services, agriculture, energy
Top 5 Import Countries
Germany, Austria, Slovakia, Russia, Italy
Top 5 Export Countries
Germany, Austria, Italy, France, Slovakia
Biggest Cities in Hungary
Here are the largest cities in Hungary based on 2021 data:
City
Population
Budapest
1,723,836
Debrecen
200,974
Szeged
159,074
Miskolc
150,695
Pecs
140,237
Gyor
132,735
Nyiregyhaza
116,554
Kecskemet
109,651
Szekesfehervar
95,545
Szombathely
78,324
Map of Hungary with the Largest Cities
Other Countries in the Eastern Europe Region
Hungary is one of the oldest settlements in Central Europe. The country without seashore is located in the south of Slovakia, east of Austria.
Hungary, located on the outskirts of the Carpathian Mountains, is among the countries to which the Danube River passes.
The country that hosts the Celts, the Romans, the Slavs, and the Avars, has been maintaining its independence since the 9th century. With the richest popular culture in Europe, Hungary is visited by over 10 million tourists every year with its historical monuments, natural parks, and thermal baths.
Geography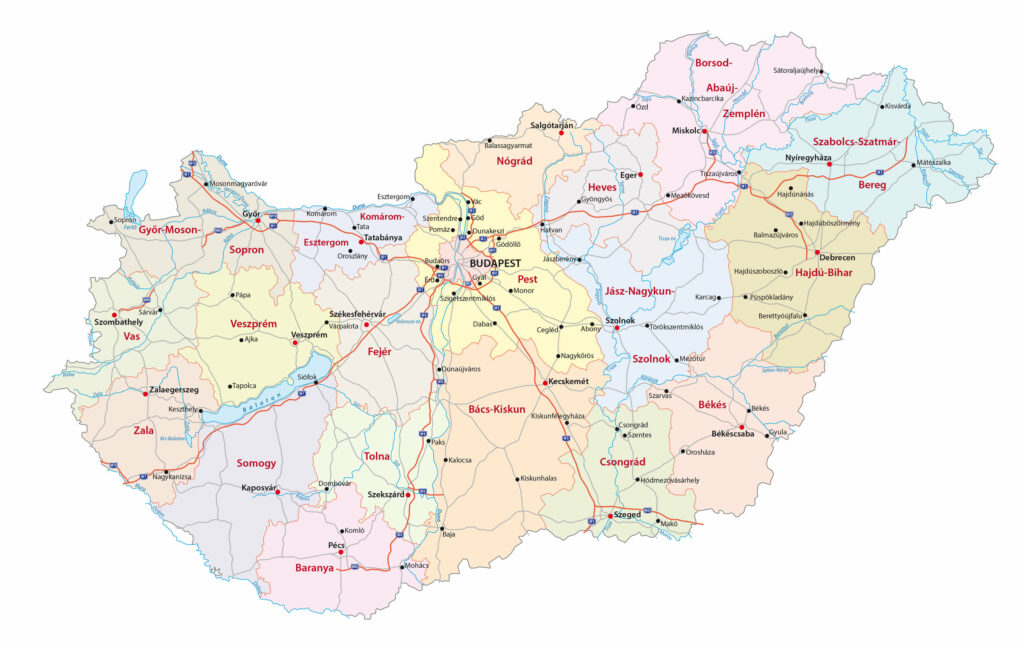 Danube River and Tisza River pass through Hungary, one of the most beautiful countries of Central Europe. Danube River separates country into two parts; the Buddha (Hill) and the Pest (Plain). Heviz Lake, the world's second largest thermal lake, Lake Balaton, the largest lake in Central Europe, and Hortobagy, the largest grassland in Europe, are located in the territory of Hungary.
With 145 protected areas, 35 special parks, and 10 national parks, the country is an important stop for birds during the spring and autumn migration season. Aggtelek National Park, located near Kosice and situated on the UNESCO World Heritage List, is made up of 712 caves. This park, which Hungary shares with Slovakia, occupies 55,800 hectares and is the world's largest cave system.
With more than 1000 spas and 300,000-capacity SPA facilities, the country serves 450 baths. The capital of Hungary has the largest underground geothermal cave system in the world in Budapest. The Szechenyi Thermal Bath, considered Europe's largest thermal facility, is also located in Budapest.
Related: Hungary Regions and Hungary Flag Map
Governance
State Structure: Hungary approved the parliamentary democracy regime with the Constitutional amendment made on 23 October 1989. The one-chambered Parliament consists of 386 deputies elected for a four-year term. In addition to legislative duties, Parliament has the power to determine the internal and external policies of the country.
The President elected by the Parliament is the head of the state and is the representative of the national unity; the democratic functioning of the state machinery; is the commander-in-chief of the armed forces. According to the Constitution, the Presidents can be elected for a maximum of 2 times for 5 years.
Climate
In a country without seashore, the continental climate is dominant. The average temperature ranges from -1 to 3 degrees in January, the coldest month, while it is between 19 and 23 degrees in July, the hottest month.
Religion
The Christian population is intense. Alongside Orthodox Christianity and Jewish scarcity, there is also a Muslim population.
Industry and Tourism
Agriculture: Agriculture is largely mechanized. 6.7 million hectares of agricultural land, 4.7 million of which are effective areas, 1.2 million of pastures and meadows, 250 thousand hectares of vineyards. Wheat, corn, sugar beet, barley, sunflower, potato, rye, oat, vegetable fruit are the basic agricultural products.
Livestock: In addition to horses, pigs and sheep breeding, poultry farming, beekeeping, freshwater fisheries are advanced. Annual beef production is 1.3 million tons, and pork production is 900 tons. Wool, milk, eggs, other major animal products.
Industry: mainly iron and steel, metallurgy, cement; artificial fertilizer chemical products cotton, wool, silk and synthetic woven, footwear, important industry branches. 49% of annual electrical energy production is provided from nuclear power plants.
Tourism: Developing. 2.5 million tourists visit Hungary every year, including Russia and other socialist countries. To improve tourism, winter sports and hot water facilities have been modernized.
Art
Hungary is a wealthy country in terms of heritage. Like most countries, public heritage is not kept in the land but is kept alive by the local communities in the small villages of Hungary. There are many museums and galleries in Budapest and temporary exhibitions. Budapest's cardholders can benefit from museum discounts.
Sports
As the sixth country to win the gold medal in the world in Olympic competitions, Hungary has been hosting the Formula 1 races since 1986. Also, football is one of the most popular sports in the country.