Ankara is the capital of Turkey. Ankara is a hub for education and home to several universities, including the Middle East Technical University and Ankara University.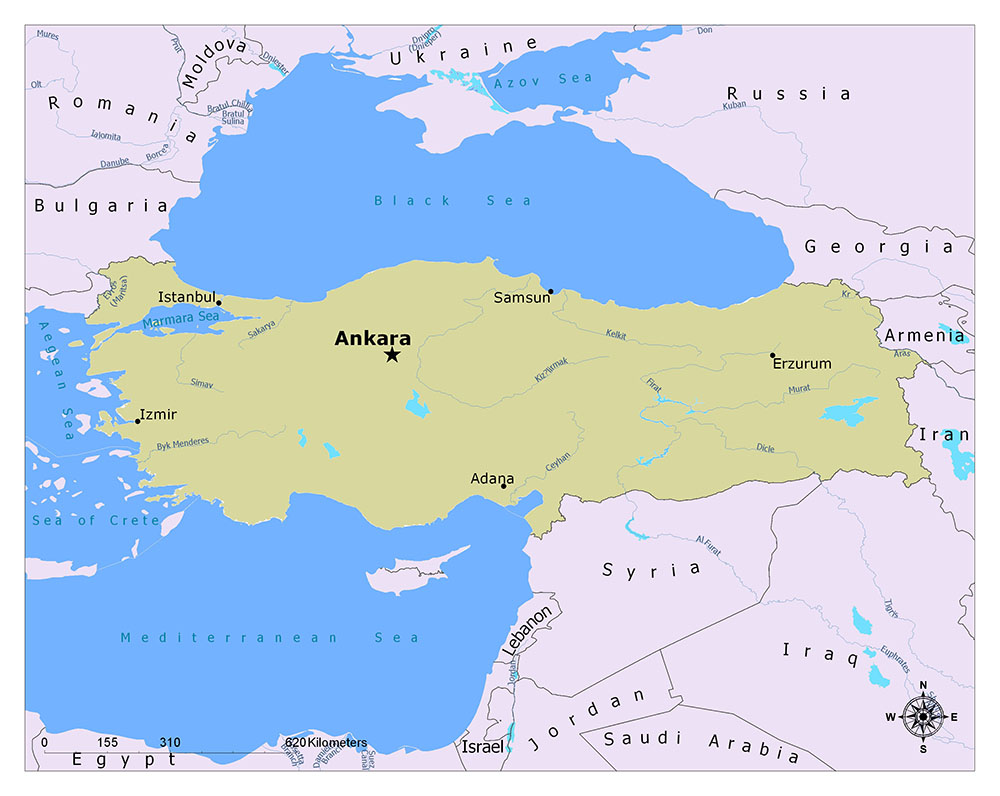 Ankara is known for its vibrant arts scene, with several theatres and a prestigious ballet. The city's architecture is a mix of modern and historical buildings. It provides a unique blend of contemporary living and rich cultural heritage, making it an intriguing destination.
Where is Ankara?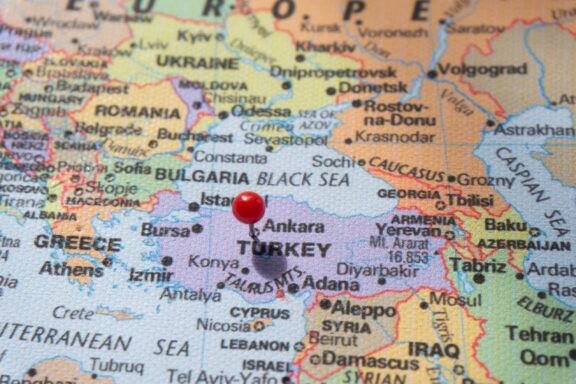 Ankara is located in the Central Anatolia region of Turkey, nearly equidistant from the country's northern, southern, eastern, and western borders. Specifically, it lies in the northwestern part of the region.
The city lies between 39 and 40 degrees north latitude and 32 and 33 degrees east longitude. The city is at an elevation of approximately 938 meters (or about 3,077 feet), giving it a high-altitude steppe climate.
Ankara is roughly 450 kilometers (280 miles) southeast of Istanbul and about 350 kilometers (220 miles) south of the Black Sea coast. It's also approximately 250 kilometers (155 miles) north of the Mediterranean Sea. Being in the country's center, it has good transport links to other parts of Turkey.
History of Ankara
Ankara's history can be divided into distinct cultural, political, and architectural periods.
Archaeological evidence suggests that the Ankara area was inhabited as far back as the Bronze Age, and the city itself originated in the Hittite era around 2000 BC; after the fall of the Hittite Empire, the Phrygians, and Lydians controlled the city before falling to the Persian Achaemenid Empire.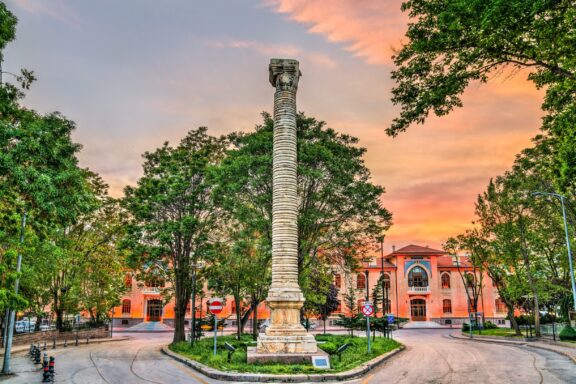 After Alexander the Great's conquest of the region in 333 BC, Ankara and its surrounding region came under Macedonian rule, and the city, then known as Ancyra, became significantly Hellenized.
In 25 BC, Ancyra was incorporated into the Roman Empire as part of the province of Galatia. During the Roman era, it grew considerably in importance due to its location at the intersection of important trade routes. The Temple of Augustus was constructed during this period, and its inscribed walls provided vital historical information about the Roman Empire.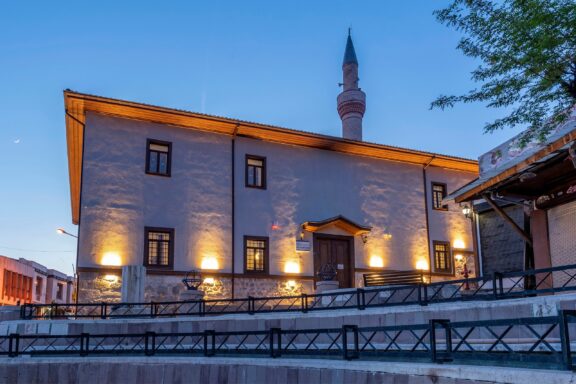 After the Western Roman Empire fell, Ancyra remained part of the Eastern Roman Empire or Byzantine Empire. However, the city was frequently attacked by invading forces, such as the Sassanids, Arabs, and Seljuk Turks.
In the 11th century, the Seljuk Sultan Alparslan defeated the Byzantine forces, and Ancyra became part of the Seljuk State. It was renamed Ankara and went through a significant period of Turkification.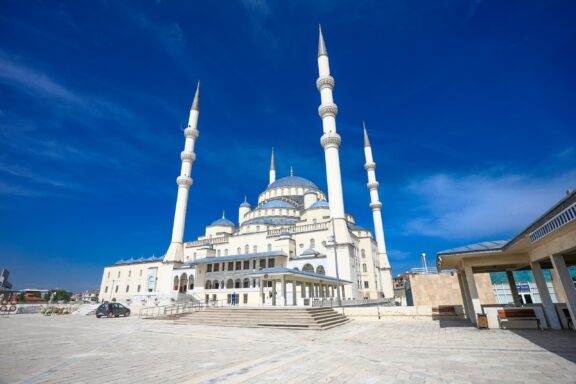 In the 14th century, Ankara was conquered by the Ottoman Turks. Despite a brief interlude when Timur captured it in 1402, Ankara remained under Ottoman control for centuries. However, it was a relatively insignificant city during this period.
Republican Period
This era began in 1923 when Mustafa Kemal Atatürk founded the Republic of Turkey. The decision to make Ankara the new capital was strategic; the location was more central and less exposed to foreign attack than Istanbul. This choice also symbolized the new secular republic's break from the Ottoman past.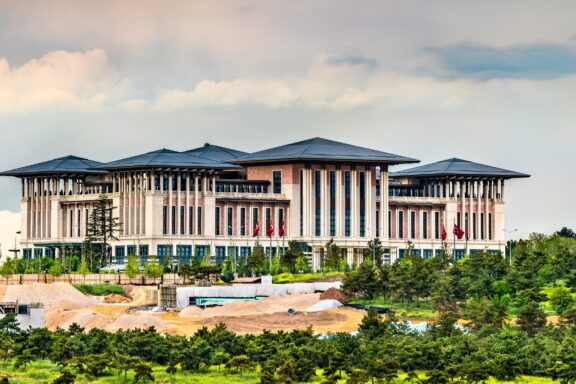 Throughout the 20th and 21st centuries, Ankara has experienced rapid growth and modernization, becoming Turkey's political and administrative center. It's now home to many foreign embassies, educational institutions, and businesses, shaping the city's international identity.
This history is a testament to the city's resilience and adaptability, and the traces of each historical period can be seen in its architecture, culture, and urban landscape.
Features of Ankara
Ankara stands out for its unique blend of ancient history and modern development, resulting in a rich and diverse cityscape. The city is marked by its historical monuments that narrate stories from different epochs.
Ankara is also home to some magnificent examples of Ottoman architecture, dating back to the early 15th century and offering insight into the city's Byzantine and Ottoman past.
The city's modern persona is reflected in its bustling business districts, lined with skyscrapers, shopping malls, and sophisticated restaurants. Ankara is a city where the past and present coexist harmoniously, each enriching the other, resulting in a captivating blend of cultures, architecture, and experiences.
Geography and Climate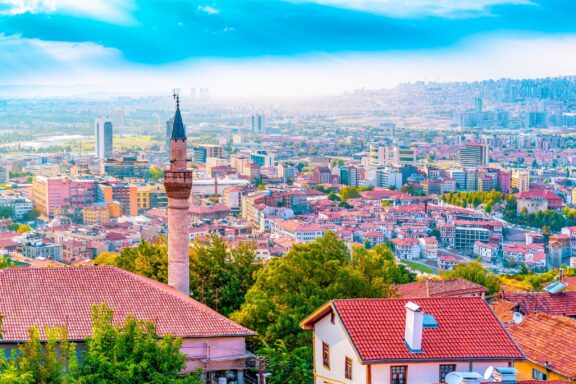 Ankara is surrounded by a series of high plains, which give the city a slightly elevated and hilly appearance. It's situated on the edge of the Anatolian Plateau, characterized by fertile soil. Ankara's topography mainly consists of high plateaus and a significant hill where the ancient Hisar (castle) is located.
The city experiences a continental climate with four distinct seasons. The summers in Ankara are hot and dry, with temperatures often reaching above 30 °Celsius (86 °F). On the other hand, winters are cold and snowy, with temperatures usually falling below freezing. The city receives most of its annual precipitation during the spring and fall, which are mild and often quite pleasant.
Population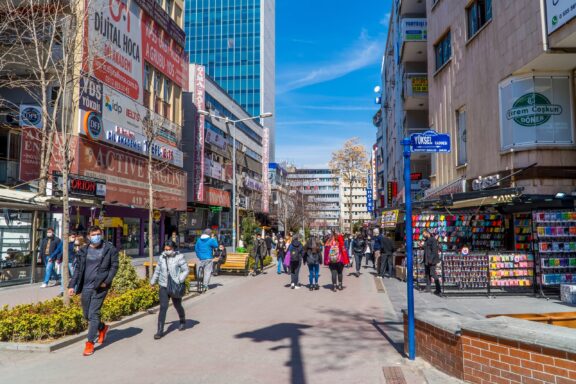 Ankara has a population of over 5.5 million, making it the second most populous city in Turkey after Istanbul. Ankara is a young city demographically, with a significant number of students due to the presence of several universities.
The city is multicultural, with people from different ethnic backgrounds, including Turks, Kurds, and other minority groups. Due to Ankara's status as the capital and its educational institutions, there is also a sizeable international community, including diplomats, business people, and students.
The official language is Turkish, and while English is commonly taught in schools and is understood in many places, Turkish is the language you'll hear most often.
Economy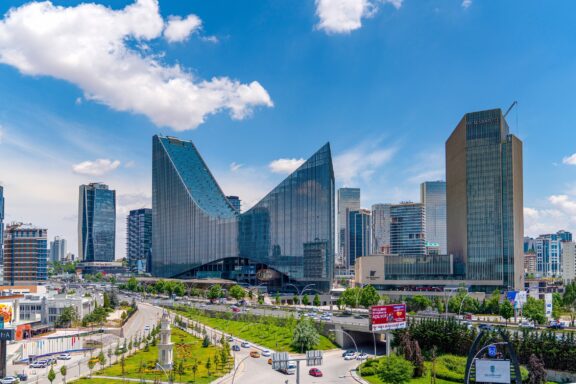 Ankara is an administrative and political center and employs many people in public administration and government. It's also a central national hub for the defense and aerospace industry, housing several large factories and research centers.
Education is another key sector, with many universities and research institutions. These institutions contribute to the city's economy and status as a center for innovation and knowledge.
Ankara is also known for its wine and beer production and its unique types of honey and pears. The city hosts significant agricultural activity in its surrounding areas, including livestock farming and crop cultivation.
Additionally, the service sector, including retail, finance, and real estate, plays a critical role in Ankara's economy. With numerous shopping centers, markets, and commercial districts, commerce is a significant source of employment and revenue in the city.
Things to Do and Places to See in Ankara
Ankara offers an expansive array of activities and sights for visitors to enjoy. Let's explore some of the city's most frequented destinations and attractions.
1. Visit the Anıtkabir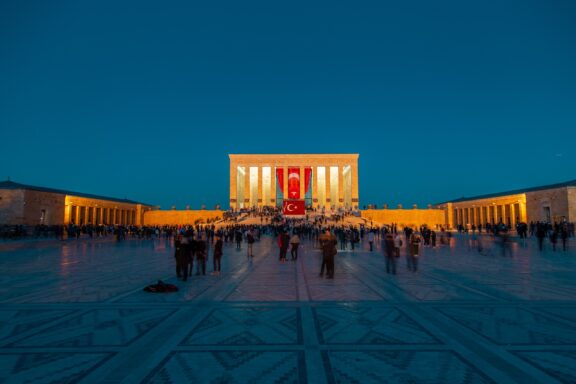 The Anıtkabir is a national monument that holds immense symbolic significance for the Turkish people and is a significant draw for tourists. Within the complex, you'll find a museum dedicated to Atatürk and the Turkish War of Independence, featuring a comprehensive collection of Atatürk's personal items, clothing, vehicles, and documents and photographs from the late Ottoman and early Republican periods.
Completed in 1953, Anıtkabir is situated atop a hill in the city center, offering panoramic views of Ankara. The architectural style is a unique blend of different epochs and cultures, combining elements of traditional Turkish architecture with Art Deco and modernist styles. The mausoleum is made from travertine and marble, creating an imposing and stately presence.
2. Explore the Museum of Anatolian Civilizations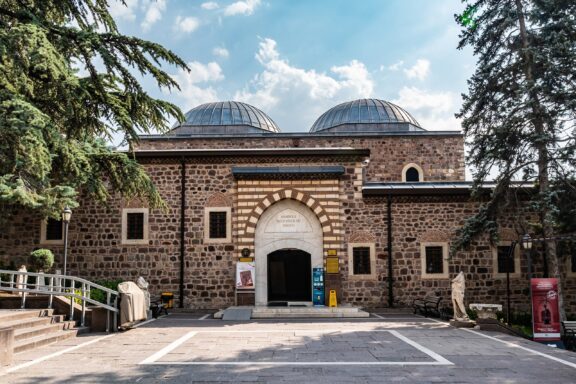 The Museum of Anatolian Civilizations offers an extensive display of artifacts and relics representing the vast tapestry of civilizations gracing Anatolia. The museum exhibits are arranged chronologically, starting from the oldest artifacts to the most recent ones, allowing visitors to walk through time and explore the evolving story of human civilization in Anatolia.
Housed in a restored 15th-century market complex, the museum provides an impressive exhibit backdrop. The collection spans from the Paleolithic to the Classical period, with remarkable Neolithic and Bronze Age displays.
3. Take a Stroll in Gençlik Park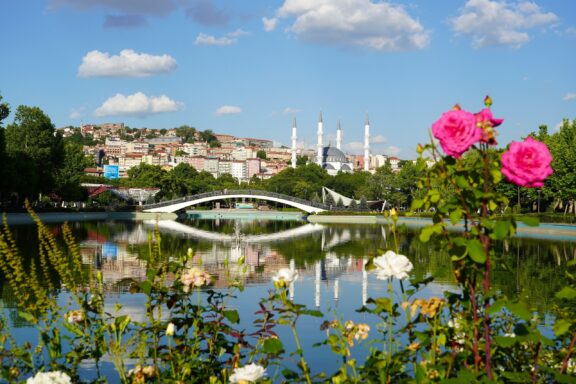 Gençlik Park, translated as Youth Park, is one of Ankara's most beloved recreational areas. The park is a testament to Turkey's modernization efforts under Mustafa Kemal Atatürk.
Gençlik Park covers a vast area in the Ulus district of Ankara and is a vibrant hub of outdoor activity and relaxation. At the park's center is a large artificial lake with fountains that offer a delightful evening light and water show.
The park also houses an amusement park, offering fun rides and attractions catering to children and adults, making it a popular destination for families. Lush, beautifully maintained gardens provide a serene environment for strolls, picnics, or simply relaxing amid nature.
4. Visit the Hacı Bayram Mosque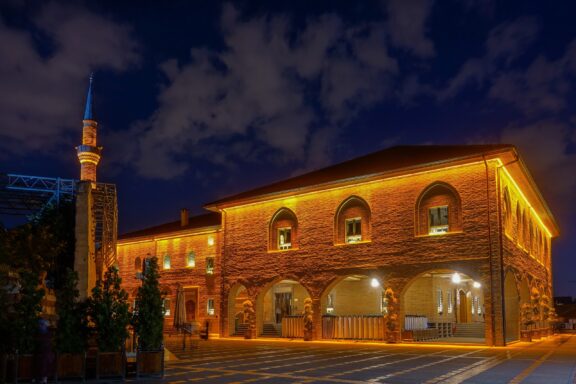 The Hacı Bayram Mosque is one of Ankara's most significant and oldest Islamic sites. It's located in the Ulus quarter of the city, near the Temple of Augustus, creating an interesting juxtaposition of religious histories. The mosque underwent significant restoration in the 17th and 18th centuries, adding to its architectural grandeur.
The exterior of the Hacı Bayram Mosque is simple and elegant, featuring a large central dome supported by half-domes and a single minaret. The interior, however, is highly decorative, showcasing stunning Ottoman-era design. Elaborate calligraphy, intricate tile work, and ornate wooden details adorn the walls and ceiling, creating a serene and beautiful place of worship.
5. Tour the Ankara Castle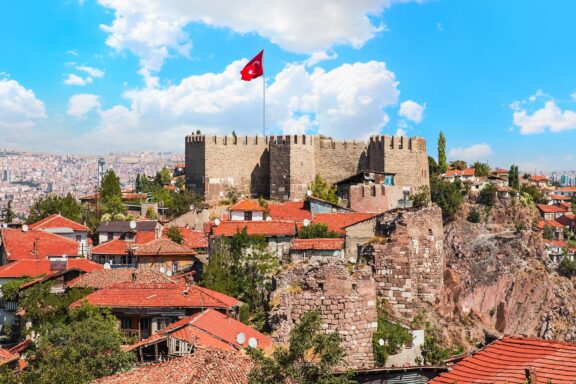 The Ankara Castle's strategic position atop a hill offers magnificent views over the city and has made it a central defense point throughout history. The exact origin of Ankara Castle is somewhat unclear, but it's believed to date back to the Galatians and Romans, with later additions and renovations by the Byzantines and Seljuks. The castle is a splendid representation of these layers of history.
The castle's walls stretch over 20 towers, creating an imposing structure that dominates Ankara's skyline. Visitors can appreciate the centuries-old stonework and impressive architectural design by walking along these ancient fortifications. The inner castle, or the Citadel, is the oldest part, featuring a maze-like network of narrow streets lined with old houses, shops, and restaurants.
6. Visit the Temple of Augustus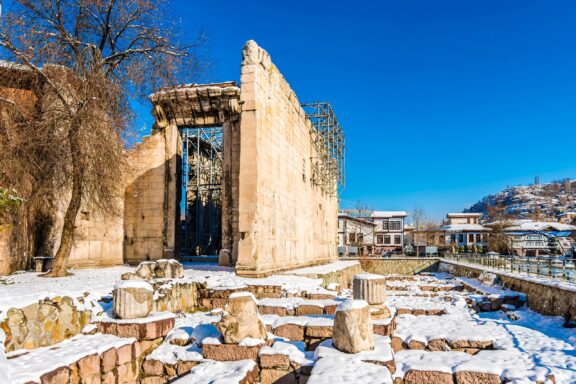 The Temple of Augustus, also known as the Monumentum Ancyranum, is a historic site in the Ulus district of Ankara, near the Hacı Bayram Mosque. This juxtaposition of a Roman temple and a mosque makes the site a unique symbol of Turkey's layered religious history.
What makes this temple especially significant is that it houses the most intact version of the Res Gestae Divi Augusti, an autobiographical account of Augustus's achievements, inscribed in Latin on the inner walls of the pronaos (the portico before the cella, or inner shrine). The inscriptions have offered scholars valuable insights into the life and reign of Augustus and the political landscape of the Roman Empire.
7. Ulucanlar Prison Museum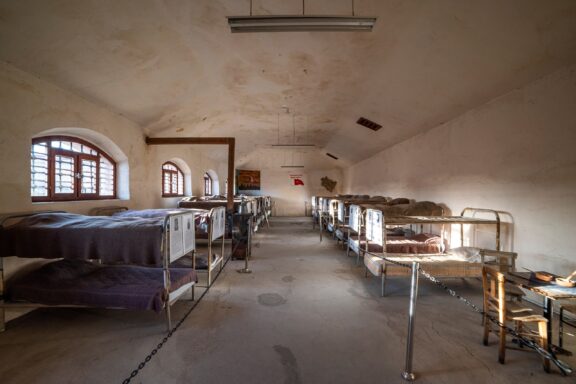 The Ulucanlar Prison Museum in Ankara is a significant and poignant historical site that allows visitors to glimpse into a somber period of Turkish history. Once a functioning state prison, Ulucanlar was notorious for the harsh conditions endured by its inmates and was the location of many executions, including those of several notable Turkish intellectuals and political figures.
Today, the museum preserves and displays various aspects of prison life, including cells, solitary confinement areas, the infirmary, and the execution room. There are exhibits of the personal belongings of the inmates, official documents, photographs, and artworks made by prisoners. Some of the cells are staged to recreate the living conditions of the prisoners, offering a sobering representation of their daily life.
8. Walk around Kızılay Square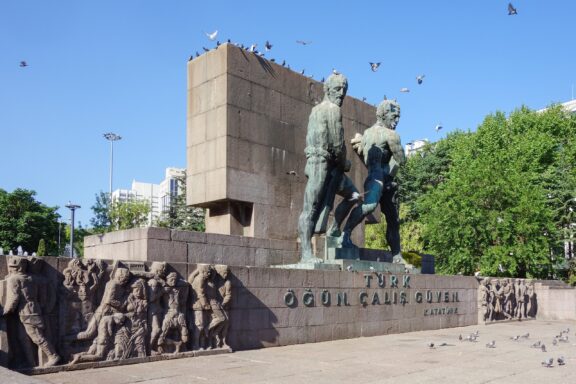 Over time, Kızılay Square has evolved into one of the city's leading commercial and transportation hubs, filled with a dynamic mix of shopping centers, offices, restaurants, and cultural venues.
A vital feature of the square is the monument to the Independence War, a striking statue dedicated to the victory of the Turkish people in the War of Independence. It symbolizes the determination and resilience of the Turkish nation and is a beloved landmark of the city.
Kızılay Square is also notable for its vibrant street life. Whether it's day or night, the area is buzzing with activity. Sidewalk cafes offer a great spot for people-watching, while the nearby pedestrian streets and shopping centers, like the Kızılay AVM, are perfect for a shopping spree.
9. Visit the Ethnography Museum of Ankara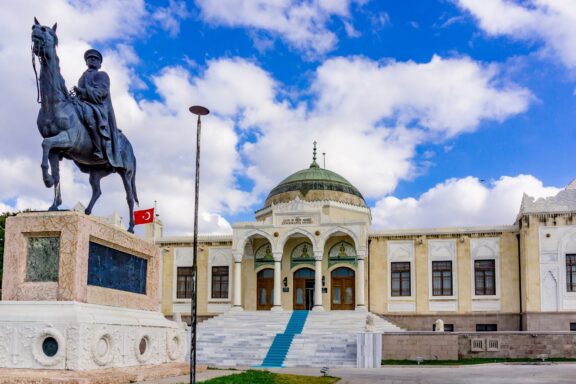 The Ethnography Museum of Ankara is an architectural gem, designed by architect Arif Hikmet Koyunoğlu and completed in 1927. The building is a beautiful example of the Neoclassical style, with a grand entrance and a dome covering the main exhibition hall.
The museum's collections span various topics, from traditional crafts, folk art, and costumes to religious artifacts and items related to Ottoman and Republican periods. Highlights include a stunning collection of Turkish carpets and kilims, beautifully illuminated Quran manuscripts, and an array of Ottoman-era weaponry.
10. See a Performance at the State Opera and Ballet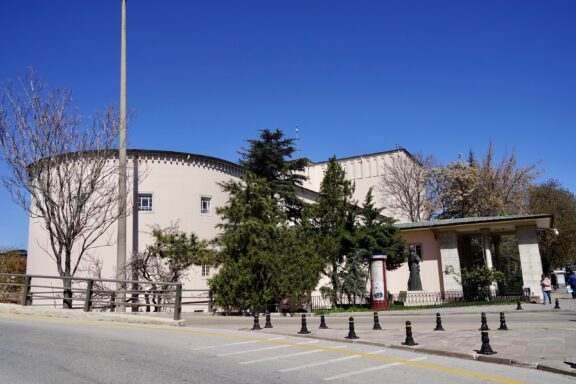 The State Opera and Ballet in Ankara is a cornerstone of Turkey's performing arts scene and a cultural beacon in the heart of Ankara. It is housed in the Ankara Opera House, also known as the Atatürk Cultural Center, an architectural landmark.
The opera house hosts various performances throughout the year, including opera, ballet, and symphony concerts. From classic European operas and ballets to works by Turkish composers and choreographers, the institution plays a vital role in fostering appreciation for the arts and promoting cultural exchange.
11. Rahmi M. Koc Museum Ankara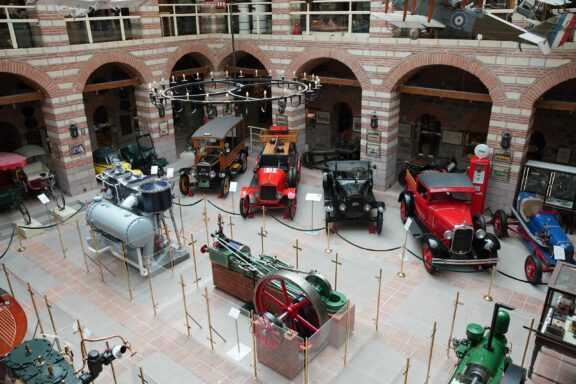 The Rahmi M. Koc Museum in Ankara is a fascinating destination that caters to history buffs, technology enthusiasts, and curious explorers alike. It's part of the Koc Family's series of museums, dedicated to the history of transport, industry, and communications.
Located in Ankara's historic Çengelhan district, the museum is housed in a restored caravanserai – an inn with a central courtyard traditionally used by travelers in the Ottoman Empire. This 16th-century building provides a striking backdrop to the museum's extensive collection.
12. Visit the CerModern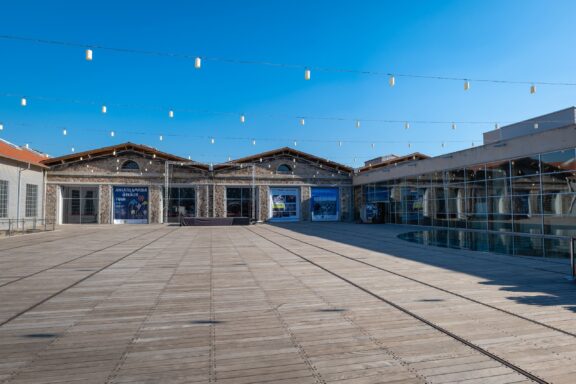 CerModern is Ankara's premier center for modern and contemporary arts. Opened in 2010, the museum is located in the Sıhhiye neighborhood and is housed in a former railway repair workshop. The buildings, which date back to the early 20th century, have been repurposed and transformed into a sprawling, light-filled space dedicated to the arts.
The primary mission of CerModern is to promote and foster an understanding and appreciation of modern and contemporary art in Turkey and to create a platform for Turkish and international artists. To this end, the museum hosts various temporary exhibitions featuring works by established and emerging artists.
13. Altınköy Açık Hava Müzesi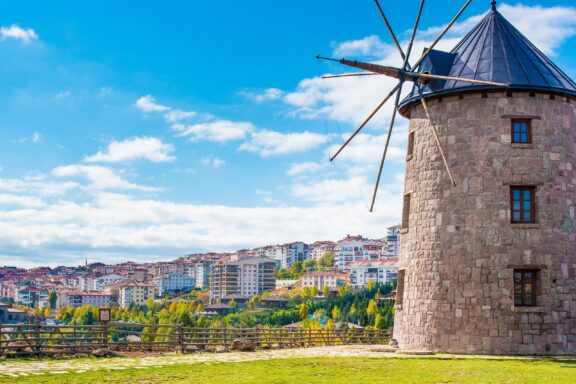 Altınköy Açık Hava Müzesi, or Altınköy Open Air Museum, is a delightful destination in Ankara that offers visitors a unique journey into the rural life of Turkey's past. Situated about 20 kilometers from the city center, the museum stretches approximately 50 hectares, making it a spacious and pleasant retreat from the urban hustle.
It features a variety of authentic, fully furnished buildings, including a village house, a barn, a windmill, a bakery, a blacksmith's shop, a vineyard house, and a schoolhouse, among others. Walking through these structures gives visitors a glimpse into the day-to-day life in an Anatolian village, complete with its crafts, cuisine, and agriculture.
14. Take a Trip to Lake Eymir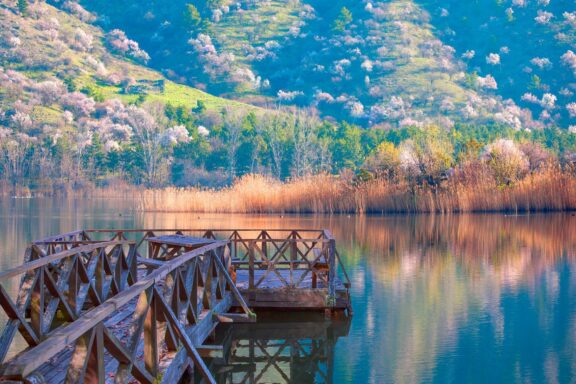 Lake Eymir provides a refreshing respite from bustling city life. This charming lake, located about 20 kilometers south of the city center, is a favorite destination for locals and visitors looking for relaxation, outdoor activities, or a leisurely picnic by the water.
The lake is surrounded by lush greenery, rolling hills, and beautiful woodland, creating a peaceful and serene atmosphere. The lake's water is clear and calm, reflecting the beauty of the natural surroundings. The area is a haven for wildlife, and visitors can often spot various bird species, rabbits, and even deer.
15. Explore the Roman Bath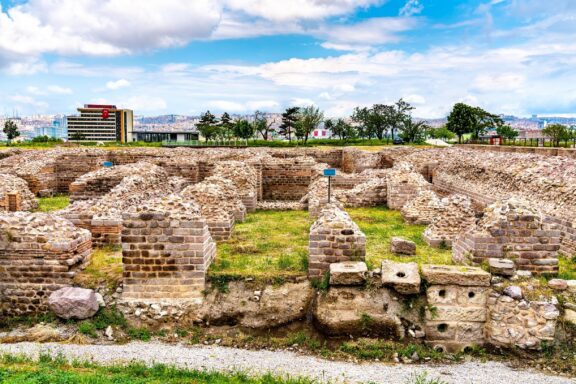 The Roman Baths in Ankara is an intriguing historical site that transports visitors to the Roman era. This open-air archaeological park near the Ulus district in the city center offers a glimpse into the ancient bathing culture that played a significant role in Roman social and civic life.
The bath complex was a social interaction, hygiene, and relaxation center. It was designed with the typical structure of Roman baths, including a frigidarium (cold room), a tepidarium (warm room), and a caldarium (hot room).
Frequently Asked Questions
What is the best time to visit Ankara?
The best time to visit Ankara is spring (April to June) or autumn (September to November). The weather is mild during these months, making it ideal for sightseeing and outdoor activities.
Is it safe to visit Ankara?
Yes, Ankara is generally safe for tourists. Like in any major city, however, it's important to take standard safety precautions, such as keeping an eye on personal belongings and avoiding less crowded areas late at night.
What is traditional food and cuisine like in Ankara?
Ankara's cuisine is typically Turkish, featuring a wide variety of dishes. You'll find an emphasis on meats, fresh vegetables, grains, and dairy products. There are also unique local specialties, such as Ankara Tava and Ankara Döneri.
What's a must-try dish/food in Ankara?
Ankara Döneri is a must-try dish. It's a version of the well-known Turkish döner kebab but prepared with local spices and techniques. Also, try Ankara honey, famous throughout Turkey for its unique flavor.
What souvenirs can I bring home from Ankara?
Traditional Turkish items make great souvenirs—textiles, ceramics, spices, Turkish tea or coffee, local honey, or jewelry. The old Weavers' Road (Çıkrıkçılar Yokuşu) is a great place to find these.
How can I get around in Ankara?
Ankara has a comprehensive public transportation system, including buses, minibusses, and a subway system. Taxis are readily available and relatively affordable. For more freedom and flexibility, consider renting a car.
Is it expensive to visit Ankara?
Ankara is generally more affordable than other European capitals. Costs can vary depending on your travel style and preferences. Eating local food, using public transportation, and staying in budget accommodations can make your trip economical.
Which currencies are accepted in Ankara?
The official currency is the Turkish Lira (TRY). Credit cards are widely accepted in hotels, restaurants, and shops.
Is it worth living in Ankara?
Ankara has a high quality of life, with good healthcare, education, and transport systems. It's a blend of modern city life and rich historical heritage. As the capital city, it offers diverse job opportunities. However, suitability can depend on personal preferences and lifestyle.
Is it safe to drink tap water in Ankara?
While tap water in Ankara is chlorinated and safe to drink, locals and tourists often prefer bottled water due to taste and quality preferences.
Which cultural customs should I be aware of when visiting Ankara?
Turkish people are generally quite formal in social interactions, and respect for elders is essential. It's common to greet with a handshake. Dress modestly, particularly when visiting mosques or religious sites.
Final Thoughts
Ankara, provides an enriching experience for every traveler. Its intriguing cultural heritage, diverse culinary delights, and warm hospitality make it an inviting destination. While it's known for its governmental and educational importance, Ankara also holds a treasure trove of stories and experiences that wait to be explored.
Whether it's the breathtaking Anıtkabir, the charming parks, or the bustling markets, Ankara promises a memorable encounter with the soul of Turkey. As the saying goes, Ankara is "the heart of Turkey," not only geographically but also in its essence.