In this article, we researched the countries with the world's most delicious food cultures. After looking the many tasty dishes, we found the top 10 countries having the best cuisine in the world.
When we examined the world cuisine, we are faced with a wide spectrum ranging from the Far East, Central Asia, Europe, and America.
We are delighted to share with you the results we have gained through a thorough review of the country's food and fame in the world.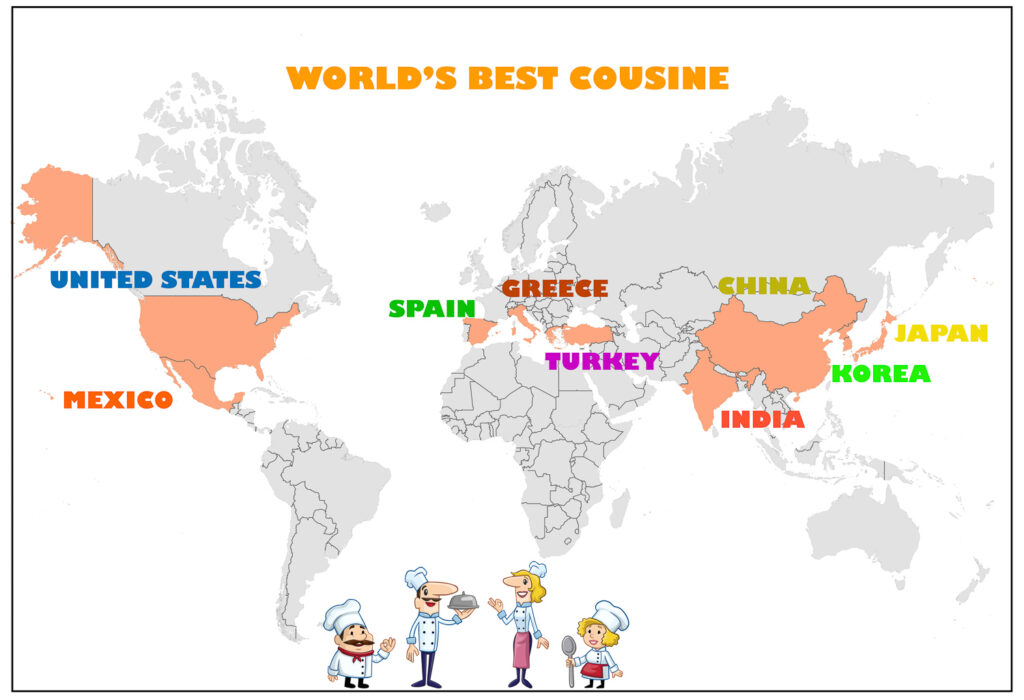 1. China
Chinese cuisine takes its flavor and variety of dishes from the country's deep-rooted history.
Each region in the country has its own unique flavors.
When thinking of the Chinese cuisine, you may think only rice and noodles. But in addition to rice and noodles, the country is famous for all kinds of meat dishes.
Pork, beef, mutton, chicken, duck, pigeon and many other kinds of meat are the main heroes in the delicious food category of Chinese cuisine. It is unfair to mention only meat, rice, and noodles when it comes to Chinese food.
In addition to those dishes, China is the right place to try fruit & vegetables such as Pomelo (citrus fruit), bitter cucumber, yard-long yams, tree fungi, and dozens of untranslatable weed-like plants that you have never heard of.
Northern China food — salty, simple, fewer vegetables, more wheat as the staple food. Wheat is the main ingredient of many meals. Noodle and dumpling are the most consumed dishes in Northern China.
Western China food — hearty halal food with lamb the main meat
Eastern China food — sweet and light
Central China food — spicy with a lot of seasonings
Southern minority food — sour, and many minorities eat chilies every day
Did you know what 5 flavors you need to taste in China?
Sweet and Sour Pork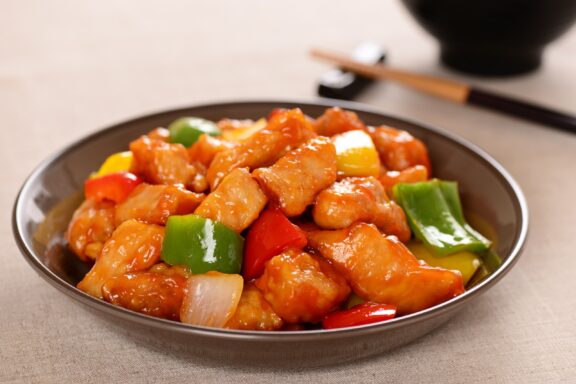 You should definitely try this dish, which is a wonderful combination of sour and sweet with bright orange-red color.
Gong Bao Chicken
Diced chicken, dried chili, and fried peanuts come together in a blend of mastery hands. If you visit China one day, you should definitely try.
Ma Po Tofu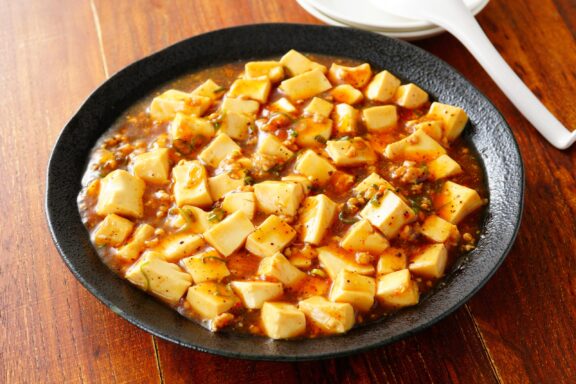 With more than 100 years of history, Ma Po Tofu is one of the most famous dishes of China. Do not come back from China without eating this unique dish of spice, meat, and plenty of bulbs prepared with pepper powder.
Wontons
This triangular-looking delicious meal resembling the Italian tortellini dates back to the Tang dynasty (618-907). The filling of wontons can be minced pork or diced shrimp.
Dumplings
This dish, which has a history longer than 1,800 years, is one of the most popular dishes of the North China region. Popular fillings are mince pork, diced shrimp, ground chicken, beef, and vegetables.
2. India
With 8,000 years of history, Indian cuisine is perhaps one of the world's most popular cuisines. Plenty of spicy dishes, vegetables are predominant and reflect the vegetarian culture.
Because many Indians (Hindus) consider cows holy, less beef is consumed across India, except in a few regions, like Kerala and North East India. Speaking of meat consumption, you also may want to read our article about the countries with the highest meat consumption.
Did you know what 5 flavors you should absolutely taste in India?
Hyderabadi Biryani
Perhaps you have heard of this dish, which is a wonderful combination of rice, spices, and meat.
Chicken Stew and Appam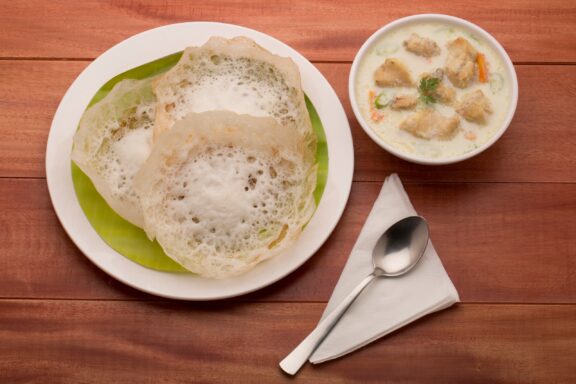 This meal, formed by the combination of Indian spices, large chicken pieces, soft appam (a type of pancake), and coconut sauce, has an important place in Indian cuisine.
Banjari Gosht
It's impressive to see meat, yogurt and authentic Rajasthani flavors in one meal.
Bhapaa Aloo
This meal, which is quite simple to make, brings us a feast with the best tastes. We strongly recommend you to try this wonderful dish of potato, panch phoron, coconut paste and mustard oil.
Butter Chicken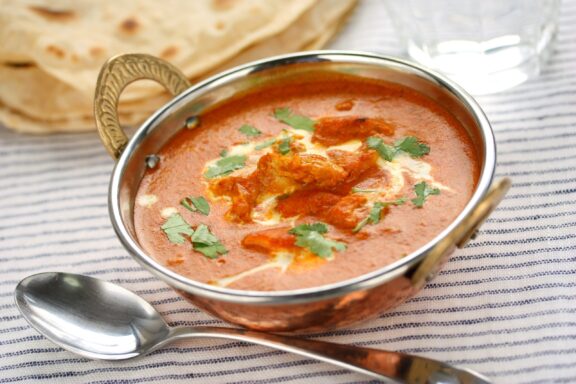 It is marinated overnight in yogurt and decorated with unique Indian spices, crowned with the latest butter. If you have not tried this dish, we suggest you hurry.
3. Italy
Yes, you are correct! When it comes to Italy, the first thing that comes to mind is pizza, pasta, and ice cream.
It is one of the first countries that comes to mind, when it comes to food. Italy offers unique dishes to the world such as pizza, pasta, and the country adds flavor to our lives with its unique and flavorful "gelato" (ice cream).
We will propose five delicious Italian meals, some perhaps less known, but they should be tried.
Did you know what 5 flavors you should absolutely taste in Italy
Lasagna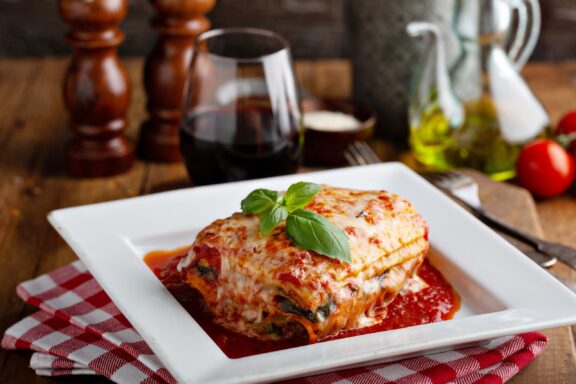 One of the best-known dishes of the Italian cuisine is the Lasagna, which is also worth trying in its own homeland. For those who do not know, let me say that the medium-thick pasta dough is layered in layers with bolognese and Béchamel sauce, resulting in this unique flavor of baking. You can try to make this meal at home, which is quite simple to make.
Ossobuco alla Milanese
is said that the original recipe appeared in the late 19th century. Ossobuco consists of veal shanks cooked slowly in white wine, meat broth, and vegetables.
Panzanella Salad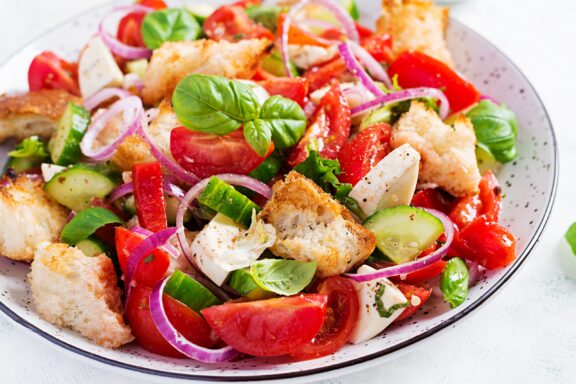 The healthy and delicious tomato salad with bread is usually served in central Italy during the hot summer months. If you visit Italy in summer, we recommend you give Panzanella salad a chance.
Focaccia
Often associated with Ligurian cuisine, focaccia is one of Italy's most popular and delicious types of bread.
Caponata
This is a Sicilian type of salad served hot. It contains the onions, celery, capers, and whatever vegetables people have in their kitchens.
Related Post: Healthiest Food in the World
4. Mexico
Mexico is known as the place where the most bitter spices are in the world. For many of us, however, eatable insects are an important part of traditional Mexican food cultures. If you are going to Mexico, you should definitely try these dishes.
Did you know what 5 flavors you should definitely eat in Mexico?
Garlic Beef Enchiladas
The corn tortilla, the perfect combination of spices and meat.
Steak Tortillas
Of course, in Mexico, you will eat plenty of meat.
Zesty Tacos
When it is called Pepper and Taco, the first place come to mind is Mexico. You have to eat plenty of Taco here.
Taco Filled Peppers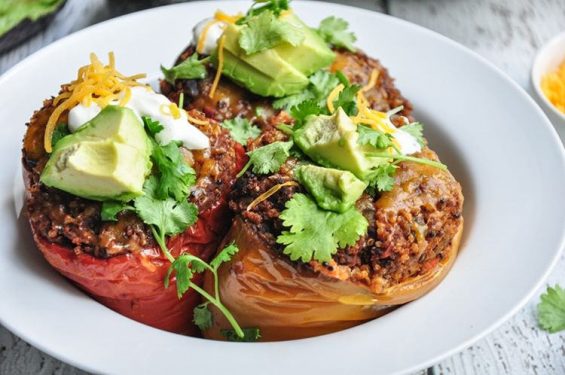 You will not regret trying this excellent flavor of taco, meat, bean sprouts, pepper and spice mixture.
Turkey Burritos with Fresh Fruit Salsa
Salsa sauce, which is one of the Mexican specialties, accompanies a lot of food. During your trip to Mexico, you can taste salsa sauce in many dishes.
5. Korea
Korea is always mentioned by its unique cuisine when it is called the world cuisine. The three most important ingredients of Korean cuisine are rice, vegetables, and meat. You can find the same food in different regions of the country with different recipes.
Did you know what 5 flavors you need to taste in Korea?
Kimchi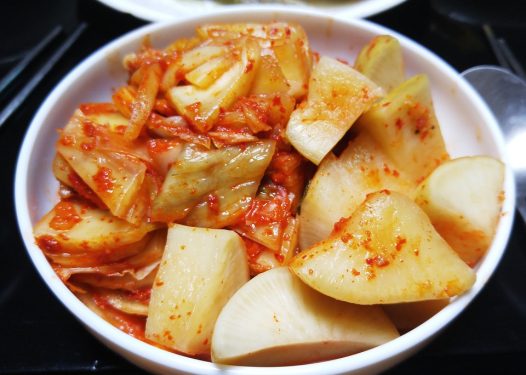 It is the national dish of Korea. It consists of fermented cabbage. The cabbage is coated with leaf in a spicy mix of hot pepper flakes, garlic, chives, onion, pear juice, and more.
Bibimbap
With its other name, Mixed-Rice, Bibimbap, is one of the most famous and delicious dishes of Korea.
Bulgogi
The combination of marinated meat, onion, and pepper is a good example of Korean food.
Yangnyeom Tongdak
Sticky, sweet, spicy red sauce prepared with this chicken absolutely you need to come to the top of the Korean flavor.
Hoeddeok
These delicious pancakes, flavored with sweet syrups, are actually among Korea's street dishes. We would definitely recommend this wonderful flavor to you.
6. Spain
Spain is home to many exquisite dishes, ranked 50th among the world's tastiest cuisines. After you've eaten a lot of Spanish recipes dating back hundreds of years in the past, you will want to eat again.
Did you know what 5 flavors you should absolutely taste in Spain?
Croquettes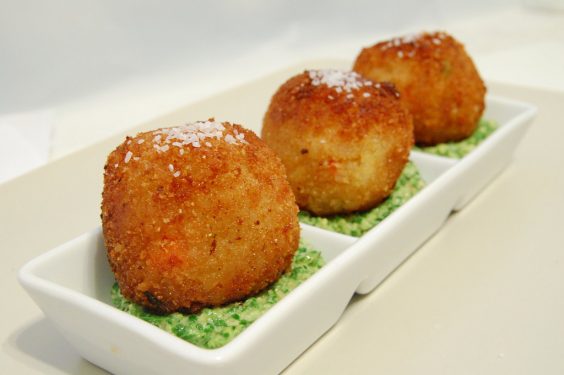 It is absolutely on the menu when you enter an ordinary bar or restaurant in Spain. There are many kinds of croquettes with vegetables and meat.
Tortilla Espanola
You can also try to make this omelette at home, where the onion, potatoes, and egg are brought together by skilled hands. It is both simple and quite tasty.
Pulpo a la gallega
If you like seafood, then this meal is for you. We guarantee you will love this octopus dish, which is seasoned with Paprika, olive oil and rock salt.
Spain's famous bean stews
Chorizo pancetta, black sausage and veggies prepared with beans will probably be one of your favorite meals after you've eaten.
Paella
Paella, known to many as the traditional food of Spain, is made by combining seafood and rice in a masterful manner.
7. Turkey
The rich Turkish cuisine based on the Ottomans roots will surely satisfy you with unique tastes you need to taste. Many meals are made in different recipes in many areas. There are about 1500-2000 varieties of Turkish food. Turkish cuisine presents; from kebabs, to plate dishes, from desserts to pastries.
Did you know what 5 flavors you should absolutely taste in Turkey?
Kebap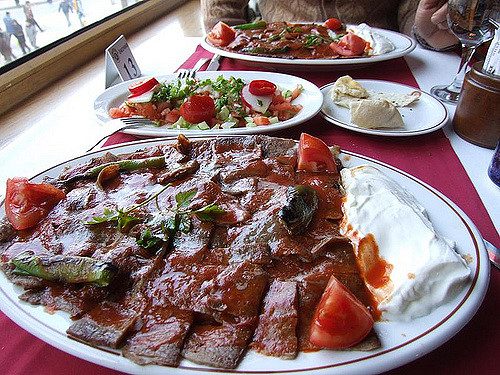 Turkey recognized the doner kebab. But on the contrary, there are dozens of varieties of kebabs in this country. We suggest you eat another kebab here. Our favorite threesome is Adana, Urfa, Iskender.
Lahmacun
Lahmacun is likened to pizza by some. The only resemblance to the pizza is the dough and the mince-vegetable mixture added on it. The mixture of mince, onion, pepper, and garlic added to a thinly sliced dough creates a taste that is definitely worth trying.
Baklava
We can call it the most known and perhaps the most delicious Turkish dessert. During your trip, have a cup of Turkish tea and accompany it with a slice of baklava. You will want more.
Turkish Coffee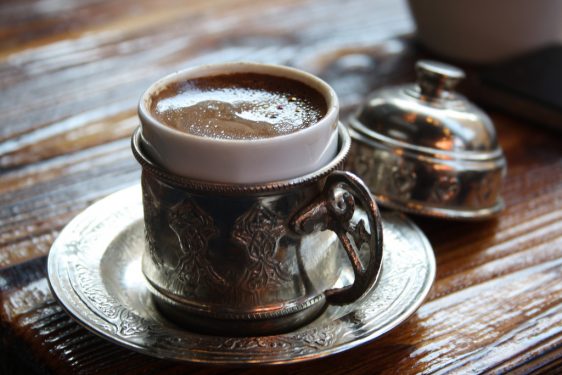 It is traditionally prepared in copper jugs and has a place for itself in friendly conversations. Turkish coffee reminds espresso as a presentation, but it is softer.
Çiğ Köfte
Bulgur, tomato paste, garlic, and a lot of delicious spices come together with this flavor is presented along with vegetables. You must absolutely try.
8. Japan
The main food of traditional Japanese cuisine is rice. Rice is part of every meal, even breakfast. Because Japan is an island, it is possible to encounter fish and other sea food dishes too often. Americans II. When they invaded Japan in World War II, they tried to get the Japanese to eat bread instead of rice.
Did you know what 5 flavors you should absolutely taste in Japan?
Miso Soup
It is prepared by mixing the crushed soybean paste called Miso with hot water. If desired, sweeteners such as nori and green onion can be added.
Soba
It is a traditional Japanese dish made of stove, black wheat and wheat flour. It is eaten as hot or cold with various appendages, such as pasta.
Onigiri
It is made of sushi rice covered with nori (dried seaweed), and in the middle is umeboshi (Japanese fermented fish), shrimp, chicken, tuna fish, salmon fish.
Domburi
It is a type of food served with a large bowl containing foods such as tempura (tendon), veal (gyudon), egg and chicken (oyster), tonkatsu (katsudon).
Tempura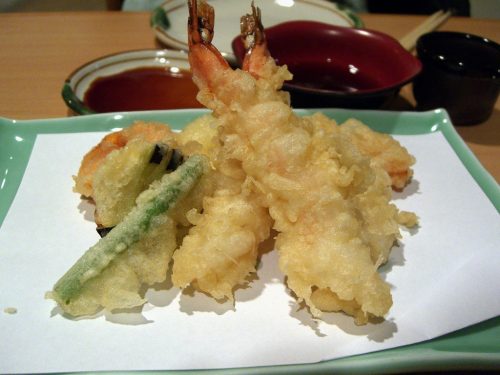 It is made by frying seafood, vegetables, or mushrooms in a pan with hot oil soaked in bread crumbs. The Orient came to Japan in the 16th century by the Portuguese, but the whole world became famous as Japanese food.
9. USA
The cooking styles that are common in the United States are similar to those of other Western countries. Wheat is the main grain plant used in the United States.
Traditional American cuisine uses ingredients such as turkey, white tailed venison, potatoes, sweet potatoes, corn, squash, and maple syrup; all of which were handled by American Indians and first European immigrants.
Pork or veal, crab cake, potato chips and drop chocolate cookies, cooked slowly in the barbecue, are unique American style meals. The syncretic cuisines such as Louisiana creole, Cajun and Tex-Mex are of great importance for their particular regions.
Did you know what 5 flavors you should absolutely taste in the USA?
Mac & Cheese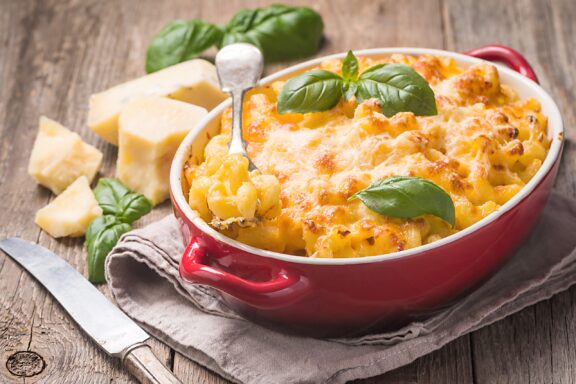 Certainly, in many American movies, the yellow sauce pasta that has struck the eye comes from the English cheddar cheese and the Italian macaroni combination.
BBQ Sauce Ribs
Another meal that comes to mind when you think of America is the barbecue sauce ribs because we can call it a big fan of barbecue.
Buffalo Chicken Wings
Do you believe, there are dozens of specialty restaurants for this recipe?
Tex-Mex Foods
They share many recipes because of the border neighborhood of America and Mexico. The expansion of Tex-Mex comes from Texan and Mexican.
Apple Pie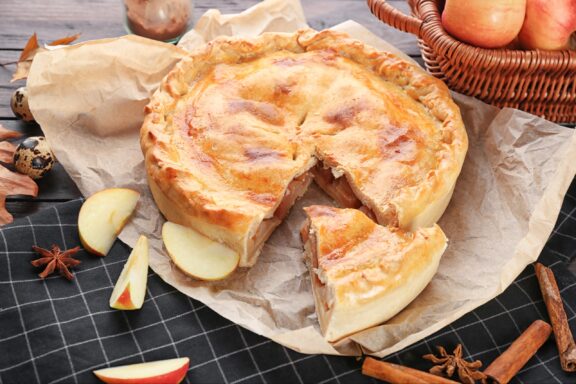 Apple plays a big part in America's history. You can find apples in a lot of American sweets. We would definitely recommend you to try the apple pie.
10. Greece
The heritage of hundreds of years of Greek culture. It is part of the Balkan and Mediterranean cuisines. Olive oil foods are predominant. There are very similarities with Western Anatolian Turkish cuisine.
Did you know what 5 flavors you should absolutely taste in Greece?
Taramasalata
One of the tastes that should be tried is a homemade scallop made from smoked fish buns (cod, carp, or mullet) blended with olive oil and lemon.
Tomatokeftedes
When tomatoes are used instead of zucchini as a main ingredient, tomato pastries are delicious when flavored with cherry tomatoes from Santorini.
Pastisada
It is a kind of Corfiot from Venetian origin. It is served with thick tubular pasta.
Lamb Kleftiko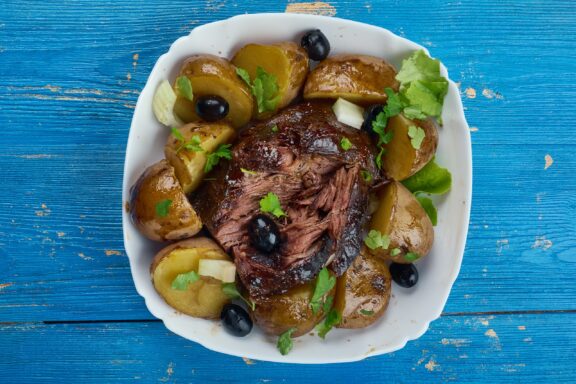 Slowly cooked lamb, covered with vegetables and herbs, either cooked in oily paper parcels, or fried in a jar. Some recipes adds a lot of cheese.
Greek salad
This everywhere garnish (known as horiatici for Greeks) combines fresh chopped tomatoes, cucumbers and purple onions, covered with olive oil with plenty of feta cheese and some black olives and thyme sprinkled.