Sri Jayawardenepura Kotte is the capital of Sri Lanka, commonly known as Kotte. Kotte is the official administrative capital where the Sri Lankan government, including the Parliament, is headquartered.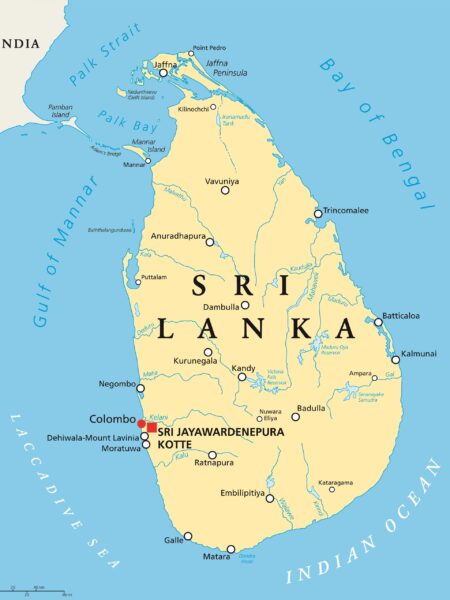 Kotte is an urban area with many government buildings, offices, and cultural sites. The city is part of the Colombo metropolitan area, and the blend of modernity and historical significance uniquely characterizes Sri Jayawardenepura Kotte.
Where is Sri Jayawardenepura Kotte?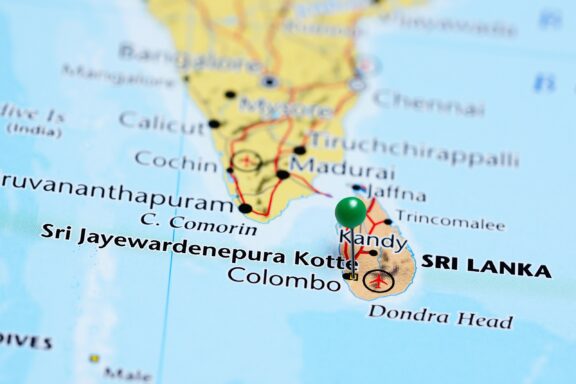 Sri Jayawardenepura Kotte is located in the Western Province of Sri Lanka. It is in the southeastern part of the Colombo metropolitan area, bordering the country's commercial capital.
Waterways surround Kotte and sit near the Diyawanna Oya (Diyawanna Lake), which adds to its scenic beauty. Its location in the bustling region of Colombo makes it a significant center for government, administration, and cultural activities in Sri Lanka.
History of Sri Jayawardenepura Kotte
Sri Jayawardenepura Kotte has a rich and varied history that spans several centuries.
In the 14th century, Sri Jayawardenepura Kotte emerged as the fortified capital of the Kingdom of Kotte. Initially built by Prince Alakeshvara of the Alagakkonara clan, the city became a prominent center of Sinhalese culture and Buddhist learning.
Under the rule of Parakramabahu VI in the 15th century, Kotte experienced a period of prosperity and artistic development. The city was fortified with thick ramparts and deep moats, and three main entrances provided access to this thriving kingdom.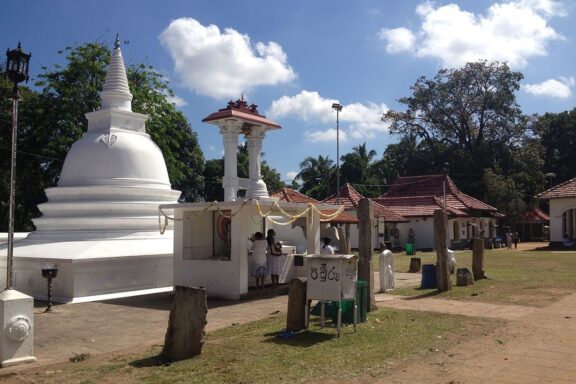 The 16th century marked the arrival of the Portuguese, and their control over Kotte brought significant changes in architecture and governance. The Portuguese influence led to the city's decline in significance, but their presence can still be seen in some structural elements.
In the 17th century, the Dutch succeeded the Portuguese and took control of coastal regions, including Colombo. Kotte's prominence had waned by this time, and the city had lost its royal grandeur.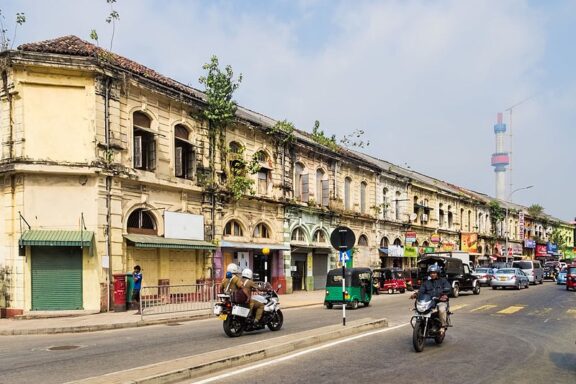 During British rule in the 19th century, Colombo further overshadowed Kotte, leading to its decline in importance. It became a historical relic, remembered more for its past glory than its contemporary significance. However, after Sri Lanka gained independence in 1948, efforts were renewed to redevelop and revive the city.
This came to fruition in 1982 when Sri Jayawardenepura Kotte was officially designated as the legislative capital of Sri Lanka. The shifting of the Parliament from Colombo to a new complex in Kotte marked the city's return to political importance.
Sri Jayawardenepura Kotte represents a blend of historical legacy and modern governance in contemporary Sri Lanka. The city remains the seat of government and is part of the vibrant Colombo metropolitan area.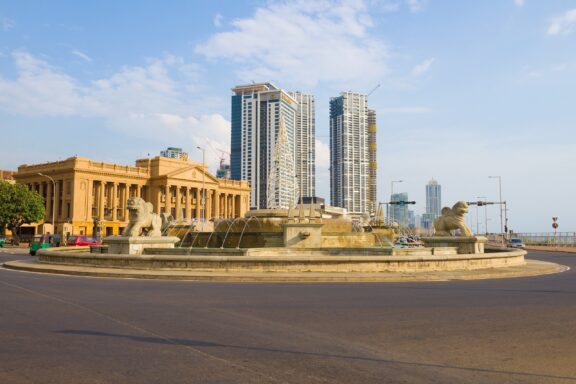 Its role has evolved from a powerful royal capital to a colonial outpost and finally to its current status as the administrative and legislative center of the country. The remnants of ancient fortifications coexist with modern administrative buildings, telling the story of a city that has continually adapted and transformed over the centuries.
Sri Jayawardenepura Kotte's history is a fascinating tale of rise, fall, and resurgence. Its rich heritage is a living testament to Sri Lanka's cultural evolution, political changes, and the ability to embrace both tradition and modernity.
Features of Sri Jayawardenepura Kotte
Sri Jayawardenepura Kotte is a city that wears many hats. Its history as a royal capital, role as the hub of Sri Lankan politics, diverse architectural styles, and a blend of cultural richness all contribute to its unique identity. It's a city that embraces its past while steadily marching toward the future, exemplifying a seamless integration of tradition and modernity in the heart of Sri Lanka.
Geography and Climate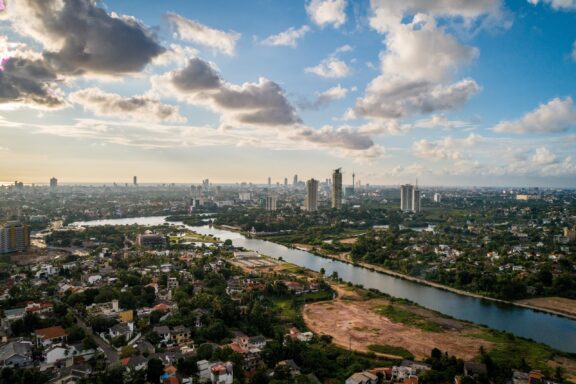 Sri Jayawardenepura Kotte is in the Western Province of Sri Lanka, near the commercial hub, Colombo. The city's geography is characterized by its location near the Diyawanna Oya (Diyawanna Lake), giving it an attractive waterfront setting.
The terrain is primarily flat, with occasional undulations. Sri Jayawardenepura Kotte enjoys a tropical rainforest climate, with high humidity and relatively consistent temperatures throughout the year.
Overall, Sri Lanka is one of the hottest countries in the world in terms of average yearly temperature (around 27 – 28°C or 80.6 – 82.4°F). The monsoon season brings significant rainfall, particularly from May to August and October to January.
Population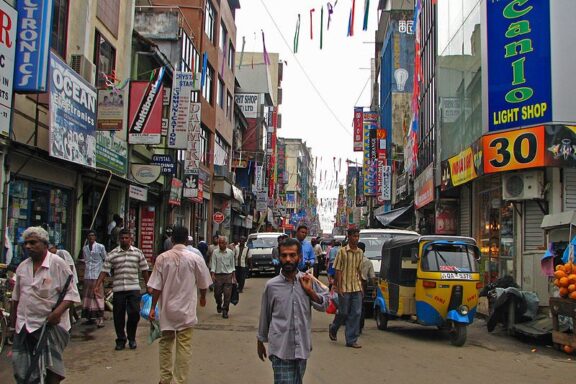 Sri Jayawardenepura Kotte has a population of over 110,000. Its population is diverse in ethnicities, languages, and cultures. Reflecting Sri Lanka's broader demographic makeup, the city is home to Sinhalese, Tamils, Moors, and other ethnic groups. Buddhism is the predominant religion, but Hinduism, Islam, and Christianity are also practiced.
The city's rich cultural heritage can be seen in its festivals, arts, and cuisine, reflecting a multicultural tapestry that adds to the vibrant life of the capital. Education levels are generally high, with numerous schools and higher education institutions present.
Economy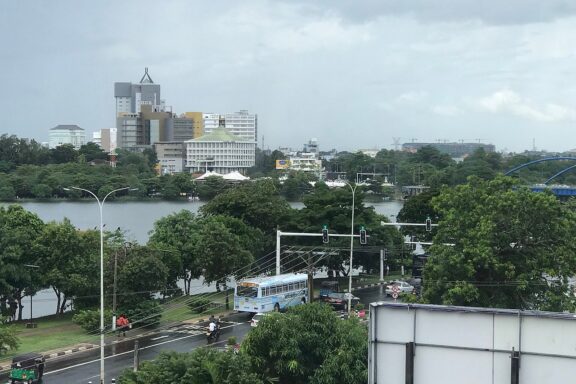 Sri Jayawardenepura Kotte's economy is closely tied to its status as the administrative capital of Sri Lanka. The presence of government institutions and offices makes public administration one of the key sectors in the city.
Beyond government activities, the city also contributes to other industries such as education, healthcare, and retail. Proximity to Colombo means that many residents work in the commercial hub, where critical sectors like finance, manufacturing, and services dominate.
New administrative buildings and residential areas have increased real estate development. Overall, Sri Jayawardenepura Kotte's economic health is intertwined with the broader economic landscape of Sri Lanka, reflecting both the challenges and opportunities that the country faces in its journey toward growth and development.
Things to Do and Places to See in Sri Jayawardenepura Kotte
Sri Jayawardenepura Kotte may not be as bustling with tourist attractions as other parts of the country. However, it still offers intriguing sites for those interested in history, architecture, and culture. Here are ten must-see attractions:
1. Parliament Complex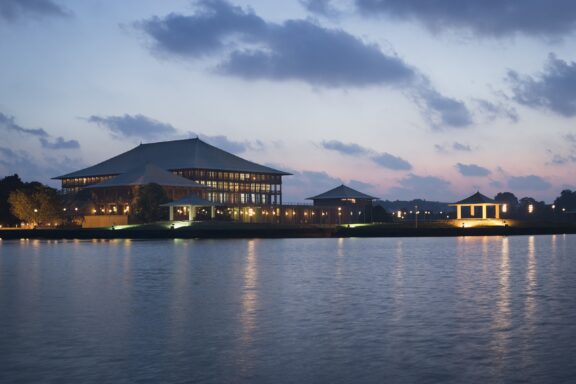 The complex was designed by renowned Sri Lankan architect Geoffrey Bawa, who blended traditional Sri Lankan and modern architecture in the design. Construction began in the late 1970s, and the building was officially opened on April 29, 1982.
The complex is situated on a 12-acre island in the middle of the Diyawanna Oya (Diyawanna Lake) and is connected to the mainland by two bridges. The picturesque surroundings provide a tranquil setting, in contrast to the often hectic nature of political activity within the building.
The complex's main building combines modern architecture with cultural elements and is known for its unique design. The layout reflects democratic ideals and incorporates traditional Sri Lankan motifs.
2. Diyatha Uyana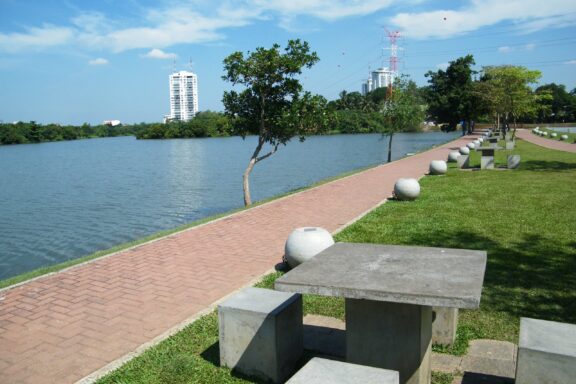 Diyatha Uyana is a beautiful park and a place of recreation and relaxation for locals and tourists alike. The park offers a range of activities and attractions. It is well-known for its beautifully landscaped gardens, featuring various flora that add color and life to the surroundings. Water features and fountains enhance the tranquil setting, making it an ideal place to unwind.
One of the key attractions at Diyatha Uyana is the floating market. Here, vendors sell various goods from wooden stalls built on platforms over the water. Visitors can find different items, from fresh produce and traditional Sri Lankan foods to crafts and souvenirs. It's an attractive shopping experience that showcases local culture.
3. Beddagana Wetland Park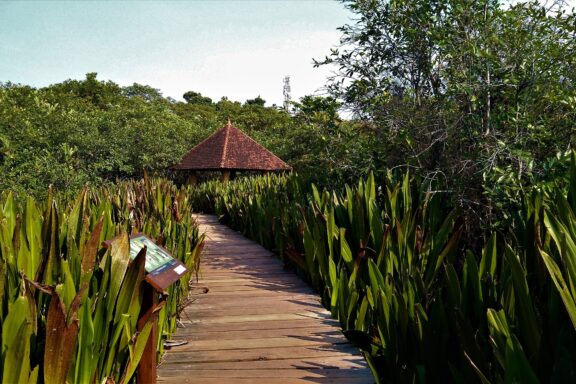 Beddagana Wetland Park, established in 2016, was designed for recreation and nature conservation. It is a habitat for various bird species, insects, butterflies, and other wildlife. The wetland plays a crucial ecological role, providing a breeding ground for many organisms and acting as a natural filter for water flowing into Diyawanna Lake.
The park has walking trails, observation platforms, bird-watching towers, and information centers that provide educational insights into the wetland ecosystem. The well-designed paths and signage make it easy for visitors to explore the park, and guides are often available for those interested in learning more about the diverse flora and fauna.
4. Kotte Archaeological Museum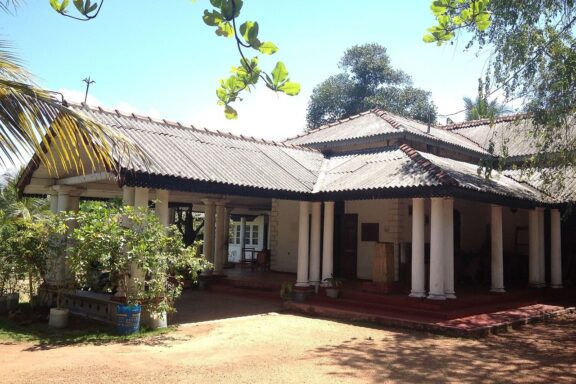 The Kotte Museum, with its rich collection of artifacts, serves as an essential cultural and historical hub for the region. The museum it showcases the heritage and archaeological finds from Kotte and the surrounding area.
Visitors to the museum can explore a wide array of exhibits, including regional flags, clothing, statues, coins, weapons, and pottery. The collection offers insights into the local history, cultural practices, art, and craftsmanship. Items belonging to E. W. Perera and those donated by Douglas Ranasinghe further enrich the museum's offerings.
5. Seema Malaka Temple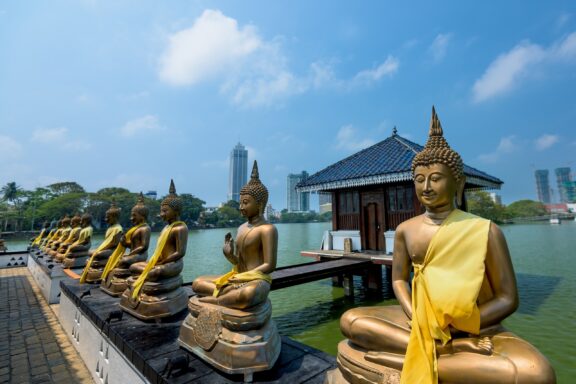 Seema Malaka Temple is a Buddhist temple, part of the Gangaramaya Temple complex, and is located on Beira Lake. This floating temple is one of Colombo's most distinguished and tranquil sites, drawing locals and tourists alike.
Designed by the renowned Sri Lankan architect Geoffrey Bawa, Seema Malaka Temple was reconstructed in the late 1970s after the original structure began to sink into the lake. Bawa's design blends Sri Lankan, Thai, Indian, and Chinese architectural influences.
6. Diyasaru Park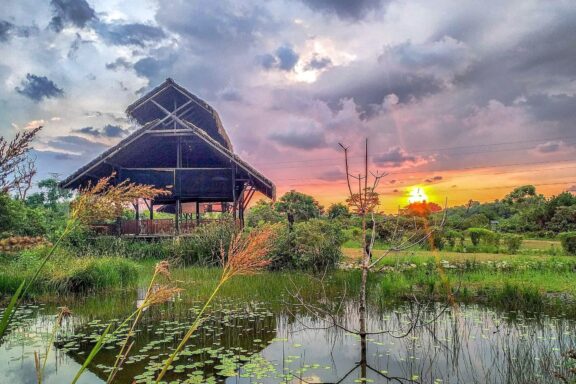 Diyasaru Park, also known as Thalawathugoda Wetland Park, is a prominent urban wetland park. Covering an area of 60 acres, it is a part of the interconnected system of wetlands linked with Diyawanna Lake and is an example of successful urban wetland conservation.
The park is a habitat for various bird species, insects, butterflies, amphibians, and other wildlife. With numerous endemic and migratory birds, Diyasaru Park is a popular destination for bird watchers and nature enthusiasts.
Diyasaru Park was designed with the environment and community in mind. It aims to promote biodiversity, environmental education, and sustainable development. The wetland plays a vital ecological role by acting as a natural water filter and flood control system.
7. Galle Face Green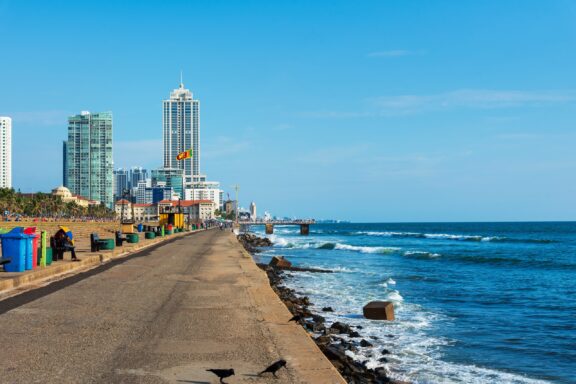 Galle Face Green is a popular ocean-side urban park that stretches along the Indian Ocean coast. It covers an area of about 12 acres and offers a beautiful space for recreation and relaxation within the bustling city.
Galle Face Green has become a prominent gathering place for locals and tourists. The long stretch of green lawn, combined with a scenic walkway along the shoreline, provides a perfect setting for various activities.
Visitors to Galle Face Green often engage in picnics, kite flying, beach sports, or stroll along the promenade while enjoying the view of the ocean. During evenings, the area comes alive with street food vendors offering local delicacies like "isso wade" (shrimp fritters) and families enjoying the cool sea breeze.
8. Sri Dalada Maligawa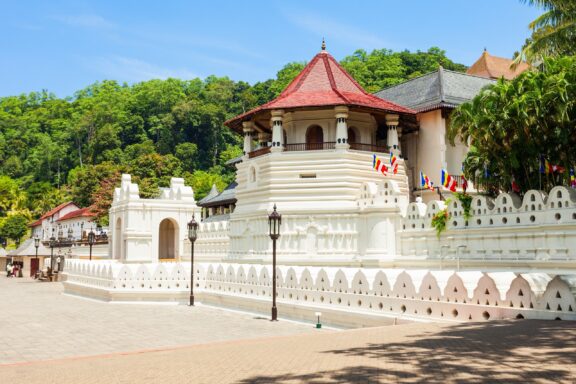 Sri Dalada Maligawa, also known as the Temple of the Sacred Tooth Relic, is one of the most revered and significant Buddhist temples in Sri Lanka. Located in the royal palace complex of the former Kingdom of Kandy, the temple houses a relic of the tooth of the Buddha, making it an important pilgrimage site for Buddhists worldwide.
The tooth relic plays a significant role in Sri Lankan politics and governance, symbolizing the rightful rule of the country. Historically, possession of the dinosaur was considered essential for rulers to govern, and it continues to be a symbol of Sri Lankan sovereignty.
9. Udawatta Kele Sanctuary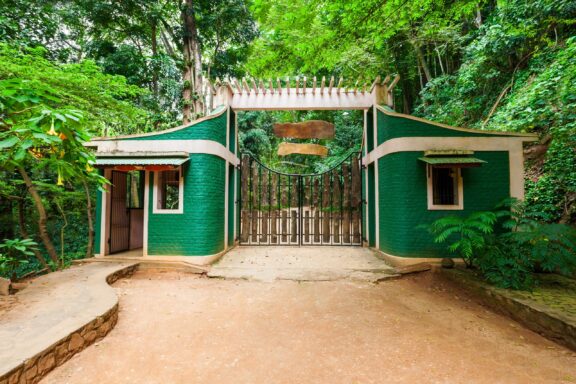 Once a royal forest reserved for the Kandyan kings, Udawatta Kele Sanctuary was designated a wildlife sanctuary in 1938. Its proximity to the city and the Sacred Temple of the Tooth makes it an easily accessible natural attraction.
The sanctuary is home to a variety of flora and fauna. Visitors can encounter diverse plant species, including giant lianas, shrubs, and medicinal plants. The forest also serves as a habitat for many birds, making it a popular destination for birdwatching. Species such as the Layard's parakeet and Sri Lanka hanging parrot are commonly spotted here.
10. Independence Square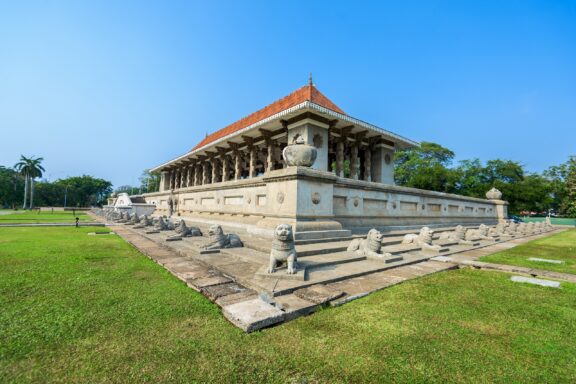 Independence Square is a historic site and a popular recreational area. The well-maintained lawns and gardens provide a relaxing setting for residents and visitors alike. Paved walkways and a modern jogging track surround the area, making it a favored spot for walkers, joggers, and fitness enthusiasts.
The Independence Square Monument within the square features a large stone hall in the shape of a traditional Sri Lankan audience hall, reflecting the architectural style of the Kandyan era. The design and intricate stone carvings are reminiscent of Sri Lanka's rich cultural heritage.
Frequently Asked Questions
Is Sri Jayawardenepura Kotte the same as Colombo?
No, Sri Jayawardenepura Kotte is the administrative capital of Sri Lanka, while Colombo is the commercial capital. They are neighboring cities within the Colombo District.
Is it safe to travel around Sri Jayawardenepura Kotte?
Generally, Sri Jayawardenepura Kotte is considered safe for tourists. However, it is always wise to follow standard safety precautions and be aware of your surroundings.
How can I get to Sri Jayawardenepura Kotte from Colombo?
The city is easily accessible from Colombo by taxi, bus, or tuk-tuk. It's close to the commercial capital, so travel is generally convenient and quick.
What's the best time to visit Sri Jayawardenepura Kotte?
Sri Jayawardenepura Kotte has a tropical climate that can be visited year-round. However, the monsoon season might affect outdoor activities, so consider visiting between January and April or August and September.
Are there accommodation options in Sri Jayawardenepura Kotte?
While there might be limited options within Sri Jayawardenepura Kotte itself, Colombo offers a wide range of accommodations to suit various budgets, and it's just a short drive away.
What language is spoken in Sri Jayawardenepura Kotte?
Sinhala and Tamil are official languages, but English is widely understood, especially in government and tourism-related sectors.
What local cuisine should I try?
Sri Lankan cuisine is rich and diverse, so try local dishes like rice and curry, hoppers, kottu, and sweetmeats.
Are there shopping opportunities in Sri Jayawardenepura Kotte?
While Sri Jayawardenepura Kotte might be a minor shopping destination, neighboring Colombo offers numerous shopping malls, markets, and boutiques for all your needs.
Final Thoughts
Sri Jayawardenepura Kotte's blend of historical significance, governmental prominence, cultural richness, and natural beauty presents a unique perspective of Sri Lanka. For those interested in understanding Sri Lanka's multifaceted identity, visiting the temples, exploring the ancient ruins, and strolling through the parks of Sri Jayawardenepura Kotte can be a fulfilling experience.
Sri Jayawardenepura Kotte's proximity to Colombo also adds convenience and accessibility. A visit to Sri Jayawardenepura Kotte can be a rewarding detour for those keen on delving into a deeper, more nuanced exploration of Sri Lankan culture and history.