Guatemala City is the capital of Guatemala. Also known as Ciudad de Guatemala in Spanish, it is the largest city in the country and the most populous city in Central America.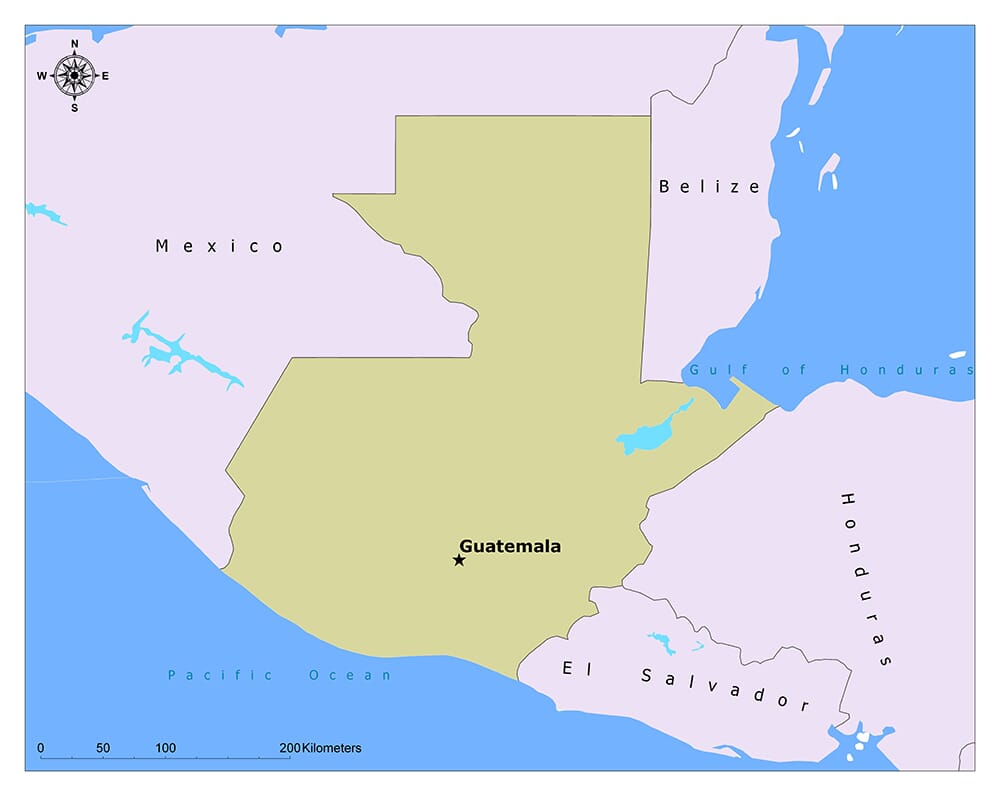 The city is home to many of the country's landmarks and an important educational center, with several universities within its boundaries. Despite its modern amenities and institutions, Guatemala City is close to several Mayan historical sites and provides a fascinating blend of modern urban life and ancient history.
Where is Guatemala City?
Guatemala City is located in the south-central part of Guatemala, in the Guatemalan Highlands. It is in a mountainous region, not far from the Pacific Ocean to the south and the Caribbean Sea to the east.
Guatemala City is also relatively close to several other Central American capitals; it's about 222 kilometers north of San Salvador, the capital of El Salvador, and approximately 970 kilometers south of Mexico City, Mexico.
History of Guatemala City
Guatemala City's history traces back to the ancient Mayan civilization, but Spanish Conquistadors founded the city as we know it today on January 2, 1776.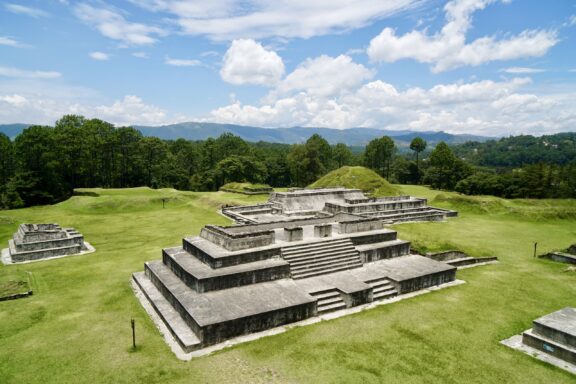 Before the Spanish conquest, the area where Guatemala City was home to Kaminaljuyú, a major Mayan city that was inhabited from 1500 BC to AD 1200. Kaminaljuyú was one of the most important regional centers of the Mayan civilization, and today the ruins are located within the modern city's boundaries.
The Spanish founded Santiago de los Caballeros de Guatemala in 1524, but it was the present location of Guatemala City. Instead, Santiago de los Caballeros de Guatemala was in the Almolonga Valley, near the modern city of Antigua, Guatemala. This city served as the capital of the Captaincy General of Guatemala, a Spanish colonial administrative division that included most of Central America.
However, earthquakes destroyed the city multiple times, culminating in the Santa Marta earthquakes in 1773. As a result of this catastrophic event, the Spanish authorities decided to move the capital to a safer location. This led to the founding of the new capital, Nueva Guatemala de la Asunción, in 1776, known today as Guatemala City.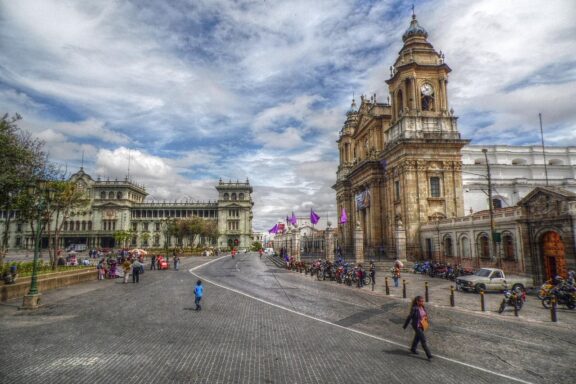 Guatemala City inherited the Captaincy General's capital role, and when Guatemala gained independence from Spain in 1821, it naturally continued as the new nation's capital. The city was central to the political, social, and economic changes that have shaped Guatemala's history, from independence, through the turbulent 19th century, to the political struggles of the 20th century and the Civil War that lasted from 1960 to 1996.
Today, Guatemala City is a vibrant and diverse metropolis with a rich history still visible in its architecture and cultural institutions. It is the country's main commerce, politics, and culture hub. Despite the challenges it has faced, it has remained resilient, reflecting the spirit of its people.
Features of Guatemala City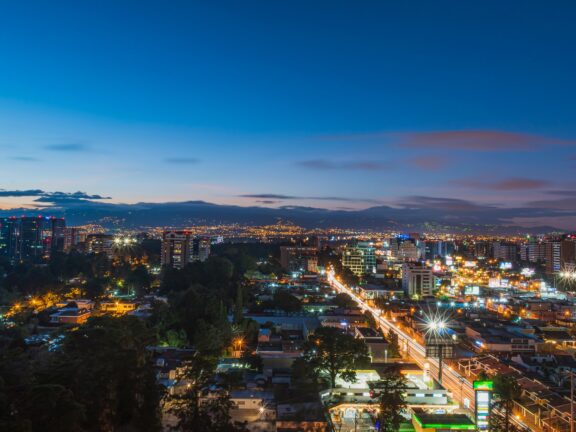 Guatemala City is a dynamic urban center with many features to explore, from its rich history and cultural heritage to its modern skyscrapers and bustling markets.
Guatemala City has numerous cultural institutions, important historical landmarks, outdoor spaces, and various parks.
Geography and Climate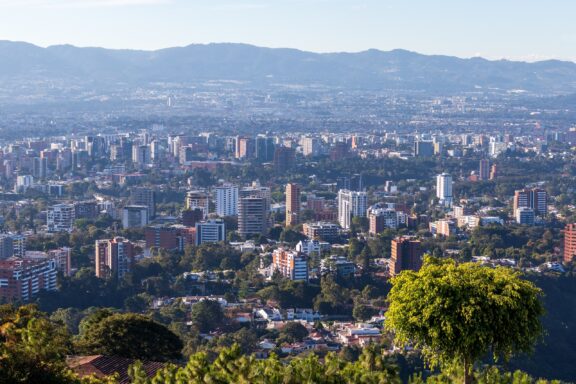 Guatemala City sits in the "Valle de la Ermita," a valley surrounded by mountains and volcanoes. It has an altitude of about 1,500 meters (4,900 feet) above sea level.
The city's climate is classified as tropical savanna, but it is significantly moderated by its altitude, leading to a subtropical highland variety. This means the city generally has a very mild, temperate climate with less extreme temperature variation than expected in the tropics.
Guatemala City has a rainy season (May to October) and a dry season (November to April), with average high temperatures ranging from about 20 °C (68 °F) in the coldest month to 28 °C (82 °F) in the warmest month.
Population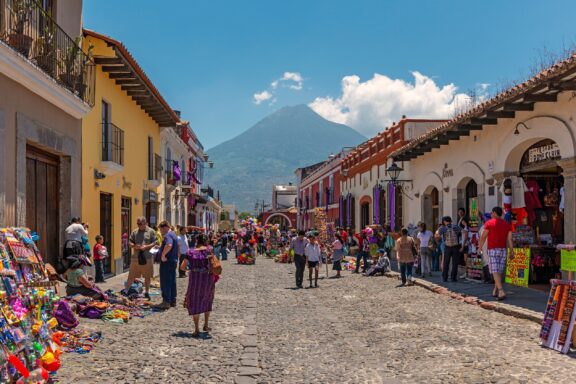 Guatemala City's metropolitan area has a population of around 3 million (which includes several neighboring cities and towns), making it the most populous city in Central America. The city is diverse, with a mix of Ladinos (people of mixed Indigenous and European descent), Indigenous people, and small communities of Europeans, Asians, and Afro-Guatemalans.
The official language is Spanish, but numerous Mayan languages are also spoken, reflecting the country's rich cultural heritage. Most of the population is Roman Catholic, but there is also a significant Protestant community and smaller groups practicing indigenous Mayan religions.
Economy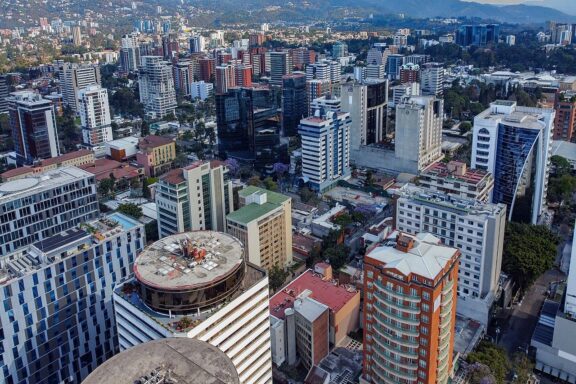 Guatemala City is the economic center of Guatemala. It is the country's commerce, finance, and industry hub. The city's economy is diversified, with key sectors including services, retail, manufacturing, and construction. The service sector is the largest and includes many businesses, such as hotels, restaurants, entertainment, and finance.
Many multinational corporations have regional offices in Guatemala City, also home to large national companies. The city is a major center for banking and finance in Central America, with numerous national and international banks having headquarters or regional offices.
Manufacturing industries include textiles, pharmaceuticals, furniture, chemicals, rubber, and paper. However, as in many developing nations, there's also a large informal economy, with street vendors and informal businesses being common.
Guatemala City also hosts the largest and most modern port of entry in Guatemala, La Aurora International Airport, serving as a critical transportation and logistics hub.
Things to Do and Places to See in Guatemala City
Guatemala City boasts a rich array of experiences and sights to explore. Let's delve into some of the most sought-after destinations and attractions within this vibrant capital city:
1. National Museum of Archaeology and Ethnology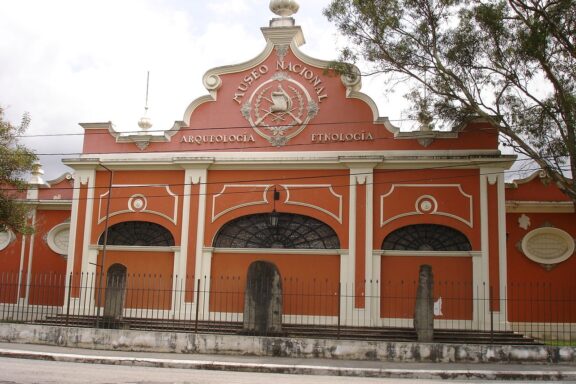 The National Museum of Archaeology and Ethnology is an essential visit for anyone interested in Mayan civilization. It holds an extensive collection of artifacts, including pottery, sculptures, stelae, burial items, and a replica of the famous tomb of the Mayan ruler Pakal. Through its exhibits, the museum offers a comprehensive overview of Guatemala's rich cultural history, from pre-Columbian times to the present.
The National Museum of Archaeology and Ethnology holds over 20,000 archaeological and ethnological artifacts. Its collection ranges from the Preclassic Period (2000 BC to AD 250) to the Postclassic Period (AD 900-1500), providing a comprehensive overview of the region's history.
2. Plaza Mayor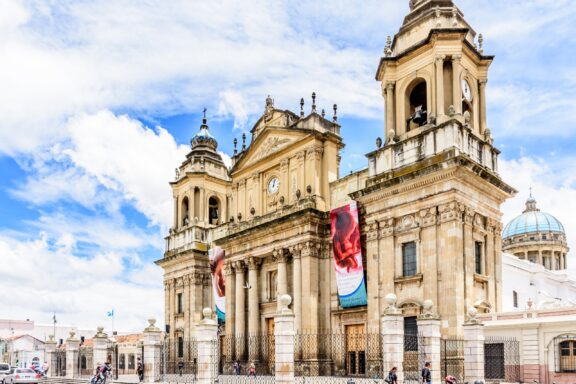 The Plaza Mayor, also known as the Constitution Plaza, is the heart of Guatemala City. It's home to the National Palace of Culture and the Metropolitan Cathedral and is surrounded by other important governmental buildings. Walking around the plaza is a great way to understand the city's history and architecture. Numerous events and gatherings are held here throughout the year.
Not far from the Plaza Mayor, the Centro Cívico is a modernist building collection that houses various governmental offices. It represents the modernization of Guatemala City in the mid-20th century.
The plaza has been the site of numerous political demonstrations and protests throughout history, reflecting its status as the heart of the nation's capital. This includes protests during the Guatemalan Civil War and more recent demonstrations.
3. Relax on Lake Atitlán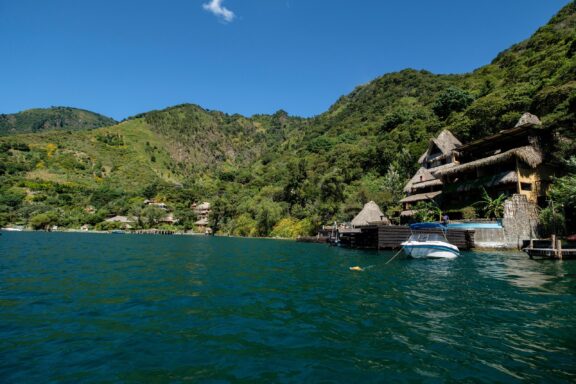 About a three-hour drive from Guatemala City, Lake Atitlán is one of the most beautiful lakes in the world. Surrounded by towering volcanoes and quaint Mayan villages, the lake offers stunning views and a variety of recreational opportunities, such as boating, hiking, and visiting the local communities.
With a maximum depth of about 340 meters (1,120 feet), Lake Atitlán is the deepest lake in Central America. The lake is surrounded by numerous villages, many inhabited by descendants of the Maya. Each village has its distinct personality and traditional dress; many indigenous Maya languages are still spoken in the region.
4. IRTRA Mundo Petapa Amusement Park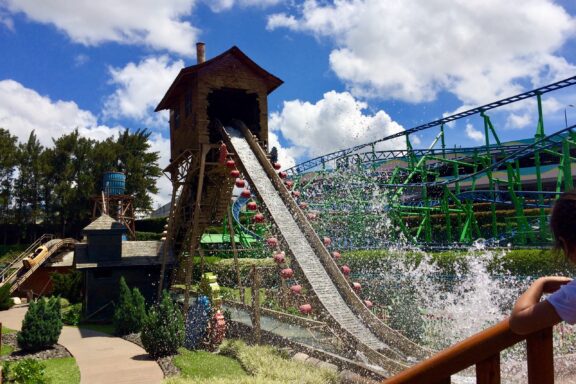 IRTRA Mundo Petapa is a famous amusement park located in Guatemala City. The park is part of the Recreational Institute for Workers (IRTRA), a non-profit organization that provides recreational and social services for Guatemalan workers.
IRTRA Mundo Petapa offers a wide range of attractions for all ages. These include rides, swimming pools, artificial lakes, playgrounds, zoos, and performance stages. The park is divided into different thematic areas. For example, "The Circus" area hosts live circus performances, and "The Forest" offers lush, tree-lined paths for visitors to explore.
5. La Aurora Zoo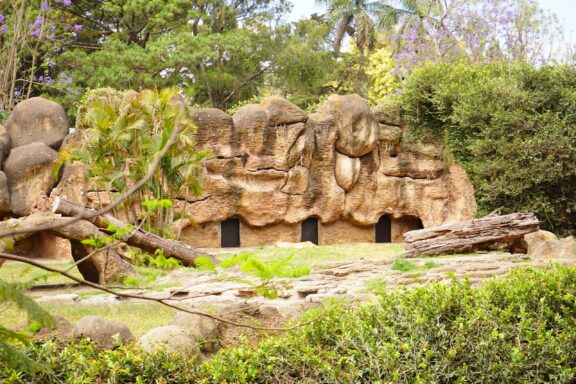 La Aurora Zoo, or Parque Zoológico La Aurora, is located in Guatemala City and is one of the main zoological parks in the country. It's a popular attraction for both locals and tourists.
The zoo is home to hundreds of animal species worldwide, including mammals, birds, and reptiles. Some notable residents include lions, giraffes, elephants, kangaroos, hippos, and various species of monkeys. La Aurora Zoo participates in various conservation and breeding programs, aiming to protect endangered species and educate the public about the importance of biodiversity.
6. Plaza España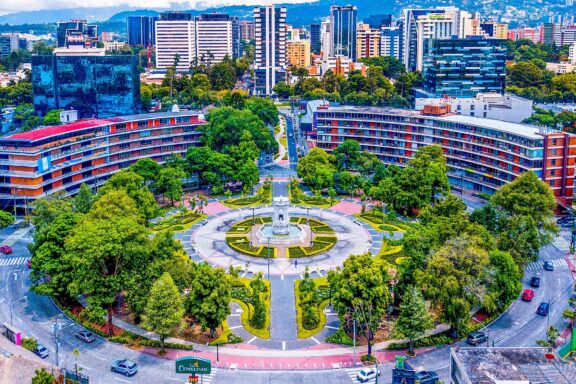 Plaza España is a well-known public square located in Zone 9 of Guatemala City. It's one of the city's most significant landmarks and a popular gathering place for locals and tourists.
The plaza is surrounded by a number of important architectural landmarks, including the Guatemalan Social Security Institute and the National Library. The design of the plaza and the fountain was influenced by prominent Guatemalan artist Efraín Recinos, who is also known for designing the Centro Cultural Miguel Ángel Asturias.
The plaza is often bustling with activity. You might see people enjoying a quiet lunch, children playing, or musicians performing.
7. Visit Antigua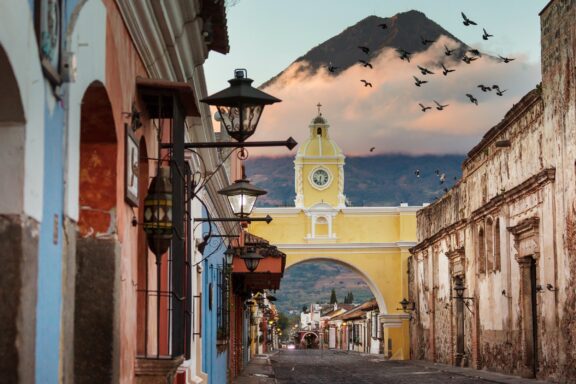 Antigua is one of Guatemala's most visited cities and for good reason. Known for its well-preserved Spanish Baroque-influenced architecture and charming cobblestone streets, Antigua is a UNESCO World Heritage Site that offers visitors a unique blend of history, culture, and natural beauty.
Antigua was once the capital of the Kingdom of Guatemala, a region that extended from Southern Mexico to Costa Rica. It held this status from 1543 until 1776, when the capital was moved to present-day Guatemala City after devastating earthquakes.
8. Pacaya Volcano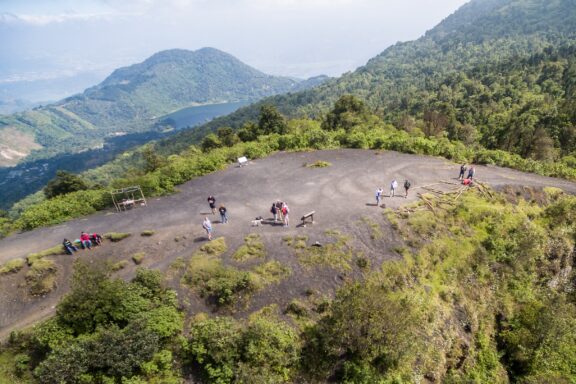 Pacaya Volcano, located just outside of Guatemala City and Antigua, is one of the most active volcanoes in Central America and a popular destination for tourists.
Pacaya is one of Guatemala's most active volcanoes, with frequent eruptions. The volcano's activity usually involves lava flows and mild explosions, and sometimes it ejects ash plumes into the sky.
A significant eruption in 2010 led to evacuations and caused the closure of Guatemala City's international airport due to ashfall. However, the typical activity is less intense and poses less danger.
Frequently Asked Questions
Is Guatemala City safe for tourists?
Safety can vary in different parts of the city. Like any other major city, Guatemala City has safer neighborhoods and other considered risky neighborhoods.
Please note that violent crimes such as extortion, murder, armed robbery, carjacking, narcotics trafficking, and gang activity are common in Guatemala, and local police may lack the resources to respond effectively to criminal incidents resulting in a low arrest and conviction rate.
What is the best time to visit Guatemala City?
The dry season from November to April is the best time to visit when the weather is milder and outdoor activities are more feasible. However, Guatemala City's high-altitude tropical climate makes it a year-round destination.
What is the traditional food like in Guatemala City?
Guatemala City offers a range of culinary experiences, from high-end restaurants to local markets and street food. Traditional dishes include:
• Pepian" (a meat stew)
• Pupusas" (stuffed corn tortillas)
• Tamales" (a dish made from masa, filled with meats or fruits and steamed)
How can I get around Guatemala City?
There are various ways to get around Guatemala City, including public buses, taxis, and rideshare apps like Uber. The city is also quite walkable, especially in areas like Zona Viva.
Is Guatemala City expensive?
The cost of travel in Guatemala City can depend significantly on your travel style. Generally, Guatemala is considered one of the less expensive countries in Latin America for tourists. Still, prices in the capital can be higher than in other parts of the country.
Final Thoughts
Guatemala City, rich in history and cultural diversity, uniquely blends ancient tradition and modern life. With its vibrant arts scene, a range of culinary experiences, and access to magnificent natural landscapes, the city provides a unique experience that appeals to different travelers.
Guatemala City's proximity to other notable sites like Antigua and Lake Atitlán makes it an ideal starting point for exploring the rest of the country. While it may face its share of challenges, like any other urban center, with the proper precautions and preparation, a visit to Guatemala City can undoubtedly be a rewarding experience. Its layers of history, culture, and tradition, coupled with its modern-day dynamism, make it a place worth exploring.