New Zealand is located in the Australia and Oceania region at latitude -40.900557 and longitude 174.885971 and is part of the Oceania continent.
The DMS coordinates for the center of the country are:
40° 54' 2.01'' S
174° 53' 9.50'' E
You can see the location of New Zealand on the world map below: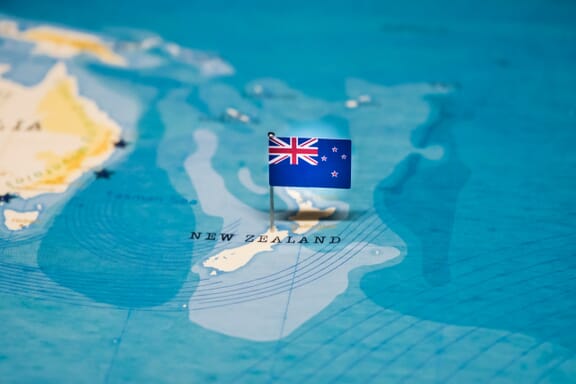 The country has no neighboring countries/land borders.
Maritime Borders
New Zealand borders with the Pacific Ocean.
New Zealand Related Content
New Zealand Key Facts
Country
New Zealand
Coordinates
Latitude: -40.900557
Longitude: 174.885971
Country Codes
Alpha 2: NZ
Alpha 3: NZL
Country Flag Emoji
🇳🇿
Int. Phone Prefix
+64
Capital city
Wellington
Continent
Subcontinent
Oceania
Australia and Oceania
Country Area
268,838 sq km
Population 2021
5,122,600
World Rank: 122
Median Age
36.5
Life expectancy
82.5
Major languages
English (de facto official) 95.4%, Maori (de jure official) 4%, Samoan 2.2%, Northern Chinese 2%, Hindi 1.5%, French 1.2%, Yue 1.1%, New Zealand Sign Language (de jure official) .5%, other or not stated 17.2% (2018 est.)
UTC/GMT Time
Number of time zones: 5


UTC−11:00 — Niue
UTC−10:00 — Cook Islands
UTC+12:00 — main territory of New Zealand
UTC+12:45 — Chatham Islands
UTC+13:00 — Tokelau

Internet TLD
.nz
Biggest Airport
Auckland Airport (AKL)
Average temperature
10.55 °C
50.99 °F
Administrative Divisions
16 regions 1 special island authority
Political system
Parliamentary democracy
New Zealand Economy Facts
World Bank Income Group
High income
World Bank Region
East Asia & Pacific
Currency
New Zealand Dollar (NZD)
GDP in 2020
$211.7 (billions of USD)
World Rank: 49
GDP per capita in 2020
$41,597
World Rank: 22
Major Industries / Economic Sectors
Manufacturing, services, agriculture, energy
Top 5 Import Countries
China, Australia, United States, Japan, Germany
Top 5 Export Countries
Australia, United States, China, Japan, United Kingdom
Biggest Cities in New Zealand
Here are the largest cities in New Zealand based on 2021 data:
City
Population
Auckland
1,346,091
Wellington
418,500
Christchurch
383,200
Manukau City
375,600
Waitakere
208,100
Northcote
205,605
Hamilton
176,500
Tauranga
135,000
Lower Hutt
103,400
Dunedin
99,885
Map of New Zealand with the Largest Cities
Other Countries in the Australia and Oceania Region