Myanmar is located in the Southeastern Asia region at latitude 21.913965 and longitude 95.956223 and is part of the Asian continent.
The DMS coordinates for the center of the country are:
21° 54' 50.27'' N
95° 57' 22.40'' E
You can see the location of Myanmar on the world map below: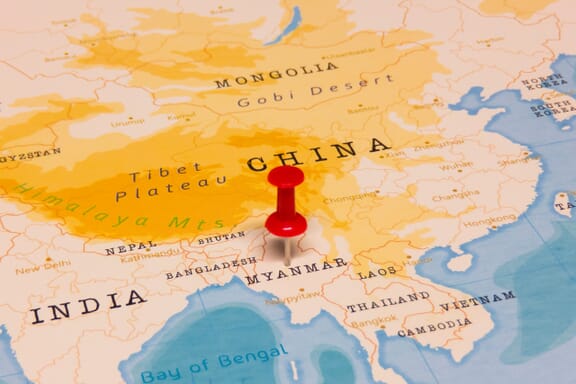 Myanmar Neighboring Countries
The neighboring countries of Myanmar (MM) are:
Bangladesh (BD)
China (CN)
India (IN)
Lao People's Democratic Republic (LA)
Thailand (TH)
Maritime Borders
Myanmar borders with Andaman Sea, and the Bay of Bengal.
Myanmar Related Content
Myanmar Key Facts
Country
Myanmar
Coordinates
Latitude: 21.913965
Longitude: 95.956223
Country Codes
Alpha 2: MM
Alpha 3: MMR
Country Flag Emoji
🇲🇲
Int. Phone Prefix
+95
Capital city
Naypyidaw
Continent
Subcontinent
Asia
Southeastern Asia
Country Area
676578 sq km
Population 2021
54,806,014
World Rank: 27
Median Age
29
Life expectancy
65.7
Major languages
Burmese, minority languages
UTC/GMT Time
Number of time zones: 1

Internet TLD
.mm
Biggest Airport
Yangon International Airport (RGN)
Average temperature
13.05 °C
55.49 °F
Administrative Divisions
7 regions 7 states 1 union territory
Political system
Military junta
Myanmar Economy Facts
World Bank Income Group
Lower middle income
World Bank Region
East Asia & Pacific
Currency
Kyat (MMK)
GDP in 2020
$94.3 (billions of USD)
World Rank: 65
GDP per capita in 2020
$1,451
World Rank: 157
Major Industries / Economic Sectors
Agriculture, manufacturing, energy, services
Top 5 Import Countries
China, Thailand, Singapore, India, Japan
Top 5 Export Countries
China, Thailand, India, Vietnam, Japan
Biggest Cities in Myanmar
Here are the largest cities in Myanmar based on 2021 data:
City
Population
Rangoon
5,430,000
Mandalay
1,225,546
Nay Pyi Taw
1,160,242
Hpa-An
421,525
Bago
284,179
Myeik
266,720
Myitkyina
243,031
Pathein
237,089
Monywa
207,489
Sittwe
181,000
Map of Myanmar with the Largest Cities
Other Countries in the Southeastern Asia Region
Myanmar Maps and Regions
Myanmar, formerly known as Burma, is a nation located in Southeast Asia. This country is located in a famously volatile part of the world, sandwiched between China, India, Laos, and Thailand. The Bay of Bengal provides a southern and western boundary.
Myanmar is officially called the Republic of the Union of Myanmar. This country is the largest nation in mainland Southeast Asia, and contains around 54 million people. Since its ancient origins, this nation has endured almost constant ethnic and military strife.
This nation has rich natural resources, from jade, gems, oil, natural gas, and other energy sources. Myanmar also contains several different cultures and ethnic minorities, like the Rohingya.
This combination of vast resources and diverse people with diverse motivations means human rights abuses are well-known for this nation. In the metric measuring human thriving, the Human Development Index ranks Myanmar's people near the bottom, 147 out of 189 countries.
Throughout its history and even today, this country has endured many invasions and military coups. From ancient Mongols to British and Japanese colonizers and modern day military overthrows of government, this region has a complicated and tense history.
Myanmar on the World Map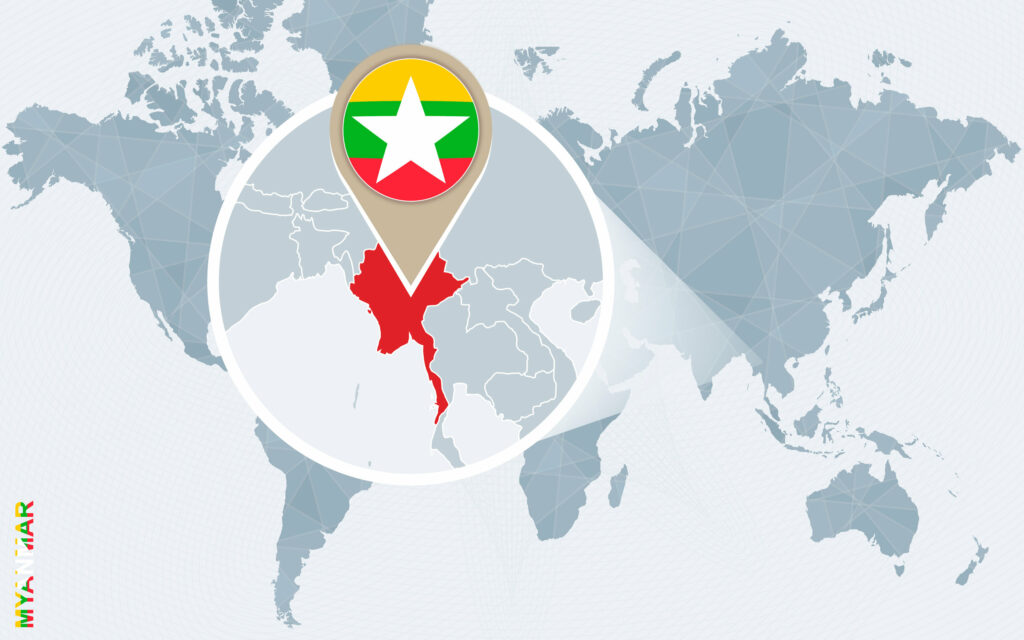 Myanmar is located in Southeast Asia, and it contains 262,000 square miles of land. Many countries border this nation, including Laos, Thailand, Bangladesh, India, Tibet, and China. This nation has 12,000 miles of continuous coastline bordering the Bay of Bengal and the Andaman Sea.
This country is located on mainland Southeast Asia and lies along the Equator. This provides Myanmar with monsoon seasons of heavy downpours, experiencing almost 200 inches (ca. 5 meters) of rain each year on the coast. The temperature never falls below about 70 degrees Fahrenheit (ca. 21 °C).
The majority of the population of Myanmar lives along the Irrawaddy River, the country's largest river. This waterway is flanked by mountain ranges, similar to its famous neighbor, the Himalayas. Fertile valleys are at the base of mountains, making habitable places to live.
Myanmar Maps: Cities and Rivers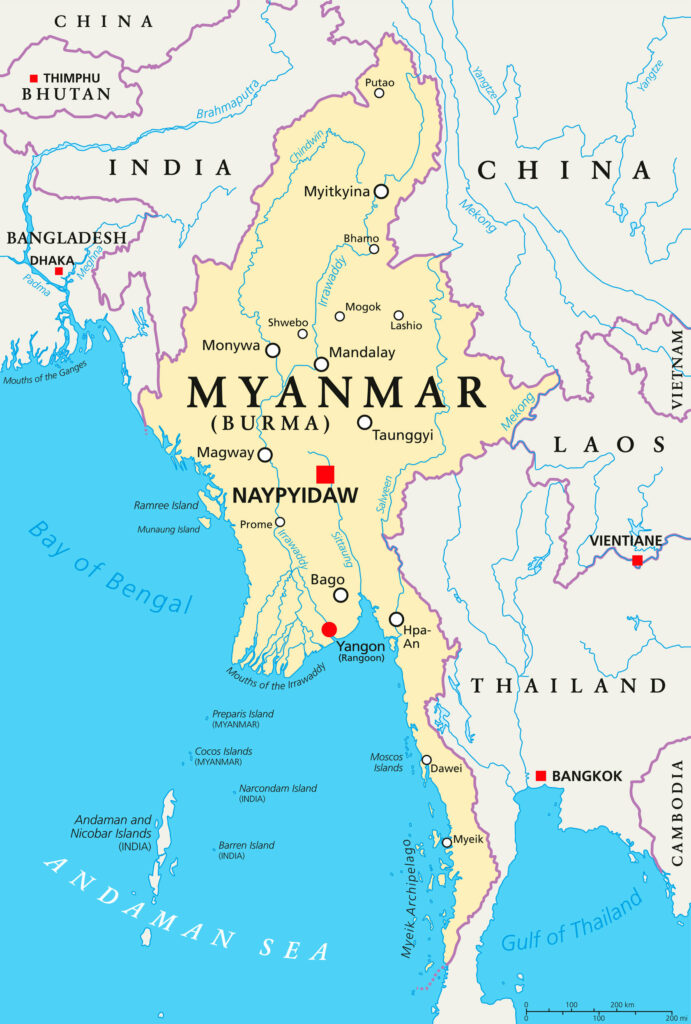 Cities in Myanmar
There are a few major cities in Myanmar, including the old capital city of Yangon, formerly known as Rangoon. Yangon lies on the southeast corner of this country, nestled in the basin of Myanmar's three major rivers.
Another nearby city lands as the second-largest city in Myanmar, Mandalay. This city is also located near the fertile and essential Irrawady River delta. This city is still the educational, commercial, and health hub for Myanmar.
The other major city in Myanmar is located far from the other two, more in the center of this large Southeast nation. Naypyidaw is a completely planned and constructed city, announced in 2005. This city was developed to become the new capital city, as the nation entered a new era.
The word Naypyidaw means "abode of the king" and is located 200 miles north of the former capital city. The city was started in 2002 and was officially finished in 2012.
Rivers in Myanmar
Rivers in Myanmar are essential to its people, and its major cities cling to its banks. Several major rivers dominate the landscape and lifestyle of the people of Myanmar, including the Irrawaddy, or Ayeyarwady, River, Chindwin River, Salween River, and Sittaung River.
The Irrawaddy River is the largest river in Myanmar. This river is the most important channel for trade and transport of goods and people, starting in the sixth century. Like other river deltas around the world, the fertile land near this major river supports many of Myanmar's residents.
The Chindwin River is the largest tributary to the Irrawaddy River. This means the Chindwin River is the largest source of additional water to feed Myanmar's major river. Its surrounding territory is treacherous, but rich with resources like amber, jade, and teak woods.
The Salween River, unlike the Chindwin River, is not completely contained within Myanmar. This means this river has other names based on where it lies, including being called the Nu River in China. This river originates in Tibet and flows through impressive and dangerous gorges.
The Sittaung River is most often used for the transport of teak wood and does not provide fertile surroundings like the other rivers. This river valley is located in east-central Myanmar and provides the main road and railway to reach the major cities of this nation.
Myanmar Maps: States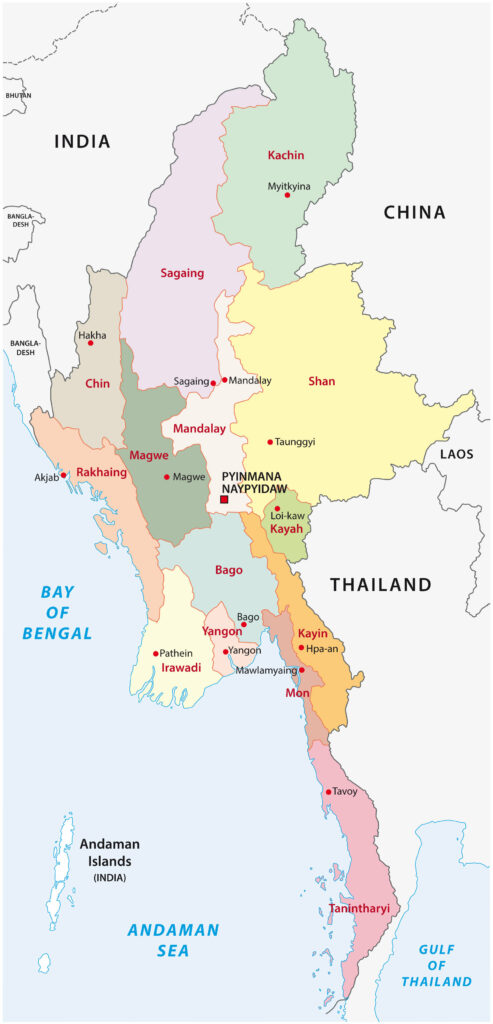 Myanmar is divided into seven states for political organization and also functions to separate different ethnic minorities. Like many nations, each of these states is further divided into divisions, townships, wards, and villages.
The 7 States of Myanmar
There are seven states in Myanmar: Kachin State Government, Kayah State Government, Kayin State Government, Chin State Government, Mon State Government, Rakhine State Government, and Shan State Government.
Myanmar maps reveal the Kachin State as the region located in the northern tip of Myanmar, and it is bordered by the Tibetan region of China and India. Myanmar's highest mountain is in this region, the Hkakabo Razi. This mountain also forms the southern tip of the iconic Himalayan mountain region.
The Kayah State is on the east coast of Myanmar, and shares borders with Thailand. This region is mostly inhabited by the Karenni ethnic group, also referred to as the Kayah people. Their culture is similar to that of the Sino-Tibetan people.
The Kayin State was previously known as the Karen State, characterized by its mountainous Karen Hills in the northwest. This region is most notable for its tremendous rainfall, with the minimum amount of rain each year coming in at an incredible 120 inches.
The Chin State in Myanmar makes up much of the north west region of this country. The Chin State is known for having the highest poverty levels in the nation, with almost three out of every four people living in poverty.
The Mon State is a narrow region that extends along the long peninsula of Myanmar, into the Bay of Bengal. This landmass also includes some small islands. This nation is overwhelmingly Buddhist, and produces rice and rubber as its two major exports.
The Rakhine State is the easternmost portion of Myanmar. This area is characterized by conflict, with seven different ruling powers marking its long history. To the modern day, this region is still fought over and has been gifted as a prize of war several times.
The Shan State is a large landmass on the eastern coast of Myanmar. This big region contains several different ethnic groups, and their own respective armies. This state is rural and known for its agriculture, natural resources like silver and zinc, and recently, the production of methamphetamine.
Myanmar contains a fascinating and often tragic history, dotted with the constant factors of the vast natural resources and agricultural opportunities contained within. This dynamic nation is home to many religions, cultures, beautiful vistas, and seemingly endless conflict.