Singapore has a well-earned reputation as a multicultural nation with strict laws and a powerful economy, but not everyone can point to it on a map. So where is Singapore?
Singapore is located in Southeast Asia and is part of the Asian continent.
Precise Location Coordinates of Singapore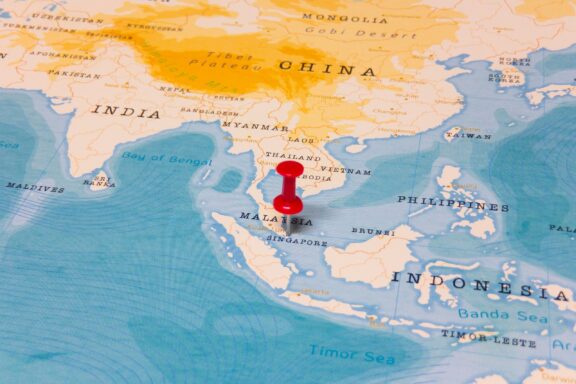 The DMS (Degrees, Minutes, Seconds) coordinates for the center of Singapore are:
1° 21′ 7.50" N
103° 49′ 11.41" E
The latitude and longitude of Singapore are:
Latitude: 1.352083
Longitude: 103.819836
You can see the location of Singapore on the world map below:
Singapore Interesting Facts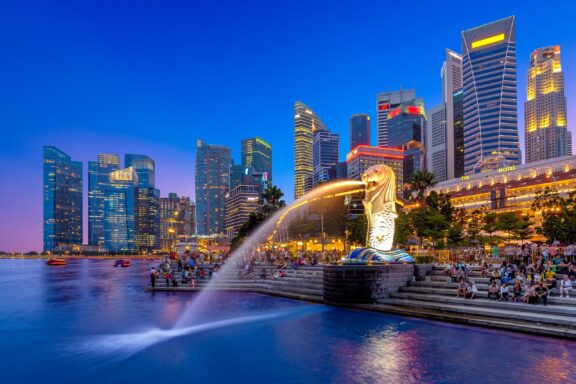 Neighboring Countries
Singapore's territory consists of one main island and 63 satellite islands. This means that the country doesn't share land borders with any other countries. The closest countries to Singapore are Malaysia and Singapore.
Maritime Borders of Singapore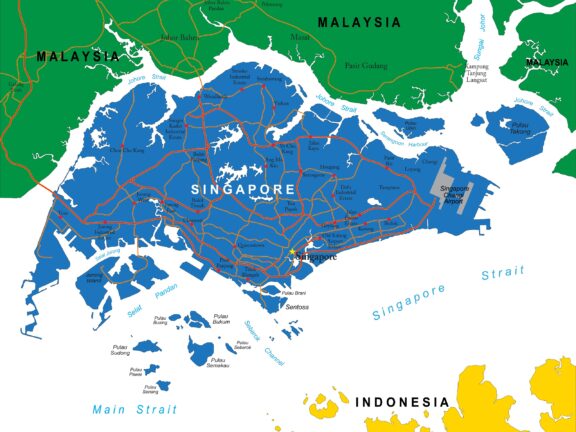 Singapore borders four different bodies of water: the Strait of Malacca to the west, the Singapore Strait to the south, the South China Sea to the east, and the Straits of Johor to the north.
Administrative Divisions of Singapore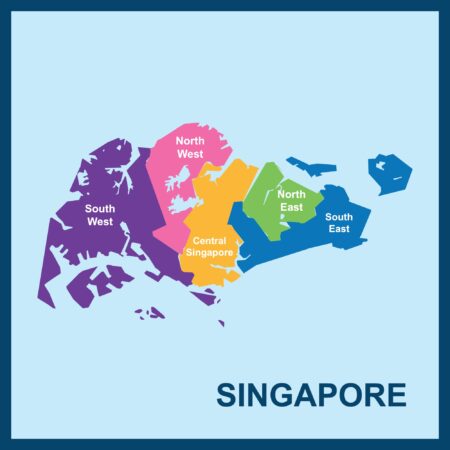 Singapore is a city-state, which means that the entire country is coterminous with the city of Singapore. As such, there are no large-scale divisions such as provinces or states. Instead, Singapore is divided into Community Development Council Districts (CDCs), town councils, and electoral constituencies.
There are currently five CDCs in Singapore, each of which is managed by a Council that is headed by a mayor. CDCs are responsible for managing community programs to promote community bonding and social cohesion.
Each CDC is further divided into town councils, of which there are 17. Town councils manage the day-to-day operations of residential and commercial property within the town. The smallest administrative division in Singapore is the electoral constituency. There are 31 constituencies in Singapore.
There are also five regions of Singapore that remain constant and are not used for statistical electoral purposes.
Geography of Singapore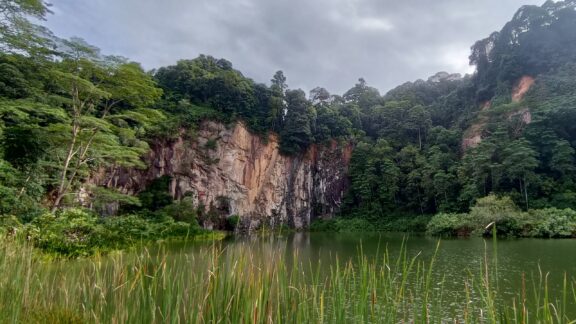 Located just off the southern end of the Malay Peninsula, Singapore consists of its main island of Pulau Ujong in addition to 63 smaller islands. Singapore is separated from Malaysia by the Johor Straits, though the two are connected via the Johor-Singapore Causeway and the Tuas Second Link.
Singapore has a total land area of 734.3 km2 (283.5 sq mi), which makes it the 20th smallest country in the world. Most of this land area has been urbanized, and 100% of the country's population lives in an urban area.
There are four nature reserves in Singapore as well as 20 additional nature areas. Singapore has lost around 95% of its historical forests, but efforts are being made to make the city greener and to preserve the remaining wildlife.
History of Singapore
Recorded history in Singapore dates to well over a thousand years ago and was part of both the Srivijaya and Majapahit empires. Although the veracity of records in the Malay Annals is often the subject of debate, they claim that the Kingdom of Singapura was founded in 1299.
By the 14th century, Singapore's main island functioned as a trading port known as Temasek. After Parameswara, the last king of Singapura, was driven out at the end of the 14th century, the main settlement was likely abandoned.
The colonial era in Singapore began with the arrival of British governor Stamford Raffles in 1819. He signed a Treaty of Friendship and Alliance along with Sultan Hussein and the Temenggong Abdul Rahman the same year which allowed the British to set up a trading post that would be jointly administered by the British and Malay rulers. This is officially recognized as the founding of Singapore.
Singapore went on to become an important trading center and a global center for rubber export. It became a British crown colony in 1867.
During World War II, Singapore was invaded by the Japanese during the Battle of Singapore and was subsequently occupied by Japan until the end of the war in 1945. The period of occupation was marked by hardships suffered by local people and the death of thousands during the Sook Ching Massacre.
In the years that followed the second world war, Singapore moved towards self-governance and independence. After briefly merging with Malaysia, Singapore became fully independent in 1965.
Since independence, Singapore's economy has continued to strengthen and grow, and the People's Action Party (PAP) has remained in power.
Culture and People of Singapore
People
The total population of Singapore as of 2022 is 5,637,000. Lower fertility rates and longer life expectancies are leading to an aging population in the country, something that has been a struggle for the country for more than a decade.
The largest ethnic groups in Singapore are of Chinese, Malay, and Indian descent, of which the Chinese population is the largest. These ethnicities and the country's colonial past are represented in the country's four official languages: Mandarin Chinese, Malay, Tamil, and English. Racial and religious harmony is considered a cornerstone of Singapore's success.
Cuisine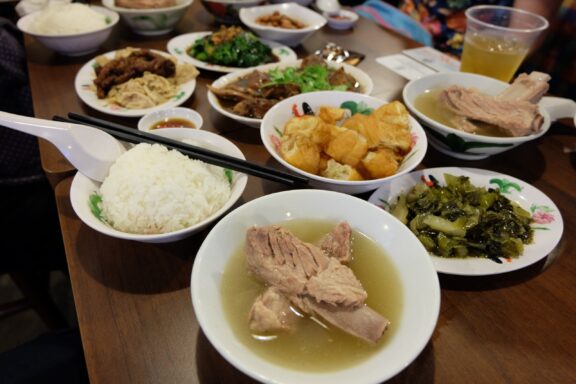 Singaporean cuisine is notable for its variety. It's easy to find Chinese, Malay, and Indian food in Singapore, along with fusion foods. Peranakan cuisine, for example, is a mix of Chinese and Malay cuisines that originated in Singapore.
The national dish of Singapore is considered Hainanese chicken rice, which is based on Wenchang chicken, a Hainanese dish.
Art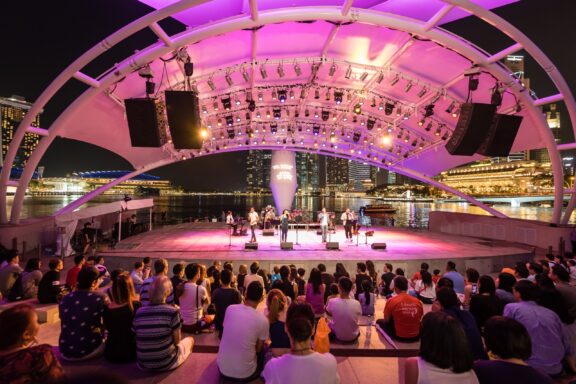 There is a variety of art museums in Singapore, including the National Gallery Singapore, the Singapore Art Museum, and the ArtScience Museum, among others. The blend of ethnicities and cultures in Singapore can be seen in the literature produced in the country, sometimes referred to as "SingLit," and in the various musical styles performed at festivals.
Biggest Cities in Singapore
Here are the largest cities in Singapore based on 2021 data:
City
Population
Singapore
5,271,000
Singapore Economy Facts
World Bank Income Group
High income
World Bank Region
East Asia & Pacific
Currency
Singapore Dollar (SGD)
GDP in 2020
$358.5 (billions of USD)
World Rank: 35
GDP per capita in 2020
$60,729
World Rank: 9
Major Industries / Economic Sectors
Manufacturing, services, agriculture, energy
Top 5 Import Countries
China, United States, Malaysia, Japan, South Korea
Top 5 Export Countries
United States, China, Hong Kong, Japan, South Korea
Government and Politics in Singapore
The government of Singapore is a parliamentary republic, and the supreme law of the country comes from the Constitution of Singapore. The President is the head of state, and the Prime Minister is the head of the government.
The President of Singapore is elected by popular vote, and Halima Yacob, the country's first female president, was elected in 2017. The Prime Minister is appointed by the President from among the Members of Parliament.
Tourist Attractions of Singapore
As a major aviation hub in Asia, millions of passengers pass through Singapore every year. But there are many exciting things to do in Singapore as well. Read on to learn about some of the top tourist attractions in the country.
China Town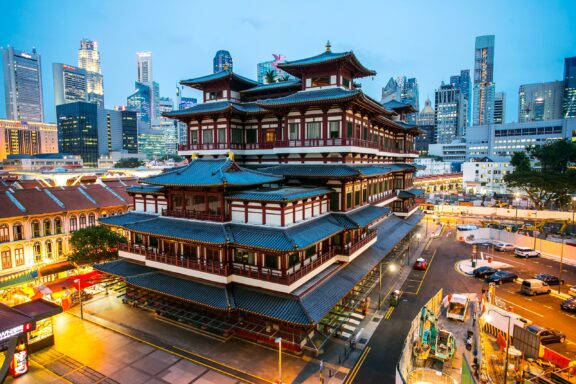 For eclectic souvenirs, authentic Chinese food, and great shopping options, Singapore's Chinatown is hard to beat. In addition to food and shopping, there are significant landmarks like the Chinatown Heritage Center, Thian Hock Keng Temple, and Buddha Tooth Relic Temple.
Singapore Botanic Gardens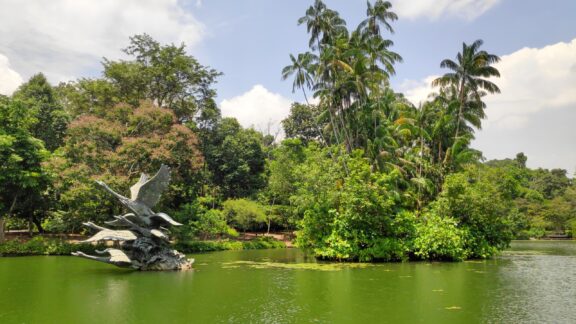 The Singapore Botanic Gardens, established in 1859, has been a UNESCO World Heritage Site since 2015. It's home to over 1,000 species of orchid in the National Orchid Garden and is free to visit.
Marina Bay Sands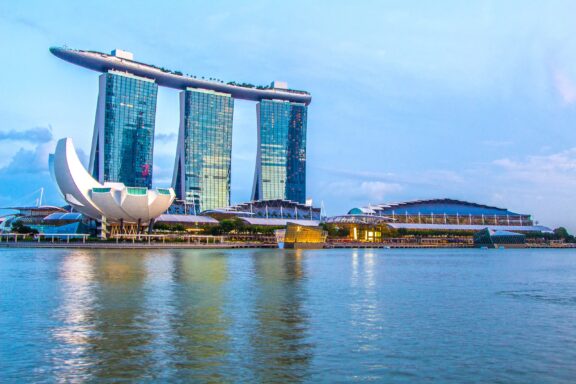 This is likely the most iconic building in Singapore. A futuristic design makes the building stand out, and it features a casino, hotel, science museum, and convention center, among other things. It's a focal point of Marina Bay and nearly impossible to miss.
Transportation and Infrastructure of Singapore
The most common way for travelers to arrive in Singapore is via a flight to Changi Airport, which is one of the busiest airports in the world.
Fortunately for visitors, navigating Singapore is made easy with the country's Mass Rapid Transit (MRT) and bus system networks. This is especially true for visiting popular attractions, most of which are near MRT stations.
There are a variety of transportation passes for tourists that offer unlimited rides on public transportation for one to three days.
Climate and Weather of Singapore
Singapore is located near the equator and experiences high temperatures all year. It has a tropical rainforest climate with abundant rainfall and high humidity that doesn't show great month-to-month variation.
There are two monsoon seasons in Singapore, the Northeast Monsoon and the Southeast Monsoon, which are separated by inter-monsoonal periods.
Singapore Related Content
Singapore Key Facts
Country
Singapore
Coordinates
Latitude: 1.352083
Longitude: 103.819836
Country Codes
Alpha 2: SG
Alpha 3: SGP
Country Flag Emoji
🇸🇬
Int. Phone Prefix
+65
Capital city
Singapore
Continent
Subcontinent
Asia
Southeastern Asia
Country Area
719 sq km
Population 2021
5,453,566
World Rank: 116
Median Age
41.8
Life expectancy
82.8
Major languages
English (official) 36.9%, Mandarin (official) 34.9%, other Chinese dialects (includes Hokkien, Cantonese, Teochew, Hakka) 12.2%, Malay (official) 10.7%, Tamil (official) 3.3%, other 2% (2015 est.)
UTC/GMT Time
Number of time zones: 1

Internet TLD
.sg
Biggest Airport
Singapore Changi Airport (SIN)
Average temperature
26.45 °C
79.61 °F
Administrative Divisions
5 districts
Political system
Parliamentary democracy