Mongolia is located in the Northeastern Asia region at latitude 46.862496 and longitude 103.846656 and is part of the Asian continent.
The DMS coordinates for the center of the country are:
46° 51' 44.99'' N
103° 50' 47.96'' E
You can see the location of Mongolia on the world map below: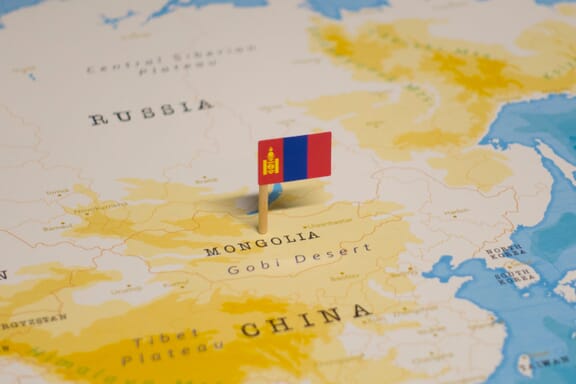 Mongolia Neighboring Countries
The neighboring countries of Mongolia (MN) are:
China (CN)
Russian Federation (RU)
The country has no neighboring countries/land borders.
Mongolia is a landlocked country, which means it does not have direct access to the open ocean.
Mongolia Related Content
Mongolia Key Facts
Country
Mongolia
Coordinates
Latitude: 46.862496
Longitude: 103.846656
Country Codes
Alpha 2: MN
Alpha 3: MNG
Country Flag Emoji
🇲🇳
Int. Phone Prefix
+976
Capital city
Ulaanbaatar
Continent
Subcontinent
Asia
Northeastern Asia
Country Area
1,564,116 sq km
Population 2021
3,329,282
World Rank: 131
Median Age
26.8
Life expectancy
71
Major languages
Mongolian 90% (official) (Khalkha dialect is predominant), Turkic, Russian (1999)
UTC/GMT Time
Number of time zones: 2


UTC+07:00 — the provinces of Khovd, Uvs and Bayan-Ölgii
UTC+08:00 — most of the country

Internet TLD
.mn
Biggest Airport
Buyant-Ukhaa International Airport (ULN)
Average temperature
15.00 °C
59.00 °F
Administrative Divisions
1 capital city 21 provinces
Political system
Parliamentary democracy
Mongolia Economy Facts
World Bank Income Group
Lower middle income
World Bank Region
East Asia & Pacific
Currency
Tugrik (MNT)
GDP in 2020
$13.3 (billions of USD)
World Rank: 133
GDP per capita in 2020
$4,061
World Rank: 115
Major Industries / Economic Sectors
Agriculture, manufacturing, energy, services
Top 5 Import Countries
China, Russia, Japan, South Korea, Germany
Top 5 Export Countries
China, Russia, United States, Japan, Australia
Biggest Cities in Mongolia
Here are the largest cities in Mongolia based on 2021 data:
City
Population
Ulaanbaatar
1,396,288
Moron
134,530
Erdenet
101,260
Darhan
74,738
Darhan
74,738
Choybalsan
38,150
Olgiy
28,496
Ulaangom
26,319
Bayanhongor
26,252
Hovd
26,023
Map of Mongolia with the Largest Cities
Other Countries in the Northeastern Asia Region