Ecuador is located in the South America region at latitude -1.831239 and longitude -78.183406 and is part of the South American continent.
The DMS coordinates for the center of the country are:
1° 49' 52.46'' S
78° 11' 0.26'' W
You can see the location of Ecuador on the world map below: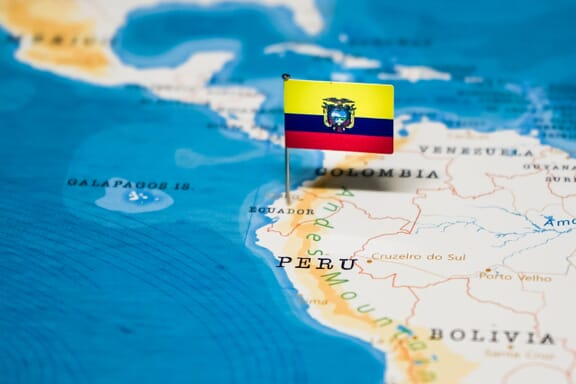 Ecuador Neighboring Countries
The neighboring countries of Ecuador (EC) are:
Colombia (CO)
Peru (PE)
Maritime Borders
Ecuador borders with the Pacific Ocean.
Ecuador Related Content
Ecuador Key Facts
Country
Ecuador
Coordinates
Latitude: -1.831239
Longitude: -78.183406
Country Codes
Alpha 2: EC
Alpha 3: ECU
Country Flag Emoji
🇪🇨
Int. Phone Prefix
+593
Capital city
Quito
Continent
Subcontinent
South America
South America
Country Area
283,561 sq km
Population 2021
17,888,474
World Rank: 66
Median Age
27.6
Life expectancy
73.7
Major languages
Spanish (Castilian) 93% (official), Quechua 4.1%, other indigenous 0.7%, foreign 2.2% (2010 est.)
UTC/GMT Time
Number of time zones: 2


UTC−06:00 (GALT) — Galápagos Province
UTC−05:00 (Ecuador Time) — main territory of Ecuador

Internet TLD
.ec
Biggest Airport
Mariscal Sucre International Airport (UIO)
Average temperature
21.85 °C
71.33 °F
Administrative Divisions
24 provinces
Political system
Presidential representative democratic republic
Ecuador Economy Facts
World Bank Income Group
Upper middle income
World Bank Region
Latin America & Caribbean
Currency
US Dollar (USD)
GDP in 2020
$99.3 (billions of USD)
World Rank: 63
GDP per capita in 2020
$5,628
World Rank: 96
Major Industries / Economic Sectors
Oil and gas, agriculture, manufacturing, energy
Top 5 Import Countries
United States, China, Brazil, Colombia, Peru
Top 5 Export Countries
United States, China, Colombia, Peru, Mexico
Biggest Cities in Ecuador
Here are the largest cities in Ecuador based on 2021 data:
City
Population
Guayaquil
2,723,665
Quito
2,011,388
Cuenca
329,928
Santo Domingo de los Colorados
270,875
Machala
231,260
Eloy Alfaro
230,839
Manta
217,553
Portoviejo
206,682
Loja
170,280
Ambato
165,185
Map of Ecuador with the Largest Cities
Other Countries in the South America Region
Ecuador Regions Map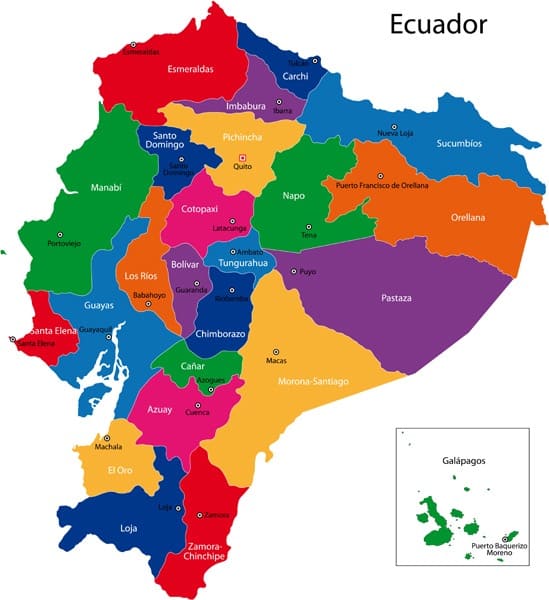 Ecuadorian Currency / What is the Currency of Ecuador?
What is the Currency of Ecuador? Ecuador's currency is the United States Dollar.
Sucre was the currency of Ecuador between 1884 and 2000. The international code is ECS. It is divided into 1 Sucre, 10 Decimos or 100 Centavos. Sucre is a currency issued in the name of Marshal Antonio Jose de Sucre, who liberated the country from Spain in 1822.
The government could not prevent the bad economy of the country. Therefore, the Government decided to change the national currency and the country passed to the United States Dollar in 2000.
Towards the end of the year 2000, the Ecuador economy within the economic crisis contracted about 10 percent within the year. It is inevitable for the government to make such a decision once the worst inflation rate in all South American countries is added
Coins: 1¢, 5¢, 10¢, $¼, $½ and $1.
Banknotes: $1, $2, $5, $10, $20, $50 and $100.