Quito is the capital of Ecuador. The city's elevation makes Quito the second-highest capital city in the world.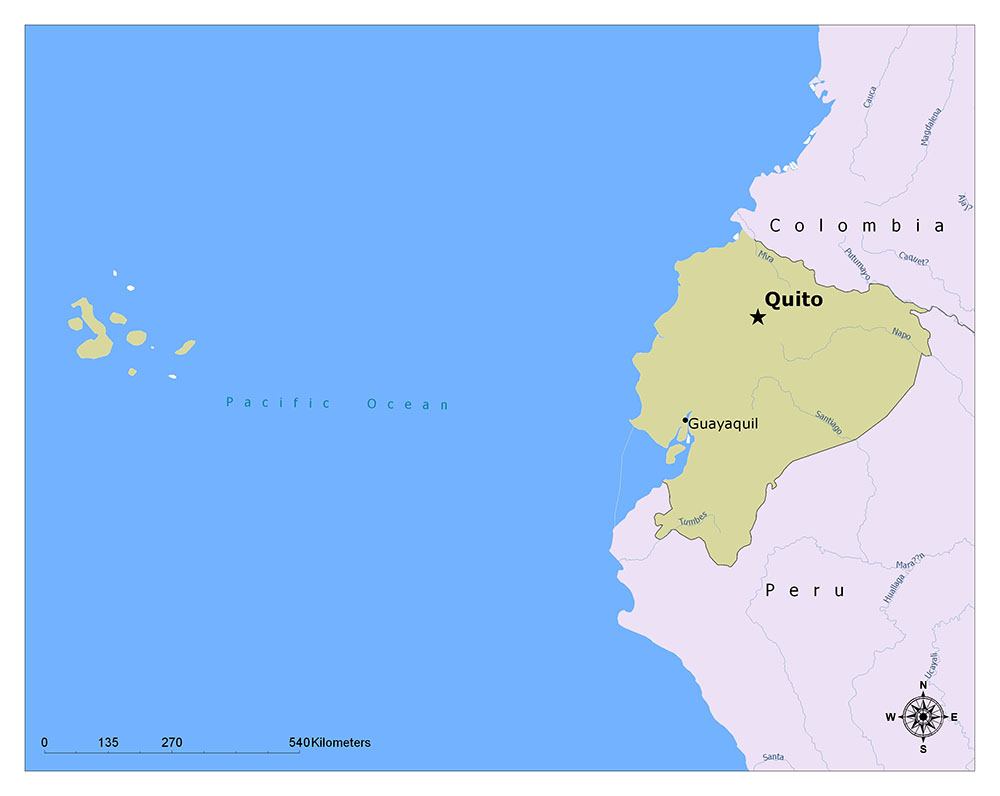 The Galapagos Islands in the Great Ocean are part of the country's borders. The equator giving its name to the Ecuador divides the country into two. Charles Darwin has received reviews of Evolution Theory due to his research on Galapagos Island, located on the country's borders.
Where is Quito?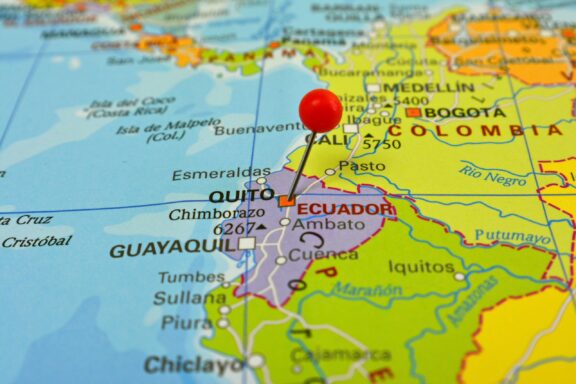 Quito is located in the northwestern part of South America. The city is situated in the Guayllabamba river basin, on the eastern slopes of Pichincha, an active stratovolcano in the Andes mountains.
Quito has a unique geographical setting. It is roughly in the center of Ecuador and is close to the equator, hence the country's name (Ecuador is Spanish for "Equator"). Despite being near the equator, Quito's high altitude (approximately 2,850 meters or 9,350 feet above sea level) gives it a relatively mild, spring-like climate throughout the year.
The city is approximately 20 kilometers (12.4 miles) south of the equator, with a small village nearby known as "Mitad del Mundo" (Middle of the World) marking the general location of the equator.
To the west of Quito, you'll find the Pacific Ocean, and to the east, the vast Amazon Rainforest. To the north is Colombia, and to the south is Peru. This geographical location has made Quito a critical junction for Ecuador and the wider region.
History of Quito
Quito has a vibrant history that has shaped it into the city it is today. This history spans thousands of years and has seen the rise and fall of civilizations, the struggle for independence, and periods of growth and modernization.
Let's delve into the history of this fascinating city:
Archaeological evidence suggests that the region where Quito now stands has been inhabited for at least 6,000 years. Various indigenous tribes lived there, such as the Quietus and the Caras. The city was initially named "Quito" by the Quitus tribe, meaning "land of the Quitus."
In the 15th century, the Incan Empire, led by Huayna Capac, conquered the region. The Incans established the city as a vital administrative and military center. It is said that Huayna Capac loved the area so much that he even considered moving the Incan capital from Cusco to Quito.
Quito's history changed dramatically in 1534 with the arrival of the Spanish conquistadors. Just before their arrival, in a desperate attempt to prevent the city from falling into Spanish hands, Rumiñahui, an Incan general, burned the city to the ground.
On December 6, 1534, the Spanish, under the leadership of Sebastián de Benalcázar, founded the city anew as "San Francisco de Quito." During Spanish rule, Quito became an important administrative and religious center, with many beautiful churches and other structures built in the Spanish colonial style.
Quito was a hub of independence activity in the early 19th century. The city is the site of the first Declaration of Independence in Latin America on August 10, 1809. Still, it took another decade of war before the country finally gained its freedom.
Ecuador officially achieved independence from Spain on May 24, 1822, following the Battle of Pichincha, which took place on the volcano's slopes just outside Quito.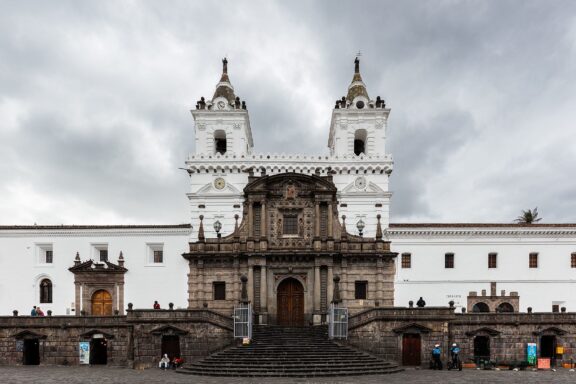 How and when did Quito become the capital of Ecuador?
Quito became the capital of Ecuador in 1830 when the Republic of Ecuador was established following the country's independence from Gran Colombia. The dissolution of Gran Colombia, a federation that consisted of present-day Colombia, Venezuela, Panama, and Ecuador, resulted in the formation of the newly independent nations.
In the years following independence, Quito experienced a period of growth and modernization and political instability. The city expanded, modern infrastructure was built, and cultural institutions were established.
In the 20th century, Quito continued to grow and develop, facing many challenges common to urban areas, including population growth and the need for infrastructure improvements. In 1978, Quito's historic center, known for its well-preserved Spanish colonial architecture, was designated a UNESCO World Heritage Site.
Today, Quito is a bustling city where the old meets the new. Its rich history is visible in its colonial architecture and historical sites, while new development reflects the city's ongoing growth and modernization. It is a testament to its people's resilience and ability to adapt and thrive in the face of change.
Features of Quito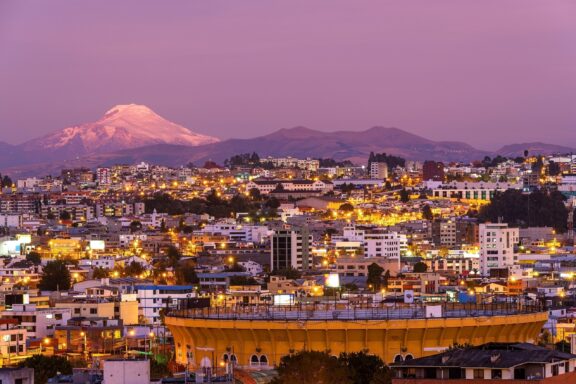 Quito, Ecuador's capital city, has a vibrant culture, historical significance, beautiful architecture, and rich biodiversity. One of the best-preserved historic centers in Latin America is Quito's "Old Town."
It is filled with 16th and 17th-century colonial architecture, stunning plazas, and dozens of churches, including the impressive Iglesia de la Compañía de Jesús, known for its ornate interior and gilded walls.
Geography and Climate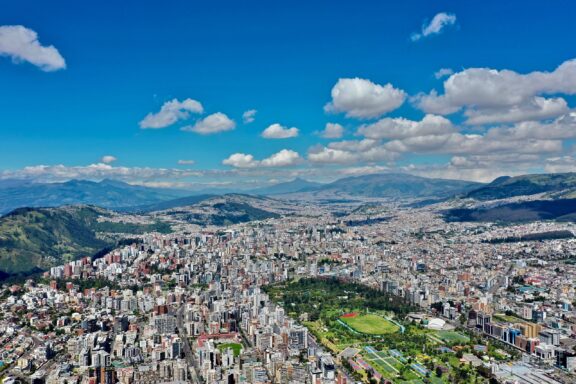 Quito's location gives an unusual subtropical highland climate. Despite being near the equator, the city experiences relatively mild, spring-like temperatures throughout the year due to its altitude.
The average daily temperature is usually around 15-25 °C (59-77 °F) during the day and drops to about 10 °C (50 °F) at night. Quito has two main seasons: the wet season (October to May) and the dry season (June to September). However, rain showers can occur sporadically throughout the year.
Population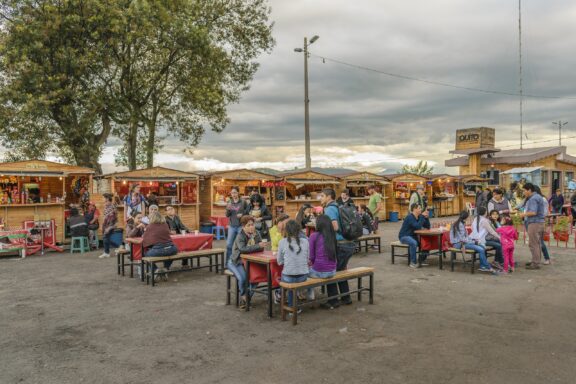 Quito has a population of approximately two million people. The population is diverse, comprising people of various ethnicities and cultural backgrounds. The majority are Mestizos (mixed Indigenous and Spanish ancestry), but there are also Indigenous peoples, Afro-Ecuadorians, and people of European descent. Spanish is the official language, although some indigenous languages like Quichua are also spoken.
Quito is a vibrant mix of old and new, with a well-preserved historic center and modern districts. Its residents, known as Quitenos, are known for their warm and welcoming nature.
Economy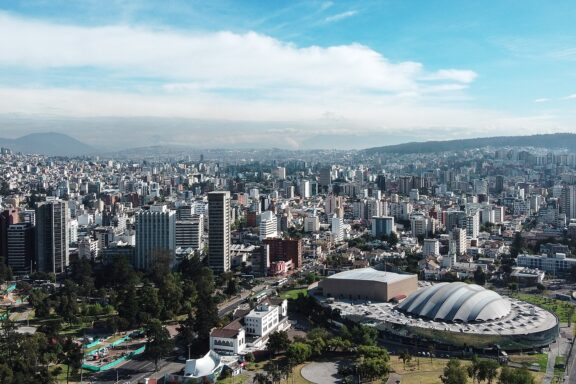 Quito is the economic center of Ecuador. Its economy is diversified with solid manufacturing, construction, retail, and services sectors. Key industries include textiles, metals, agriculture, and food processing. The city is home to many regional and international businesses and corporations.
Tourism also plays a critical role in Quito's economy. The city's well-preserved historic center, pleasant climate, cultural richness, and natural beauty attract tourists from around the globe. The service sector has grown substantially, including hotels, restaurants, travel agencies, and related services.
Quito is also a central transportation hub, with Mariscal Sucre International Airport serving many regional and international routes. This connectivity and the city's growing economy attract investment and contribute to its economic health.
However, like many other cities, Quito has challenges related to urbanization, such as managing infrastructure needs and addressing socioeconomic inequalities. These challenges have an impact on the economic health of the city.
Things to Do and Places to See in Quito
Quito offers a broad spectrum of experiences and attractions. Let's explore some of the most sought-after sights and activities in the city:
1. Explore the Historic Center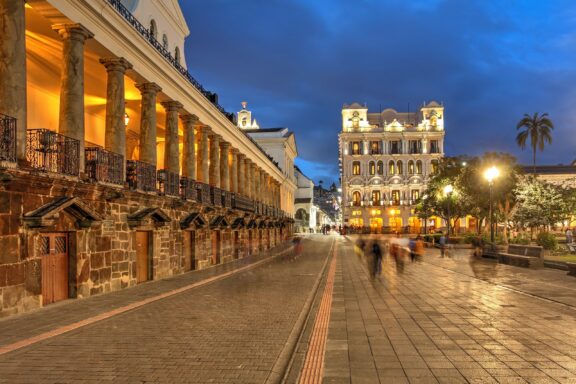 Quito's historic center, known as "Old Town," is one of Latin America's largest and best-preserved historical centers and was one of the first places to be declared a UNESCO World Heritage Site.
As you wander through its narrow, winding streets, you'll encounter beautifully preserved colonial architecture, imposing churches, and bustling plazas.
Notable landmarks include the Carondelet Palace (the presidential palace), the Cathedral of Quito, and the Church and Monastery of St. Francis. This area also has charming cafes, shops, and street vendors selling traditional Ecuadorian crafts.
2. Visit La Mitad del Mundo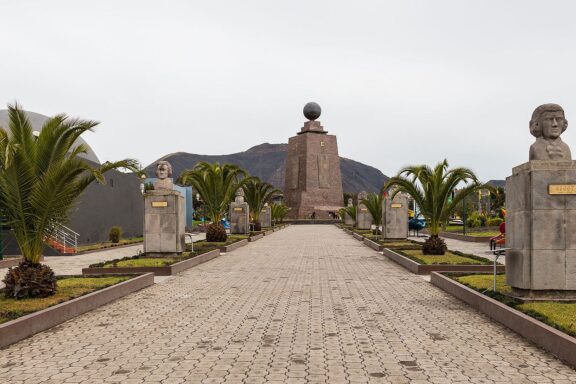 About 26 kilometers north of Quito, you'll find "La Mitad del Mundo" or "The Middle of the World," a tourist complex marking the approximate location of the Equator. The main attraction here is a monument featuring a globe-topped obelisk; you can simultaneously stand on the "Equator line" and be in both hemispheres.
There's also an onsite ethnographic museum showcasing Ecuador's indigenous cultures and a planetarium. Nearby, there's the Intiñan Solar Museum, where fun and quirky experiments purport to show the effects of the Equator's unique geographical location.
3. Ride the TelefériQo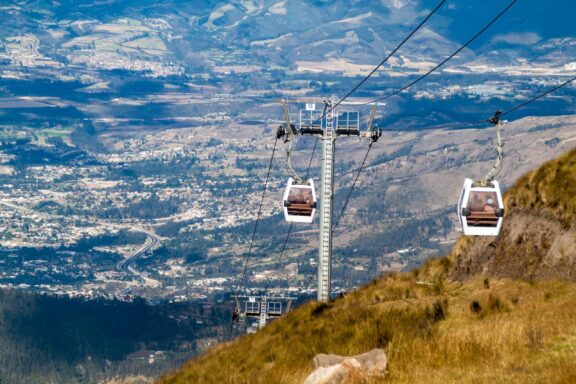 The TelefériQo is Quito's cable car system and one of the highest aerial lifts in the world. Starting from the city's edge, it whisks you up the slopes of the Pichincha Volcano to a viewpoint known as Cruz Loma, situated at over 4,000 meters above sea level.
The ride offers breathtaking views of Quito and the surrounding Andean landscape. At the top are trails for hiking and horseback riding, and on clear days, you can see as far as the Cotopaxi volcano.
4. Explore the Mercado Central
Mercado Central, or Central Market, is a bustling hub of local life in Quito. Here, vendors sell many goods, from fresh fruits, vegetables, and spices, to meats, fish, and flowers. It's a feast for the senses, with a riot of colors, sounds, and smells. The market is also great for trying traditional Ecuadorian dishes, like ceviche, tornado, or Locro de papa (a hearty potato soup). Try exotic fruits like taxo, tomate de arbol, or naranjilla.
5. Visit Museo del Banco Central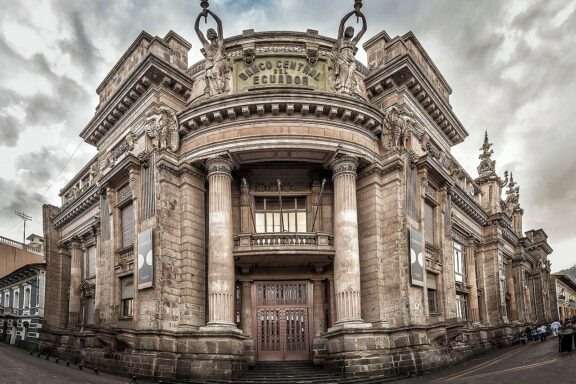 The Central Bank Museum, officially Museo Nacional de Ecuador, offers a comprehensive overview of Ecuador's rich history. The museum's collection spans pre-Columbian times, displaying stunning gold artifacts, ceramics, ethnographic items, and more. The museum also houses a significant collection of Ecuadorian art, including works from famous artists such as Oswaldo Guayasamín.
The museum also features works by notable Ecuadorian artists from the 20th and 21st centuries, reflecting the country's artistic trends and social changes over these periods.
6. Go to La Ronda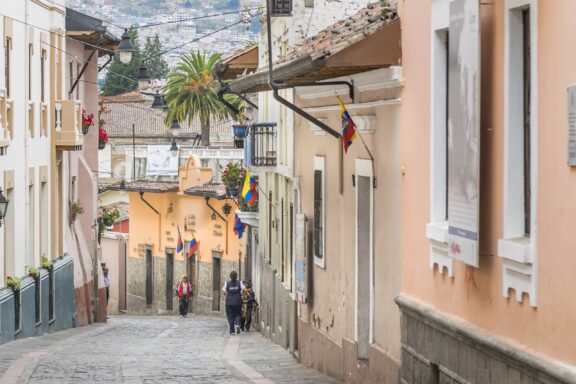 La Ronda is one of Quito's oldest streets, and visiting it feels like stepping back in time. This charming, narrow alleyway is lined with restored colonial houses, many of which now serve as shops, galleries, and restaurants. During the day, you can watch artisans at work, while evenings are often filled with live music and dancing.
In the early 2000s, the neighborhood underwent significant revitalization efforts. As a result of this urban regeneration, the area has transformed into a vibrant cultural and commercial district while preserving its historical charm. In recent years, street artists have adorned some of La Ronda's walls with murals, adding a modern touch to this historic neighborhood.
7. Capilla del Hombre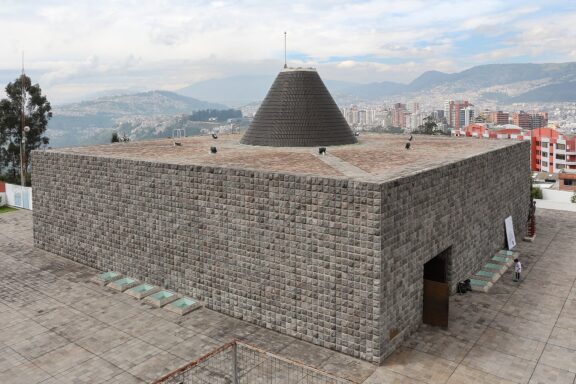 Capilla del Hombre, or "Chapel of Man," is an art museum dedicated to Latin America's indigenous and mestizo populations. Created by renowned Ecuadorian artist Oswaldo Guayasamín, it's both a work of art and a showcase for his powerful and poignant paintings.
The museum is located in a hilltop building with panoramic views of Quito. It includes a large mural painting called "The Human Age," as well as many other pieces by Guayasamín and other artists.
8. Parque La Carolina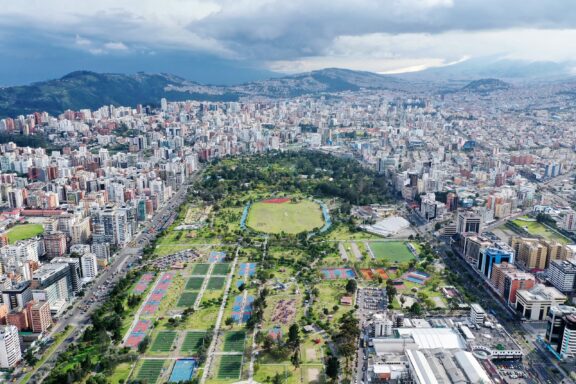 Parque La Carolina is a large urban park in the heart of Quito. It covers 165 acres and's the city's version of Central Park, with open green spaces, ponds, and recreational facilities. You can rent paddle boats, play sports, or visit the Botanical Garden, which contains a variety of native Ecuadorian plants. There's also a vivarium showcasing Ecuador's diverse reptile life.
9. Church of the Society of Jesus
The Church of the Society of Jesus, known as "La Iglesia de la Compañía de Jesús" in Spanish and often simply "La Compañía," is a must-see. This Baroque church is one of South America's most significant works of Spanish colonial architecture.
This church is renowned for its stunning Baroque-style architecture. Nearly every inch of the walls and ceilings is covered in gold leaf, intricate carvings, and elaborate religious art, making it one of the best examples of Baroque architecture in South America.
10. Basílica del Voto Nacional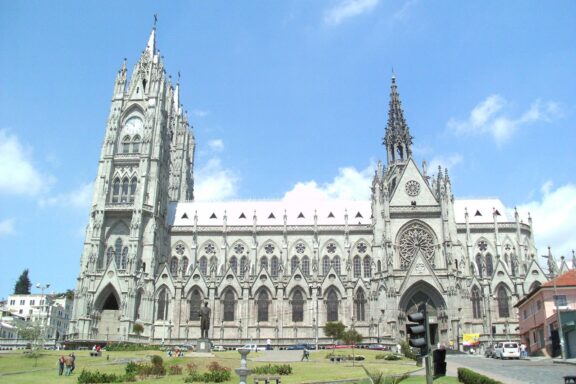 The Basilica of the National Vow is one of Quito's most iconic landmarks. The Basilica features stunning stained glass windows, including Ecuadorian saint depictions, illuminating the interior with ethereal light. You can explore its ornate interior or climb the towers for a breathtaking city view.
Uniquely, the gargoyles on the Basilica are not the typical grotesque creatures found in European cathedrals but represent Ecuador's animals, including Galapagos tortoises, iguanas, and condors.
The construction of the Basilica started in 1884 and was officially completed in 1988, taking more than a century. However, local legend says the world will end when the Basilica is truly finished, so minor work continues to prevent this.
11. Quito Metropolitan Cathedral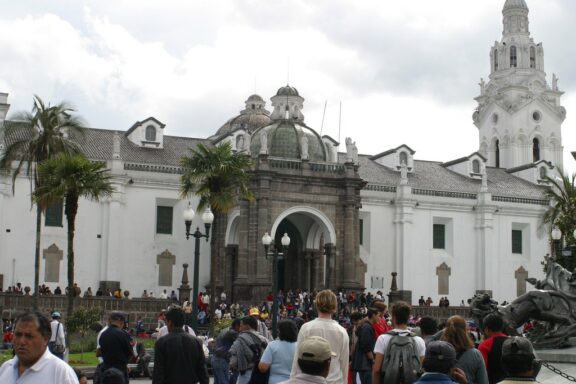 The Quito Metropolitan Cathedral, also known as the Cathedral of Quito, is an absolute must-visit attraction. Officially known as Catedral Metropolitana de Quito, it is one of the oldest cathedrals in South America and an important symbol of the city's rich history.
Located in the heart of Quito's historic district, the cathedral is prominent in the city's central square, the Plaza de la Independencia or Plaza Grande.
As you approach the cathedral, you'll first notice its magnificent architecture. The cathedral represents a blend of various architectural styles, including Mudejar (Moorish), Gothic, Baroque, and Neoclassical, reflecting the evolution of religious art over centuries. The grand facade is impressive, with the imposing bell tower offering a panoramic view of the city.
Once you step inside, the cathedral unfolds a spectacular array of artistic treasures. The interior is filled with artworks, including paintings, sculptures, and ornaments that tell various stories of religious significance.
Frequently Asked Questions
When is the best time to visit Quito?
The best time to visit Quito is generally during the dry season, from June to September. However, since Quito is near the Equator and at high altitudes, its climate remains constant throughout the year, so it can be visited anytime.
Do I need to worry about altitude sickness in Quito?
Quito is located at a high altitude (about 2,850 meters or 9,350 feet), so some people might experience symptoms of altitude sickness, such as headaches, nausea, and shortness of breath. Taking it easy for the first few days is usually recommended to allow your body to adjust.
Is English widely spoken in Quito?
While Spanish is the official language of Ecuador, English is commonly spoken in many tourist areas, hotels, and restaurants in Quito. However, only some people speak English, so knowing some basic Spanish phrases can be helpful.
What is the food like in Quito?
Quito offers a wide range of culinary experiences. Traditional dishes you might try include:
• Locro de papa: a hearty potato soup
• Ceviche: seafood cooked in citrus juices
• Cuy: guinea pig
You can find these and more at markets, street food stalls, and restaurants throughout the city.
Can I drink tap water in Quito?
While the tap water in Quito is treated and generally safe to drink, many tourists and locals prefer bottled water or use a water purifier to avoid any potential stomach issues.
Is Quito a good base for exploring other parts of Ecuador?
Quito's central location and good transport links make it an excellent base for exploring other parts of Ecuador, such as the cloud forests, the Amazon rainforest, or even the Galapagos Islands.
What currency is used in Quito?
Since the year 2000, the official currency of Ecuador has been the US Dollar.
What cultural customs should I be aware of when visiting Quito?
Ecuadorians are generally warm and polite. Greeting with a handshake is customary; friends might greet with a kiss. Punctuality is more strictly observed in Ecuador than it might be in other countries.
Keeping your hands on the table (not your elbows) is polite when dining. Tipping is appreciated but only sometimes expected – check to see if a service charge has been added to your bill.
Final Thoughts
Quito stands as a remarkable destination that brilliantly marries history, culture, and natural beauty. With its incredibly well-preserved historical center, stunning colonial architecture, engaging museums, and captivating landscapes, there is certainly no shortage of things to see and do.
Whether you're a history buff, a nature lover, a foodie, or an adventurer, Quito has something to offer. But beyond its physical attractions, its people's warm, welcoming nature leaves a lasting impression on its visitors.